This week Trump's National Security Advisor, retired Lt. Gen.Michael Flynn, took a break from his regular stint on Russia Television (RT) to announce that the Trump administration is putting Iran "on notice" for a recent ballistic missile test.
"On notice" is not a diplomatic term of art, and no one knows what it means. Team Trump puts Iran 'on notice,' won't explain what that means: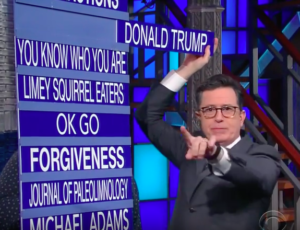 The trouble is, no one seems able to say what "on notice" means in the context of U.S. foreign policy. Sure, we remember Stephen Colbert's "on notice" board, but when it comes to the White House, it remains an unexplained mystery.
* * *
Note, among those who are confused is CentCom. "We saw the statement as well," a spokesman for U.S. Central Command, which runs operations in the Middle East, told The Guardian. "This is still at the policy level, and we are waiting for something to come down the line. We have not been asked to change anything operationally in the region."
So, the rookie White House is making vague pronouncements about the Middle East, while the amateur president tweets recklessly and his administration says nothing to the military personnel who need a heads-up about such things.
Stephen Colbert is sick of Donald Trump stealing his act, so he brought out the "On Notice" board and put the President on notice.
I have heard any number of GOP members of Congress explain that this vague pronouncement is a good thing, that it keeps Iran guessing what the Trump administration means and what it might do.
This is not something new. This is Richard Nixon's Madman in The White House foreign policy:
Nixon wanted to impress upon the Soviets that the president of the United States was, in a word, mad: unstable, erratic in his decision-making, and capable of anything. The American commander-in-chief wanted the Kremlin to know that he was willing to escalate even localized conventional military conflicts to the nuclear level. Kissinger understood: "I'll tell [the Soviets] tomorrow night," he vowed. The national security advisor even rehearsed for the president specific lines from the good cop/bad cop routine he intended to put on. "The more we do now," he would tell his Soviet interlocutor, "the better." He was akin to saying: On the shoulders of reasonable men, like you and me, rests the responsibility of preventing a madman, like Nixon, from taking things too far.
The Washington Post suggested back in December that Donald Trump embraces the risky 'Madman Theory' on foreign policy: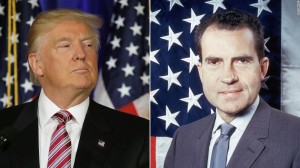 Donald Trump appears to have embraced, with gusto, Richard Nixon's "Madman Theory" of foreign policy. He thinks he can use his reputation for unpredictability and lack of respect for long-standing international norms to unnerve and then intimidate America's adversaries into making concessions that they would not otherwise make.
A generation ago, Nixon wanted to convince the Soviets and their North Vietnamese clients that he was a hot-head willing to use nuclear weapons. The goal then was to scare the communists into negotiating. In some ways, this was the nub of the secret plan he talked so much about during the 1968 campaign – just as Trump insisted that he had a secret plan to get rid of ISIS during the 2016 race. "I call it the Madman Theory," the then-president explained to H.R. Haldeman, his chief of staff, as they walked along a foggy beach one day. "I want the North Vietnamese to believe I've reached the point where I might do anything to stop the war. We'll just slip the word to them that, 'For God's sake, you know Nixon is obsessed about Communism. We can't restrain him when he's angry — and he has his hand on the nuclear button!' And Ho Chi Minh himself will be in Paris in two days begging for peace."
For all his sociopathic tendencies, Richard Nixon would never have done what he wanted the world to believe. Donald Trump on the other hand actually is a madman, and no one can say with any certainty how far he will go. 9 terrifying things Donald Trump has publicly said about nuclear weapons.