Special Counsel Robert Mueller's detailed indictment of twelve Russian intelligence officers for cyber attacks on the U.S. to interfere in the 2016 election offered new details of just how deeply Russian operatives have infiltrated state and local election agencies across the U.S. Mueller reveals depth of states' election vulnerabilities.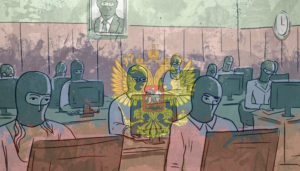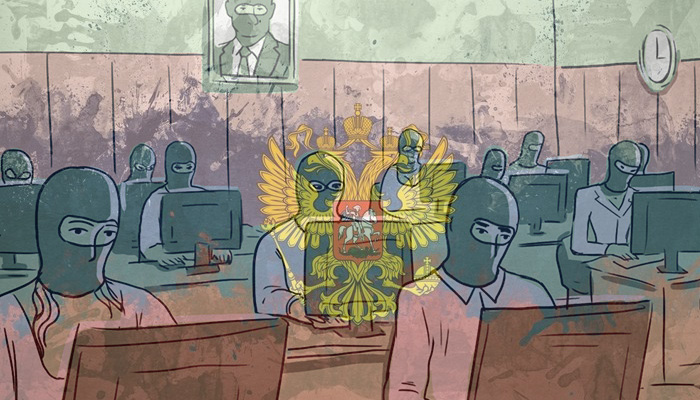 House Administration Committee Democrats in a report released Thursday identified 18 states that congressional researchers say lack key voting safeguards, including paper trails for vote tallies and post-election audits. Drawing on months of input from election officials and cybersecurity experts, it called on Congress to approve $1.4 billion in new election security funding for all 50 states over the next decade. House Democrats list states with weakest election security in new report. You should note that no Republicans signed onto its conclusions.
Homeland Security Secretary Kirstjen Nielsen told a convention of secretaries of state Saturday that "though votes were note changed" in the 2016 election, "ANY attempt to interfere in our elections — successful or unsuccessful — is a direct attack on our democracy," (emphasis added by her press office.) Homeland Security chief calls Russian hacking "direct attack on our democracy". You should note that "President Trump has never condemned Russia over its election interference, and the White House press office statement on the indictments does not mention a Russian attack on our democracy."
Also last week, Director of National Intelligence Dan Coats warned of an impending, potentially devastating cyber attack on U.S. systems, saying the country's digital infrastructure "is literally under attack" and warning that among state actors, Russia is the "worst offender." Intel chief Dan Coats says of cyber attacks, "We are at a critical point":
Speaking at a scheduled event at the Hudson Institute, he adopted the language of former Director of Central Intelligence George Tenet who, in the months ahead of the 9/11 attacks, warned that the "system was blinking red." Coats, citing daily attacks from Russia, China, Iran and North Korea, said, "Here we are, nearly two decades later, and I'm here to say the warning lights are blinking red again."
He said the aggressors' targets were diverse, and included businesses, federal, state and local governments, the U.S. military, academic and financial institutions, and critical infrastructure. The FBI and Department of Homeland Security had already detected Russian government actors exploring vulnerabilities in energy, nuclear, water, aviation and manufacturing sectors, he warned.
"All of these disparate efforts share a common purpose," he observed, "to exploit America's openness in order to undermine our long-term competitive advantage."
Coats also said there was "no question" that Russia was the "most aggressive foreign actor," and its efforts to undermine American democracy are ongoing, even if they appear to have abated from 2016 levels.
"We are not yet seeing the kind of electoral interference in specific states and in voter databases that we experienced," he said. "However, we realize we are just one click of the keyboard away from a similar situation repeating itself." Russian attempts to stoke social and political tensions on social media platforms, Coats said, were still "aggressive," with new fake accounts continually being created by the Internet Research Agency.
"These actions are persistent, they're pervasive and they are meant to undermine America's democracy on a daily basis, regardless of whether it is election time or not," Coats said. "The warning signs are there. The system is blinking. And it is why I believe we are at a critical point."
So how did our Twitter-troll-in-chief who was the beneficiary of this Russian interference in the 2016 election respond?
Perhaps he should ask his comrade, Senator Mitch McConnell. Obama's secret struggle to punish Russia for Putin's election assault:
"The Dems were, 'Hey, we have to tell the public,' " recalled one participant. But Republicans resisted, arguing that to warn the public that the election was under attack would further Russia's aim of sapping confidence in the system.
Senate Majority Leader Mitch McConnell (R-Ky.) went further, officials said, voicing skepticism that the underlying intelligence truly supported the White House's claims.
* * *
A week later, McConnell and other congressional leaders issued a cautious statement that encouraged state election officials to ensure their networks were "secure from attack." The release made no mention of Russia and emphasized that the lawmakers "would oppose any effort by the federal government" to encroach on the states' authorities.
Denis McDonough: McConnell 'watered down' Russia warning in 2016, and Joe Biden: McConnell stopped Obama from calling out Russians:
Joe Biden said Tuesday that Senate Majority Leader Mitch McConnell stopped the Obama administration from speaking out about Russian interference in the 2016 campaign by refusing to sign on to a bipartisan statement of condemnation.
McDonough: "Our administration's interest in making sure the response was bipartisan wasn't for the sake of being bipartisan. It was necessary because we needed the buy-in from state and local election administrators (many of whom were Republican partisans and/or skeptical of federal government)," the official argued in an email. "Unfortunately, as is well documented, Senator McConnell was unwilling to help — only making matters worse."
In a press conference after the Nato Summit, President Trump pledged that he will "of course" (sigh) raise the issue of Moscow's interference in the 2016 election at his Monday summit with Russian President Vladimir Putin, but he said he has little recourse if — as expected — Putin denies that Russia interfered. Trump says he will ask Putin about election interference at Helsinki summit:
"Look, he may. What am I going to do? He may deny it," Trump said at a news conference on the second day of a NATO summit. "All I can do is say, 'Did you?' And, 'Don't do it again.' But he may deny it."
Trump continued to strike a friendly tone toward the Russian leader, calling him a "competitor" rather than a U.S. enemy — while declining to label him as a security threat to the United States or European nations.
"Somebody was saying, is he an enemy? He's not my enemy. Is he your friend? No, I don't know him very much," Trump told reporters Thursday. "Hopefully, someday, he'll be a friend. It could happen."
"About the most innocent explanation you can offer for Trump's muted attitude toward Russia's and Vladimir Putin's 2016 actions is that he doesn't like to talk about it — that he feels the whole thing undermines his legitimacy as president. And a new interview with CBS News shows better than just about anything how defensive he is about the whole thing." Trump's extremely defensive interview about Russia and Putin:
CBS released four questions and answers Sunday from Trump's interview with anchor Jeff Glor. The big news is that he suggested the European Union is a "foe" and that he says he doesn't expect much from his meeting Monday with Putin.
But his first three responses were also deeply telling. When asked about Russia, Trump almost instantly goes on the defensive or into blame-shifting mode. Aides have said he doesn't even like to talk about it behind closed doors and that this hampers the development of any real strategy to combat Russian interference, but rarely does Trump make it so clear.
Let's break it down. Here's the first Q&A:
GLOR: I saw the conversation you had with [NATO Secretary General] Jens Stoltenberg, which is a very direct conversation, as you approach the meetings with Vladimir Putin coming up. Do you expect a similar tone?

TRUMP: I don't expect anything. I frankly don't expect — I go in with very low expectations. I think that getting along with Russia is a good thing. But it's possible we won't. I think we're greatly hampered by this whole witch hunt that's going on in the United States. The Russian witch hunt. The — the rigged situation. I watch some of the testimony, even though I'm in Europe, of Strzok.
Trump was not asked about the Russia investigation, but he immediately reverts to it — and to FBI agent Peter Strzok's testimony on Thursday. Trump could talk about what could come of the meeting, but instead he focuses on who he thinks is trying to undermine it. He is asked about the meeting, and brings it right back to the investigation.
Here's the second Q&A:
GLOR: The Russians who were indicted, would you ask Putin to send them here?

TRUMP: Well, I might. I hadn't thought of that. But I certainly, I'll be asking about it. But again, this was during the Obama administration. They were doing whatever it was during the Obama administration.
This may be the most striking exchange of all. Trump brushes off the idea of asking for extradition as if it were a strange idea — which is a tell if there ever was one when it comes to how worried he is about Russian interference. But he would like to talk about how this didn't happen on his watch. Trump seems much more concerned with making sure blame is correctly placed than he is with pressing Putin on holding those allegedly responsible accountable.
And here's the third Q&A:
GLOR: Who is your biggest competitor? Your biggest foe globally right now?

TRUMP: Well I think we have a lot of foes. I think the European Union is a foe, what they do to us in trade. Now you wouldn't think of the European Union but they're a foe. Russia is foe in certain respects. China is a foe economically, certainly they are a foe. But that doesn't mean they are bad. It doesn't mean anything. It means that they are competitive.
The previous two questions were about Russia, and then Trump is asked about who his biggest global foe is right now. Russia is clearly on his mind, and yet he goes in a different direction. He can't allow that Russia is a top foe; he has to place it in the context of other countries — even ones who have traditionally been allies or at least less antagonistic to the United States.
Mueller has now indicted 26 Russians for their actions during the 2016 campaign, and Trump has shown very little appetite for pressing Putin on that. He seems to regard it as a matter to be asked about for good measure and then dispatched in favor of more important and interesting things. And that, more than anything, tells you just how unconcerned he is with the whole thing.
Which leads to these pre-summit tweets from the Twitter-troll-in-chief.
And this morning.
For Donald Trump, the enemy of America is not the country that actually waged a cyber war against the United States and is continuing to do so. No, the "enemy of the people" is the news media, Democrats, Barack Obama, Hillary Clinton, the FBI, The Department of Justice, and the Special Counsel. Not a word of criticism for Russia or Vladimir Putin, who are waging a cyber war against the U.S. As Dan Coats warned, the "system is blinking red."
This morning at the Helsinki summit, "Speaking briefly with reporters before the two men went behind closed doors, Mr. Trump said "we will have discussions on everything from trade to military to nuclear," as well as relations with China, but he did not mention Russia's interference in the 2016 election that brought Mr. Trump to power." Live Updates: Trump-Putin Meeting Starts in Helsinki.
God only knows what Trump is going to give away to Putin behind closed doors.
All of this is too much for New York Times columnist Charles Blow, as it should be for any right-thinking patriotic loyal American. Blow raises the uncomfortable possibility. Trump, Treasonous Traitor:
Put aside whatever suspicions you may have about whether Donald Trump will be directly implicated in the Russia investigation.
Trump is right now, before our eyes and those of the world, committing an unbelievable and unforgivable crime against this country. It is his failure to defend.
* * *
Whether or not Trump himself or anyone in his orbit personally colluded or conspired with the Russians about their interference is something Mueller will no doubt disclose at some point, but there remains one incontrovertible truth: In 2016, Russia, a hostile foreign adversary, attacked the United States of America.
We know that they did it. We have proof. The F.B.I. is trying to hold people accountable for it.
And yet Trump, the president whom the Constitution establishes as the commander in chief, has repeatedly waffled on whether Russia conducted the attack and has refused to forcefully rebuke them for it, let alone punish them for it.
In March, the White House, under pressure from Congress, seemed to somewhat reluctantly impose some sanctions on Russia for its crimes. As CNN reported that month, Congress almost unanimously passed the Countering America's Adversaries Through Sanctions Act last summer, "hoping to pressure Trump into punishing Russia for its election interference." But as the network pointed out:
"Trump signed the bill reluctantly in August, claiming it impinged upon his executive powers and could dampen his attempts to improve ties with Moscow."
Instead, Trump has repeatedly attacked the investigation as a witch hunt. Just last week at a joint press conference with British Prime Minister Theresa May, Trump said:
"I think I would have a very good relationship with Putin if we spend time together. After watching the rigged witch-hunt yesterday, I think it really hurts our country and our relationship with Russia. I hope we can have a good relationship with Russia."
Now Trump is set to pursue just such a relationship as he meets one-on-one with the Russian president, Vladimir Putin, on Monday in Finland.
* * *
Actually, none of this is fine. None of it! Trump should be directing all resources at his disposal to punish Russia for the attacks and prevent future ones. But he is not.
America's commander wants to be chummy with the enemy who committed the crime. Trump is more concerned with protecting his presidency and validating his election than he is in protecting this country.
This is an incredible, unprecedented moment. America is being betrayed by its own president. America is under attack and its president absolutely refuses to defend it.
Simply put, Trump is a traitor and may well be treasonous.
UPDATE: Helsinki is now synonymous with Munich for appeasement. Putin again denies Russian interference in the 2016 U.S. election; Trump calls probe a 'disaster for our country':
President Trump cast doubt on the conclusion of U.S. intelligence agencies that Russia interfered in the 2016 presidential election, saying after his summit here Monday with Russian President Vladimir Putin that the autocrat gave him a "very powerful" denial.
After Putin said his government played no role in trying to sabotage the U.S. election, Trump offered no pushback and went on to condemn the Justice Department's investigation of Russian interference as "a disaster for our country."
* * *
Putin insisted publicly that the "Russian state has never interfered and is not going to interfere in internal American affairs," and Trump declined to dispute his assertions, instead saying that Putin "has an interesting idea" about the issue of interference.
"I don't see any reason why" Russia would interfere in the election, Trump said as he stood next to Putin at a joint news conference after their talks in the Finnish capital ended. Of their private conversation in Helsinki about the interference, Trump said, "President Putin was extremely strong and powerful in his denial today."
* * *
During their two-hour, one-on-one talks earlier Monday, in which the leaders were accompanied only by interpreters, Trump and Putin discussed their disagreements "at length," Trump said. He added: "Our relationship has never been worse than it is now. However, that changed, as of about four hours ago."
The summit began hours after Trump, in a series of tweets, blamed his own country, rather than Russia, for the hostilities between their two nations.
Let's be clear: if any Democratic president did this, the House would be voting on articles of impeachment TODAY.
Trump critics reacted harshly. Former CIA director John O. Brennan wrote in a tweet: "Donald Trump's press conference performance in Helsinki rises to & exceeds the threshold of 'high crimes & misdemeanors.' It was nothing short of treasonous. Not only were Trump's comments imbecilic, he is wholly in the pocket of Putin. Republican Patriots: Where are you???"
Sen. Jeff Flake (Ariz.), a frequent Trump critic on the Republican side, said: "I never thought I would see the day when our American President would stand on the stage with the Russian President and place blame on the United States for Russian aggression. This is shameful."
Senator John McCain (Ariz.) released a statement:
Washington, D.C. – U.S. Senator John McCain (R-AZ), Chairman of the Senate Armed Services Committee, released the following statement today on President Trump's meeting and press conference with Vladimir Putin in Helsinki:

"Today's press conference in Helsinki was one of the most disgraceful performances by an American president in memory. The damage inflicted by President Trump's naiveté, egotism, false equivalence, and sympathy for autocrats is difficult to calculate. But it is clear that the summit in Helsinki was a tragic mistake.

"President Trump proved not only unable, but unwilling to stand up to Putin. He and Putin seemed to be speaking from the same script as the president made a conscious choice to defend a tyrant against the fair questions of a free press, and to grant Putin an uncontested platform to spew propaganda and lies to the world.

"It is tempting to describe the press conference as a pathetic rout – as an illustration of the perils of under-preparation and inexperience. But these were not the errant tweets of a novice politician. These were the deliberate choices of a president who seems determined to realize his delusions of a warm relationship with Putin's regime without any regard for the true nature of his rule, his violent disregard for the sovereignty of his neighbors, his complicity in the slaughter of the Syrian people, his violation of international treaties, and his assault on democratic institutions throughout the world.

"Coming close on the heels of President Trump's bombastic and erratic conduct towards our closest friends and allies in Brussels and Britain, today's press conference marks a recent low point in the history of the American Presidency. That the president was attended in Helsinki by a team of competent and patriotic advisors makes his blunders and capitulations all the more painful and inexplicable.

"No prior president has ever abased himself more abjectly before a tyrant. Not only did President Trump fail to speak the truth about an adversary; but speaking for America to the world, our president failed to defend all that makes us who we are—a republic of free people dedicated to the cause of liberty at home and abroad. American presidents must be the champions of that cause if it is to succeed. Americans are waiting and hoping for President Trump to embrace that sacred responsibility. One can only hope they are not waiting totally in vain."
Trump's comments Monday are in sync with the arguments Putin and his government have long made. He has confirmed that he is Putin's puppet. He must be removed from office without delay.