The Washington Post reports, Graham scheduled to appear before grand jury in Ga.:
After a drawn-out legal fight, Sen. Lindsey O. Graham (R-S.C.) is scheduled to appear Tuesday before an Atlanta-area grand jury investigating whether attempts by former president Donald Trump and his associates to overturn the 2020 presidential election results amounted to criminal activity.
Prosecutors in Fulton County, Ga., want to hear about conversations that Graham had with Georgia Secretary of State Brad Raffensperger (R) and others about mail-in ballots in the weeks following the 2020 election as Trump contested his loss to Joe Biden in Georgia.
Hmmm, sounds to me like Trump fluffer and co-conspirator Lindsey Graham is a target of this investigation for his own culpability in soliciting election interference in Georgia.
The nation may witness the spectacle of a sitting U.S. Senator having to plead his Fifth Amendment privilege against self-incrimination. Just like his owner Donald Trump does.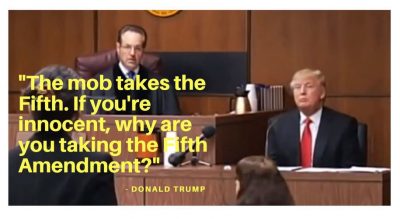 We probably won't hear about this until sometime later because grand jury proceedings are secret after all.
UPDATE: Sen. Graham must have been advised that he is a fact witness, because he claims that he answered all questions and did not assert his Fifth Amendment privilege. CNN reports, Lindsey Graham testifies before Georgia grand jury investigating 2020 election aftermath:
South Carolina Sen. Lindsey Graham on Tuesday appeared before a Georgia grand jury investigating efforts to overturn the 2020 election.
"Today, Senator Graham appeared before the Fulton County Special Grand Jury for just over two hours and answered all questions. The Senator feels he was treated with respect, professionalism, and courtesy. Out of respect for the grand jury process he will not comment on the substance of the questions," Graham's office said in a statement.
* * *
Trump's former national security adviser Michael Flynn, who spread conspiracies about the 2020 election, was initially scheduled to testify Tuesday, but was granted a provisional stay by an appeals court while he attempts to challenge his subpoena.
Former Trump White House lawyer Eric Herschmann was also summoned to testify Tuesday, according to court documents. However, it's unclear if he will be appearing. Other witnesses have been able to negotiate privately to shift their subpoena dates or have challenged their subpoenas in court. An attorney for Herschmann did not respond to CNN's requests for comment.
[In] a separate court proceeding, a prosecutor from her office said the grand jury was not planning to hear testimony for much longer.