Back in February, President Trump declared a national emergency in order to gain access to billions of dollars in the Department of Defense budget, money that Congress refused to give him to build his "big beautiful wall" on the border with Mexico. After losing a battle with lawmakers over that funding — a fight that led to the Trump government shutdown — the president argued that the flow of drugs, criminals and illegal immigrants from Mexico constituted a national security threat that justified using the military without specific approval from lawmakers.
Trump exceeded his constitutional authority and authority under the National Emergencies Act. 16 States Sue Over Trump's National Emergency Declaration. The complaint filed in the U.S. District Court for the Northern District of California seeks to bar the administration from using emergency powers to divert money from other programs to a wall on the U.S.-Mexico border, marking the start of a legal battle anticipated by both the president and his opponents. The lawsuit, spearheaded by California Attorney General Xavier Becerra, says that the Constitution gives Congress alone the power to control spending, not the president.
In March, the Senate voted 59-41 to cancel President Donald Trump's national security declaration to fund a wall on the border, as 12 Republicans joined Democrats in an unusual rebuke of the president. Senate votes to end Trump national emergency, as 12 Republicans join in rebuke. In February, the House passed the resolution that would terminate President Donald Trump's declaration of a national emergency, voting 245-182. House passes measure blocking Trump's national emergency declaration. The express will of Congress was thwarted by "Dear Leader," who vetoed the resolution. Trump issues first veto, killing resolution to block border national emergency. Congress hasnot sought to override the veto because there are enough Trump cult followers in Congress to prevent a two-thirds majority vote needed to override the veto.
The National Emergencies Act of 1976 gives presidents wide latitude to declare and define an emergency, but the pushback from Congress implies legislators don't share Trump's view that the wall warrants an emergency. "When this issue gets to the courts, Congress's view that no emergency exists might well affect how aggressively the courts review the president's arguments to the contrary," says Richard Pildes, a constitutional law professor at NYU. If Congress votes to block Trump's emergency, it could be used against him in court.
Despite the illegality and unconstitutionality of Trump's declaration of a national emergency, the Defense Department announced this week that the Pentagon will delay or suspend 127 military construction projects so that $3.6 billion can be diverted to President Trump's "big beautiful wall" on the border with Mexico. Trump's campaign mantra that "Mexico will pay for the wall" was always a delusional lie that only his MAGA cult followers would believe. This con man and grifter is now stealing taxpayer funding from the military to pay for his medieval vanity project.
The New York Times reports, Pentagon to Divert Money From 127 Projects to Pay for Trump's Border Wall:
Pentagon officials on Tuesday began notifying congressional representatives from areas that house the affected projects, and the decision to divert the funding prompted outcry from Democrats over what they viewed as a violation of Congress's authority to set spending.
Defense Department officials declined to publicly identify the affected projects until lawmakers had been notified, but they said that about half of the $3.6 billion would be taken from planned military construction projects overseas. The remainder would come from planned projects in the United States.
In a statement, Senator Chuck Schumer of New York, the Democratic leader, called the decision "a slap in the face to the members of the armed forces who serve our country that President Trump is willing to cannibalize already allocated military funding to boost his own ego and for a wall he promised Mexico would pay to build."
"My view of it is that stealing money from military construction, at home and abroad, will undermine our national security, quality of life and morale of our troops, and that indeed makes America less safe," Speaker Nancy Pelosi of California told members of her caucus on a private call on Tuesday, according to a Democratic official who spoke on the condition of anonymity to publicly discuss a private phone call.
Defense Secretary Mark T. Esper signed off on the diversion of funds, his aides said. In a letter sent to lawmakers that was obtained by The New York Times, he identified 11 projects that the money would go toward, including new construction and some fencing replacement along the southwestern border.
The projects would span Arizona, New Mexico and Texas, with the largest amount of new pedestrian fencing — about 52 miles — slated for Laredo, Tex., along the Rio Grande. And while Mr. Esper did not use the word "wall" in the letter, it is likely to serve as evidence for both the president and his re-election campaign that he is upholding his promise to build one.
The projects, Mr. Esper wrote, will reduce the demand for "personnel and assets at the locations where the barriers are constructed and allow the redeployment of D.o.D. personnel and assets to other high-traffic areas."
While Mr. Esper did not detail which military construction initiatives would lose funding, he said in the letter that the money would not be taken from any family housing, barracks or dormitory projects.
* * *
Department officials insisted on Tuesday that the military construction projects were only being delayed, not canceled. But regaining money for those projects will be up to Congress, which would have to approve new money to fund them, something that Democrats who control the House are loath to do.
Hold on right there. Congress has repeatedly denied Trump funding for his medieval vanity project. Congress has also overwhelmingly passed a resolution rejecting Trump's declaration of a national emergency. Now Trump is stealing taxpayer funding from the military to pay for his medieval vanity project. But the Department of Defense expects Congress to reimburse it for the taxpayer funding that Trump is stealing? That would, in effect, mean that Congress is actually funding Trump's "big beautiful wall" on the border with Mexico, something Congress has steadfastly refused to do.
It also means that you, the American taxpayers, are paying for his medieval vanity project. Mexico is not paying for the wall as Trump promised.
"Every project that has been affected has gone through a rigorous multiyear review of the appropriateness and necessity of the construction process," said Representative John Garamendi, Democrat of California, who oversees the House Armed Services Readiness Subcommittee. In an interview, he said he had not yet spoken with Mr. Esper, but warned "it will not be a pleasant conversation for him."
Democrats on the Senate Appropriations Committee, in a letter to Mr. Esper on Tuesday night, demanded more information about how the decision was made and "why a border wall is more important to our national security and the well-being of our service members and their families than these projects."
NPR reports, These Are The Military Projects Losing Funding To Trump's Border Wall:
The Pentagon revealed on Wednesday the full list of $3.6 billion in military construction projects that will get shelved to help build a wall along the U.S.- Mexico border, according to documents obtained by NPR.
* * *
In a letter to House Armed Services Committee Chairman Adam Smith, D-Wash., Defense Secretary Mark Esper detailed 11 projects that would be completed with the diverted funds. They include new pedestrian fencing and barriers in San Diego, replacement of vehicle barriers in El Paso, Texas, and new fencing at the border in Yuma, Ariz.
* * *
According to a list of the projects, which NPR obtained through a congressional aide, about half are overseas. The domestic projects span Democratic and Republican districts.
* * *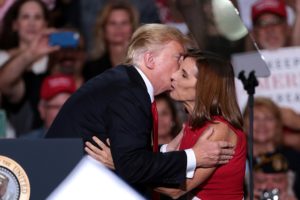 Sen. Martha McSally, R-Ariz., who is facing a tough reelection bid in 2020, said a project involving a ground transport equipment building at Fort Huachuca will lose $30 million in project funds.
In a statement, McSally downplayed the loss, saying it is a small fraction of the overall $3.6 billion and needed for national security. Also, the money can be backfilled by a provision in the proposed Senate version of the defense bill that aims to backfill the $3.6 billion through the fiscal year 2020 budget.
However, that same provision isn't in the House version of the National Defense Authorization Act. Both chambers are slated to negotiate a final version of the NDAA in the coming months.
"We need to secure our border and protect our military; we can and should do both," McSally said. "This one project at Fort Huachuca was already delayed because of ongoing environmental cleanup that is taking longer than expected."
Arizona is one of the states slated to get new funding related to wall construction projects.
E.J. Montini of The Republic takes our Trump ass-kissing senator to task. Arizona takes $30 million hit for Trump's border wall (Wasn't Mexico supposed to pay?) (excerpt):
It's a good thing to try to look after the state you represent. But as a member of the U.S. Senate, McSally must also think about the 126 other projects canceled to service the vanity of the president.
As Republican Sen. Mitt Romney of Utah said, "Funding the border wall is an important priority, and the executive branch should use the appropriate channels in Congress, rather than divert already appropriated funding away from military construction projects and therefore undermining military readiness."
The politicians supporting Trump's narcissism say the $3.6 billion in funding can be restored in future budgets.
Who'll be paying for that I wonder?
Mexico?
Or you?
We all know the answer.