Last week, President Obama had this to say in response to the Islamophobic fear mongering of Donald Trump following the mass shooting in Orlando, Florida:
"But we are now seeing how dangerous this kind of mind set and this kind of thinking can be. We are starting to see where this kind of rhetoric and loose talk and sloppiness about who exactly we are fighting, where this can lead us.

"We now have proposals from the presumptive Republican nominee for president of the United States to bar all Muslims from immigrating into America. And you hear language that singles out immigrants and suggests entire religious communities are complacent in violence.

"Where does this stop? The Orlando killer, one of the San Bernardino killers, the Fort Hood killer – they were all U.S. citizens. Are we going to start treating all Muslim-Americans differently? Are we going to start subjecting them to special surveillance? Are we going to start discriminate them, because of their faith?"
To which the crypto-fascist Donald Trump has now responded with an affirmative "hell yes!"Donald Trump Calls for Profiling to Stop Terrorists: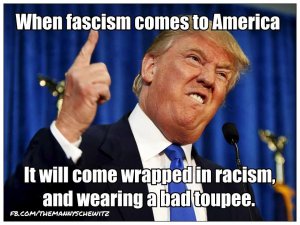 Donald J. Trump on Sunday renewed his call for the United States to consider profiling as a preventive tactic against terrorism in the aftermath of the mass shooting last week in Orlando, Fla.
"I hate the concept of profiling, but we have to start using common sense," Mr. Trump, the presumptive Republican presidential nominee, said in an interview on CBS's "Face the Nation."
Mr. Trump issued a similar call in December after the terrorist attack in San Bernardino, Calif., which left 14 people dead and more than 20 injured.
Profiling has been an occasional theme of the Trump campaign. In addition to his most recent comments, Mr. Trump has discussed increased surveillance of Muslims and mosques, and has said that he would consider registering Muslims in a special database or requiring that they carry cards that identify them as Muslim.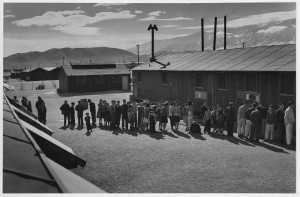 That's a slippery slope to rounding up Muslim American citizens on the basis of their religious faith and confining them to internment camps, like the U.S. did to Japanese-American citizens during World War II.
Where does this stop? Will Trump make Muslims wear a crescent moon on their clothing and tattoo their registration number on their arm? Or forcibly insert a RFID chip into their body to keep track of their whereabouts? Will Trump order their personal property seized, and their houses of worship destroyed?
And if that doesn't stop terrorist attacks from occurring, will Trump order a "final solution" of death camps for Muslim American citizens?
As President Obama asks, "Where does this stop?"
It's time for Americans to take a step back and to realize just how dangerous this demagogue Donald Trump really is. Carl Bernstein: Donald Trump is a 'pathological liar' and America's first 'neofascist' nominee.