Update to Special Counsel Is Closing In On Classified Documents Prosecution Of Trump.
ABC News adds to the reporting, Sources: Special counsel claims Trump deliberately misled his attorneys about classified documents, judge wrote:
Prosecutors in the special counsel's office have presented compelling preliminary evidence that former President Donald Trump knowingly and deliberately misled his own attorneys about his retention of classified materials after leaving office, a top federal judge wrote Friday in a sealed filing, according to sources who described its contents to ABC News.
U.S. Judge Beryl Howell, who on Friday stepped down as the D.C. district court's chief judge, wrote last week that prosecutors in special counsel Jack Smith's office had made a "prima facie showing that the former president had committed criminal violations," according to the sources, and that attorney-client privileges invoked by two of his lawyers could therefore be pierced.
Trump knowingly misled his lawyers and committed crimes in classified documents case, "A federal judge has ruled that the special counsel investigating Trump's handling of classified documents has presented compelling preliminary evidence that Trump broke the law." pic.twitter.com/mSs9pei3aE

— Sarah Reese Jones (@PoliticusSarah) March 21, 2023
In her sealed filing, Howell ordered that Evan Corcoran, an attorney for Trump, should comply with a grand jury subpoena for testimony on six separate lines of inquiry over which he had previously asserted attorney-client privilege.
Sources added that Howell also ordered Corcoran to hand over a number of records tied to what Howell described as Trump's alleged "criminal scheme," echoing prosecutors. Those records include handwritten notes, invoices, and transcriptions of personal audio recordings. [Oh Lordy, there's tapes!]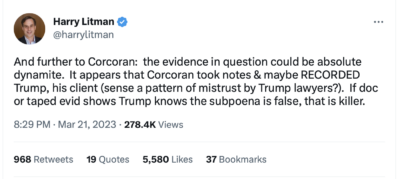 In reaching the so-called prima facie standard to pierce Corcoran's privilege, Howell agreed prosecutors made a sufficient showing that on its face would appear to show Trump committed crimes. The judge made it clear that prosecutors would still need to meet a higher standard of evidence in order to seek charges against Trump, and more still to prove his guilt beyond a reasonable doubt.
"It is a lower hurdle, but it is an indication that the government had presented some evidence and allegation that they had evidence that met the elements of a crime," Brandon Van Grack, a former top national security official in the Justice Department who is now in private practice, told ABC News.
Howell found that prosecutors showed "sufficient" evidence that Trump "intentionally concealed" the existence of additional classified documents from Corcoran, sources said, putting Corcoran in an unwitting position to deceive the government.
It's unclear what evidence Howell may have reviewed under seal from both DOJ and Trump's attorneys to help her arrive at her decision.
ABC News does not address this earlier reporting:
"On her final day as the top judge in the District of Columbia on Friday afternoon—in her final act—Chief Judge Beryl A. Howell did more than grant the Justice Department permission to question former President Donald Trump's personal attorney. She actually took the rare step of handing over the lawyer's notes to federal prosecutors, according to a person familiar with the arrangement." Federal Judge Hands Over Trump's Lawyer's Notes to DOJ:

In doing so, Howell may have planted the seeds for a future constitutional challenge. But in the immediate term, she's handed Justice Department Special Prosecutor Jack Smith a parting gift: what she deemed evidence of a crime involving the former president improperly hoarding classified documents after he left office.

M. Evan Corcoran, a former federal prosecutor, has represented Trump in that classified documents scandal. And while Corcoran already has his hands full as Trump's lawyer, the probe now appears to have put Corcoran in legal jeopardy himself.

According to a source, Corcoran's professional notes about private communications with his client were turned over to Judge Howell, who was conducting an "in camera review"—a carefully controlled screening of confidential records that typically takes place in a judge's chambers.

Judges who come to the conclusion that some legally protected and sensitive material must be turned over to an opposing side normally issue an order directing one side to do it, along with a deadline. Doing so gives the losing side the ability to appeal to a higher court—and prevent irreversible damage that could forever taint a case, according to two lawyers not involved in the case who spoke to The Daily Beast but asked not to be identified.

But Howell appears to have skipped that careful yet tedious approach—and just handed Smith a batch of documents that may show Trump and one of his lawyers planning a crime.

Either way, Trump's legal team is left without recourse, and federal prosecutors have more evidence to bolster the next steps in their ballooning investigation.

"She's taken all the legal relief out of their hands. If she orders them to do it, they can take up an appeal on an emergency basis. She may have been concerned from what she read in the documents. She may have not trusted them to comply with an order," said David Cross, an experienced federal litigator at the Washington firm Morrison & Foerster who is not involved in the Trump case.

[I]n turning over his notes, Howell's alleged actions stand in stark contrast with the more traditional approach taken by a federal judge in California who faced similar questions last year. In that case, the Jan. 6 Committee was trying to access documents protected by attorney-client privilege to explore how Trump employed conservative legal scholar John Eastman in an attempt to stay in power after losing the 2020 election.
Late last night, MSNBC reported that a three judge panel of the District of Columbia Court of Appeals gave Trump's Attorney's until midnight last night to file their emergency motion for stay of Judge Howell's order, and gave Special Counsel Jack Smith until 6:00 a.m. this morning to file his response.
Things typically move fast on motions related to criminal grand juries, but this schedule is exceptionally fast – indicating that the three judge panel is not going to put up with Trump's dilatory litigation tactics, and is prepared to uphold Judge Howell's order based upon the evidence she inspected in camera and found in her order that "special counsel Jack Smith's office had made a "prima facie showing that the former president had committed criminal violations."
I would expect a ruling as soon as today.
UPDATE: Called it! Appeals court upholds forcing Trump lawyer to give evidence in classified documents case:
A three-judge panel of the District Columbia Circuit Court of Appeals has denied former president Trump's request to block one of his attorneys from turning over documents to a grand jury looking into whether he broke the law by retaining classified documents at his Florida residence and whether he obstructed the investigation into his alleged retention of the documents.
Circuit Judges Nina Pillard, J Michelle Childs and Florence Pan issued a brief order lifting an administrative stay of a lower court order compelling attorney Evan Corcoran to turn over documents — including recordings of Mr Trump — to a grand jury working under the supervision of JusticeDepartment Special Counsel Jack Smith.
The panel ordered Mr Corcoran to comply with the 17 March order from District Judge Beryl Howell, who until last week was chief judge of the US District Court for the District of Columbia.
[T]he ruling means Mr Corcoran will have to provide the grand jury evidence that could be used to indict Mr Trump on charges that he obstructed a DOJ investigation into whether he unlawfully retained classified documents at his Mar-a-Lago beach club for more than a year after his term as president ended in January 2021.