Anti-tax crusader Grover Norquist, the founder and president of Americans for Tax Reform, said on Friday that "tariffs are taxes" … "They're taxes on American consumers and producers who use imported products. We need to get those tariffs down as quickly as we can." Grover Norquist urges Trump to get rid of trade tariffs, calling them taxes on US consumers.
Let's just call tariffs "Trump taxes" from now on, because that's exactly what they are.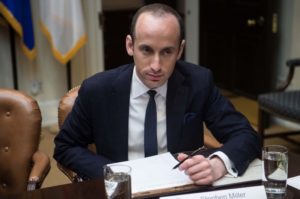 Apparently our "stable genius" president got riled up by conservative radio commentary about the recent surge in border crossings, and surprised his economic advisers by announcing a plan to impose new tariffs on Mexican imports via Twitter, according to a source close to the White House who said the idea was pushed by immigration hawk Stephen Miller. Mnuchin and Lighthizer opposed Trump tariffs on Mexico, source says:
Trump made the announcement Thursday night on Twitter. He said he will impose 5% tariffs on all Mexican imports starting June 10 and escalate them to 25% "until such time as illegal migrants coming through Mexico, and into our Country, STOP."
Anticipation that the tariffs combined with an escalating U.S.-China trade war could cool global growth sent equities sharply lower Friday, with the major U.S. indexes off by 1% in afternoon trading.
On a related note: "Stock prices slid on Friday, continuing a month-long retreat, with the S&P 500 down more than 6 percent this month and the bond market flashing worrying signs of a global recession."
The opposition by Treasury Secretary Steve Mnuchin and U.S. Trade Representative Robert Lighthizer marked a rare moment of unity from two top administration officials with starkly different economic ideologies.
Miller's role was confirmed by the source close to the White House and a person briefed on the matter.
Trump's move was announced as the administration's most prominent free-trade advocates — including economic aide Larry Kudlow and Vice President Mike Pence — were not around to argue against it. Pence was in Canada on Thursday. Kudlow, a former CNBC contributor, was undergoing surgery for a hip replacement, according to three sources.
Lighthizer's opposition to the tariffs was earlier reported by The Wall Street Journal.
"Lighthizer is not happy," an unnamed administration official told the paper.
Just to be clear, the immigrants we are talking about are from Central America's Violent Northern Triangle – El Salvador, Guatemala, and Honduras – they are not Mexicans, but are only passing through Mexico lawfully seeking asylum under U.S. and international law, fleeing corruption, violence, forced gang recruitment, extortion, and murder. It is not clear what imposing tariffs "Trump taxes" on Mexican goods to be paid by American consumers has to do with this.
As Steve Benen says, Trump combines two issues he doesn't understand: trade and immigration: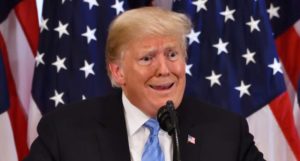 During a brief Q&A with reporters yesterday, Donald Trump said, "We're going to be having a major statement on the border sometime later today or tomorrow…. It will be a statement having to do with the border and having to do with people illegally coming over the border. And it will be my biggest statement, so far, on the border."
No one outside the White House had any idea what the hell he was talking about until the tweets were published last night.
President Donald Trump said Thursday night that the United States would impose a 5 percent tariff on all Mexican goods starting next month, saying the sweeping tariffs would rise monthly to as high as 25 percent "until Mexico substantially stops the illegal inflow of aliens coming through its territory."
Some White House officials tried to talk the president out of pursuing such a policy, but as is usually the case, Trump ignored them.
And that's unfortunate because this is not a good idea.
It's worth emphasizing at the outset that it's an open question as to whether these tariffs will actually be imposed. Trump says they will be, but Trump says a lot of things, only some of which reflect reality in a meaningful way. The policy – I'm using the word loosely – will purportedly kick in on June 10, though no one should be too surprised if, between now and then, the president backs off.
Indeed, it's easy to imagine him telling a fanciful tale about how this threat worked and produced dramatic changes, even if those changes are imaginary. This is, after all, exactly what happened in early April, when Trump announced plans to close the border, only to back off soon after, pointing to developments that weren't real.
Complicating matters, it's an open question as to whether the president even has the legal authority to impose these tariffs. Even some Republicans suspect he does not.
But for the sake of conversation, let's say the administration fully intends to follow through and impose these tariffs. Let's also say they're legal. Will they have the desired effect?
Almost certainly not.
Part of the problem is that no one has any idea what the metrics for success might be. In Trump's tweets, he said he intends to undermine trade between the United States and one of our largest trading partners "until the Illegal Immigration problem is remedied."
But in practical terms, what exactly does that mean? How do officials intend to define "remedied"? The White House held a conference call last night with acting Homeland Security Secretary Kevin McAleenan and acting White House Chief of Staff Mick Mulvaney, and both struggled to flesh out an answer in detail. (Mulvaney specifically told reporters, "[W]e're going to handle this on an ad hoc basis.")
For that matter, how does Team Trump intend to define "illegal"? U.S. law has an asylum process, which some seeking entry into the country can legally make use of. How is Mexico supposed to "stop" – another word the president used in his tweets last night – asylum seekers altogether? No one has any idea and the White House has made no effort to explain.
What's more, practical considerations aren't the only point of concern. Trump's new tariff plan also endangers his new NAFTA 2.0 package – the so-called USMCA – which the administration formally presented to Congress yesterday.
See, GOP senators warn Trump's Mexico tariffs could blow up trade deal:
Republicans are warning President Donald Trump that he could sabotage his hopes of a new trade agreement with Canada and Mexico if he follows through on plans to impose harsh new tariffs on the latter country.

"The [U.S.-Mexico-Canada Agreement] would provide much-needed certainty to our agriculture community, at a time when they need it," Sen. Joni Ernst (R-Iowa) said in a statement Friday. "If the president goes through with this, I'm afraid progress to get this trade agreement across the finish line will be stifled."

She joined Senate Finance Chairman Chuck Grassley (R-Iowa) and a number of business groups who criticized Trump's latest tariff move and warned it could imperil approval of the replacement for NAFTA, the president's top legislative priority.
The president has made this trade deal one of his top priorities for the year, which makes it all the more curious that he'd jeopardize it with a vague tariff gambit.
And finally, there's the economic impact. Trump has struggled to understand how tariffs work, but if he implements his new threat, the Republican will be increasing the costs of all products imported from Mexico into the United States. Given the inter-connectivity of the two economies, the effects could be awful.
As a Washington Post report explained, "The tariffs could undermine an economic relationship that has been deepening for decades, and throw into chaos corporate and agricultural supply chains that have essentially worked in a system without tariffs since the 1994 North American Free Trade Agreement."
See, Trump's Mexico tariffs could decimate the auto industry:
Already having laid off the highest number of employees in nearly a decade and attempting to recover from a year in which declining global car sales likely reduced world GDP by 0.2%, the auto industry is facing a direct hit from President Trump's threatened tariffs on all goods from Mexico.

Why it matters: Mexico recently became the No. 1 trading partner with the U.S., and a significant percentage of that trade is completed by auto companies. Much of the "trade" is American auto companies exchanging parts, goods and services within entities they own, Deutsche Bank Securities chief economist Torsten Slok pointed out in a note to clients Thursday night.

"Trade with Mexico is basically all about the supply chain, which essentially is all about cars."
All of which raises the obvious for which there is no obvious answer: why in the world is Trump doing this? Is this intended to be a distraction from Robert Mueller? Is the president looking for some "Trump gets tough with Mexico" headlines as part of his re-election campaign?
The Washington Post reports on the products that could be most hit by tariffs "trump taxes":
[W]e looked at imports of more than 1,230 categories of goods for the year ending in March — the most recent 12-month period for which we have data from the Commerce Department.
The top of the list is ruled by components for the American auto industry. Deutsche Bank Securities economist Torsten Slok told The Washington Post that two-thirds of U.S. imports from Mexico are intermediate parts that U.S. companies use to produce goods. Chief among them? Cars.
These Mexico-dependent categories include fresh produce, such as tomatoes, cauliflower and lettuce, as well as heavier equipment, such as tractors and trucks. There is also beer. Mexican brands such as Corona and Modelo Especial are among the best-selling beers in the country.
It's not just American tariffs that could send prices higher. There are two sides to this trade relationship, and many American industries, such as agriculture, rely on Mexican buyers. There are about 126 million of them — Mexicans outnumber Canadians 3.5 to 1.
Mexico's retaliation against Trump's earlier steel and aluminum tariffs had cost hog farmers about $12 per animal, Minnesota hog farmer Randy Spronk told The Post's Laura Reiley recently.
President Trump's tariffs "Trump taxes" on imported steel and aluminum have also forced Americans to pay more for steel and aluminum than other consumers around the world, but have added only a few thousand additional jobs.Trump's Metals Tariffs Added Some Jobs and Raised Consumer Prices:
[A]nalysts suggest their power to rebalance global production, in order to favor American workers, has effectively peaked.
* * *
Shares of America's largest aluminum and steel makers have plunged over the last year. There are fewer aluminum production jobs in the United States than a year ago, while steel mills have added only a few thousand jobs. In April of this year there were 381,000 Americans working in the primary metals industry, which includes steel and aluminum. That's up from 376,400 a year ago — a 1.2 percent gain — and down from 398,000 in April 2015.
Steel production barely increased over the past year. Aluminum production has risen more, but it remains more than 40 percent down from where it was in 2015. The United States produced 890,000 metric tons of aluminum in 2018 — barely more than Iceland, well below Norway and less than 3 percent of the output of China.
Executives at foreign-owned metals producers, which were supposed to bear the brunt of America's tariffs, say Mr. Trump's levies have largely been an annoyance and, ironically, a hindrance to their operations in the United States. They say tariffs have not changed the competitive landscape in the global aluminum or steel business.
"The main effect in the markets seems to be that aluminum is becoming more expensive for the U.S. consumer" relative to people elsewhere around the world, said Kathrine Fog, the head of corporate strategy and analysis for the Norwegian aluminum giant Norsk Hydro, in an interview in the company's Oslo headquarters.
* * *
At the end of last year, after months under the tariffs, the United States still produced barely two-thirds the aluminum of Norway — a country with just 5 million residents — according to the United States Geological Survey. It produced one-tenth the amount of raw steel as China, and its steel output was still growing slower than China's.
The damn fool quite literally has no idea what he is doing on trade. Trump tells his MAGA cult followers that he is getting tough on trade, but in reality it is they who are paying the tariffs "Trump taxes" on everything they purchase. Wake up!