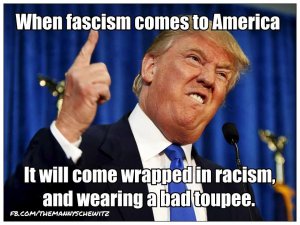 This is exactly what one would expect from a megalomaniac narcissist with an authoritarian "strong man" personality.
The short-fingered vulgarian Donald Trump has told those in the GOP who are publicly condemning  his Islamophobic rants and his accusing President Obama of siding with the enemy over the American people to shut up and get in line, or he will just go it alone and "do it by himself."  "I don't need you!" Donald Trump Vows to "Do It by Myself" If GOP Prudes Won't Lend Him a Hand:
In the wake of Donald Trump's toxic response to the Orlando shooting, Republican leaders have tried to distance themselves from their presumptive nominee, going so far as to physically flee from reporters.
On Wednesday, however, a passionate Trump refused to stand down, claiming that he had more than enough self-love to satisfy his needs.
At a rally in Atlanta, Georgia, Trump promised to "do it by myself" if squeamish party elders refused to get a grip on the hard job ahead. From CNN (emphasis added):
Donald Trump slammed GOP leaders on Wednesday for not lining up behind him, implying that he's willing to go forward without their help.

"We have to have our Republicans either stick together or let me just do it by myself. I'll do very well. I'm going to do very well. OK? I'm going to do very well. A lot of people thought I should do that anyway, but I'll just do it very nicely by myself," Trump said.
"This is too tough to do it alone," said Trump. "But you know what? I think I'm gonna be forced to. I think I'm going to be forced to."
Trump, CNN notes, "did not elaborate on what doing it 'by myself' would mean.
So much for that "pivot" to acting more presidential as the GOP nominee. Trump is not going to change who he is, a racist, bigoted con man who also happens to be quite mad.
It's not too late Republicans. Trump is not the GOP nominee until and unless the delegates to the RNC Convention agree to commit a collective suicicide by voting for Trump as their nominee.
Conservative blogger Jennifer Rubin says it's not as hard to "dump Trump" as you might think. Forget a third candidate: Instead dump Trump.