Above: h/t The Daily Beast, Trump to New York: You've Been Mean to Me, Drop Dead.
New York is now the epicenter of the global coronavirus pandemic, and its hospitals are being overwhelmed. Medical providers do not have enough basic supplies, e.g., gloves, gowns, masks and respirators. As supplies grow scarce in New York City, medical workers fear becoming patients themselves. And a Worker at NYC hospital where nurses wear trash bags as protection dies from coronavirus.
New York Governor Andrew Cuomo begs the Trump administration in his daily coronavirus briefings for ventilators. New York needs at least 30,000 ventilators to care for the influx of coronavirus patients that is expected to hit New York hospitals in the next two weeks. Cuomo says NY needs 30,000 ventilators, pleads with feds for help. So far, the state has procured 7,000, but has only received 400 from the federal government.
The New York hospital system has begun "ventilator sharing" this week, treating two patients instead of one on some ventilators, a desperate measure that could help alleviate a shortage of the critical breathing machines. 'The Other Option Is Death': New York Starts Sharing of Ventilators:
Ventilator sharing has been explored in a few scientific studies and has been used twice in crisis situations — the immediate aftermath of the 2017 Las Vegas shooting and, as of several days ago, by an emergency physician, Dr. Marco Garrone, for coronavirus patients in Italy. This is believed to be the first time that it has been put forth as a longer-term strategy in the United States.
But "Doctor" Trump, stable genius, knows better.  Trump Rejects New York's Plea For Ventilators: 'I Don't Believe You Need' That Many:
President Donald Trump rejected calls from New York's governor that the state needed tens of thousands of new ventilators to treat a mass of patients infected with the novel coronavirus, saying he didn't believe those numbers were accurate.
"I have a feeling that a lot of the numbers that are being said in some areas are just bigger than they're going to be," Trump told Fox News' Sean Hannity on Thursday night. "I don't believe you need 40,000 or 30,000 ventilators.
You know, you go into major hospitals sometimes, they'll have two ventilators. And now all of a sudden they're saying can we order 30,000 ventilators?"
This is reminiscent of President Gerald Ford denying federal assistance to New York City to spare the city from bankruptcy in 1975. The front page of the October 30, 1975 Daily News read: "FORD TO CITY: DROP DEAD."
Jennifer Senior recently wrote an op-ed in the New York Times riffing on this famous headline, Trump to New York: Drop Dead.
New York Gov. Andrew Cuomo responded Friday by saying the numbers were based on facts, not a belief or a feeling.
"I don't operate on opinion. I operate on facts, data, projections," Cuomo said at his daily press conference, explaining the numbers are based on projections from public health experts.
"All the projections say you could have an apex of 40,000 ventilators," he said. "Make the decisions based on the data and the science."
"I hope we don't need the 30,000 ventilators," Cuomo added.
"But that's my hope, that's my emotion," Cuomo said. "The numbers say you may need 30,000."
Cuomo had warned Thursday that the state's hospitals could soon be overwhelmed with patients afflicted with the COVID-19 disease, noting more than 5,200 people had been hospitalized, including 1,290 in intensive care.
On Tuesday Cuomo said the Federal Emergency Management Agency was sending 400 ventilators after he warned that the state needed thousands more to deal with an impending "apex" of its infection rate that he estimated would take place in a few weeks.
"What am I going to do with 400 ventilators when I need 30,000?" Cuomo said at a news conference at Manhattan's Javits Center, which is being turned into a makeshift hospital to treat New Yorkers. "You want a pat on the back for sending 400 ventilators? You're missing the magnitude of the problem."
Trump later said 4,000 additional ventilators would be sent to New York's hospital system, but he blasted the governor's leadership, saying he had a chance to buy the machines in 2015 but "turned it down."
Mr. "I don't take responsibility at all", always with deflection and seeking to blame others for his own failings. FactCheck.org, Trump's Misleading Ventilator Counter-Punch at Cuomo (excerpt):
Contrary to the president's claim, a task force in 2015 did not make a recommendation about purchasing more ventilators. The report — "Ventilator Allocation Guidelines" — provided guidelines for New York hospitals on how they should decide which patients get ventilators in the event of a severe influenza pandemic.
[C]ontrary to the president's claim, the task force did not make a recommendation about purchasing more ventilators. That was outside the scope of the report, Valerie Gutmann Koch, the former senior attorney and special consultant to the New York State Task Force on Life and the Law, told us via email.
Trump "obviously didn't read the document he's citing," Dani Lever, a spokeswoman for Cuomo, said in a statement to The Hill. "This was a 5 year old advisory task force report, which never recommended the State procure ventilators — it merely referenced that New York wouldn't be equipped with enough ventilators for a 1918 flu pandemic. No one is, including Mr. Trump."
The White House had been preparing to reveal on Wednesday a joint venture between General Motors and Ventec Life Systems that would allow for the production of as many as 80,000 desperately needed ventilators to respond to an escalating pandemic when word suddenly came down that the announcement was off. After Considering $1 Billion Price Tag for Ventilators, White House Has Second Thoughts:
The decision to cancel the announcement, government officials say, came after the Federal Emergency Management Agency said it needed more time to assess whether the estimated cost was prohibitive. That price tag was more than $1 billion, with several hundred million dollars to be paid upfront to General Motors to retool a car parts plant in Kokomo, Ind., where the ventilators would be made with Ventec's technology.
What's a billion dollars when Congress just passed a $2.2 trillion dollar stimulus bill this week?
Government officials said that the deal might still happen but that they are examining at least a dozen other proposals. And they contend that an initial promise that the joint venture could turn out 20,000 ventilators in short order had shrunk to 7,500, with even that number in doubt. Longtime emergency managers at FEMA are working with military officials to sort through the competing offers and federal procurement rules while under pressure to give President Trump something to announce.
But in an interview Thursday night with Sean Hannity, the president played down the need for ventilators.
* * *
The shortage of ventilators has emerged as one of the major criticisms of the Trump administration's response to the coronavirus. The need to quickly equip hospitals across the country with tens of thousands more of the devices to treat those most seriously ill with the virus was not anticipated despite the Trump administration's own projection in a simulation last year that millions of people could be hospitalized. And even now, the effort to produce them has been confused and disorganized.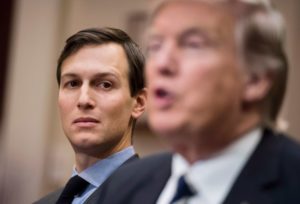 At the center of the discussion about how to ramp up the production of ventilators is Jared Kushner, the president's son-in-law and a senior White House aide, who has told people that he was called in two weeks ago by Vice President Mike Pence to produce more coronavirus test kits and who has now turned his attention to ventilators.
He has been directing officials at FEMA in the effort. Two officials said the suggestion to wait on the General Motors offer came from Col. Patrick Work, who is working at FEMA. Some government officials expressed concern about the possibility of ordering too many ventilators, leaving them with an expensive surplus.
Excuse me? This is a global pandemic. Other countries are going to need these ventilators as well.
As the agency has sorted through offers, trying to weigh production ability and costs, hospitals in New York and elsewhere are reporting a desperate need for more ventilators, which are critical in treating respiratory problems in a fast-rising tide of severe coronavirus cases.
A spokeswoman for FEMA said Colonel Work presented information on each contract in such meetings but did not make any recommendations. A White House spokesman declined to comment.
As the Trump princeling Jared Kushner, Secretary of Everything, once again proves that he is a master at nothing (except grifting), there may be other sources for ventilators coming soon.
The billionaire entrepreneur Sir James Dyson, better known for his bagless vacuum cleaners, has invented a new ventilator. The Guardian reports, From vacuum cleaners to ventilators – can Dyson make the leap?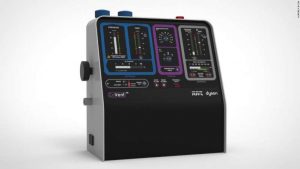 Since the engineering firm Dyson unveiled a prototype ventilator that it said could help arm the NHS for a surge in Covid-19 patients, there has been scepticism about its role.
One ventilator expert, whose company Penlon is working with the Ventilator Challenge UK consortium, speculated that designing a new device and producing thousands rapidly was unrealistic.
The [British] government has ordered 10,000 ventilators from Dyson, which developed its CoVent prototype in under a fortnight and says it could start producing them within weeks. "The race is now on to get it into production," Dyson told staff in an emailed rallying cry.
The company has no medical expertise but it does have some relevant experience, given that both ventilators and vacuum cleaners involve pumping air efficiently. Areas of crossover include digital motors, battery packs, airflow analysis and high-efficiency particulate air (HEPA) filters.
Nor has Dyson been working alone. It teamed up with the Technology Partnership, a Cambridge-based melting pot of scientists and innovators, some of whom have significant medical experience.
The government's medical and healthcare products and regulatory agency has also been looking at Dyson's plans. It has yet to give final approval for the CoVent but it has been involved in testing.
Not everyone is happy about the way Dyson has gone about trumpeting its role in the effort. Dozens of companies are working on separate efforts to produce ventilators and all have kept their plans relatively secret until the government is ready to give an official update.
"We're waiting for the green light to start talking about it and Dyson jumping the gun wasn't helpful to anyone," said a source at one company.
The fact that the government has placed firm orders for 10,000 CoVents pending regulatory approval indicates that the plan has legs. Dyson has also promised to donate another 5,000 to aid global efforts to fight Covid-19, with 1,000 of them reserved for the UK.
"The government will be looking at all options to make sure they have the right technology available to them," said Neil Campbell, whose company Inspiration Healthcare has a £4m contract to import ventilators from overseas while the UK production effort gathers pace. "There's a need for an awful lot of ventilators and if someone has a plan you're going to look at it."
Dyson is not a complete outlier in claiming it can design and build a ventilator – a complex and highly specialised piece of equipment – from scratch. The defence and engineering firm Babcock followed suit on Thursday, working in tandem with an unnamed company that already has expertise in the area.
Sources in government and among industrial firms taking part in the effort say no one thinks of the various plans released by Dyson, Babcock and the Ventilator Challenge UK consortium as being in competition with one another.
CNN adds, James Dyson designed a new ventilator in 10 days. He's making 15,000 for the pandemic fight:
James Dyson, the company's billionaire founder, said the company had designed and built an entirely new ventilator, called the "CoVent," since he received a call 10 days ago from UK Prime Minister Boris Johnson.
"This new device can be manufactured quickly, efficiently and at volume," Dyson added, saying that the new ventilator has been designed to "address the specific needs" of coronavirus patients.
A spokesperson for the company, which is best known for its vacuum cleaners and hand dryers, said the ventilators would be ready by early April.
"The core challenge was how to design and deliver a new, sophisticated medical product in volume and in an extremely short space of time," he added. "The race is now on to get it into production."
A second UK firm, Gtech, is also working to produce ventilators and has submitted two examples to the government for assessment. The company specializes in cordless vacuum cleaners and garden power tools.
Alok Sharma, the UK business minister, said Friday that ventilators made by Dyson and other suppliers will need to meet regulatory requirements before being used by the National Health Service.
Pressed on how quickly that can happen during an interview with BBC Radio 4, Sharma said the government wanted to see "prototypes coming forward in a matter of weeks before we move into large scale production."
"The critical point is to make sure that any machines that come forward actually meet the requirements and are safe," he added.
If British companies are getting this done, why can't U.S. companies? Where is the American "can do" exceptionalism from the U.S. ventilator competitors General Motors and Ventec Life Systems,  Ford, 3M and GE Healthcare, and others, to produce these ventilators? Time is wasting.