Update to GOP socialism Bailouts for farmers, hunger for the working poor with new SNAP (food stamp) regulations.
It turns out that all the bribe money Trump is paying to America's farmers to stick with him as a bailout of their losses from his disastrous trade war policies is not enough.
Some of America's farmers cannot even feed themselves, and have joined the ranks of the working poor by applying for food stamps.
The Washington Post reports, In Trump Country, a season of need on family farms (excerpts):
The grocery list took Anne Lee hours to make, an exercise in her increasingly desperate effort to feed her family of seven.
These days, Anne has only about $175 each month to spend on food, beyond the eggs, milk and meat that her family's dairy operation supplies. So this has become her monthly ritual, going through several drafts to create an affordable meal plan that keeps her husband and five kids from going hungry.
* * *
When Anne and her husband, Andy, took over his parents' 305-acre dairy farm in 2013, they made a good living. But years of falling milk prices, complicated by President Trump's trade wars, have left the couple nearly $200,000 in debt.
Farmers around the country are struggling to pay for basics like groceries and electricity as farm bankruptcies rise and farm debt hits a record high. Calls from farmers in financial crisis to state mediators have soared by 57 percent since 2015.
"We're supposed to be feeding the world, and we can't even put food on our own table," Anne said.
She has had less and less money for groceries each month, until one day in October when there was hardly any food in the house, and she started to investigate options she never would have considered before, like food stamps and food pantries.
"This is what need feels like," she told her husband.
* * *
[Anne's husband] Andy grew quiet when they drove past an empty dairy farm, animals gone, barn collapsed — out of business since the last farm crisis in the 1980s.
"I don't want to end up like that," he said.
The decline in the dairy industry — driven by global overproduction and a drop in American liquid milk consumption — hit rural New York hard, with the state losing more than 1,100 dairy farms since 2012, according to federal statistics. Then, last year came retaliatory tariffs from Mexico and China on dairy products after Trump-imposed tariffs on steel and aluminum — a $125 million blow to New York's dairy farmers, according to one state estimate.
About half a dozen farms have closed around the Lees, and the ones that remain are bad off, Anne says, though self-reliant farmers don't often discuss their troubles openly.
Anne handles the farm's finances and juggles the bills by cutoff date, with the top priority keeping the 65 dairy cows — the family's livelihood — well fed. She's stopped answering the landline phone because it's always bill collectors. The electric company is threatening to shut off their service.
The decline in milk prices has meant a gradual diminishment of what once was a middle-class lifestyle for the Lees — and the food budget that went with it. First they gave up delivery pizza. Then the Sam's Club membership. Then regular grocery stores.
* * *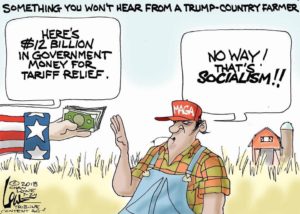 The Lees got $4,100 in federal bailout money this year, part of the Trump administration's $28 billion trade aid package for hurting farmers, which has been criticized for benefiting large operations over family farms. A study by the nonprofit Environmental Working Group found that 60 percent of the money that flowed to New York state went to the top 10 percent of farmers.
The Lees are grateful for what they received, but it's not enough to make a difference when the milk check is down $4,000 a month, Anne said.
* * *
Anne has tried to help out by getting several part-time jobs — agriculture survey taker, substitute school aide and teacher, liquor store assistant manager and a movie extra at Syracuse's film hub — which has been hard for Andy to accept.
"I'm supposed to be the primary provider in the house," he said. "Now I can't do that, my wife's got to do that? It means I'm not doing a good enough job."
He has been so down lately — so sure he's failing the farm that's been in the family since 1952 — that Anne couldn't bring herself to tell him what she was about to do. She'd quietly asked for a Christmas basket from the local community center and learned about a mobile food pantry in a nearby town where she won't be recognized.
Now she was going to apply for food stamps.
* * *
Anne was skeptical about whether she would be approved for benefits anyway. An estimated 197,000 farmers, farmworkers, fishermen and forestry workers use SNAP, according to a study by the Center on Budget and Policy Priorities, but farmers say they sometimes find it difficult to qualify because of complicated rules governing self-employment income. And the Trump administration has long-term plans to tighten SNAP eligibility for many.
But Anne had hoped to get her benefits before Christmas, which might free up a little extra money for simple gifts for the kids, like gloves or a dinosaur toy for her youngest, Levi, 6. Now it didn't look like that was happening.
"This sucks," she said.
She was back on the street in less than 20 minutes, far faster than expected, regretting paying $1 for two hours of street parking.
"Before, we were very private," she said as she climbed into her car. "Now I feel like everybody can see our entire life."
This is what need feels like.
The regulars at the monthly food giveaway outside a little white church in Richford, N.Y., start lining up at 6:30 a.m., holding their places in line with a kind of honor system of laundry baskets and wheeled grocery carts, then return to their cars to wait out of the cold. Anne showed up around 10, clutching grocery bags, and surveyed the place-savers stretched down the block.
"I'm not prepared for this," she said.
The night before, she'd curled up in the leaf-green wing chair she'd put in an upstairs closet and opened her rose-patterned journal.
"Tomorrow, we go to the food bank," she wrote. "Andy doesn't know. I'm afraid if he knows it will upset him. I am so nervous about going. I don't want people to judge me. I don't want someone to recognize me and the kids find out and get picked on at school. It is very nerve-racking. But my mom always said it's there for people that need a helping hand. Use it when you need to and help support it when you don't. So maybe I can help volunteer."
Finally the truck, a mobile food pantry from the Food Bank of the Southern Tier, pulled in and unfurled its doors, and the line began to move. Volunteers passed out milk, eggs, apple juice, frozen vegetables, tomato soup, chickpeas, cornflakes, canned pears, potatoes and rice. Anne grabbed two bags of apples and six bags of grapes. Fruit would be a question mark on the list no longer.
It was more than she could carry. It was almost more than could fit in the trunk of her car.
"Pretty good deal, huh?" said Peggy Andersen, one of the volunteers.
"I'm really excited," Anne said.
Anne was able to cross so many items off her master grocery list that once she got to Aldi she only spent $73.12, and then another $39.38 at the scratch-and-dent store that sells day-old bread and dented cans of food. She was $62.50 under her $175 budget. Now, she might be able to keep the lights on in the house and put a little toward the $459 electric bill.
Back at home in the slate-blue farmhouse with the tin star over the door, the grocery bags covered the kitchen table, the pine bench where the kids sit and do homework, and the floor. There was so much food it wouldn't all fit in the refrigerator, and some items would have to be stored on the side porch.
Andy came in from the barn for coffee and gave the spread a quizzical once-over, and Anne quickly copped to her stop at the food pantry. A complicated look passed over his face that she later explained was part relief — that she hadn't bought all of it herself — and part defeat that she had to ask for help.
"We gotta do what we gotta do, I guess," he said, and went back outside.
The fatal character flaw of farmers is that they are always eternally optimistic. Accepting the reality of their circumstances only comes at the bitter end, when they have lost the farm and their way of life. It is emotionally devastating. I saw this play out many times during the farm crisis of the 1980s.
Farmers constantly tell themselves that next year the weather will be better, I will produce more, demand will be up, prices will be up, and I will have a good year. One almost has to believe in the fantasies one concocts in order to keep going, and doing the back breaking hard work of farming. And this is where this narrative reporting turns heartbreaking:
Anne, scrolling through Facebook [aka Fake News], saw a hopeful headline.
"Hey, Andy," she said. "Listen to this."
Anne, and then Brooke, began to read out loud a Farm Progress article that quoted two University of Wisconsin at Madison economists predicting a further rise in the price of milk and "good times ahead for dairy farmers." A first phase of the trade deal with China still to be finalized might also bring some relief.
"So, is it going to be better for us in 2020?" Breanna asked.
"It's always going to be better for us in 2020, and 2021, and 2022," said Anne.
"Have to be positive," said Andy.
"We're all still together and we all still have a roof over our heads," Anne said.
"I mean about milk prices," Breanna said.
"I guess that's what they're saying," Anne said.
Wait, this self-delusion gets worse …
In this part of New York — older, whiter, poorer than other parts of the country — voters chose Donald Trump in decisive percentages during the 2016 presidential race, the Lees among them. Like many farmers, they think their taxes are too high, their creeks and streams are over-regulated and that Trump still has their best interests at heart.
"We've had unfair trade for years and years. Somebody had to fix it, and he's trying to fix it," Anne said.
"I know a lot of people don't like it but, you know, this was going to have to happen in order to make U.S. products become more competitive," said Andy. "It's going to hurt for a while."
Accepting the reality of their circumstances only comes at the bitter end, when they have lost the farm and their way of life. Unfortunately, blind support for Donald Trump will also ruin the lives of many other struggling Americans.
No country has ever "won" a trade war. As long as this continues, farmers are going to be the first casualties in this trade war. American farmers need to accept this reality, and turn away from their blind support of the disastrous trade war policies of Donald Trump. It is not going to get any better.
As Wisconsin dairy farmer Jim Goodman said in an op-ed in 2018, Dairy farming is dying. After 40 years, I'm done.
After 40 years of dairy farming, I sold my herd of cows this summer. The herd had been in my family since 1904; I know all 45 cows by name. I couldn't find anyone who wanted to take over our farm — who would? Dairy farming is little more than hard work and possible economic suicide.
My retirement was mostly voluntary. Premature, but there is some solace in having a choice. Unlike many dairy farmers, I didn't retire bankrupt. But for my wife and me, having to sell our herd was a sign — of the economic death not just of rural America but also of a way of life. It is nothing short of heartbreaking to walk through our barn and know that those stalls will remain empty. Knowing that our losses reflect the greater damage inflicted on entire regions is worse.
* * *
This year [2018], Wisconsin, where I live, had lost 382 dairy farms by August; last year, the number at the same point was 283. The despair is palpable; suicide is a fact of life, though many farm suicides are listed as accidents.
Jim Goodman accepted his reality:
They say a farmer gets 40 chances. For 40 years, each spring brings another shot at getting it right, at succeeding or failing or something in between. If that were ever true, it isn't now. That's why, after my 40 chances, I'm done.