In case you have a life away from politics, you may have missed that the always insecure egomaniacal Twitter-troll-in-chief, Donald J. Trump — after media pundits, without justification, declared him "presidential" after his address to Congress on Tuesday — has returned to his old habit of early-morning Twitter rants this weekend.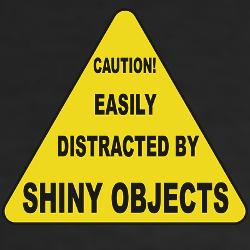 This time, Trump's Twitter rant is meant to distract the media with a bright shiny object from the actual scandal that is just below the surface of recent media reports on the Trump-Putin campaign connections. The intelligence agencies have been "following the money" and reviewing intercept surveillance, and they may be close to a bombshell story that is ready to break in the not-to-distant future.
This is a preemptive attempt by the Trump administration to get  out in front of the story and to gin up the conservative media entertainment complex with its comfort zone, Obama Derangement Syndrome.
Remember that Donald Trump emerged from the fever swamps of right-wing paranoia conspiracy theories — he was the head cheerleader of the Obama Birtherism conspiracy theory after all — when you consider his latest Twitter Rant.
The New York Times reports, Trump, Offering No Evidence, Says Obama Tapped His Phones:
President Trump on Saturday accused former President Barack Obama of tapping his phones at Trump Tower the month before the election, leveling the explosive allegation without offering any evidence.
A spokesman for Mr. Obama said any suggestion that the former president had ordered such surveillance was "simply false."
The Washington Post similalry reports, Trump accuses Obama of 'Nixon/Watergate' wiretap — but offers no evidence.
The New York Times explains:
Two people close to Mr. Trump said they believed he was referring to a Breitbart News article, which aides said had been passed around among his advisers. Mark Levin, a conservative radio host, had also embraced the theory recently in a push against what right-leaning commentators have been calling the "deep state."
The Breitbart article, published on Friday, claimed that there was a series of "known steps taken by President Barack Obama's administration in its last months to undermine Donald Trump's presidential campaign and, later, his new administration." Stephen K. Bannon, Mr. Trump's chief strategist, once led Breitbart News.
If Mr. Trump was motivated to take to Twitter after reading the Breitbart article or listening to Mr. Levin, he was using a presidential megaphone to spread dark theories of a broad conspiracy aimed at undermining his presidential ambitions, and later his presidency.
Even with the Breitbart article circulating, several of Mr. Trump's advisers were stunned by the president's morning Twitter outburst. Those advisers said they were uncertain about what specifically Mr. Trump was referring to; one surmised that he may also have been referring to a months-old news report about a secret surveillance warrant for communications at his New York offices.
The Washington Post adds:
The conservative media landscape — including Sean Hannity's show on Fox News and Infowars, the conspiracy website run by Alex Jones, outlets on which Trump has appeared — has in recent days given birth to tales of Obama and his closest confidants trying to spur Trump's impeachment or force his resignation.
UPDATE: Trump's allegation that the Obama administration wiretapped his phones began as a rant on conservative talk radio and then spread to Breitbart News. A Conspiracy Theory's Journey From Talk Radio to Trump's Twitter.
So what is this story really about?
There have been several news reports since last summer that the FBI had requested a FISA Court warrant to surveil contacts between the Russian government and the Trump campaign. Some reports said the FBI was denied the request because it was not narrowly tailored. But later reports claim that the FBI submitted a new request for a FISA  warrant to surveil contacts between the Russian government and the Trump campaign which was granted. See, for example, EXCLUSIVE: FBI 'Granted FISA Warrant' Covering Trump Camp's Ties To Russia:
Two separate sources with links to the counter-intelligence community have confirmed to Heat Street that the FBI sought, and was granted, a FISA court warrant in October, giving counter-intelligence permission to examine the activities of 'U.S. persons' in Donald Trump's campaign with ties to Russia.
Contrary to earlier reporting in the New York Times, which cited FBI sources as saying that the agency did not believe that the private server in Donald Trump's Trump Tower which was connected to a Russian bank had any nefarious purpose, the FBI's counter-intelligence arm, sources say, re-drew an earlier FISA court request around possible financial and banking offenses related to the server. The first request, which, sources say, named Trump, was denied back in June, but the second was drawn more narrowly and was granted in October after evidence was presented of a server, possibly related to the Trump campaign, and its alleged links to two banks; SVB Bank and Russia's Alfa Bank. While the Times story speaks of metadata, sources suggest that a FISA warrant was granted to look at the full content of emails and other related documents that may concern US persons.
The FISA warrant was granted in connection with the investigation of suspected activity between the server and two banks, SVB Bank and Alfa Bank. However, it is thought in the intelligence community that the warrant covers any 'US person' connected to this investigation, and thus covers Donald Trump and at least three further men who have either formed part of his campaign or acted as his media surrogates. The warrant was sought, they say, because actionable intelligence on the matter provided by friendly foreign agencies could not properly be examined without a warrant by US intelligence as it involves 'US Persons' who come under the remit of the FBI and not the CIA. Should a counter-intelligence investigation lead to criminal prosecutions, sources say, the Justice Department is concerned that the chain of evidence have a basis in a clear warrant.
Now, neither the FISA Court, nor the intelligence agencies, nor the Justice Department and FBI can confirm the existence of a FISA Court warrant because such warrants are secret and involve national security matters. But the reporting today indicates that the Trump administration certainly believes a FISA warrant was issued. The New York Times reports:
[A] senior White House official said that Donald F. McGahn II, the president's chief counsel, was working to secure access to what Mr. McGahn believed to be an order issued by the Foreign Intelligence Surveillance Court authorizing some form of surveillance related to Mr. Trump and his associates.
The official offered no evidence to support the notion that such an order exists. It would be a highly unusual breach of the Justice Department's traditional independence on law enforcement matters for the White House to order it to turn over such an investigative document.
Any request for information from a top White House official about a continuing investigation would be a stunning departure from protocols intended to insulate the F.B.I. from political pressure. It would be even more surprising for the White House to seek information about a case directly involving the president or his advisers, as does the case involving the Russia contacts.
After the White House received heavy criticism for the suggestion that Mr. McGahn would breach Justice Department independence, a different administration official said that the earlier statements about his efforts had been overstated. The official said the counsel's office was looking at whether there was any legal possibility of gleaning information without impeding or interfering with an investigation. The counsel's office does not know whether an investigation exists, the official said.
The New York Times explains:
It would have been difficult for federal agents, working within the law, to obtain a wiretap order to target Mr. Trump's phone conversations. It would have meant that the Justice Department had gathered sufficient evidence to convince a federal judge that there was probable cause to believe Mr. Trump had committed a serious crime or was an agent of a foreign power, depending on whether it was a criminal investigation or a foreign intelligence one.
Former officials pointed to longstanding laws and procedures intended to ensure that presidents cannot wiretap a rival for political purposes.
"A cardinal rule of the Obama administration was that no White House official ever interfered with any independent investigation led by the Department of Justice," said Kevin Lewis, a spokesman for Mr. Obama. "As part of that practice, neither President Obama nor any White House official ever ordered surveillance on any U.S. citizen."
The Washington Post adds:
Wiretaps in a foreign intelligence probe cannot legally be directed at a U.S. facility without probable cause — reviewed by a federal judge — that the phone lines or Internet addresses at the facility were being used by agents of a foreign power or by someone spying for or acting on behalf of a foreign government.
* * *
If the Foreign Intelligence Surveillance Court approved a wiretapping order on one of Trump's associates, that would mean the federal judge involved had decided there was probable cause that the person was colluding with a foreign government.
For their part, the intelligence agencies conducting the Trump-Putin campaign connections are denying the existence of a secret FISA Court warrant, as one would expect.
From the Times:
One senior law enforcement official from the Obama administration, who has direct knowledge of the F.B.I. investigation into Russia and of government wiretapping, said that it was "100 percent untrue" that the government had wiretapped Mr. Trump. The official, who asked for anonymity to discuss matters related to investigations and intelligence, said the White House owed the American people an explanation for the president's allegations.
From the Post:
Senior U.S. officials with knowledge of a wide-ranging federal investigation into Russian interference in the election, who spoke on the condition of anonymity to discuss classified information, said Saturday that there had been no wiretap of Trump.
Officials at the FBI and the Justice Department declined to comment.
This latest Trump scandal escalated on Sunday after FBI Director James Comey Asks Justice Dept. to Reject Trump's Wiretapping Claim:
The F.B.I. director, James B. Comey, asked the Justice Department this weekend to publicly reject President Trump's assertion that President Barack Obama ordered the tapping of Mr. Trump's phones, senior American officials said on Sunday. Mr. Comey has argued that the highly charged claim is false and must be corrected, they said, but the department has not released any such statement.
Mr. Comey, who made the request on Saturday after Mr. Trump leveled his allegation on Twitter, has been working to get the Justice Department to knock down the claim because it falsely insinuates that the F.B.I. broke the law, the officials said.
* * *
Mr. Comey's request is a remarkable rebuke of a sitting president, putting the nation's top law enforcement official in the position of questioning Mr. Trump's truthfulness. The confrontation between the two is the most serious consequence of Mr. Trump's weekend Twitter outburst, and it underscores the dangers of what the president and his aides have unleashed by accusing the former president of a conspiracy to undermine Mr. Trump's young administration.
The White House showed no indication that it would back down from Mr. Trump's claims. On Sunday, the president demanded a congressional inquiry into whether Mr. Obama had abused the power of federal law enforcement agencies before the 2016 presidential election. In a statement from his spokesman, Mr. Trump called "reports" about the wiretapping "very troubling" and said that Congress should examine them as part of its investigations into Russia's meddling in the election.
Along with concerns about potential attacks on the bureau's credibility, senior F.B.I. officials are said to be worried that the notion of a court-approved wiretap will raise the public's expectations that the federal authorities have significant evidence implicating the Trump campaign in colluding with Russia's efforts to disrupt the presidential election.
* * *
Senior law enforcement and intelligence officials who worked in the Obama administration have said there were no secret intelligence warrants regarding Mr. Trump. Asked whether such a warrant existed, James R. Clapper Jr., a former director of national intelligence, said on NBC's "Meet the Press" program, "Not to my knowledge, no."
"There was no such wiretap activity mounted against the president-elect at the time as a candidate or against his campaign," said Mr. Clapper … adding that he would "absolutely" have been informed if the FBI had received a FISA warrant against either. "I can deny it," Clapper said emphatically.(Washington Post, FBI Director Comey asked Justice officials to refute Trump unproved wiretapping claim).
House Intelligence Committee chair Rep. Devin Nunes (R-CA), who recently made clear that he was more interested in nefarious reports published in the news media than in alleged contacts between the Trump team and Russian officials, saying the focus of the House's probe would be on information leaks, House Intelligence chairman says he hasn't found evidence of Trump team's ties to Russia, today jumped at the opportunity to instead investigate the Obama administration based upon Trump's request. House Intelligence Chair Says He Will Investigate Eavesdropping Claims:
House Intelligence Committee chair Rep. Devin Nunes (R-CA) said on Sunday that his committee will "make inquiries" into whether President Barack Obama's administration eavesdropped on campaign officials before the 2016 election, as President Donald Trump has baselessly claimed it did.
"One of the focus points of the House Intelligence Committee's investigation is the U.S. government's response to actions taken by Russian intelligence agents during the presidential campaign," Nunes said in a statement. "As such, the Committee will make inquiries into whether the government was conducting surveillance activities on any political party's campaign officials or surrogates, and we will continue to investigate this issue if the evidence warrants it."
Rep. Nunes is an excellent reason why we need an independent special prosecutor to conduct this investigation.
At this point, the FBI and intelligence agencies are flatly denying that a FISA warrant for surveillance of Trump-Putin campaign connections was issued. But what if one was? Brian Barrett makes the point at Wired that If the Feds Did Wiretap Trump Tower, It's Not Obama Who Should Worry:
Trump's wiretap claims, then, carry presumably inadvertent implications. First, based on previous reporting and the nature of FISA courts, any wiretaps within Trump Tower would be legal. And they would stem from overwhelming evidence that the Trump campaign, or someone within it, has unsavory ties to Russia or another foreign power. Otherwise, it's unlikely those wiretaps would exist at all.
If federal authorities did have cause to listen in on Trump Tower, though, and they provided enough evidence for a FISA court to approve the snooping, Obama is not the one who ought to worry.
And this is why the Trump administration is preemptively trying to get out in front of this story and to gin up the conservative media entertainment complex with its comfort zone, Obama Derangement Syndrome, to distract everyone from what would be the biggest scandal in U.S. history.