Trump's party of white identity and white grievances has decided to go to the well one more time with a naked appeal to racism and anti-immigrant hysteria. Fox News aka Trump TV wanted to exploit a caravan of migrants as a midterm election issue, so that's what Trump is doing: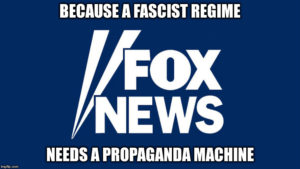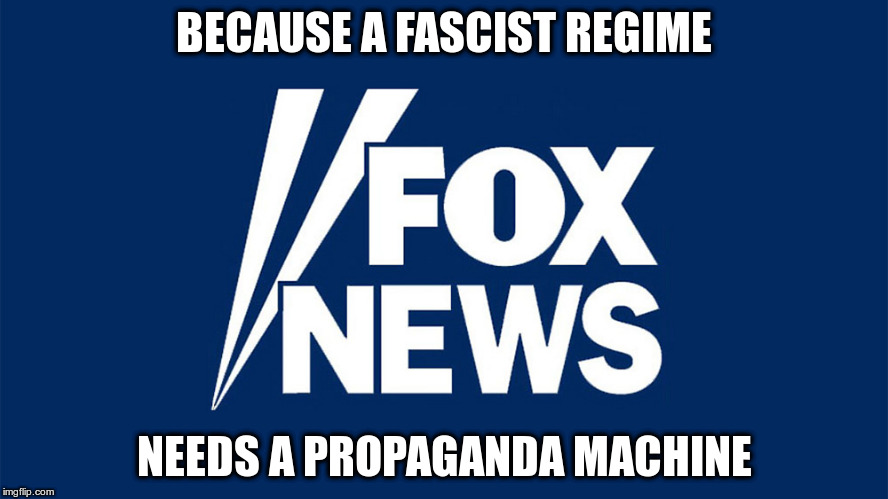 President Donald Trump responded on Thursday morning to reports of a caravan of migrants moving through Central America toward the U.S. border by blaming Democrats for their purported "assault on our country." The president was mimicking the commentators he was likely watching on Fox News, who urged Republicans to weaponize the caravan as an election issue ahead of next month's midterms.
A caravan of as many as 4,000 Honduran migrants has entered Guatemala, leading Fox hosts to spend much of the week trying to stoke fears that the migrants are "heading this way" with plans "to storm our border." None of this makes much sense — the caravan would still need to make it through all of Guatemala and Mexico, and the Mexican government is currently deploying its own resources to stop the migrants. But because Trump's worldview is shaped by the hours of Fox he consumes each day, that coverage is having an impact on U.S. policy — and now, the topics of discussion in the midterm elections.
Trump entered the fray on Tuesday morning, warning that the U.S. would cut off aid to Honduras if the caravan isn't turned back:
With Trump weighing in, the story's coverage escalated. On Wednesday night, Fox contributor and Trump confidant Newt Gingrich urged Republicans to make the caravan a key voting issue. Newt Gingrich Tells Sean Hannity Two Words Will Define The 2018 Midterms: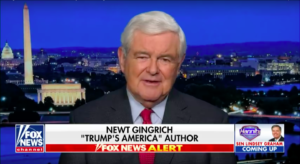 "This election is a life-and-death struggle with a left-wing movement which wants to radicalize America," Gingrich, the Republican former House speaker, told Sean Hannity on his Fox News show Wednesday night.
"I have a prediction for you. Sometimes politicians and their consultants and everybody does all this planning, and then history just picks things up and changes everything.
"I think two words are going to define the night of the 2018 election in the next three weeks. One is Kavanaugh and the other is caravan."
"The combination of anger over how the left smeared, engaged in character assassination, lied, used bullying tactics with Judge Kavanaugh is going to be one part of this," Gingrich told Hannity.
"And the degree to which the left is eager to have 3,000 people in a caravan cross the American border, break American law, recognizing that if that happens, the next caravan will be even bigger, and the caravan after that will be even bigger.
"I think the American people are going to reject both the way they treated Kavanaugh and the way they are dealing with the border. I think those will end up being the reasons the Republicans keep the House and dramatically increase the number of Senators they have."
Newt Gingrich is the spawn of Satan. As McCay Coppins explains in a profile at The Atlantic, Newt Gingrich is The Man Who Broke Politics:
[F]ew figures in modern history have done more than Gingrich to lay the groundwork for Trump's rise. During his two decades in Congress, he pioneered a style of partisan combat—replete with name-calling, conspiracy theories, and strategic obstructionism—that poisoned America's political culture and plunged Washington into permanent dysfunction. Gingrich's career can perhaps be best understood as a grand exercise in devolution—an effort to strip American politics of the civilizing traits it had developed over time and return it to its most primal essence.
The devil should reclaim his spawn and take him back to the bowels of hell where he belongs.
Of course, Fox & Friends – Trump's unofficial White House staff – repeatedly urged Republicans to take Gingrich's advice.
The president apparently got the message. In a series of tweets beginning at 7:25 a.m., he used the caravan to attack Democrats, saying they had "led (because they want Open Borders and existing weak laws)" an "assault on our country." He also threatened to stop "all payments" to Honduras, El Salvador, and Guatemala, and said he would "call up the U.S. Military and CLOSE OUR SOUTHERN BORDER" if Mexico could not "stop this onslaught."
This is not the first time Fox's migrant coverage has triggered Trump to erupt on Twitter. In the spring, he similarly lashed out in response to Fox's coverage of a caravan of migrants moving through Central America.
This Fox-Trump feedback loop presents a problem for journalists, as the president drives the network's fearmongering coverage into the mainstream policy debate.
At his Nuremberg-style campaign rally in Missoula, Montana Thursday night, the racist-in-chief demagogue hinted at conspiracy theories for migrant caravan:
President Donald Trump on Thursday amped up his focus on immigration ahead of the midterm elections by claiming, without evidence, that Democrats were behind a group of Central American migrants trying to reach the U.S.
"This will be an election of Kavanaugh, the caravan, law and order and common sense," Trump said during a political rally in Missoula, Mont., referring to the nomination of Brett Kavanaugh to the Supreme Court.
Trump flirted with conspiracy theories about the possibility that the migrants are being paid off, said money was being "passed through" those very people.
Trump appeared to be referring to a video that Rep. Matt Gaetz (R-Fla.), a frequent ally, posted on Twitter on Wednesday that supposedly depicted migrants in Honduras "giving cash" to migrants in the Central American country as they set of for the U.S. Going even further, Gaetz called for an investigation to examine whether "US-backed NGOs" or the financier George Soros, a frequent subject of conservative conspiracy theories, were behind the alleged payments. Trump himself tweeted out the video on Thursday.
So anti-Semitism against the "international Jewish conspiracy" for good measure.
UPDATE: Rep. Matt Gaetz (R-FL) admitted on Sunday that he had provided false information when he tweeted a video of a "caravan" of Latinos who he suggested had been paid by liberal billionaire George Soros. "I was wrong," Gaetz told CNN's Jake Tapper.
Regardless of what was actually being passed out in the video, where men are shown handing something to women waiting in line, there was evidence that the video was actually shot in Guatemala, not Honduras.
At the rally, the president added that Democrats figured "everybody coming in" was going to vote for their candidates — though he did not mention that only legal citizens can participate in elections, and that attaining nationality and registering to vote is a process that can't be completed before Nov. 6.
So now we're going back to that idiot Jesse Kelly's bogus claim in the 2010 campaign that Dems Are Busing Mexicans In To Vote Illegally? Trump is recycling this old lie?
UPDATE: To his credit, FOX News host Chris Wallace on Friday Called Trump's Idea That Dems Behind Caravan 'Preposterous': "Let me say first of all the idea that the Democrats were somehow behind this caravan coming from Honduras of these women and children is preposterous and there's been no evidence offered on that any more than there was evidence that the protestors on Capitol Hill during the Kavanaugh hearings were paid protestors," he said.
The latest outrage: Trump threatens drastic action on immigration in bid to energize GOP voters:
President Trump on Thursday lashed out at Democrats and the leaders of Latin American nations, seeking to deflect blame and mitigate political damage by riling up his base just weeks before the midterm elections.
The president's mounting frustration was evident in a series of tweets in which he threatened to summon the military to guard the southern border, cut off aid to Central American nations and upend a recent trade deal with Mexico if those governments fail to stop a large caravan of migrants from Honduras making its way toward the United States.
Trump likely lacks the legal authority to carry out all of those drastic measures without congressional approval, but the threats highlighted the potentially perilous political implications for the White House as voters prepare to go to the polls with Republican control of Congress in the balance. In recent campaign rallies, Trump has sought to rally conservatives by asserting falsely that Democrats are in favor of "open borders" and that they favor increased crime.
* * *
While some GOP leaders in the House had initially hoped to focus their election message on the economy, Trump has continued to highlight immigration, confident that his hard-line views on enforcement will motivate his base and carry significant crossover appeal to independent and moderate voters who helped him win in 2016.
Many Republican candidates, especially in Senate races in states Trump won in 2016, have modeled attack ads on Trump's rhetoric, aiming to raise public fears over the dangers of illegal immigration.
"The border is a big issue for Republican base voters who are already energized after Kavanaugh," said Chris Wilson, a ­Republican pollster working on battleground races, referring to the contentious Supreme Court confirmation battle over Justice Brett M. Kavanaugh. "A reminder that illegal immigration is a real problem and that we just don't know who is entering our country can only boost Republican interest."
* * *
Border Patrol agents arrested more than 16,000 immigrant families at the U.S.-Mexico border in September, the highest total on record and an increase of 80 percent since July, when Trump reversed his administration's policy of separating immigrant children from their parents after a public outcry.
In all, more than 107,000 family members were taken into custody in fiscal 2018, obliterating the previous high of just under 78,000 in 2016.
"It's pretty clear that the things this administration has attempted to address the situation at the border are failing," said Cecilia Muñoz, an analyst at the think tank New America who served as a White House domestic policy adviser in the Obama administration. "As is typical, this president is trying to lay the blame elsewhere."
The Trump administration has been in contempt of court for months refusing to comply with a federal court order to reunify families separated under its now suspended "zero tolerance" family separation policy. Federal judge orders Trump administration to move forward on dozens of asylum claims.
So naturally, Trump's latest anti-immigrant gambit: Family separation 2.0:
Family separation 2.0, as conceived by the White House, would present migrant parents with what officials call a "binary choice." They could remain with their children in detention for months or years — the waiting period reflects the huge backlog in immigration cases — or give them up to the government, which would place them in shelters until other relatives or guardians could seek custody. Aside from the fact that there is nothing approaching the capacity in existing detention centers to absorb even a reduced flow of family migrants, the administration's blueprint may not be legal. As a deterrent, it is also unlikely to work. Fiscal year 2018's record number of family members detained along the southwestern border coincided with the uproar over family separations last spring.
It's worth bearing in mind that while arrests of families have soared, the overall number of apprehensions in the past year, at just under 400,000, is still among the lowest in the past 45 years. It's also worth remembering that Congress would have happily given Mr. Trump a deal, allowing him to build his wall in exchange for legal status for "dreamers," immigrants brought here as children who are American in all but their documents. As he inflames his base on the campaign trail, we're seeing why the president wouldn't take yes for an answer.
As we have seen here in Arizona, Republicans are all-in on Trump's moral depravity of racist anti-immigrant hysteria in their campaigns. Sadly, it is effective with far too many voters.
---
Support volunteer citizen journalism at the Blog for Arizona with a donation today. Your secure contribution keeps the Blog online and sustains a free press in Arizona.
---