The Twitter-troll-in-chief on Tuesday tried to mainstream Russian propaganda through a tweet, which really tells you everything you need to know about Putin's puppet.
Axios reports Trump tweets conspiracy theory that injured Buffalo protester was "antifa provocateur" (paragraphs have been reordered for clarity):
President Trump tweeted Tuesday that the 75-year-old protester who was shoved to the ground by Buffalo, N.Y., police last week "could be an ANTIFA provocateur" and "fell harder than he was pushed."
The conspiracy theory, which originated on the far-right blog Conservative Treehouse. The blog post claims — all without evidence — that the protester, Martin Gugino, used "a phone as a capture scanner" as "a method of police tracking used by Antifa to monitor the location of police."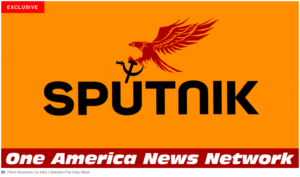 The blog post made its way to the president via a report on One America News Network, a small Fox News rival with a history of conspiracy-focused reporting. The OANN reporter, Kristian Rouz, is a Russian national who also writes for Kremlin-owned Sputnik, per The Daily Beast.
It is bad enough that this Russian propaganda outlet OANN is given press credentials for White House press conferences that have led to some truly cringe-worthy set-up questions from OANN reporters for Trump in order to "catapult the propaganda," as George W. Bush used to say.
Rupert Murdoch's Wall Street Journal reported earlier this year that the Trump crime family was considering to purchase this Russian propaganda outlet OANN for life after the presidency to compete directly with his rival network, Fox News aka Trump TV. Trump Allies Eye Buyout of One America News Network: WSJ. Devin Gordon at The Atlantic recently had a good expose on the fever swamps of this conspiracy mongering Russian propaganda outlet. Trump's Favorite TV Network Is Post-parody.
Aaron Blake at the Washington Post explains The frequent overlap between Trump's conspiracy theories and Russian propaganda (excerpt):
The conspiracy theory is all the more ugly considering its origins: In the tweet, Trump tagged the pro-Trump One America News Network. The OANN journalist behind the dubious conspiracy theory is Kristian Rouz, who has moonlighted as a reporter for the Russian propaganda outlet Sputnik News.
As the Daily Beast's Kevin Poulsen reported in November, Rouz has a history spouting such bizarre theories and of putting a pro-Russia slant on his OANN reporting:
Kremlin propaganda sometimes sneaks into Rouz's segments on unrelated matters, dropped in as offhand background information. A segment on the Syrian rescue workers known as the White Helmets references "allegations of the White Helmets' involvement in military activities, executions, and numerous war atrocities," but doesn't disclose that those "allegations" were hoaxes that originated with Vladimir Putin and his proxies.
In another report, Rouz cast [Hillary] Clinton's criticism of Brexit as an extension of her "grievous insults and fake narratives against Russia" — an assertion that makes sense only in the context of Rouz's multiple reports claiming Russia was framed for hacking Democrats.
Trump sharing such a specious theory is one thing — particularly given the unrest roiling the country during the protests over George Floyd's death. But we now know the theory was shared based on reporting from someone who has been paid to promote the Kremlin's party line. That's an indirect through line, but the theory fits with what U.S. intelligence has said is Russia's aim in the United States: To sow distrust, discord and division.
The theory also fits broadly with Russia's efforts during the Floyd protests to portray these protesters, and protesters more generally, as dangerous and violent provocateurs.
But it's hardly the first time Trump has passed along something that fits so neatly with Russian propaganda. Below are other examples.
[T]his is something that has happened over and over again over the years in some major ways — involving some far-flung theories, much like the one he promoted Tuesday.
Briefly:
Questioning Russia's 2016 election interference
Claiming Ukraine interfered in the election
Legitimizing the Soviet Union's invasion of Afghanistan
The poisoning of Sergei Skripal
When reporters tried to get a response from Republicans about Trump's Russian propaganda tweet, they all ran for cover not wanting to talk to reporters. The New York Times reports, That Trump Tweet? Republicans Prefer Not to See It:
On the 161st day of the fourth year of the Trump presidency, having grown accustomed to Republican lawmakers' favorite excuse for refusing to comment on President Trump's latest incendiary tweet, reporters resorted to a rare tactic.
They printed out copies of Mr. Trump's post — this one containing an unsubstantiated suggestion that an older protester shoved and injured by the police in Buffalo was an Antifa provocateur who staged his own assault — for any Republican who might try to fall back on what has become a stock response: "I didn't see the tweet."
It did not work. Even faced with documentary evidence of the president's inflammatory remark, most Republicans averted their gaze on Tuesday, declining to comment as they darted through the hallways of Capitol Hill and appearing to wish away what was on paper in front of them.
Their reactions were the most vivid illustration to date of an extraordinary dynamic among elected Republicans that has been building almost since the moment Mr. Trump took office — behaving as if they have no idea what he is doing or saying. After thousands of tweets carrying falsehoods, racist language and demeaning barbs against their own colleagues — not to mention the news reports, book excerpts or speeches that have roiled this administration — lawmakers in his party have largely settled on blissful ignorance as a way of avoiding defending the indefensible.
As Anne Applebaum at The Atlantic says, History Will Judge the Complicit. These complicit Republican enablers of Trump must all be held accountable.
The few Republicans who did offer brief rebukes of the president's tweet on Tuesday morning were the handful who had long ago established themselves as willing to break with Mr. Trump when they believe it is warranted. But with six months left in Mr. Trump's term, even they seemed weary of being the lone voices of mild condemnation.
Senator Lisa Murkowski, Republican of Alaska, dutifully read the printout of Mr. Trump's tweet presented to her by a Politico reporter, then gasped: "Oh lord, ugh." (Ms. Murkowski, who incurred a Twitter rebuke from the president last week over critical comments, previously told reporters that "I cannot live in fear of a tweet" after that attack.)
And Senator Mitt Romney, Republican of Utah, pointedly rejected the stock response that so many of his colleagues had resorted to in avoiding weighing in.
"I saw the tweet," he said.
"It was a shocking thing to say," he added, "and I won't dignify it with any further comment."
UPDATE: The Washington Post's fact checker, Glenn Kessler, laments "Once again the president makes us regret we can award no more than Four Pinocchios." Trump tweets outrageous conspiracy theory about injured Buffalo man.
UPDATE: This "antifa" boogeyman fixation that Donald Trump and his henchman William "Coverup" Barr share has gone nowhere.
NPR examined recent court records in civil-unrest cases brought by the Justice Department and found "no sign of so-called antifa links so far."
Similarly, Reuters examined recent court records in civil-unrest cases brought by the Justice Department and found "no sign of so-called antifa links so far."
UPDATE: ABC News reports:
Despite repeated Trump administration assertions that the antifa movement has hijacked the ongoing protests around the country sparked by the police killing of George Floyd, a new federal intelligence bulletin points to white supremacists and other would-be domestic terrorists as the main problem lurking behind potentially lethal violence.
Though the document issued by the FBI, Department of Homeland Security and National Counterterrorism Center also includes a warning to law enforcement about anarchist extremists, it makes only a limited mention of the left-leaning, loosely affiliated antifa movement, and appears to undercut recent criticisms of the movement by President Trump and top administration officials.
"Based upon current information, we assess the greatest threat of lethal violence continues to emanate from lone offenders with racially or ethnically motivated violent extremist ideologies and [domestic violent extremists] with personalized ideologies," according to the bulletin, which was obtained by ABC News.
In this memo, antifa is confined to a footnote that says "some anarchist extremists self-identify as 'Antifa.'" But it adds that identifying with antifa is also associated with nonviolent activity that may be constitutionally protected.