Tea-Publicans will not meet their artificial deadline of voting to repeal "Obamacare" on the anniversary of President Obama signing the Affordable Care Act into law. Ahhh, poor babies.
The Hill reports, GOP lawmakers leave Trump White House with no deal: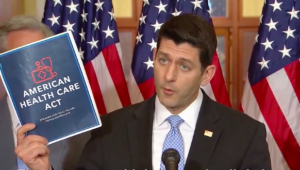 GOP lawmakers leaving the White House after a meeting with President Trump said they have not reached a deal that would allow them to support an ObamaCare repeal-and-replace bill set for a vote Thursday.
Republicans appear short of the 215 votes they'd need to win the tally. The Hill's Whip List: 32 GOP no votes on ObamaCare repeal plan.
The members streaming out of the White House just after 1 p.m. characterized the meeting positively but showed no signs of a shift toward more favorable ground for the White House.
"Nothing new was agreed upon," said Rep. Paul Gosar (R-Ariz.)
He added the group will "go back and consider our options."
House Freedom Caucus Chairman Mark Meadows (R-N.C.) told reporters on Capitol Hill that "there are not enough votes" to pass the bill.
Republicans need 215 votes to win passage, meaning they can afford 22 defections. A whip list kept by The Hill shows that five dozen members are either planning to vote no, leaning against the bill or uncertain of how they vote. A full 32 members on that list are no votes.
South Carolina Rep. Jeff Duncan told The Hill that Trump, who joined them in the meeting, didn't make an explicit ask.
"He was very gracious, he laid out his points but no firm decision has been made by those in the room," Duncan said.
"And he didn't ask us, he didn't get on the table and ask us for that. He asked us to seriously consider the position we are in."
* * *
While Arizona Rep. Trent Franks would not reveal his position, he said that nothing in the meeting changed his mind.
He instead praised House leadership and the White House for handling what he views as a difficult situation, lamenting the position the party faces as criticism mounts over the Republican plan for a repeal and a replacement.
"One tragedy of all of this is that ObamaCare was put into place by all Democrats and now Republicans, in trying our best to alleviate the tragedy and save the country are going to have to take a lot of the punishment," he said.
While the Trump White House is negotiating with the radical right-wing lunatics of the House Freedom Caucus, GOP centrists in the House are fleeing from the GOP's ObamaCare repeal-and-replace legislation, complicating White House efforts to win passage in a vote scheduled for Thursday. Centrists balk at GOP ObamaCare bill:
Centrist defections in the last 24 hours include Rep. Charlie Dent (R-Pa.), the co-chairman of the moderate Tuesday Group, which has roughly 50 members.
Reps. Dan Donovan (R-N.Y.), David Young (R-Iowa), Chris Smith (R-N.J.), Frank LoBiondo (R-N.J.) and Jaime Herrera Beutler (R-Wash.), all centrists, have also announced their opposition to the bill.
Reps. Leonard Lance (R-N.J.) and John Katko (R-N.Y.), two other centrists, earlier announced their opposition.
That brings the number of centrist no votes to at least eight, though there could be more.
* * *
Centrists warn that their constituents would lose coverage under the repeal bill, and some have even said that ObamaCare is better than the Republican bill.
* * *
A group of centrists met with leadership in Speaker Paul Ryan's (R-Wis.) office Wednesday night to discuss where they are on the legislation and their concerns.
"Everybody's frustrated, but some moved, some stayed the same, and some got more equivocal," said a GOP lawmaker who attended the meeting.
As a result of the GOP caucus dividing along ideological lines, and every concession that adds a vote leads to a subtraction of  a vote, the vote has now been delayed. House GOP postpones ObamaCare repeal vote:
House GOP leaders are delaying Thursday's expected vote on their ObamaCare replacement bill, a source told The Hill.
A House Republican Conference meeting is set for 7 p.m. on Thursday.
Trump and GOP leaders are scrambling to find the 215 votes they'd need for the bill to pass the House.
Freedom Caucus Chairman Rep. Mark Meadows (R-N.C.) said Thursday afternoon as he left a Freedom Caucus meeting that there is no deal yet but the group will "stay as long as it takes to get this done."
Meadows said he is still a no but is "desperately trying to get to yes."
He said he is in talks with the moderate Tuesday Group, as well. He cautioned that his group needs more time to read and understand sections of the bill, and said he did not know when a vote will be.
Maybe Tea-Publicans should scrap this bill. Poll: Just 17 percent of voters back ObamaCare repeal plan:
A majority of American voters oppose the Republicans' plan to repeal and replace ObamaCare, while very few voters support it, a new poll finds.
A poll published Thursday by Quinnipiac University found that 56 percent of voters disapprove of the GOP healthcare plan, while just 17 percent support it.
Even among Republicans, only 41 percent support the American Health Care Act, while 24 percent oppose it. And 58 percent of Democratic voters disapprove of the plan.
* * *
The poll found that 46 percent of voters say they will be less likely to vote for their Congressional representative if they vote to approve the GOP health insurance plan.
The New York Times asks Is the G.O.P. Better Off Politically if the Health Bill Doesn't Pass?
I don't know about that, but I do know that Americans are better off if this terrible bill does not pass. Fewer Americans Would Be Insured With G.O.P. Plan Than With Simple Repeal:
One piece of context has gone little noticed: The Republican bill would actually result in more people being uninsured than if Obamacare were simply repealed. Getting rid of the major coverage provisions and regulations of Obamacare would cost 23 million Americans their health insurance, according to another recent C.B.O. report. In other words, one million more Americans would have health insurance with a clean repeal than with the Republican replacement plan, according to C.B.O. estimates.
This is just how terrible this bill is. Kill this bill.
UPDATE: The Congressional Budget Office (CBO) has now scored Trumpcare 2.0, and it still sucks. New CBO estimate shows 'smaller savings' from revised GOP Obamacare replacement plan, similar coverage losses as prior bill:
A revised Republican bill to repeal and replace key parts of Obamacare would lead to less than half the savings to the federal budget over the next decade than had been estimated under the original version of that plan, the Congressional Budget Office said Thursday.
The CBO also estimated that the revised bill would not lead to bigger losses in the number of insured Americans than had been projected for the prior version of the plan.
The newer version still is expected to lead to 14 million fewer people having health insurance in 2018, and 24 million fewer insured Americans by 2026 than would be covered if Obamacare remained as law in its current form.
The revised bill also is projected to have the same effect on insurance premiums as the original Republican proposal, according to the non-partisan CBO.
An earlier version of the GOP's bill had been projected by the CBO to lead to about $337 billion in savings to the federal budget through 2026.
A more recent version of that plan would lead to savings of less than half that amount: $150 billion, according to the new CBO estimate.
That's not going to move any votes into the "aye" column.