Well resisters, last night two unlikely Tea-Publicans, Mike Lee (UT) and Jerry Moran (KS), announced their opposition to evil GOP bastard Mitch McConnell's abominable Senate bill to repeal and replace "Obamacare" with  a mean-spirited "Trumpcare." Health Care Overhaul Collapses as Two Republican Senators Defect: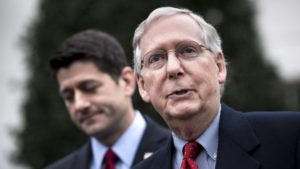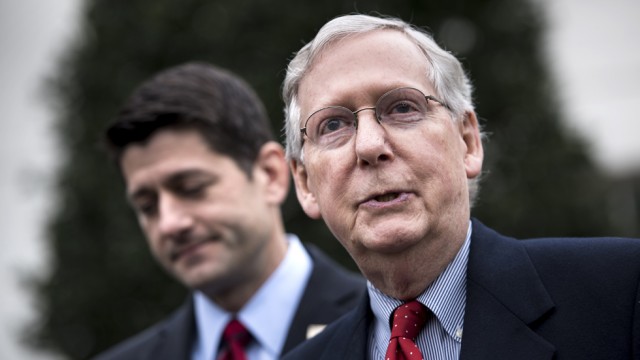 Two more Republican senators declared on Monday night that they would oppose the Senate Republican bill to repeal the Affordable Care Act, killing, for now, a seven-year-old promise to overturn President Barack Obama's signature domestic achievement.
The announcement by the senators, Mike Lee of Utah and Jerry Moran of Kansas, left their leaders at least two votes short of the number needed to begin debate on their bill to dismantle the health law. Two other Republican senators, Rand Paul of Kentucky and Susan Collins of Maine, had already said they would not support a procedural step to begin debate.
With four solid votes against the bill, Republican leaders now have two options.
They can try to rewrite it in a way that can secure 50 Republican votes, a seeming impossibility at this point, given the complaints by the defecting senators. Or they can work with Democrats on a narrower measure to fix the flaws in the Affordable Care Act that both parties acknowledge.
WRONG! Tea-Publicans will do what they always do: retaliate out of spite and vindictiveness, and continue to sabotage "Obamacare":
Senator Mitch McConnell, the Republican leader, conceded Monday night that "the effort to repeal and immediately replace the failure of Obamacare will not be successful." He outlined plans to vote now on a measure to repeal the Affordable Care Act, with it taking effect later. That has almost no chance to pass, however, since it could leave millions without insurance and leave insurance markets in turmoil.
A "clean" repeal effort was rejected in January for a "repeal and replace" plan because Tea-Publicans did not have the votes for a clean repeal then; it is far less likely they have the votes now. (Of course, our Rep. Martha McSally is at the ready to lead the GOP over the insanity cliff with her battle cry of "Let's get this fucking thing done!")
And from our impulsive man-child Twitter-troll-in chief?
President Trump immediately took to Twitter to say: "Republicans should just REPEAL failing ObamaCare now & work on a new Healthcare Plan that will start from a clean slate. Dems will join in!"
Dear Leader predicted Tuesday morning that Republicans will let ACA market collapse, then rewrite health law:
In a series of tweets, Trump blamed the demise of a months-long effort to rewrite the Affordable Care Act on Democrats "and a few Republicans," but he suggested that the drive to overhaul the law was not completely over.
"We were let down by all of the Democrats and a few Republicans. Most Republicans were loyal, terrific & worked really hard. We will return!" he tweeted. He added in a separate tweet: "As I have always said, let ObamaCare fail and then come together and do a great healthcare plan. Stay tuned!"
Trump's latest comments appeared likely to intensify the current political uncertainty on Capitol Hill, where GOP leaders were debating what to do next, as well as raise anxiety among insurers that must commit to staying on the federal health exchange within a matter of weeks.
This last part is a a vague reference to the House v. Price lawsuit.
[T]his bizarre lawsuit that could still blow up the ACA insurance markets:
A pending court case, House v. Price (née House v. Burwell — and so much turns on the name change), has given the administration a bomb it could use to blow up insurance markets across the country. At stake is the legality of the payments the federal government makes to insurance companies to help cover the medical expenses of low-income people.

Destroying those markets, however, carries huge political risks. Trump's full-throated support for a reckless replacement bill has convinced millions of Americans that he's intent on taking away their insurance. If their insurance does go away, they'll probably blame him. It's his presidency, and his problem.

By moving to defuse House v. Price, the Trump administration could signal that it means to make the best of Obamacare. At the same time, however, the case may represent the last best chance to rip the statute up from the roots. Skittish insurers are watching closely to see what the administration will do. Time is short: Insurers will have to decide very soon whether they want to participate on Obamacare's exchanges in 2018.
As I previously explained in May, the Trump administration's plan was to delay the court case for 90 days while Congress attempts to pass a bill, and failing that, to sabotage Obamacare:
[L]ate last week Politico reported, Trump said to favor move that could destabilize Obamacare:
President Donald Trump has told advisers he wants to end payments of key Obamacare subsidies, a move that could send the health law's insurance markets into a tailspin, according to several sources familiar with the conversations.
Many advisers oppose the move because they worry it will backfire politically if people lose their insurance or see huge premium spikes and blame the White House, the sources said. Trump has said that the bold move could force Congressional Democrats to the table to negotiate an Obamacare replacement.
Trump told aides in a Tuesday Oval Office meeting that he wants to end the payments to insurers, according to people familiar with his comments. Trump has previously expressed conflicting opinions on the issue. Insurers have been pressing for certainty as they plan for next year.
So this is where things stand: "Trumpcare" does not have the votes to pass, a clean repeal of "Obamacare" — evil GOP bastard Mitch McConnell's last desperate measure — does not have the votes to pass, and our  impulsive man-child Twitter-troll-in-chief has his finger on the "nuclear" button to blow up "Obamacare" and the health insurance markets with it in the coming weeks in House v. Price.
But wait, it gets worse!
Remember that GOP efforts to repeal "Obamacare" were really just a tax cut bill for the wealthy. Tea-Publicans needed to repeal taxes on the wealthy under "Obamacare" that pay for the subsidies to free up that money for Trump's "biggest tax cut in history" to the top one percent.
With the failure of the GOP efforts to repeal "Obamacare," the Tea-Publican tax cut plan is now imperiled as well. And Tea-Publicans have to pass a budget based upon Paul Ryan's magical asterisks budget numbers that assumed repeal of "Obamacare." House GOP unveils budget plan that attaches major spending cuts to coming tax overhaul bill:
House Republicans unveiled a 2018 budget plan Tuesday that would pave the way for ambitious tax reform legislation — but only alongside a package of politically sensitive spending cuts that threaten to derail the tax rewrite before it begins.
GOP infighting over spending, health care and other matters continues to cast doubt on whether the budget blueprint can survive a House vote. Failing to pass a budget could complicate leaders' plans to move on to their next governing priori[ies].
The House Budget Committee blueprint, which is set for a Thursday committee vote, sets out special procedures that could ultimately allow Republicans to pass legislation over the objections of Senate Democrats who can normally block bills they oppose. GOP leaders in the House, as well as top Trump administration officials, hope to use those procedures — known as reconciliation — to pass a tax overhaul later this year.
The instructions in the draft budget, however, go well beyond tax policy and set the stage for a potential $203 billion rollback of financial industry regulations, federal employee benefits, welfare spending and more. Those are policy areas where Republicans have, in many cases, already passed legislation in the House but have seen Democrats block action in the Senate.
* * *
Like the spending blueprint released this year by President Trump, the House plan envisions major cuts to federal spending over the coming decade, bringing the budget into balance by relying on [magical asterisks] accelerated economic growth to boost revenue. Under the House plan, defense spending would steadily increase over 10 years while nondefense discretionary spending would decline to $424 billion — 23 percent below the $554 billion the federal government is spending in that category this year.
Unlike Trump's budget, the House proposal cuts into Medicare and Social Security — entitlement programs that the president has pledged to preserve. The House plan also makes a less-rosy economic growth assumption of 2.6 percent versus the 3 percent eyed by the Trump administration. Both, however, exceed the 1.9 percent figure used by the nonpartisan Congressional Budget Office in its most recent economic estimates.
The House blueprint won a strong endorsement from White House budget director Mick Mulvaney, who served on the House Budget Committee before joining the Trump administration.
"It is a bold effort that follows the leadership of President Trump in Making America Great Again," he said in a statement. "Critically, this budget lays a pathway for Congress to pass, and President Trump to sign pro-growth tax reform into law."
But under congressional budget rules, a tax bill drafted to comply with the House budget proposal would have to include much more than tax provisions.
The Ways and Means Committee, which is drafting the tax bill, would be instructed to find $52 billion in deficit savings over the coming decade. House Speaker Paul D. Ryan (R-Wis.) and the panel's chairman, Rep. Kevin Brady (R-Tex.), have said they intend to pursue a deficit-neutral reform bill, meaning the savings would have to be found in other programs under the committee's jurisdiction — such as Medicare, disability aid, Temporary Assistance for Needy Families and unemployment compensation.
The Oversight and Government Reform Committee, which has explored cuts to the federal workforce and to federal employee benefits, would be required to find $32 billion in deficit savings.
The Financial Services Committee would be ordered to produce $14 billion in savings — a figure that could allow Republicans to repeal large parts of the Dodd-Frank financial reform law. The Congressional Budget Office found earlier this year that the Financial Choice Act, a Dodd-Frank repeal bill passed by the House last month, would produce about $24 billion in deficit reduction over the next 10 years.
And the Judiciary Committee would be responsible for $45 billion in deficit reduction, which is roughly the amount of savings produced under the Protecting Access to Care Act, a medical malpractice reform bill that also passed the House last month.
Both bills have little support among Democrats and would likely be blocked in the Senate under typical procedure. Reconciliation rules could allow Republicans to avoid that barrier.
So let's be clear:the Trump administration and the Tea-Publican Congress intend to blow up "Obamacare" and the health insurance markets, and then they are coming after your social security, Medicare, unemployment benefits, etc. in order to give the "biggest tax cut in history" to the top one percent. These are truly evil GOP bastards: amoral and inhumane.
But wait, it gets worse!
Steven Mnuchin, Trump's treasury secretary, is hurtling toward his first fiasco: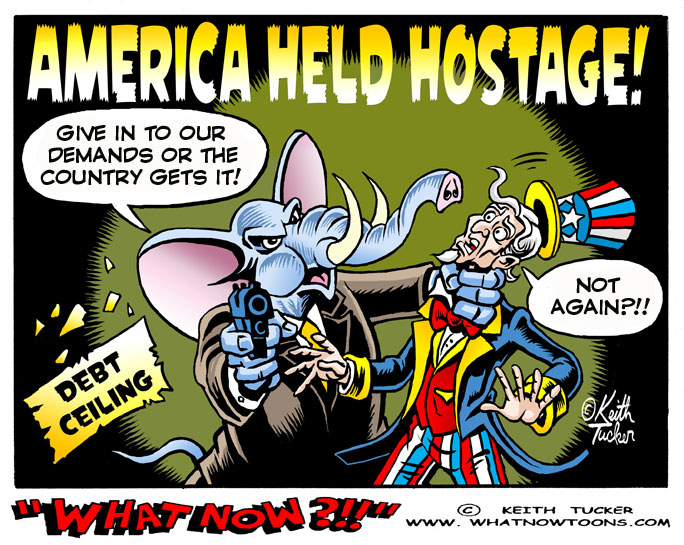 Treasury secretary Steven Mnuchin is hurtling toward his first fiasco, unable to get Congress, let alone his colleagues in the Trump administration, on board with a strategy to raise the federal limit on governmental borrowing.
His struggles are casting doubt on whether the political neophyte, who made his name on Wall Street, has the stature in Washington to press through a vote on a measure that former treasury secretaries of both parties have said is critical to preserving the nation's reputation for financial stability.
Unlike other issues facing the Trump administration — such as passing a health-care bill and overhauling the tax code — raising the debt limit comes with a hard deadline of late September, according to Mnuchin. Failure to do so could lead the U.S. government to miss paying its obligations, causing what analysts would consider a historic, market-rattling default on U.S. government debt.
"We're going to get the debt ceiling right," Mnuchin said in an interview Monday. "I don't think there is any question that the debt ceiling will be raised. I don't think there is anybody who intends to put the government's ability to pay its bills at risk."
Sensing there could be resistance on Capitol Hill to raising the debt ceiling quickly, he reviewed past debt-ceiling fights. He also holds a weekly meeting with advisers about the government's cash balance and debt issues.
One former Treasury official, speaking on the condition of anonymity to discuss sensitive agency deliberations, said officials are now "brushing up on options in the 'crazy drawer.' "
In past administrations, Treasury officials have designed plans to prioritize payments to government bondholders so that if the government runs short on cash it could, in at least a technical sense, avoid defaulting on U.S. debt.
Such a scenario would be very difficult to manage because some bills would either be delayed or not paid — but it could be necessary to prevent an actual default. Still, prioritizing payments this way could lead to a spike in interest rates and a stock market crash, analysts have said.
So there are a series of failures lined up in the que between now and October. And we have a political party incapable of governing because it has adopted post-policy nihilism as the governing philosophy of a oppostion party that only cares about producing GOPropaganda to feed the conservative media entertainment complex, and to pick the pockets of the rubes who give them their money.
We are courting disaster.