Dana Milbank of the Washington Post had an interesting piece about the moral decay of the GOP the other day, Republicans redefine morality as whatever Trump does: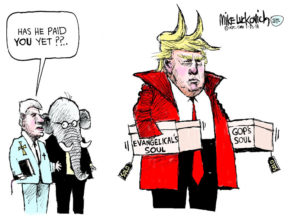 New evidence suggests that the damage [Trump] is doing to the culture is bigger than the man. A Quinnipiac University poll released Thursday found that two-thirds of Americans say Trump is not a good role model for children. Every component of society feels that way — men and women, old and young, black and white, highly educated or not — except for one: Republicans. By 72 to 22 percent, they say Trump is a good role model.
In marked contrast to the rest of the country, Republicans also say that Trump shares their values (82 percent) and that — get this — he "provides the United States with moral leadership" (80 percent).
And what moral leadership this role model has been providing!
* * *
[L]et's see what might have led 72 percent of Republicans to conclude Trump is a good role model:
His lawyer arranged to make payment to a porn star, Stormy Daniels, a month before the election for her silence about an alleged sexual encounter with Trump, according to the Wall Street Journal.
He used a vulgar word to describe African countries during a racist rant to lawmakers at the White House.
He was mounting a campaign to discredit the "corrupt" FBI, the Justice Department and the special prosecutor, just as he previously sought to disqualify courts and judges.
He backed a credibly accused child molester for the Senate from Alabama.
And so on.
Yet so strong is the pull of tribalism that we've reached a point where partisanship outweighs morality. Republicans aren't approving of Trump despite his behavior; in calling him a role model, they're approving his behavior.
* * *
The triumph of partisanship over morality starts at the top. Franklin Graham excused Trump's alleged sexual encounter, and Tony Perkins, the president of the conservative Family Research Council, declared that Trump gets a "mulligan" — a do-over — for his behavior.
This led Michael Steele, the former chair of the Republican National Committee, to tear into white evangelical Christian leaders who support President Trump no matter what. Former RNC Chair Michael Steele: Trump's Evangelical Backers Need To 'Shut The Hell Up':
Tony Perkins, head of the conservative Christian nonprofit Family Research Council, said Trump gets "a mulligan" or "do-over" over allegations that he paid porn star Stormy Daniels to keep quiet over their reported affair.
Steele wasn't having it.
"I have a very simple admonition at this point," Steele said on "Hardball" on MSNBC. "Just shut the hell up and don't ever preach to me about anything ever again. I don't want to hear it."
Steele added:
"After telling me how to live my life, who to love, what to believe, what not to believe, what to do and what not to do and now you sit back and the prostitutes don't matter? The grabbing the you-know-what doesn't matter? The outright behavior and lies don't matter? Just shut up."
Pastor and blogger John Pavlovitz takes Steele's comments a step further and pens this open letter to white evanglical Christians. White Evangelicals, This is Why People Are Through With You:
Dear White Evangelicals,
I need to tell you something: People have had it with you.
They're done.
They want nothing to do with you any longer, and here's why:
They see your hypocrisy, your inconsistency, your incredibly selective mercy, and your thinly veiled supremacy.
For eight years they watched you relentlessly demonize a black President; a man faithfully married for 26 years; a doting father and husband without a hint of moral scandal or the slightest whiff of infidelity.
They watched you deny his personal faith convictions, argue his birthplace, and assail his character—all without cause or evidence. They saw you brandish Scriptures to malign him and use the laziest of racial stereotypes in criticizing him.
And through it all, White Evangelicals—you never once suggested that God placed him where he was,
you never publicly offered prayers for him and his family,
you never welcomed him to your Christian Universities,
you never gave him the benefit of the doubt in any instance,
you never spoke of offering him forgiveness or mercy,
your evangelists never publicly thanked God for his leadership,
your pastors never took to the pulpit to offer solidarity with him,
you never made any effort to affirm his humanity or show the love of Jesus to him in any quantifiable measure.
You violently opposed him at every single turn—without offering a single ounce of the grace you claim as the heart of your faith tradition. You jettisoned Jesus as you dispensed damnation on him.
And yet today, you openly give a "mulligan" to a white Republican man so riddled with depravity, so littered with extramarital affairs, so unapologetically vile, with such a vast resume of moral filth—that the mind boggles.
And the change in you is unmistakable. It has been an astonishing conversion to behold: a being born again.
With him, you suddenly find religion.
With him, you're now willing to offer full absolution.
With him, all is forgiven without repentance or admission.
With him you're suddenly able to see some invisible, deeply buried heart.
With him, sin has become unimportant, compassion no longer a requirement.
With him, you see only Providence.
And White Evangelicals, all those people who have had it with you—they see it all clearly.
They recognize the toxic source of your duality.
They see that pigmentation and party are your sole deities.
They see that you aren't interested in perpetuating the love of God or emulating the heart of Jesus.
They see that you aren't burdened to love the least, or to be agents of compassion, or to care for your Muslim, gay, African, female, or poor neighbors as yourself.
They see that all you're really interested in doing, is making a God in your own ivory image and demanding that the world bow down to it.
They recognize this all about white, Republican Jesus—not dark-skinned Jesus of Nazareth.
And I know you don't realize it, but you're digging your own grave in these days; the grave of your very faith tradition.
Your willingness to align yourself with cruelty is a costly marriage. Yes, you've gained a Supreme Court seat, a few months with the Presidency as a mouthpiece, and the cheap high of temporary power—but you've lost a whole lot more.
You've lost an audience with millions of wise, decent, good-hearted, faithful people with eyes to see this ugliness.
You've lost any moral high ground or spiritual authority with a generation.
You've lost any semblance of Christlikeness.
You've lost the plot.
And most of all you've lost your soul.
I know it's likely you'll dismiss these words. The fact that you've even made your bed with such malevolence, shows how far gone you are and how insulated you are from the reality in front of you.
But I had to at least try to reach you. It's what Jesus would do.
Maybe you need to read what He said again—if He still matters to you.
When will they seek repentance for their sins by fasting and wearing sackcloth, sitting in ashes, and putting ashes on top of  their heads while praying for God's mercy and forgiveness? They must repent and turn away from the sinfulness of Trumpism, moral relativism, and GOP tribalism.
UPDATE: A Washington Post-ABC News poll released this month found 68 percent of white evangelical Protestants approve of Trump's job performance — a figure that is nearly double that of the population as a whole and that is higher than any other religious or demographic group. While 68 percent say they approve of Trump's performance, 47 percent say he's acting in a way that is "fit and proper" for a president. 'He's not God': In the wake of porn-star allegations, most evangelicals stand by Trump.
UPDATE: Chauncey Devega at Salon ansewers the question Why do evangelicals love Trump? Because movement conservatism has become a form of religion:
Why do white right-wing Christian evangelicals support Donald Trump? The answer is quite simple. Their agenda is his agenda. Trump and the Republican Party are working to take away women's reproductive rights, and to extending special "conscience" protections to "Christians" who feel that their faith should somehow supersede the law. They view the poor, the disabled, and others as "useless eaters," and are working to protect white privilege and the power of white right-wing Christians in all areas of American life. Trump is also a petit-fascist and an authoritarian. This vision of the world is embraced in every way by right-wing Christians.
Too many pundits and other members of the chattering class prefer to make riddles out of the obvious: They obsess about evangelical leaders offering "mulligans" for Trump's "sins" and other assorted examples of right-wing Christian hypocrisy.
While the answer to this supposed riddle is nothing more than crude realpolitik[.]