Back in March the Washington Post ran this story: If you're a poor person in America, Trump's budget is not for you:
If you're a poor person in America, President Trump's budget proposal is not for you.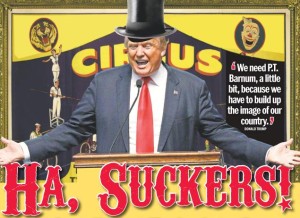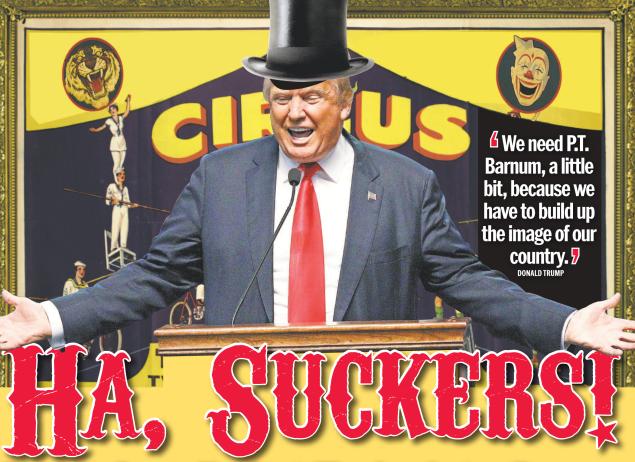 Trump has unveiled a budget that would slash or abolish programs that have provided low-income Americans with help on virtually all fronts, including affordable housing, banking, weatherizing homes, job training, paying home heating oil bills, and obtaining legal counsel in civil matters.
During the presidential campaign last year, Trump vowed that the solution to poverty was giving poor people incentives to work. But most of the proposed cuts in his budget target programs designed to help the working poor, as well as those who are jobless, cope.
"This is a budget that pulled the rug out from working families and hurts the very people who President Trump promised to stand up for in rural America and in small towns," said Melissa Boteach, vice president of the poverty to prosperity program at the Center for American Progress, a liberal think tank in Washington.
The White House budget cuts will fall hardest on the rural and small town communities that Trump won, where 1 in 3 people are living paycheck to paycheck — a rate that is 24 percent higher than in urban counties, according to a new analysis by the center.
President Trump's budget request for fiscal year 2018 will be released on Tuesday, Mick Mulvaney, the director of the Office of Management and Budget announced last week.
The Washington Post reports today Trump to propose big cuts to safety-net in new budget, slashing Medicaid and opening door to other limits: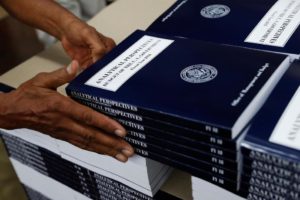 President Trump's first major budget proposal on Tuesday will include massive cuts to Medicaid and call for changes to anti-poverty programs that would give states new power to limit a range of benefits, people familiar with the planning said, despite growing unease in Congress about cutting the safety net.
For Medicaid, the state-federal program that provides health care to low-income Americans, Trump's budget plan would follow through on [the Zombie Trumpcare (AHCA)] bill passed by House Republicans to cut more than $800 billion over 10 years. The Congressional Budget Office has estimated that this could cut off Medicaid benefits for about 10 million people over the next decade.
The White House also will call for giving states more flexibility to impose work requirements for people in different kinds of anti-poverty programs, people familiar with the budget plan said, potentially leading to a flood of changes in states led by conservative governors. Many anti-poverty programs have elements that are run by both the states and federal government, and a federal order allowing states to stiffen work requirements "for able-bodied Americans" could have a broad impact in terms of limiting who can access anti-poverty payments — and for how long.
* * *
Trump's decision to include the Medicaid cuts is significant because it shows he is rejecting calls from a number of Senate Republicans not to reverse the expansion of Medicaid that President Barack Obama achieved as part of the Affordable Care Act. The House has voted to cut the Medicaid funding, but Senate Republicans have signaled they are likely to start from scratch.
* * *
Trump offered a streamlined version of the budget plan in March, but it dealt only with the 30 percent of government spending that is appropriated each year. In that budget, he sought a big increase in military and border spending combined with major cuts to housing, environmental protection, foreign aid, research and development.
But Tuesday's budget will be more significant, because it will seek changes to entitlements — programs that are essentially on auto­pilot and don't need annual authorization from Congress. The people describing the proposals spoke on the condition of anonymity because the budget had not been released publicly and the White House is closely guarding details.
The proposed changes include the big cuts to Medicaid. The White House also is expected to propose changes to the Supplemental Nutrition Assistance Program, though precise details couldn't be learned. SNAP is the modern version of food stamps, and it swelled following the financial crisis as the Obama administration eased policies to make it easier for people to qualify for benefits. As the economy has improved, enrollment in the program hasn't changed as much as many had forecast.
An average of 44 million people received SNAP benefits in 2016, down from a peak of 47 million in 2013. Just 28 million people received the benefits in 2008.
SNAP could be one of numerous programs impacted by changes in work requirements.
* * *
After The Washington Post reported some of the cuts Sunday evening, Senate Minority Leader Charles E. Schumer (D-N.Y.) said Trump was pulling "the rug out from so many who need help."
"This budget continues to reveal President Trump's true colors: His populist campaign rhetoric was just a Trojan horse to execute long-held, hard-right policies that benefit the ultra wealthy at the expense of the middle class," he said.
The proposed changes to Medicaid and SNAP will be just some of several anti-poverty programs that the White House will look to change. In March, the White House signaled that it wanted to eliminate money for a range of other programs that are funded each year by Congress. This included federal funding for Habitat for Humanity, subsidized school lunches and the U.S. Interagency Council on Homelessness, which coordinates the federal response to homelessness across 19 federal agencies.
* * *
Trump has instructed his budget director, former South Carolina congressman Mick Mulvaney, that he does not want cuts to Medicare and Social Security's retirement program in this budget, Mulvaney recently said, but the plan may call for changes to Social Security Disability Insurance, seeking ideas for ways to move people who are able out of this program and back into the workforce.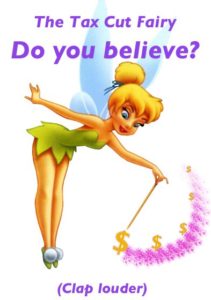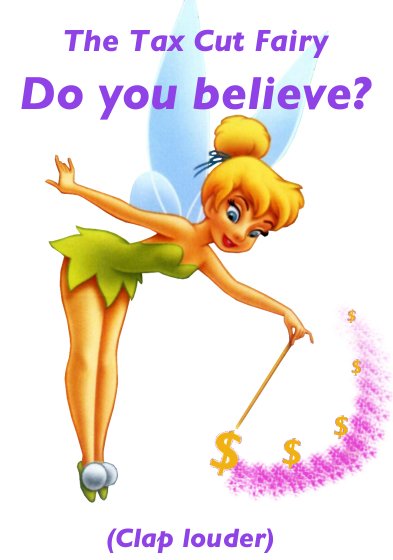 A key element of the budget plan will be the assumption that huge tax cuts will result in an unprecedented level of economic growth. Trump recently unveiled the broad principles of what he has said will be the biggest in U.S. history, and Treasury Secretary Steven Mnuchin told a Senate panel last week that these tax cuts would end up creating trillions of dollars in new revenue, something budget experts from both parties have disputed.
In other words, the return of the "trickle-down" tax cut fairy. We are governed by a political party that believes in ridiculous nonsense that has been entirely disproved and discredited for years.
The tax cuts would particularly benefit the wealthiest Americans, as Trump has proposing cutting the estate tax, capital gains and business tax rates.
"The indications are strong this budget will feature Robin-Hood-in-reverse policies in an unprecedented scale," said Robert Greenstein, president of the Center on Budget and Policy Priorities, a left-leaning think tank.
The White House will use its presumed new revenue from the tax cuts combined with broad spending cuts to claim that its changes would eliminate the budget deficit over 10 years.
* * *
[T]he Trump administration on Tuesday will say its plan to cut spending, roll back regulations and cut taxes will bring the United States back to economic growth levels that represent about 3 percent of gross domestic product.
Mulvaney told the Federalist Society last week that the economic growth is needed to balance the budget, because spending cuts alone would be seen as too draconian.
* * *
Combined, the tax cuts and spending cuts on anti-poverty programs would signal a sharp reversal of Obama's legacy by pursuing big tax cuts for the wealthiest Americans, a large increase in military spending and major changes to anti-poverty programs.
Its premise is that the creation of more wealth will help all Americans succeed, and the Trump administration believes that some anti-poverty programs have created a culture of dependency that prevents people from re-entering the workforce.
* * *
In addition to the myriad cuts, the budget will include some new spending.
Beyond an increase in the military budget and new money for border security, the White House is expected to call for $200 billion for infrastructure projects and an additional $25 billion over 10 years for a new program designed by Ivanka Trump that would create six weeks of parental leave benefits.
Economist Jared Bernstein analyzes, Trump's first budget: Why attention must be paid to it (excerpt):
What does this budget, which almost certainly won't be enacted (one top Republican appropriator called the budget purely symbolic, "aspirational … messaging points"), actually mean to the 320 million Americans (et al.) trying to get on with their lives?
On the first point, recognize that Trump's first budget does not imply a fresh start. To the contrary, it will fit within the context of the administration's endorsement of a health-care plan that essentially transfers resources that support affordable coverage for the poor, middle-class, and elderly to the wealthy. It must accommodate a tax cut that delivers trillions more to those at the top of the scale. It will build on earlier fiscal announcements that proposed cuts of more than $50 billion next year to education, infrastructure, veterans' health, job training, R&D, and more, to plus-up defense by that same amount.
On top of those skewed priorities, news media accounts suggest that the administration will propose $800 billion in cuts (over 10 years) to food stamps, Social Security Disability coverage, and Medicaid (the latter on top of the cuts in the House Obamacare replacement bill).
So, with two partial exceptions, the President's budget cannot be viewed as anything other than the standard issue, highly partisan, thoroughly uncompromising budgets we've seen from Republicans since the rise of Paul D. Ryan. The purpose of these budgets, which even Ryan himself has characterized as more "visionary" than realistic, is to shrink government outside of defense and give the savings to their wealthy donors in the form of regressive tax cuts. Their ultimate targets are Social Security, Medicare, and Medicaid, and with this budget, we can see that strategy evolving.
If you want to call that visionary, I can't stop you. I call it greedy.
The two exceptions are child care and infrastructure proposals. In each case, the expected proposals are inadequately structured to meet real needs, but I appreciate that they're in there. And I suspect both will be quickly cast aside by Republicans.
But does any of this matter? Why pay attention to symbolic messaging points in an era when Congress has been unable to pass almost any budget legislation outside of last-minute patches that (usually) forestall a shutdown but could never be mistaken for forward-looking vision?
Sorry, but attention must be paid, for at least two reasons.
First, while it may seem like nothing has been happening in fiscal policy since gridlock took over, this recent report from two of my Center on Budget and Policy Priorities (CBPP) colleagues shows otherwise. Austere budget caps in place since 2011 have for years chipped away at vital services. To be clear, I'm not talking proposals; I'm talking actual outcomes. For example:
— Programs that help low-income, working parents pay for child care now serve fewer than 1 in 6 eligible children due to insufficient funding. Because funding has not kept pace with costs, 373,000 fewer children get child care assistance than in 2006.
— Real funding for core state grants for job training and employment services have fallen by 19 percent since 2010, and 40 percent since 2001.
— Environmental Protection Agency funding for programs that help localities upgrade and replace aging drinking water and wastewater treatment infrastructure is down 35 percent in real terms since 2001, with demonstrable, terrible impacts.
— Rental assistance to help low-income households serves only 1 in 4 eligible households due to funding limitations, while the number of low-income households that either pay more than half of their income for rent or live in severely substandard housing has risen 63 percent since 2001.
— Internal Revenue Service and Social Security Administration funding fell 18 and 11 percent between 2010 and 2017 in real terms. Reduced staffing is generating longer waits for service at both agencies, fewer IRS audits and less tax law enforcement (the latter is obviously a feature, not a bug, for those behind such cuts).
In other words, budget cuts are already meting out real damage. The Trump budget may not be going anywhere but to the extent that it creates any momentum, it's in the wrong direction.
Second, one of the more important numbers in this budget is "3." That's the real GDP growth rate we're told the administration is going to plug in as their forecast. It's only one percentage point above the current trend growth rate, so it doesn't sound like a big reach. But that's what it is. There are no policy levers that could boost GDP growth by a point, and the ones the administration is proposing — trickle-down tax cuts and financial market and environmental deregulation — have no growth track record at all.
In fact, this is just a cynical ploy to claim over $3 trillion in extra revenue spun off by the higher growth forecast. The official scorekeepers won't accept it, so we'll soon be hearing about seas of debt engendered by this budget. But be forewarned: When you hear administration officials claiming their tax cuts will be offset by growth effects, they're wrong.
President Trump's budget won't become law:
And yet, given that it is largely in sync with the dark vision of contemporary conservatives — to transfer government resources from the poor and the middle-class to the rich — I fear it will become part of the fiscal conversation, benighted (existing in a state of pitiful or contemptible intellectual or moral ignorance) though that conversation may be.