On his first full day in office, the always insecure egomaniac Twitter-Troll-in-Chief declared war on the media, and the truth. With False Claims, Trump Attacks Media on Turnout and Intelligence Rift:
President Trump used his first full day in office on Saturday to unleash a remarkably bitter attack on the news media, falsely accusing journalists of both inventing a rift between him and intelligence agencies and deliberately understating the size of his inauguration crowd.
In a visit to the Central Intelligence Agency intended to showcase his support for the intelligence community, Mr. Trump ignored his own repeated public statements criticizing the intelligence community, a group he compared to Nazis just over a week ago.
He also called journalists "among the most dishonest human beings on earth," and he said that up to 1.5 million people had attended his inauguration, a claim that photographs disproved.
An estimated 1.8 million attended President Obama's inauguration in 2009. Crowd scientists estimated that 160,00o people attended Trump's inauguration.
By the way, the Women's March on Washington on Saturday also was yuuuge compared to Trump's puny little crowd. Crowd Scientists Say Women's March in Washington Had 3 Times More People Than Trump's Inauguration.
Later, at the White House, [Trump] dispatched Sean Spicer, the press secretary, to the briefing room in the West Wing, where Mr. Spicer scolded reporters and made a series of false statements.
He said news organizations had deliberately misstated the size of the crowd at Mr. Trump's inauguration on Friday in an attempt to sow divisions at a time when Mr. Trump was trying to unify the country, warning that the new administration would hold them to account.
It was a striking display of invective and grievance at the dawn of a presidency, usually a time when the White House works to set a tone of national unity and to build confidence in a new leader.
Yeah, Sean Spicer earns Four Pinocchios for false claims on inauguration crowd size.
But wait, it gets worse. Did any of you watch the Sunday morning bobblehead shows? Kellyanne Conway went on "Meet Chuck Todd" and introduced a new term from the Trump propaganda machine: "alternative facts" for the post-truth Trump era. Here is the startling exchange. Meet The Press Transcript:
CHUCK TODD:
–Let me begin with this question, the presidency is about choices. So I'm curious why President Trump chose yesterday to send out his press secretary to essentially litigate a provable falsehood when it comes to a small and petty thing like inaugural crowd size. I guess my question to you is why do that?
KELLYANNE CONWAY:
(Relevant portions of her filibuster response) I'm about things that are quantifiable and important. I don't think that– I don't think ultimately presidents are judged by crowd sizes at their inauguration. I think they're judged by their accomplishments. And we know that President Obama and his accomplishments, that there's a lot of unfinished business there.
And on this matter of crowd size I think it is a symbol for the unfair and incomplete treatment that this president often receives. I'm very heartened to see Nielsen just came out with the ratings, 31 million people watching the inauguration.* President Obama had 20.5 million watching his second inauguration four short years ago. So we know people are also watching the inauguration on different screens and in different modes. And that there was, I mean, for me there was a prediction of a downpour of rain. I think that deterred many people from coming. But no question there were hundreds of thousands of people out on the mall and–
*UPDATE: There's no evidence that Trump's inauguration was the most-watched in history. Period. (Even if you count a viewership spike in Russia).
CHUCK TODD:
All right, Kellyanne, let me stop you here because–
KELLYANNE CONWAY:
–you know, many people enthused.
CHUCK TODD:
–you make a very reasonable and rational case for why crowd sizes don't matter. Then explain, you did not answer the question, why did the president send out his press secretary, who's not just the spokesperson for Donald Trump. He could be– He also serves as the spokesperson for all of America at times. He speaks for all of the country at times. Why put him out there for the very first time in front of that podium to utter a provable falsehood? It's a small thing. But the first time he confronts the public it's a falsehood?
KELLYANNE CONWAY:
Chuck, I mean, if we're going to keep referring to our press secretary in those types of terms I think that we're going to have to rethink our relationship here. I want to have a great open relationship with our press. But look what happened the day before talking about falsehoods.
* * *
CHUCK TODD:
–excuse me. It does not–
KELLYANNE CONWAY:
And it's still out there.
CHUCK TODD:
–excuse and you did not answer the question.
KELLYANNE CONWAY:
I did answer–
CHUCK TODD:
No you did not.
KELLYANNE CONWAY:
–your question.
CHUCK TODD:
You did not–
KELLYANNE CONWAY:
Yes I did.
CHUCK TODD:
–answer the question of why the president asked the White House press secretary to come out in front of the podium for the first time and utter a falsehood? Why did he do that? It undermines the credibility of the entire White House press office–
KELLYANNE CONWAY:
No it doesn't.
CHUCK TODD:
–on day one.
KELLYANNE CONWAY:
Don't be so overly dramatic about it, Chuck. What– You're saying it's a falsehood. And they're giving Sean Spicer, our press secretary, gave alternative facts to that. But the point remains–
CHUCK TODD:
Wait a minute– Alternative facts?
KELLYANNE CONWAY:
–that there's–
CHUCK TODD:
Alternative facts? Four of the five facts he uttered, the one thing he got right–
KELLYANNE CONWAY:
–hey, Chuck, why– Hey Chuck–
CHUCK TODD:
–was Zeke Miller. Four of the five facts he uttered were just not true. Look, alternative facts are not facts. They're falsehoods.
* * *
CHUCK TODD:
What I don't understand is–
KELLYANNE CONWAY:
–numbers like that.
CHUCK TODD:
–that is not what yesterday was about. So you–
KELLYANNE CONWAY:
Yes it is.
CHUCK TODD:
–have not answered the qu– you did not answer the question the–
KELLYANNE CONWAY:
It's what this presidency's going to be about.
CHUCK TODD:
–you sent the press secretary out there to utter a falsehood on the smallest, pettiest thing.
KELLYANNE CONWAY:
I don't think that anybody can prove the–
CHUCK TODD:
And I don't understand why you did it.
KELLYANNE CONWAY:
–look, I actually don't think that– maybe this is me as a pollster, Chuck. And you know data well. I don't think you can prove those numbers one way or the other. There's no way to really quantify crowds. We all know that. You can laugh at me all you want. But I'm very glad–
CHUCK TODD:
I'm not laughing. I'm just–
KELLYANNE CONWAY:
–look, Chuck, I'm–
CHUCK TODD:
–befuddled.
KELLYANNE CONWAY:
–well, but you are. And I think it's actually symbolic of the way we're treated by the press. The way that you just laughed at me is actually symbolic of the way– very representative of the way we're treated by the press. I'll just ignore it. I'm bigger than that. I'm a kind and gracious person. But let me tell you something else, I'm really glad that NBC News and Chuck Todd all of a sudden are so thrilled to cover crowd control because we were mocked daily for talking about the significance of our historic rallies–
CHUCK TODD:
Listen–
KELLYANNE CONWAY:
–during the campaign.
CHUCK TODD:
–this is not about us–
* * *
CHUCK TODD:
–I want to go back to a question that you continue to deflect. Why was it necessary to send out the press secretary on his first day in office to utter a provable falsehood that now calls into question everything the press secretary say– will say from–
KELLYANNE CONWAY:
No it doesn't.
CHUCK TODD:
–here on out? It will–
KELLYANNE CONWAY:
No it doesn't.
CHUCK TODD:
–for many Americans.
KELLYANNE CONWAY:
No it doesn't. You want them to hear that. You want them to hear that I'm not answering your questions, which I'm doing. You want them to hear that they can't trust our press secretary. I think that it is a very–
CHUCK TODD:
What was the motive then?
KELLYANNE CONWAY:
–dangerous statement to make.
CHUCK TODD:
What was the motive to have this ridiculous litigation of crowd size?
KELLYANNE CONWAY:
And now you're casting it–
CHUCK TODD:
What was the motive?
KELLYANNE CONWAY:
–and your job is not to give your–
CHUCK TODD:
What was the motive?
KELLYANNE CONWAY:
–opinion, Chuck. Respectfully, your job is not to call things ridiculous that are said by our press secretary and our president. That's not your job. You're supposed to be a news person. You're not an opinion columnist.
CHUCK TODD:
Can you please answer the question? Why did he do this? You have not answered it.
KELLYANNE CONWAY:
I'll answer–
CHUCK TODD:
It's only one question.
KELLYANNE CONWAY:
–it this way. I'll answer it this way. Think about what you just said to your viewers. That's why we feel compelled to go out and clear the air and put alternative–
CHUCK TODD:
So it's a political tactic?
KELLYANNE CONWAY:
–facts out there.
CHUCK TODD:
It's a political tactic to come up with alternative facts and try to set up the press as your enemy?
KELLYANNE CONWAY:
No I didn't say that at all…
But you did, Alice — you just walked through the looking glass and introduced America to an alternate reality in which facts and truth no longer matter, and you threatened the media if it does not toe the line and simply repeat your "alternative facts" propaganda as fact.
If you are looking for an accurate Nazi analogy, Mr. Trump, this is the big lie propaganda technique of the Nazis. It is the fact-free world of FAUX News propaganda writ large.
This creates a serious problem for the news media covering the Trump administration. Margaret Sullivan writes at the Washington Post, The traditional way of reporting on a president is dead. And Trump's press secretary killed it. (excerpt):
Ari Fleischer, a former George W. Bush press secretary, saw Saturday's bizarre session for what it was.
"This is called a statement you're told to make by the President. And you know the President is watching," Fleischer wrote. (MSNBC's Mika Brzezinski pegged it as "Sean Spicer's first hostage video.")
The mainstream media, including The Washington Post, appropriately made clear note of the falsehoods about crowd size. The New York Times called out "false claims" in a prominent headline, and many broadcast journalists challenged Spicer immediately — although they didn't get a chance to do so to his face, since he took no questions.
CNN wisely chose not to air the briefing in full, but to report on it and to show parts, providing context. Fox News showed it in its full glory, infomercial style.
Some journalists, afterward, sounded stunned at what had transpired.
"Astonishing," said Jim Acosta of CNN. "Jaw meet floor" was the reaction of Glenn Thrush of the New York Times.
The reaction is understandable. Some semblance of truth from the White House ought to be reasonable enough, especially on Day Two.
But nothing about this should shock.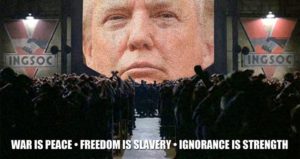 Anyone — citizen or journalist — who is surprised by false claims from the new inhabitant of the Oval Office hasn't been paying attention. That was reinforced when Trump adviser Kellyanne Conway told "Meet the Press" Sunday that Spicer had been providing "alternative facts" to what the media had reported, making it clear we've gone full Orwell.
Official words do matter, but they shouldn't be what news organizations pay most attention to, as they try to present the truth about a new administration.
White House press briefings are "access journalism," in which official statements — achieved by closeness to the source — are taken at face value and breathlessly reported as news. And that is over. Dead.
Spicer's statement should be seen for what it is: Remarks made over the casket at the funeral of access journalism.
As Jessica Huseman of ProPublica put it: "Journalists aren't going to get answers from Spicer. We are going to get answers by digging. By getting our hands dirty. So let's all do that."
She's right. So was Tim O'Brien, executive editor of Bloomberg View and a Trump biographer, who urged journalists to remember that the White House briefing room is "spoon-feeding and Trump is a habitual fabulist."
There's a deeper story here, beyond a single briefing, no matter how memorable. Saturday made clearer than ever that President Trump intends to make the American media his foremost enemy.
* * *
Journalists shouldn't rise to the bait and decide to treat Trump as an enemy. Recalling at all times that their mission is truth-telling and holding public officials accountable, they should dig in, paying far more attention to actions than to sensational tweets or briefing-room lies — while still being willing to call out falsehoods clearly when they happen.
* * *
Trump wants a flat-out war with the nation's media for one well-calculated reason: Because he believes it will continue to serve his political purposes, as it has for months.
Journalists should respond by doing their jobs responsibly, fairly and fearlessly, in service of the public good.
Somebody has to be the grown-up in the room. We've just been reminded of who it won't be.