The New York Times reports that three lawsuits have already been filed against Trump's fraudulent "voter fraud" commission. 3 Lawsuits Filed Against White House Panel on Voter Fraud: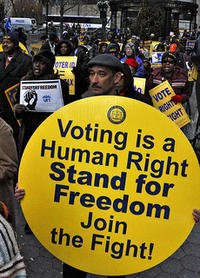 [T]he White House panel investigating claims of voter fraud and other irregularities was hit with a salvo of lawsuits on Monday that accused it of violating federal privacy laws and illegally operating in secret.
Three lawsuits, filed separately by civil rights groups, underscored the depth of opposition by the Trump administration's critics to the panel, the Advisory Commission on Election Integrity, even before it formally meets. The commission's official mandate is to look at flaws in federal voting systems and practices that could encourage fraud and undermine public confidence in elections.
But advocacy groups and many Democratic leaders have called it a Potemkin exercise intended to validate President Trump's groundless claim that millions of illegal ballots cost him a popular-vote victory in November. The true goal, they say, is to lay the groundwork for Congress to place strict qualifications on registering and voting that would primarily suppress opposition to Republican candidates for office.
The commission drew a bipartisan rebuke last week after its vice chairman and de facto leader, Kris Kobach, the Kansas secretary of state, asked officials in 50 states and the District of Columbia to voluntarily provide personal records so that they could be matched against one another and against other databases, apparently to search for evidence of illegal voting. No state has complied with the entire request, in part because laws mandate that personal records be kept private, and many states have refused to participate at all.
* * *
The Lawyers' Committee suit and a similar one by the American Civil Liberties Union accused the commission of violating the Federal Advisory Committee Act, which sets standards for openness and accountability by such committees. The groups say that the commission has already held one telephone consultation that violated federal open-meeting requirements and that it refused to turn over working papers and other documents that by law should be available for public inspection.
They also argue that the commission's proclaimed first meeting, on July 19, will be viewable only on the internet, violating the law's requirement that it be held in a place open to "a reasonable number of interested members of the public."
A third suit, by the advocacy group Public Citizen, argues that the commission is violating the federal Privacy Act by designating the Army to collect data on voters' registrations and voting histories and other identifying data, including partial Social Security numbers and birthdates. The group said that law barred the federal government from collecting or using any "record describing how any individual exercises rights guaranteed by the First Amendment," which covers voting and other forms of political expression.
A similar suit, filed a week ago by the Electronic Privacy Information Center, said the commission's request violated the 2002 E-Government Act, which requires the government to publicly assess the consequences of its actions before seeking personal information stored electronically.
The flurry of lawsuits has put Trump's fraudulent "voter fraud" commission on hold pending a court ruling on privacy. Trump voting panel tells states to hold off sending data while court weighs privacy impact:
President Trump's voting commission on Monday asked states and the District to hold off submitting the sweeping voter data the panel had requested until a federal judge in Washington decides whether the White House has done enough to protect Americans' privacy.
* * *
In asking the states to hold back on sending information, the White House also said it would delete the information already sent in by Arkansas, the only state so far to comply.
Government lawyers also said in a court filing that the White House was scrapping plans to use a Pentagon-operated website to accept the data and had designed a new system inside the White House to take the submissions.
More easily shared with the Kremlin without anyone noticing.
The redesign came four days before the July 14 deadline the commission set for the states.
Government lawyers have defended the commission's effort, saying that it is a presidential advisory panel, not a federal agency subject to the privacy requirements; that it is requesting data that is already publicly available [not so]; and that it would "de-identify" or make anonymous sensitive information before releasing documents.
In a 4 p.m. filing Monday to Kollar-Kotelly, Justice Department officials said the federal officer responsible for administering the commission, Andrew Kossack, had emailed states at 9:40 a.m. Monday asking that they "not submit any data until this Court rules."
The filing also said that the White House information technology director was "repurposing an existing" internal White House system that regularly accepts sensitive personal information to be ready to accept records by 6 p.m. Monday, instead of using the Defense Department site. The commission initially designated the Army site to take in records, which White House personnel had planned to then download to their own computer system.
* * *
In a statement Monday, EPIC President and Executive Director Marc Rotenberg declared the White House shifts a measure of victory: "Clearly the Commission should have not asked the states to turn over sensitive voter record information. The program was ill conceived and poorly executed. We expect the Commission will simply announce that it has no intention, going forward, to ask the states for their voter records."
EPIC in its suit alleged that the creation of "a secret database stored in the White House" of national voter registration information posed "staggering" privacy implications and lacked legal authorization.
EPIC argued that the effort would expose every registered voter to risks — including military families whose home addresses would be revealed, people whose partial Social Security numbers are used as passwords for commercial services and people with past felony convictions.
There's also a new problem: scores of voters already have canceled their voter registrations because of privacy concerns about the White House data request. Self-disenfranchisement is a very bad idea:
It's hard to say whether this is an isolated development, or if similar incidents have popped up in other areas. Either way, for the record, let's make something clear: self-disenfranchisement is a very bad idea.
The point of far-right voter-suppression campaigns is to discourage participation, limit voters' access, and make it harder for progressive-minded Americans to cast a ballot. When Trump critics withdraw from the system, they're making things easier for their opponents
Or put another way, if Trump World is trying to suppress the vote, there's no point in anti-Trump voters suppressing themselves voluntarily.
Don't do GOP voter suppression for them — fight the evil GOP bastards!