Just to be clear, last September President Trump ended the Deferred Action for Childhood Arrivals (DACA) program, which grants work authorizations and protection from deportation to undocumented young people who meet certain qualifications.
Two federal judges have blocked Trump's action, leaving DACA recipients in limbo to face an uncertain future.
On Easter Sunday morning, President Trump tweeted a generic "Happy Easter!," which was then followed by this hate-filled Easter Twitter tirade:
As we have come to learn, Trump's morning Twitter tirades are fueled by his morning television viewing habits (jokingly referred to as "executive time") of watching the "tree dolts on a divan" at Fox & Friends. Trump Declares 'NO MORE DACA DEAL!' After Quoting Border Patrol Union Prez:
Unsurprisingly, Trump's outburst borrowed nearly word-for-word from an interview on "Fox & Friends Sunday," minutes earlier, with Brandon Judd, president of the National Border Patrol Council.
That border patrol union made the unprecedented decision to endorse Trump, without a union-wide vote, during the Republican presidential primaries. Judd later served on Trump's transition team.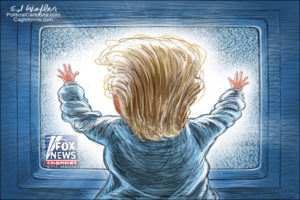 Judd and the "Fox & Friends Sunday" crew discussed a "caravan" of Central American migrants and asylum seekers — as reported by BuzzFeed's Adolfo Flores — organized by the group Pueblos Sin Fronteras. The caravan is making its way through Mexico, toward the United States' border, hoping, according to Flores, that it finds safety in numbers during a journey known for legal impediments and dangerous gangs
"What's funny about this is President Obama used to say, 'Well, they're hiding in the shadows,'" Judd said. "Well all we're doing is we're going to release about 1200 people that are then going to go hide in the shadows again. They're going to wait for a immigration reform, and they're going to create havoc and chaos. I mean, how many times do we have to hear stories of United States citizens being killed by people that are here illegally before we actually do something?"
Before Trump used the term "nuclear option" Sunday, Judd did, referring to a potential Senate procedure to eliminate the legislative filibuster and allow legislation with a simple majority of support avoid minority obstruction.
"They can go the nuclear option, just like what they did on the confirmation," Judd said, referring to when the Republican Senate majority nuked the filibuster for Supreme Court nominees before Justice Neil Gorsuch's confirmation vote.
DACA applicants must have entered the United States before their 16th birthday and continuously resided in the country since June 15, 2007, on top of other requirements, so NO, new arrivals are not even eligible for DACA and they are not coming here to take advantage of DACA.
At the end of 2017, Arrests For Illegal Border Crossings Hit 46-Year Low:
Arrests of people trying to cross illegally into the U.S. from Mexico plunged to the lowest level since 1971, as fewer people attempted the trek, the Department of Homeland Security announced Tuesday.
So NO, there are not "caravans" of new immigrants crossing the border.
UPDATE: The FOX  & Friends hosts were referring to this article by Adolpho Flores, who is traveling across Mexico with a group of about 1,200 migrants, including children, women and men.
About 80% of them are from Honduras. Many said they are fleeing poverty, but also political unrest and violence that followed the swearing in of Honduran President Juan Orlando Hernández after a highly contested election last year…

About two thirds of the roughly 1,200-person caravan plans to either seek asylum or cross the USMexico border undetected, and another third intend to stay in Mexico.

In other words, political refugees. So Trump is closing the door to political refugees as well? So much for that "shining city on a hill."
Meanwhile, immigration arrests in the interior of the country increased by 25 percent, the data show.
The dramatic shift in arrests of undocumented immigrants from the Southwest border to the interior of the nation continues to be a prominent feature of the Trump presidency.
"Overall, removals are down because the border's under better control than it has been in 45 years," said Tom Homan, acting director of Immigration and Customs Enforcement.
New data released by DHS show that Border Patrol arrests are at a 46-year low. Border officers apprehended 310,531 people for being in the country illegally in fiscal 2017, a 25 percent decrease from the year before. Meanwhile, arrests by agents with ICE in the interior of the country spiked from the year before to 143,470 immigrants — mostly Central Americans.
So NO, the Border Patrol is not being prevented from properly doing their job, if anything they are more efficient than ever.
The so-called "catch and release" policy refers to undocumented immigrants being released from the government's custody while awaiting court dates. While serving as secretary of the Department of Homeland Security last year, John Kelly said "We have ended dangerous catch-and-release enforcement policies."
But as Reuters pointed out at the time, it's not so simple: Various court rulings govern how long undocumented immigrants can be held in the government's custody. Also, there simply aren't enough beds in the nation's immigration detention centers to house every undocumented immigrant facing potential deportation.
This is really about Trump, the self-proclaimed "great negotiator," failing entirely to get any funding for his "big beautiful wall" on the Mexico border from his own GOP leadership in Congress in the recent spending bill. Trump is lashing out from his own incompetence. He is to blame, not Democrats, or even his GOP leadership.
Blowing up NAFTA in a fit of presidential pique is not going to get him one more dollar from Congress for his "big beautiful wall" on the Mexico border.
As far as the "nuclear option" to end the Senate's "filibuster" rules goes, the Septuagenarian Ninja Turtle, Senate Majority Leader Mitch McConnell, is never going to agree to this because he knows that the GOP will be in the Senate minority again some day and he wants to preserve the Senate filibuster rules that he abused more than any senator in the history of the U.S. Senate.
Despite nothing he said on Sunday being true, our mentally disturbed president continued with his insane Twitter tirade on Monday.
CNN adds that it was fueld by FOX News hosts. At Mar-a-Lago, Trump hears from immigration hardliners:
President Donald Trump heard this weekend from a parade of allies — many on the Fox News payroll — that his base believes he is softening on immigration.
His conversations — including on Saturday with Jeanine Pirro, who has previously rankled some senior White House aides for her ardent views on the Russia investigation — led up to a burst of tweets on Sunday and Monday morning in which Trump blamed Democrats for weak immigration policies.
* * *
The messages were a reflection of Trump's ongoing frustration that more progress hasn't yet been made on the wall, his chief campaign promise. He has continued to rail at being cornered into signing an omnibus spending bill that included only a small amount of funding for the border wall. And he's noticed with chagrin the vocal criticism of Ann Coulter, the right-wing firebrand who has publicly censured Trump for falling short on his immigration promises.
Multiple people raised Coulter's scaled-up denunciations to the President in his conversations over the weekend. Pirro, who filled in last week for fellow Fox host Sean Hannity — who himself spent hours with Trump over the weekend at his golf course and Mar-a-Lago — interviewed Coulter last weekend.
Pirro and Hannity are both immigration hardliners, and made known to Trump that his party's successes in upcoming midterm elections will depend on him being able to tout successes on the border wall.
A third Fox News hand, former executive Bill Shine, rounded out the channel's presence at Trump's club. Shine had been in Trump's sights to replace Hope Hicks as White House communications director, but has told the President he isn't interested.
Not at the estate was John Kelly, Trump's chief of staff who has worked to limit the voices with access to the President, at least when he's working from the Oval Office.
This Cult of Trump, aka the "FOX News Presidency" must end.
Fox News commentator Ret. Lt. Col. Ralph Peters recently Quit FOX, Calling the Network a 'Propaganda Machine':
A longtime Fox News commentator on Tuesday let the network have it in a scathing letter to colleagues announcing his departure.
In an email to Fox News staff, first obtained by BuzzFeed News, strategic analyst Ret. Lt. Col. Ralph Peters claimed he decided not to renew his contract earlier this month because of how "ashamed" he is of Fox.
Peters attributed his decision to Fox's defense of President Trump amid alleged Russian collusion in the 2016 presidential election, declaring that the network was increasingly "wittingly harming our system of government for profit."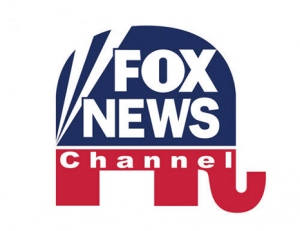 "Fox News is assaulting our constitutional order and the rule of law, while fostering corrosive and unjustified paranoia among viewers," he wrote in the email. "Over my decade with Fox, I long was proud of the association. Now I am ashamed."
He continued: "Fox has degenerated from providing a legitimate and much-needed outlet for conservative voices to a mere propaganda machine for a destructive and ethically ruinous administration" [i.e., "Trump TV."]
* * *
Peters singled out Fox's primetime hosts for repeatedly running block for Trump by dismissing and agitating against federal law enforcement and Special Counsel Robert Mueller's investigation into Russian meddling in the 2016 election.
"When prime-time hosts—who have never served our country in any capacity—dismiss facts and empirical reality to launch profoundly dishonest assaults on the FBI, the Justice Department, the courts, the intelligence community (in which I served) and, not least, a model public servant and genuine war hero such as Robert Mueller—all the while scaremongering with lurid warnings of 'deep-state' machinations—I cannot be part of the same organization, even at a remove," Peters wrote.
Peters expounded further in an op-ed at the Washington Post. Why I left Fox News:
As I wrote in an internal Fox memo, leaked and widely disseminated, I declined to renew my contract as Fox News's strategic analyst because of the network's propagandizing for the Trump administration. Today's Fox prime-time lineup preaches paranoia, attacking processes and institutions vital to our republic and challenging the rule of law.
Four decades ago, as a U.S. Army second lieutenant, I took an oath to "support and defend the Constitution." In moral and ethical terms, that oath never expires. As Fox's assault on our constitutional order intensified, spearheaded by its after-dinner demagogues, I had no choice but to leave.
* * *
All Americans, whatever their politics, should want to know, with certainty, whether a hostile power has our president and those close to him in thrall. This isn't about party but about our security at the most profound level.
* * *
Listening to political hacks with no knowledge of things Russian tell the vast Fox audience that the special counsel's investigation was a "witch hunt," while I could not respond, became too much to bear. There is indeed a witch hunt, and it's led by Fox against Robert Mueller.
* * *
The cascade of revelations about the Russia-related crimes of Trump associates was dismissed, adamantly, as "fake news" by prime-time hosts who themselves generate fake news blithely.
* * *
With my Soviet-studies background, the cult of Trump unnerves me. For our society's health, no one, not even a president, can be above criticism — or the law.
* * *
Trump idolaters and the merrily hypocritical prime-time hosts are destroying the network — no matter how profitable it may remain.
The day my memo leaked, a journalist asked me how I felt. Usually quick with a reply, I struggled, amid a cyclone of emotions, to think of the right words. After perhaps 30 seconds of silence, I said, "Free."
America needs to free itself of this "Trump TV" propaganda network, and this FOX News presidency.