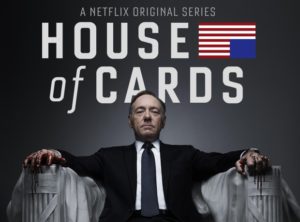 It looks as if we have a House of Cards power struggle going on inside Trumpland between Crown Prince Jared Kushner and Trump's "America First" white nationalist bomb thrower, Stephen Bannon.
Guess who is going to win this fight.
The New York Times reports today, In Battle for Trump's Heart and Mind, It's Bannon vs. Kushner (snippet):
The schism within Mr. Trump's perpetually fractious White House has grown in recent weeks, fueled by personality, ideology and ambition. At its core are Mr. Bannon, the edgy, nationalist bomb-thrower suddenly in the seat of power, and Mr. Kushner, the polished, boyish-looking scion of New Jersey and New York real estate. Even as Mr. Kushner's portfolio of responsibilities has been expanding, Mr. Bannon's in recent days has shrunk with the loss of a national security post.
The Washington Post reports today, Bannon wants a war on Washington. Now he's part of one inside the White House. (snippet):
Stephen K. Bannon — the combative architect of the nationalistic strategy that delivered President Trump to the White House — now finds himself losing ground in an internecine battle within the West Wing that pits the "Bannonites" against a growing and powerful faction of centrist financiers led by the president's son-in-law, Jared Kushner.
This afternoon, The Wall Street Journal reports, Donald Trump Considers Major Shake-up of Senior White House Team (pay wall), and the web site Axios similarly reports Exclusive: Trump eyes new chief of staff; House Leader on short list:
President Trump is considering a broad shakeup of his White House that could include the replacement of White House Chief of Staff Reince Priebus and the departure of chief strategist Steve Bannon, aides and advisers tell us.
A top aide to Trump said he's contemplating major changes, but that the situation is very fluid and the timing uncertain: "Things are happening, but it's very unclear the president's willing to pull that trigger."
Insiders tell me that the possibilities for chief of staff include:
House Majority Leader Kevin McCarthy (R-Calif.), who developed a bond with Trump as one of the earlier congressional leaders to support him, and remains a confidant.
Wayne Berman of Blackstone Group, a Washington heavy-hitter who was an Assistant Secretary of Commerce under President George H.W. Bush, and a key adviser on eight presidential campaigns.
David Urban of the Washington advisory firm American Continental Group, and a former chief of staff to the late
Sen. Arlen Specter (R-Pa.). Urban helped Trump win an upset victory in Pennsylvania, and was in constant cellphone contact with the candidate throughout the campaign.
Gary Cohn, Trump's economic adviser and the former #2 at Goldman Sachs, who has built a formidable team and internal clout.
The fact that there is a ready-made list from an "insider" in the White House leaked to the press is your first clue that it is true.
The West Wing "Game of Thrones" [now they're mixing my metaphor] has been raging ever since Trump took office. But the war between the nationalists and the moderates, led by Jared Kushner and Ivanka Trump, burst into the open this week after Bannon was taken off the National Security Council, setting off a torrent of leaks against him.
Axios earlier this week reported that Bannon told associates: "I love a gunfight." Bannon reportedly told associates, "I see some bad press in [Jared's] future." (See the previous post).
The Daily Beast earlier this week reported that Steve Bannon Calls Jared Kushner a 'Cuck' and 'Globalist' Behind His Back. "One official said Bannon has lately complained about Kushner trying to "shiv him and push him out the door" and likened him to a fifth column in the White House."
Of course, White House Deputy Press Secretary Lindsay Walters adamantly denied the reports in a statement to Time's Zeke Miller, calling it a "completely false story." Uh-huh.
Stay tuned for previews of next week's episode.