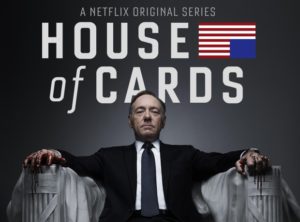 It looks as if we have a House of Cards power struggle going on inside Trumpland, despite denials.
The New York Times reports, Trump Removes Stephen Bannon From National Security Council Post:
For the first 10 weeks of President Trump's administration, no adviser loomed larger in the public imagination than Stephen K. Bannon, the raw and rumpled former chairman of Breitbart News who considers himself a "virulently anti-establishment" revolutionary out to destroy the "administrative state."
But behind the scenes, White House officials said, the ideologist who enjoyed the president's confidence became increasingly embattled as other advisers, including Mr. Trump's daughter [Ivanka] and son-in-law [Jared Kushner], complained about setbacks on health care and immigration. Lately, Mr. Bannon has been conspicuously absent from some meetings. And now he has lost his seat at the national security table.
In a move that was widely seen as a sign of changing fortunes, Mr. Trump removed Mr. Bannon, his chief strategist, from the National Security Council's cabinet-level "principals committee" on Wednesday. The shift was orchestrated by Lt. Gen. H. R. McMaster, Mr. Trump's national security adviser, who insisted on purging a political adviser from the Situation Room where decisions about war and peace are made.
Mr. Bannon resisted the move, even threatening at one point to quit if it went forward, according to a White House official who, like others, insisted on anonymity to discuss internal deliberations. Mr. Bannon's camp denied that he had threatened to resign and spent the day spreading the word that the shift was a natural evolution, not a signal of any diminution of his outsize influence.
His allies said privately that Mr. Bannon had been put on the principals committee to keep an eye on Mr. Trump's first national security adviser, Michael T. Flynn, a retired three-star general who lasted just 24 days before being forced out for misleading Vice President Mike Pence and other White House officials about what he had discussed with Russia's ambassador. With Mr. Flynn gone, these allies said, there was no need for Mr. Bannon to remain, but they noted that he had kept his security clearance.
OK, this is the stupidest statement to come out of this White House so far. Bannon was there to "keep an eye on Michael Flynn"? What the hell is that supposed to mean? If the White House was that concerned about Michael Flynn that they had to "keep an eye on him" (and woefully failed in that effort as all the reporting on Flynn's working as a secret agent for Turkey and discussing U.S. sanctions with the Russian ambassador clearly demonstrates), why was he ever appointed National Security Adviser in the first place? And the guy you assign to "keep an eye on him" is some alt-right white nationalist blog troll from Breitbart? Nobody in their right mind believes this "fake news" explanantion.
OK, I take that back. This is the stupidest statement to come out of this White House so far:
"Susan Rice operationalized the N.S.C. during the last administration," Mr. Bannon said in a statement, referring to President Barack Obama's national security adviser. "I was put on the N.S.C. with General Flynn to ensure that it was de-operationalized. General McMaster has returned the N.S.C. to its proper function."
Mr. Bannon did not explain what he meant by "operationalized" or how his presence on the committee had ensured it would not be.
I'm sure Bannon and Breitbart have an elaborate conspiracy theory they have concocted to explain his cryptic comment that is no less believable.
It was one more drama in a White House consumed by palace intrigue, where officials jockey for the ear of the president, angle for authority and seek to place blame for political defeats. Even as Mr. Bannon lost a national security credential, Jared Kushner, the president's son-in-law and senior adviser, seems to be acting as a shadow secretary of state, visiting Iraq and taking on China, Mexico and Middle East portfolios.
Mr. Bannon's many enemies, inside and outside the White House, celebrated what they saw as a defeat for his brand of fiery, nationalist politics.
"He didn't belong on the principals committee to begin with — doesn't really belong in the White House at all," said Representative Adam B. Schiff of California, the ranking Democrat on the House Intelligence Committee. "I hope that this is a sign that McMaster is taking control of the National Security Council."
Mr. Bannon, who has been under attack from outside the administration since the early days of the transition, is a crafty survivor, and insiders warned that it would be a mistake to underestimate him. When General McMaster wanted to fire a staff member, Ezra Cohen-Watnick, Mr. Bannon intervened to save his job.
Mr. Cohen-Watnick had alerted colleagues that Mr. Trump's associates had been caught up in surveillance of foreigners, information then shown by another White House official to Representative Devin Nunes, Republican of California and chairman of the House Intelligence Committee, which is investigating Russian meddling in last year's election.
James Jeffrey, a deputy national security adviser to Mr. Bush, said General McMaster appeared to have "scored one on the presumably more powerful Bannon," but cautioned against reading too much into what it meant for Mr. Bannon. "He seems to be very close to the president and, by most accounts, still wins many of his battles," Mr. Jeffrey said.
From the start, General McMaster intended to revamp the National Security Council organization that he inherited from Mr. Flynn. The principals committee, which is led by the national security adviser and includes the vice president, secretary of state, defense secretary and others, is the primary policy-making body deciding questions that do not rise to the level of the president and framing those that do.
The initial structure approved by Mr. Trump not only gave Mr. Bannon formal membership on the committee, but also downgraded the chairman of the Joint Chiefs of Staff and the director of national intelligence to occasional participants as issues demanded.
In addition to removing Mr. Bannon, the new order issued by Mr. Trump, dated Tuesday and made public on Wednesday, restored the Joint Chiefs chairman and intelligence director and added the energy secretary, C.I.A. director and United Nations ambassador. It also put the Homeland Security Council under General McMaster rather than making it a separate entity, as Mr. Trump's original order had done.
Mr. Trump was angry over the fallout from his first order, feeling that he had not been properly warned about its implications. He briefly considered reversing it the same weekend it was announced, according to a person with direct knowledge, but decided against it for fear of creating more of a public storm.
* * *
Mr. Bannon has also been at odds with Gary Cohn, the president's national economics adviser. Mr. Cohn is close with Mr. Kushner, who has said privately that he fears that Mr. Bannon plays to the president's worst impulses, according to people with direct knowledge of such discussions.
Moreover, Mr. Bannon's Svengali-style reputation [more like Rasputin] has chafed on a president who sees himself as the West Wing's only leading man. Several associates said the president had quietly expressed annoyance over the credit Mr. Bannon had received for setting the agenda — and Mr. Trump was not pleased by the "President Bannon" puppet-master theme promoted by magazines, late-night talk shows and Twitter.
Yet there is a risk for Mr. Trump in appearing to minimize Mr. Bannon, a hero to the white nationalist, anti-immigration base that helped drive Mr. Trump to an Electoral College victory. With his approval ratings at historic lows for so early in a presidency, he is counting on the same people who see Mr. Bannon as their champion — just as Mr. Bannon is counting on Mr. Trump to retain his place in the White House inner circle.
CNBC reports that Bannon attended National Security Council meeting after his removal from top committee:
Shortly after the news broke Wednesday that top Trump advisor Steve Bannon had been removed from the National Security Council's principals committee, Bannon attended an NSC meeting in the White House situation room, according to a source familiar with the events.
* * *
Just hours after that official spoke those words, Bannon was back in the White House Situation Room, attending an NSC meeting on an unspecified topic.
"He is off the memo as a member of the principals committee," said the source familiar with Wednesday's meeting, "but the president or McMaster can invite him to attend at any time."
Asked why Bannon attended a meeting on the same day his departure was being announced, the source said, "He is one of the president's closest and most trusted advisors."
Asked whether Bannon would continue to regularly attend NSC meetings, the source said, "I don't know. It's going to be ad hoc, I think."
So really, nothing much has changed."President Bannon" the puppet-master is still calling the shots.