White House Counsel Pat Cipollone wrote yet another ridiculous letter to congressional leaders yesterday, effectively making the case that the president considers the ongoing impeachment proceedings "unconstitutional" and "illegitimate," and has therefore decided to stonewall lawmakers' efforts to hold him accountable.
This ridiculous letter is without any legal basis or precedent, and is actually intended as political fodder for FOX News aka Trump TV. It is an unprecedented declaration of war on the US Congress and the Constitution. White House escalates standoff with Congress, says it will not cooperate with impeachment inquiry of Trump:
The White House on Tuesday said it would not cooperate with the House's impeachment inquiry of President Trump, arguing that the probe "violates the Constitution, the rule of law, and every past precedent" in an escalating standoff with an unbowed Congress.
In a [ridiculous] eight-page letter, the White House said the inquiry into the Ukraine scandal was without merit, complained that the president has been denied his due process rights and argued that Democrats were intent on overturning the results of the 2016 election and influencing the 2020 contest.
"To fulfill his duties to the American people, the Constitution, the executive branch, and all future occupants of the Office of the presidency, President Trump and his administration cannot participate in your partisan and unconstitutional inquiry under these circumstances," White House counsel Pat A. Cipollone wrote to top congressional Democrats.
Trump and his attorneys' "total obstruction" of Congress just made the case for impeaching Donald Trump. This is essentially Article 3 of the Nixon Articles of Impeachment:
Article 3
In his conduct of the office of President of the United States, Richard M. Nixon, contrary to his oath faithfully to execute the office of President of the United States and, to the best of his ability, preserve, protect, and defend the Constitution of the United States, and in violation of his constitutional duty to take care that the laws be faithfully executed, has failed without lawful cause or excuse to produce papers and things as directed by duly authorized subpoenas issued by the Committee on the Judiciary of the House of Representatives on April 11, 1974, May 15, 1974, May 30, 1974, and June 24, 1974, and willfully disobeyed such subpoenas. The subpoenaed papers and things were deemed necessary by the Committee in order to resolve by direct evidence fundamental, factual questions relating to Presidential direction, knowledge or approval of actions demonstrated by other evidence to be substantial grounds for impeachment of the President. In refusing to produce these papers and things Richard M. Nixon, substituting his judgment as to what materials were necessary for the inquiry, interposed the powers of the Presidency against the the lawful subpoenas of the House of Representatives, thereby assuming to himself functions and judgments necessary to the exercise of the sole power of impeachment vested by the Constitution in the House of Representatives.
In all of this, Richard M. Nixon has acted in a manner contrary to his trust as President and subversive of constitutional government, to the great prejudice of the cause of law and justice, and to the manifest injury of the people of the United States.
Wherefore, Richard M. Nixon, by such conduct, warrants impeachment and trial, and removal from office.
Here is then Rep. Lindsey Graham, a House prosecutor of the impeachment of Bill Clinton in 1999, explaining why this merits impeachment of the president.
This soulless politician has since traded his "honor" to be relevant to Trump as a trusted adviser (whom Trump completely ignored on green-lighting Turkey invading northern Syria to massacre our Kurdish allies). The Humiliation of Lindsey Graham.
Even after his recent humiliation, this subservient Trump sycophant on Wednesday said that he is sending a letter to House Speaker Nancy Pelosi warning that Senate Republicans won't impeach President Trump over his call with Ukraine. Graham tells Pelosi GOP won't impeach Trump over Ukraine call:
Graham, in an appearance on Fox News's "Fox & Friends," said that he was going to ask other Senate Republicans to sign a letter to Pelosi saying that they "do not believe the transcript of the phone call between the president and the Ukraine is an impeachable offense."
"They're about to destroy the nation for no good reason," Graham said. "And I want Nancy Pelosi to know that Republican senators are not going to impeach this president based on this transcript, so she can stop now before she destroys the country."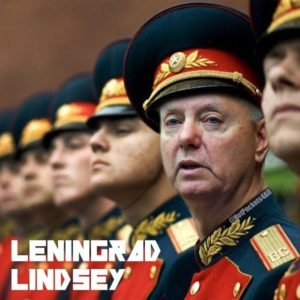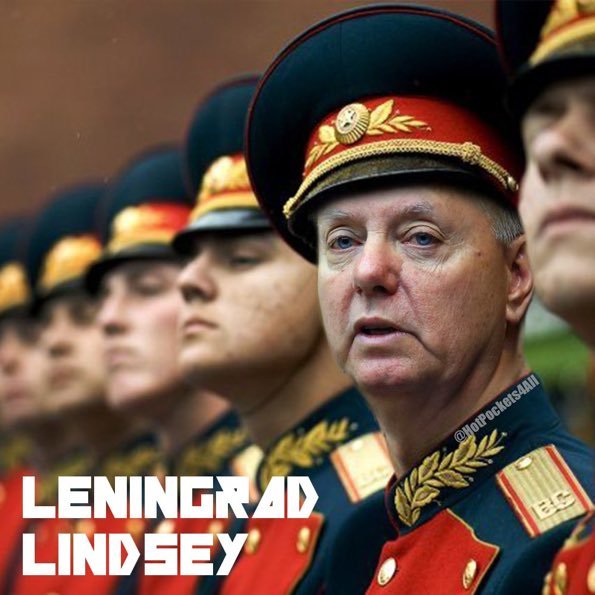 Graham earlier dismissed any concerns about Russian collusion with the Trump campaign and obstruction of justice in the Mueller Report:"
"From my point of view, I've heard all I need to really know," [from Robert Mueller]. He reiterated the sentiment again and again, especially regarding Trump's ordering then-White House counsel Donald McGahn to fire Mueller. "It doesn't matter," he said. "I don't care what he said to Don McGahn. … I don't care what happened between him and Don McGahn. … No, I'm — I'm done."
"Leningrad" Lindsey Graham of 2019 doesn't care that it is Trump who is destroying the country by shredding the Constitution, destroying the rule of law, and putting America's elections and national security at risk, aided and abetted by sycophant Republican accomplices in Congress like Lindsey Graham. He doesn't care about restoring honor to the presidency.
Even more egregious, "Leningrad" Lindsey Graham intends to make a mockery of the Senate Judiciary Committee he unfortunately chairs by turning it into the Rudy Giuliani shit-show extravaganza for multi-replay on Trump TV: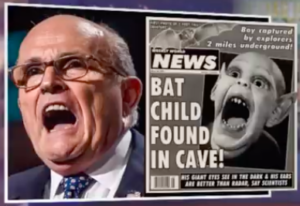 Graham, who chairs the Senate Judiciary Committee, announced on Tuesday that he is going to invite Giuliani to testify before his panel. The decision marked a turnaround for Graham, who had previously called for an investigation into "all things Ukraine" but said it needed to come from outside of Congress.
"I think Rudy's got a story to tell. I want him to tell it in my committee. He'd be respectfully treated," Graham said during the Fox News interview. "At the end of the day, I am going to shed a light on all things Ukraine."
In other words, "Leningrad" Lindsey Graham intends to use his committee to air every debunked wild-assed conspiracy theory that Trump and Giuliani have trafficked in the fever swamps of QAnon, Info Wars, Breitbart and Trump TV. It is just an opportunity to smear the US intelligence community, Robert Mueller, and Joe Biden with debunked conspiracy theories and outright lies. Graham should be stripped of his chairmanship.
Back to The Post:
In response [to the White House letter], House Speaker Nancy Pelosi (D-Calif.) signaled that Democrats were undeterred and would move ahead with their investigation focused on Trump's pressure on a foreign leader to dig up dirt on a domestic political rival.
"The White House should be warned that continued efforts to hide the truth of the President's abuse of power from the American people will be regarded as further evidence of obstruction," Pelosi said in a statement. "Mr. President, you are not above the law. You will be held accountable."
In addition: House committee chairmen used "adverse inference" language in letters and statements to add muscle to subpoenas for documents on Trump's conduct with Ukraine. It echoes a tactic Congress used during the impeachment of Richard Nixon." The Democratic chairmen wrote that not complying with a subpoena "may be used as an adverse inference against you and the President."
Adverse inference" usually plays out in civil lawsuits if one of the parties withholds some evidence, such as if they refuse to testify or if they destroy documents. In those situations, a judge can tell jurors that they can presume the missing evidence would have been bad for the side that didn't provide it.
The White House letter, which lacked substantive legal arguments and echoed Trump's political broadsides, capped a day of defiance and challenges as House Democrats have tried to force recalcitrant administration officials to divulge potentially incriminating information over Republican objections. But it also highlights the limitations of Democrats' ability to exercise their oversight authority in the face of an administration that appears unfazed by flouting subpoenas.
* * *
The three House Democratic chairmen — Adam B. Schiff (Calif.) of the Intelligence Committee, Eliot L. Engel (N.Y.) of Foreign Affairs and Elijah E. Cummings (Md.) of Oversight — said Tuesday that they are trying to determine whether Trump violated his oath of office and endangered national security "by pressing Ukraine to launch sham investigations to assist his personal and political interests rather than the interests of the American people."
While the administration is refusing to provide witnesses or documents, Democrats have been negotiating for testimony from the whistleblower whose complaint about Trump's call prompted the impeachment inquiry. The Intelligence Committee is considering extraordinary steps, including masking the individual's identity, to secure the interview.
The whistleblower wrote in a two-page memo that the intelligence community's inspector general provided last week to the congressional intelligence committees that a White House official called the substance of the July 25 call "crazy" and "frightening" and suggested that Trump may have violated federal election laws by asking Zelensky for a "favor" of investigating the Bidens.
A person familiar with the memo added that the White House official also thought it was improper that the record of the call was moved to a highly classified server.
Layering hypocrisy on top of hypocrisy, Trump has added former congressman Trey "Beghazi!" Gowdy (R-S.C.) to serve as an outside lawyer for the impeachment process: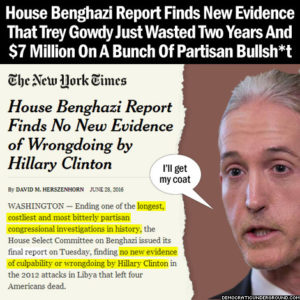 Gowdy headed the House's select committee that investigated the deadly 2012 attacks in Benghazi, Libya, and repeatedly demanded witnesses and documents from the Obama administration.
Over the course of more than two years, that panel spoke to 81 witnesses and reviewed 75,000 pages of documents, according to its final report. Most notably, former secretary of state Hillary Clinton testified for more than 11 hours before the committee on Oct. 22, 2015.
Trump has regularly told White House officials that he does not want to cooperate with the House committees conducting oversight. IOKIYAR.
In its stonewalling, the State Department blocked House investigators from deposing Gordon Sondland, the U.S. ambassador to the European Union, and a central figure in the impeachment inquiry. Sondland had worked to ensure that the Ukrainians would investigate an energy company that previously paid Hunter Biden to sit on its board as a precondition for a meeting between the two heads of state.
Text messages supplied to the House last week by Volker show that Sondland coordinated with other diplomats, Trump's personal lawyer Rudolph W. Giuliani, and a top aide to Zelensky to secure what he called the "deliverable," while defending Trump against concerns raised by other officials that they were attempting to orchestrate a quid pro quo.
"I would love to send Ambassador Sondland, a really good man and great American, to testify, but unfortunately he would be testifying before a totally compromised kangaroo court," Trump tweeted Tuesday.
Sondland was willing to testify, according to his lawyer Robert Luskin, but didn't appear on Tuesday at the direction of the State Department. The order to Sondland's attorneys not to testify came via voice mail at 12:30 a.m. Tuesday, according to Democrats.
"As the sitting U.S. Ambassador to the E.U. and employee of the State Department, Ambassador Sondland is required to follow the Department's direction," Luskin said.
The White House letter suggests that the administration will take similar steps to block the testimony of former U.S. ambassador to Ukraine Marie Yovanovitch, who is expected for a deposition with the panels on Friday. Attempts to reach a lawyer for Yovanovitch were unsuccessful.
As a former employee, Marie Yovanovitch is free to testify, if she chooses.
Giuliani also pledged on Tuesday to disregard a House subpoena for documents related to his efforts in Ukraine.
"Let them hold me in contempt. We'll go to court. We'll challenge the contempt," Giuliani said in an interview. He added that he would be "very interested" in speaking instead to the GOP-led Senate Judiciary Committee, where chairman and Trump ally Sen. Lindsey O. Graham (S.C.) promised to launch a Ukraine probe, centered on Giuliani's testimony, to rival House Democrats' impeachment-focused investigation.
Because "Leningrad" Lindsey Graham intends to turn it into the Rudy Giuliani shit-show extravaganza for replay on Trump TV. (Just how he intends to prevent Democrats on the panel from asking "Bat Boy" questions who, no doubt, will stumble into committing perjury while sneering derisions for Democrats, I have no idea).
The House panels are also expected in the days ahead to issue subpoenas for three Soviet-born operatives — Lev Parnas, Igor Fruman and Sem­yon Kislin — who assisted Giuliani in Ukraine and have thus far resisted congressional summonses.
It was actually Rudy Giuliani and his Ukrainian goon squad making corrupt deals in the Ukraine for his financial benefit. Profit, not politics: Trump allies sought Ukraine gas deal. More, AP's key findings about Ukraine gas deal Trump allies sought.
Even Secretary of Energy Rick "Oops!" Perry is involved in this corrupt scheme. Rick Perry's Focus on Gas Company Entangles Him in Ukraine Case, and Perry pressed Ukraine on corruption, energy company changes.
The Trump administration is the most corrupt and criminal administration in American history. It needs to be removed from power now. We cannot wait for an election that may be corrupted by its plotting and scheming with foreign adversaries. Never gain.