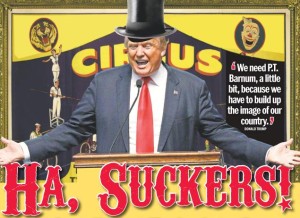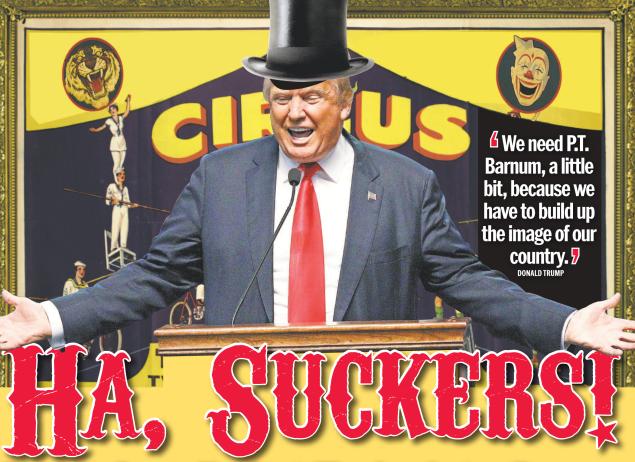 Donald Trump's xenophobic white nationalist "America First" campaign from his alt-right Rasputin, Steve Bannon, has now produced a "fortress America" militaristic budget that comes at the expense of every other aspect of the federal government, and particularly at the expense of America's poor, the very people Trump claimed he wanted to help during his campaign.
This budget comes before Trump has even rolled out his yuuuge tax cut plan to benefit himself and his wealthy Plutocrat friends — a tax expenditure that will: (a) require deeper budget cuts than those he has proposed, and or (b) explode the federal deficit, because faith based supply-side "trickle down" GOP economics does not work. It is the greatest fraud ever perpetrated on the American people.
The only saving grace is that the president's budget, Democrat or Republican, has been dead on arrival in Congress in recent American history. There is little or no chance that Trump's proposed budget will be the actual budget eventually produced by Congress.
The Washington Post today has numerous reports breaking down Trump's proposed budget. "President Trump's first budget proposes a $54 billion increase in military spending while seeking significant cuts across much of the rest of the federal government, including reductions of more than 20 percent at the departments of Agriculture, Labor and State, and more than 30 percent at the Environmental Protection Agency." Plan calls for reductions in spending for science, diplomacy and the poor.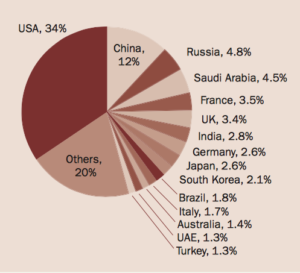 In 2014, the most recent year available, the United States led the world in military spending, spending more than the next seven countries combined. TRENDS IN WORLD MILITARY EXPENDITURE, 2014 from the Stockholm International Peace Research Institute (SIPRI).
"The proposed cuts will fall hardest on rural and small town communities that Trump won, where one in three people are living paycheck to paycheck, according to a new analysis by the Center for American Progress, a liberal think tank." If you're a poor person in America, Trump's budget is not for you. For some perspective, see A day in the life of a poor American under Trump's proposed budget.
So much for the "white working class" voters who supported Trump, many of whom live in pockets of poverty, are unemployed, and addicted to opiates. This budget has nothing for them. They have been betrayed.
The Post has an excellent summary which links to separate articles reporting on each agency budget. What Trump cut in his budget:
On Thursday, the Trump administration released a preliminary 2018 budget proposal, which details many of the changes the president wants to make to the federal government's spending. The proposal covers only discretionary, not mandatory, spending.
To pay for an increase in defense spending, a down payment on the border wall and school voucher programs, among other things, funding was cut from the discretionary budgets of other executive departments and agencies. The Environmental Protection Agency, the State Department and the Agriculture Department took the hardest hits. The proposal also eliminates funding for these 19 agencies.
See how each agency's discretionary funding would be affected by Trump's proposal, in detail, below:
AGRICULTURE DEPARTMENT
The Trump administration is seeking to cut 21 percent of the Agriculture Department's discretionary spending budget, though it hasn't detailed what precisely will be cut. The vulnerable programs include rural development and research grants but exclude SNAP (food stamps) and crop subsidies. The USDA will also reduce staff by an unspecified amount at various service center agencies around the country.
COMMERCE DEPARTMENT
As part of a 16 percent reduction to the Department of Commerce's budget, the Trump administration is proposing sharp cuts to climate-change and ocean research at the National Oceanic and Atmospheric Administration.
DEFENSE DEPARTMENT
Under the Trump administration budget, the Defense Department would get a 9 percent increase in discretionary funding — but only about 3 percent more than what it spent last year. President Trump has cast it as a historic increase in defense spending, but critics say it is actually more of an incremental boost and much smaller than what he promised on the campaign trail.
EDUCATION DEPARTMENT
The Education Department faces a 14 percent cut under the Trump administration budget, which would downsize or eliminate a raft of grants, including for teacher training, afterschool programs, and aid to low-income and minority college students. The cuts would be coupled with a historic investment — $1.4 billion — in charter schools, private schools and other school-choice initiatives.
ENERGY DEPARTMENT
The Trump budget proposal, which cuts the Energy Department's budget by 6 percent, would boost spending on managing the nation's nuclear stockpile and revive the controversial Yucca Mountain storage facility for nuclear power plant waste. It would slash spending on a host of science and climate areas.
DEPARTMENT OF HEALTH AND HUMAN SERVICES
The Trump administration proposed an 18 percent decrease for HHS, one of the largest and most sprawling departments within the government. That sum excludes funding for the insurance provided by Medicare and Medicaid, two vast entitlement programs for older and lower-income Americans. In a rare move, those programs were omitted from the brief budget description the Trump administration has released.
National Institutes of Health (part of HHS)
The 18 percent cut would affect the billions of dollars NIH gives out to researchers around the globe, as well as studies at its sprawling Bethesda, Md., campus.
DEPARTMENT OF HOMELAND SECURITY
The proposal would increase funding to DHS by 7 percent. This money primarily goes toward big boosts in spending on border and immigration enforcement — for a border wall, for 500 new Border Patrol agents, and 1,000 new Immigration and Customs Enforcement agents.
DEPARTMENT OF HOUSING AND URBAN DEVELOPMENT
The 13 percent cut in funding for HUD will put tremendous strain on housing authorities across the country, which manage public housing and rely heavily on federal funding.
INTERIOR DEPARTMENT
Under the Trump administration proposal, the Interior Department faces a 12 percent cut. That could strain everyday maintenance of national parks and historic sites, as well as enforcement of activity such as illegal wildlife trafficking at the nation's borders.
JUSTICE DEPARTMENT
The budget proposal boosts the DOJ's tough-on-crime and anti-immigration efforts — putting money toward targeting criminal organizations and drug traffickers, and hiring immigration judges, border enforcement prosecutors and additional deputy U.S. marshals. The DOJ budget's overall 4 percent decrease appears to come from a reduction in federal prison construction because of a reduced prison population and reducing spending on mostly unnamed "outdated" programs.
LABOR DEPARTMENT
The 21 percent proposed cut in the Labor Department reduces funding for job training programs that benefit seniors and disadvantaged youth. The proposal would also shift funding responsibility to states for certain job placement programs.
STATE DEPARTMENT, USAID AND TREASURY INTERNATIONAL PROGRAM
The 29 percent proposed cut to the State Department refocuses economic and development aid to countries of the greatest strategic importance to the U.S., and it shifts some foreign military aid from grants to loans. It also requires State and USAID to reorganize and consolidate.
TRANSPORTATION DEPARTMENT
The Transportation Department's budget would shrink by 13 percent. The spending plan would move what has been a core government function — air traffic control — outside of government hands, and push responsibility for many transit and other projects to localities.
TREASURY DEPARTMENT
The Treasury's budget would shrink by 4 percent, with other funds reallocated toward the department's security missions: preventing hacking, seizing terrorists' bank accounts and enforcing sanctions on foreign adversaries.
DEPARTMENT OF VETERANS AFFAIRS
VA would be one of the few departments to see its budget grow, by 6 percent to $78.9 billion. Most of the increase would improve veterans' access to doctors and support services following a scandal in 2014 over patient wait times. The money would also help fill some of the agency's more than 45,000 vacant medical positions. Veterans Choice, a program that gives patients the option to see private doctors outside the VA system, would also expand.
ENVIRONMENTAL PROTECTION AGENCY
Trump's budget begins to dismantle the EPA, shrinking its funding by 31 percent and eliminating a fifth of its workforce. More than 50 programs would be eliminated altogether, including Energy Star; grants that help states and cities fight air pollution; an office focused on environmental justice and cleanup efforts in the Chesapeake Bay and Great Lakes; and infrastructure assistance to Alaskan native villages and along the Mexican border. Funding for drinking water infrastructure would remain intact, but the agency's scientific research would suffer massive cuts.
NASA
NASA will see only a small cut — about 1 percent of its 2017 budget. But the cuts come almost entirely from Earth-observing and education programs, suggesting that Trump aims to make good on campaign promises to shift NASA's focus away from our planet. The budget also directs NASA to find ways to collaborate with the commercial space industry. It makes no mention of the Journey to Mars, which is likely to add to speculation that Trump wants to shift NASA's focus to the moon.
SMALL BUSINESS ADMINISTRATION
The Trump administration is proposing to cut about 5 percent of the Small Business Administration's budget. The new plan would eliminate $12 million worth of technical-assistance grants and other programs where the administration thinks the private sector already "provides efficient mechanisms" for small-business development and growth.
ARTS AND CULTURAL AGENCIES
The Trump administration's proposal calls for eliminating four cultural agencies and their collective $971 million budgets. Most of the funds support nonprofit groups across the country, such as dance companies, radio stations, orchestras and theaters.