"Dear Leader" in his reality TV show "Supreme Court Nominee" rose ceremony gave his rose to a white male Washington "swamp" insider,  District of Columbia Court of Appeals Judge Brett M. Kavanaugh, a man who is on record having said the words that Donald Trump most wants to hear: in 2009 Kavanaugh said indicting a sitting president "would ill serve the public interest, especially in times of financial or national-security crisis," and later wrote that "Congress should pass laws that would protect a president from civil and criminal lawsuits until they are out of office."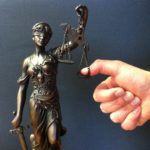 In other words, Trump is putting his thumb on the scales of justice to protect himself from the Special Counsel's Russia investigation, an obvious conflict of interest that undermines the legitimacy of the Supreme Court. Has Trump extracted a loyalty oath from Judge Kavanaugh?
No senator should enable this. Period.
The Los Angeles Times has a good backgrounder on Judge Kavanagh. Brett Kavanaugh, a Washington veteran, has inside track to a Supreme Court nomination:
Judge Brett M. Kavanaugh, a Washington veteran with a reliably conservative record, has the inside track for the Supreme Court nomination to be announced Monday evening by President Trump.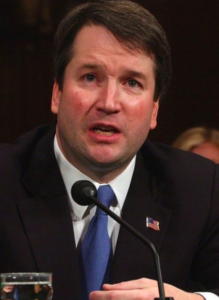 The federal appeals court judge, 53, has lived and worked nearly his entire career in Washington, including in past Republican administrations, and he is well-known and respected by the conservative lawyers in the Federalist Society and in the White House counsel's office.
But some activists on the right have rallied against him, citing his close ties to the Republican establishment and several court rulings that they believe did not go far enough in a conservative direction. [Will they fall silent now?]
Kavanaugh is a graduate of Yale University and Yale Law School, making him the only finalist for the nomination with an Ivy League education. Last year, Trump said he was drawn to his first appointee, Justice Neil M. Gorsuch, because he had degrees from Columbia, Harvard and Oxford.
Kavanaugh and Gorsuch have followed a remarkably similar path. Both went to the Georgetown Preparatory School in Bethesda, Md. And both were law clerks at the Supreme Court for Justice Anthony M. Kennedy in 1993 to 1994, although Gorsuch was initially hired by Justice Byron White, who then retired.
Kavanaugh jumped into the high pressure investigation of President Clinton led by independent counsel Kenneth W. Starr, a top Republican lawyer in the previous administration.
Kavanaugh took on the task of reexamining the suicide of Vince Foster, a deputy White House counsel and close friend of Bill and Hillary Clinton who had come under fierce attack in the conservative media. [A favorite conspiracy theory of the right for a conspiracy loving Donald Trump.] Kavanaugh tried and failed to persuade the Supreme Court to force Foster's lawyer to turn over notes from a private conversation shortly before his death. The justices refused to waive the attorney's duty of confidentiality because his client had died.
Later, Kavanaugh was the lead author of the so-called Starr Report that called for President Clinton's impeachment because he had lied about his sexual relationship with White House intern Monica Lewinsky. The House under Republican control did indeed vote to impeach Clinton, but the Senate refused to convict him.
The New York Times adds some critical details here. Brett Kavanaugh, Supreme Court Front-Runner, Once Argued Broad Grounds for Impeachment:
Judge Brett M. Kavanaugh once argued that President Bill Clinton could be impeached for lying to his staff and misleading the public, a broad definition of obstruction of justice that would be damaging if applied to President Trump in the Russia investigation.
Judge Kavanaugh's arguments — expressed in the report of the independent counsel, Kenneth W. Starr, which he co-wrote nearly 20 years ago — have been cited in recent days by Republicans with reservations about him and have raised concerns among some people close to Mr. Trump. But Judge Kavanaugh has reconsidered some of his views since then, and there is no evidence that they have derailed his candidacy.
* * *
The report laid out 11 possible grounds for impeachment, two of which are drawing scrutiny in the context of the investigation by the special counsel, Robert S. Mueller III, who is looking into whether Trump associates aided Russia's interference in the 2016 election — in an investigation that has been expanded to include whether the president tried to obstruct the inquiry itself.
First, the Starr report said that Mr. Clinton lied to his aides about his relationship with Ms. Lewinsky, "knowing that they would relay those falsehoods to the grand jury." Second, it said he lied to the American public, and that senior officials, including the press secretary, then relied on those denials in their own misleading public statements.
"The president's emphatic denial to the American people was false," the prosecutors wrote. "And his statement was not an impromptu comment in the heat of a news conference. To the contrary, it was an intentional and calculated falsehood to deceive the Congress and the American people."
By that standard, Mr. Trump's misleading statements to the news media, his miasma of tweets and his protracted public debate over whether to speak with Mr. Mueller could all be used against him, even if the special counsel declines to accuse the president of obstruction of justice.
The Starr report faulted Mr. Clinton for refusing six invitations to testify before a grand jury, saying the refusals substantially delayed the investigation. Mr. Trump has been debating for months whether to accept Mr. Mueller's invitation to give an interview, and his lawyers have argued against it. Under the standard set by the Starr report, Congress should consider that as potential grounds for impeachment.
Mr. Trump also personally dictated a misleading statement to The New York Times about a secret meeting that his son arranged with a Russian lawyer at Trump Tower during the 2016 presidential campaign. Mr. Trump's lawyers and the White House press secretary, Sarah Huckabee Sanders, then repeatedly and falsely denied that Mr. Trump dictated the statement.
The Starr report faulted Mr. Clinton for turning his press secretary and other White House officials into "unwitting agents of the president's deception." It named four aides — John Podesta, Erskine Bowles, Sidney Blumenthal and Harold Ickes — whom it said were lied to by Mr. Clinton about Ms. Lewinsky and who repeated those falsehoods to a grand jury.
The House ultimately did not adopt these two grounds when it voted to impeach Mr. Clinton. But Judge Kavanaugh's involvement in drafting them creates the possibility that Democrats would try to make his confirmation hearing a referendum on the standards of impeachment. And it would force the White House to talk about the Russia investigation during what would otherwise be a welcome reprieve.
* * *
Judge Kavanaugh's role in the investigation of Mr. Clinton's affair with a White House intern, which resulted in his impeachment in 1998, has raised a red flag among some people close to Mr. Trump. At a minimum, his views about when to impeach a president are sure to come up during a Senate confirmation hearing and would allow Democrats to shine a spotlight on Mr. Trump's handling of the Russia investigation.
Judge Kavanaugh, who after working for Mr. Starr served as an aide to President George W. Bush, has since expressed misgivings about the toll investigations take on presidents. In 2009, he wrote that Mr. Clinton should have been spared the investigation, at least while he was in office. Indicting a sitting president, he said, "would ill serve the public interest, especially in times of financial or national-security crisis."
* * *
In rethinking his views, Judge Kavanaugh wrote in 2009 in the Minnesota Law Review that Congress should pass laws that would protect a president from civil and criminal law suits until they are out of office. In any event, he said, there was always a way to remove a "bad-behaving or lawbreaking President."
"If the president does something dastardly," he wrote, "the impeachment process is available."
The LA Times continues:
In December 2000, with the presidential race between Al Gore and George W. Bush undecided, Kavanaugh joined the Republican legal team fighting to stop the ballot recount in Florida. The Supreme Court did just that by a 5-4 vote in the Bush vs. Gore case, clearing the way for Bush to be declared the victor.
Kavanaugh took a post in the White House counsel's office under President Bush and later served as his staff secretary. Bush nominated him to the U.S. Court of Appeals for the District of Columbia in 2003, but because of strong opposition from Democrats, he was not confirmed until 2006.
Senator Edward Kennedy said at the time that Kavanaugh "would be the youngest, least experienced and most partisan appointee to the court in decades."
Since then, he has written about 300 opinions and compiled a solidly conservative record on a court that has a steady diet of dense regulatory disputes. Kavanaugh was skeptical of several of the Obama administration's environmental regulations, including efforts to limit greenhouse gases and hazardous air pollutants. And he dissented in 2015 when the appeals court upheld a revised regulation under the Affordable Care Act involving contraceptives. Although religious employers did not have to provide or pay for the disputed contraceptives, they were required to file a form notifying the government that they were opting out. Dissenting in Priests for Life vs. U.S. Department of Health and Human Services, Kavanaugh said that filing the form would make them complicit, and therefore, would violate their rights to religious freedom.
Kavanaugh appears to support broader gun rights under the 2nd Amendment. In 2011, he filed a 52-page dissent when the appeals court, by a 2-1 vote, upheld a District of Columbia ordinance that prohibited semi-automatic rifles and magazines holding more than 10 rounds. The judges in the majority, both Republican appointees, noted that several large states, including California and New York, enforced similar laws.
But Kavanaugh said the ban on semi-automatic rifles was unconstitutional because these weapons are in common use in this country. [This directly contravenes Justice Antonin Scalia's landmark opinion in District of Columbia v. Heller in which he said that such weapons are subject to regulation: "We think that limitation ("in common use at the time") is fairly supported by the historical tradi­tion of prohibiting the carrying of "dangerous and unusual weapons."] "As one who was born here, grew up in this community in the late 1960s, 1970s, and 1980s, and has lived and worked in this area almost all of his life, I am acutely aware of the gun, drug, and gang violence that has plagued all of us…. But our task is to apply the Constitution and the precedents of the Supreme Court [e.g., Heller], regardless of whether the result is one we agree with as a matter of first principles or policy," he wrote. But since the Supreme Court in 2008 established a 2nd Amendment right for individuals to have a gun at home, the justices have refused to hear a 2nd Amendment challenge to state laws or local ordinances that restrict the sale of semi-automatic weapons. [So Heller is controlling precedent, for which Kavanaugh substituted his own personal views in his dissent, ignoring the doctrine of stare decisis. Are you paying attention Senator Susan Collins?]
Kavanaugh's long record as a judge has left him open to attack from the right as well as the left.
In 2011, when Obama's healthcare law was under attack, Kavanaugh dissented when a D.C. circuit court panel upheld the law, but only on procedural grounds. He cited the Tax Injunction Act, which said judges should not decide suits challenging a tax provision until the plaintiff has first paid the tax. His view, if upheld, would have delayed a constitutional challenge to the law, and some on the right faulted him for not simply declaring the law unconstitutional.
Late last year, Kavanaugh was in the middle of a fast-moving dispute over whether a pregnant 17-year-old who was held by immigration authorities could leave to see a doctor and obtain an abortion. Trump administration refused her request and said they did not have to "facilitate" an abortion. After the ACLU sued on her behalf, a federal district judge in Washington ruled she had a right to leave and obtain the abortion. Kavanaugh disagreed and gave the government 10 more days to find a sponsor for the young woman.
But the full appeals court took up the case and reinstated the ruling of the district judge. In dissent, Kavanaugh faulted the majority for creating "a new right for unlawful immigrant minors in U.S. government detention to obtain immediate abortion on demand."
This was a "hey, look at me!" note to President Trump, campaigning for the job. Sadly, it worked.
His stand nonetheless has drawn some criticism in conservative circles because he did not join a separate dissent by Judge Karen LeCraft Henderson. She contended that immigrants in the country illegally had no constitutional rights.
How did Trump not pick her?  Oh that's right, he outsourced the selection of judges to the far-right Federalist Society and Heritage Foundation. She is not on their pre-approved list.