For almost 240 years, General Benedict Arnold has personified the traitor in American history. He can now finally rest in peace, because he has been surpassed by a far worse traitor whom history will condemn and vilify as the personification of the traitor for the rest of time. The name Trump will forever be synonymous with traitor.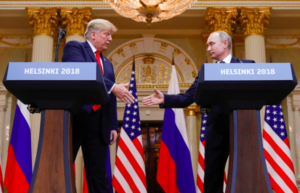 To borrow a turn of phrase from Franklin D. Roosevelt: Yesterday, July 16, 2018 – a date which will live in infamy – a president of the United States capitulated and surrendered to a Russian dictator whose government conspired to help him win the presidency. In fealty to this Russian dictator, Donald J. Trump leveled attacks against his own government and its political institutions, and blamed the American people for his own cowardly act of betrayal.
Americans will remember the day when they witnessed their president casually capitulate and surrender to a Russian dictator — without a shot ever having been fired in an armed conflict — to reveal himself as a willing puppet of the Russian government, and a traitor to the United States.
America has a national security crisis. We have a compromised commander-in-chief who must be removed from office without delay in order to safeguard the national security of the United States. The U.S. Constitution provides only one remedy for this, impeachment. Article 2, Section 4, U.S. Constitution.
The only question today is whether Republicans in Congress will rise up to the urgency of this national security crisis and do their constitutional duty to remove this national security threat from the presidency. Their failure to act is silent consent to Trump's betrayal of his country, and Republicans will be complicit in his act of betrayal. Any Republican who fails their constitutional duty to act must also be removed from office.
This is the litmus test: Do you stand with Trump and Putin, or do you stand with America and the Constitution you have sworn an oath to defend?
The Washington Post editorializes Trump just colluded with Russia. Openly.
THE ENDURING image of the U.S.-Russia summit in Helsinki on Monday will be that of President Trump standing next to Vladi­mir Putin and suggesting he found Mr. Putin's "powerful" denial at least as persuasive as the U.S. intelligence community's unanimous finding that Russia intervened in the 2016 election. Coupled with another groundless attack on the FBI and an apparent endorsement of a patently disingenuous offer by Mr. Putin to collaborate with the investigation of special counsel Robert S. Mueller III, Mr. Trump appeared to align himself with the Kremlin against American law enforcement before the Russian ruler and a global audience.
Mr. Trump said that, while Daniel Coats, the United States' director of national intelligence, had told him Russia was responsible for hacking into the server of the Democratic National Committee, "I don't see any reason why it would be." He referred to various discredited conspiracy theories about the hack while lambasting the FBI. When offered an open-ended opportunity to cite any behavior by Russia that had contributed to poor relations, the president sidestepped, saying, "I hold both countries responsible." As Mr. Trump apparently sees it, Russia's invasions of Ukraine and Georgia, war crimes in Syria, poison attack in Britain and the shooting down of a Malaysian civilian airliner over Ukraine are morally equivalent to the policies pursued by previous U.S. administrations.
* * *
Even if he obtained nothing concrete from Mr. Trump, Mr. Putin scored a symbolic triumph by appearing to stand as an equal with the U.S. president in a relationship with "special responsibility for maintaining international security," as he put it.
While Mr. Trump's insistence on granting Mr. Putin that status was misguided, it paled beside his betrayal of the FBI and his own senior intelligence officials. Incredibly, Mr. Trump appeared to endorse a cynical suggestion by Mr. Putin that Mr. Mueller's investigators be granted interviews with a dozen Russian intelligence officers indicted in the DNC hack in exchange for Russian access to associates of William Browder, a financier whose exposure of high-level corruption and human rights crimes in Moscow led to the adoption by Congress of the Magnitsky Act, which imposed sanctions on those responsible. Mr. Putin's citation of bogus Russian charges against Mr. Browder was matched by Mr. Trump's garbled reference to "the Pakistani gentleman" who was falsely alleged by right-wing conspiracy theorists to be behind the leak of DNC emails.
In Helsinki, Mr. Trump again insisted "there was no collusion" with Russia. Yet in refusing to acknowledge the plain facts about Russia's behavior, while trashing his own country's justice system, Mr. Trump in fact was openly colluding with the criminal leader of a hostile power.
Thomas Friedman of the New York Times joins Charles Blow's assessment of Trump's traitorous behavior. Trump and Putin vs. America:
From the beginning of his administration, President Trump has responded to every new bit of evidence from the C.I.A., F.B.I. and N.S.A. that Russia intervened in our last election on his behalf by either attacking Barack Obama or the Democrats for being too lax — never President Vladimir Putin of Russia for his unprecedented cyberhit on our democratic process. Such behavior by an American president is so perverse, so contrary to American interests and values, that it leads to only one conclusion: Donald Trump is either an asset of Russian intelligence or really enjoys playing one on TV.
Everything that happened in Helsinki today only reinforces that conclusion. My fellow Americans, we are in trouble and we have some big decisions to make today. This was a historic moment in the entire history of the United States.
There is overwhelming evidence that our president, for the first time in our history, is deliberately or through gross negligence or because of his own twisted personality engaged in treasonous behavior — behavior that violates his oath of office to "preserve, protect and defend the Constitution of the United States."
Trump vacated that oath today, and Republicans can no longer run and hide from that fact. Every single Republican lawmaker will be — and should be — asked on the election trail: Are you with Trump and Putin or are you with the C.I.A., F.B.I. and N.S.A.?
It started with the shocking tweet that Trump issued before he even sat down with Putin this morning: "Our relationship with Russia has NEVER been worse thanks to many years of U.S. foolishness and stupidity and now, the Rigged Witch Hunt!" The official Twitter account of the Russian foreign ministry — recognizing a useful idiot when it saw one — immediately "liked" Trump's tweet and later added: "We agree."
I'll bet they do.
It only got worse when, in his joint news conference with Putin, Trump was asked explicitly if he believed the conclusion of his intelligence agencies that Russia hacked our elections. The president of the United States basically threw his entire intelligence establishment under a bus, while throwing out a cloud of dust about Hillary Clinton's server to disguise what he was doing.
Trump actually said on the question of who hacked our election, "I don't see any reason why it would be" Russia. And in a bit of shocking moral equivalence, Trump added of the United States and Russia: "We are all to blame … both made some mistakes." Trump said that it was actually the American probe into the Russian hacking that has "kept us apart."
To watch an American president dis his own intelligence agencies, blame both sides for the Russian hacking of our election — and deliberately try to confuse the fact that there is still no solid proof of collusion between the Trump campaign and Russia with the fact that Russia had its own interest in trying to defeat the anti-Putin Hillary Clinton — actually made me sick to my stomach. I completely endorse the former C.I.A. director John O. Brennan's tweet after the news conference:
"Donald Trump's press conference performance in Helsinki rises to & exceeds the threshold of 'high crimes & misdemeanors.' It was nothing short of treasonous. Not only were Trump's comments imbecilic, he is wholly in the pocket of Putin. Republican Patriots: Where are you???"
Trump is simply insanely obsessed with what happened in the last election. But now he is president, and the fact that he may not have colluded with the Russians doesn't mean he does not, as president, have a responsibility to ensure that the Russians be punished for interfering in our last election on their own and be effectively deterred from doing so in the future. That is in his job description.
Listening to Trump, it was as if Franklin Roosevelt had announced after Pearl Harbor: "Hey, both sides are to blame. Our battleships in Hawaii were a little provocative to Japan — and, by the way, I had nothing to do with the causes for their attack. So cool it."
There is only one message Trump should have sent Putin in this meeting today: "You have attacked our democracy, as well as two core pillars of the global economic and security order that have kept the peace and promoted prosperity since World War II — the European Union and NATO. We are not interested in any of your poker-faced denials. Just know that if you keep doing it, we will consider it an act of war and we will not only sanction you like never before, but you'll taste every cyberweapon we have in our arsenal — and some of your most intimate personal secrets will appear on the front pages of every newspaper in the world. Is there any part of that sentence you do not understand?
"So we will be watching you between now and our midterm elections," Trump should have added. "I'm sure you know the date. If you behave well, we'll talk again in December 2018 about anything you want — Ukraine, Syria, Crimea or arms control. Until then our C.I.A. and N.S.A. are on to you and your cyberspooks. And Vlad, as you may have noticed from my Justice Department's recent indictment of 12 of your agents, you are not as good as you think."
That is what a real American president, sworn to protect and defend the Constitution, would have said to Putin today. He would have understood that this meeting had only one agenda item — and it was not developing an "extraordinary" relationship.
* * *
In the past few years what has Putin done to deserve an American president sucking up to him for an "extraordinary" relationship? Putin has seized Crimea, covertly invaded Ukraine, provided the missiles that shot down a civilian Malaysian airliner over Ukraine, bombed tens of thousands of refugees out of Syria into Europe, destabilizing Europe, been involved in the death of a British woman who accidentally handled a Russian nerve agent deployed to kill ex-Russian agents in England and deployed misinformation to help tip the vote in Britain toward exiting and fracturing the European Union.
Most of all, Putin unleashed a cyberattack on America's electoral process, aimed at both electing Trump — with or without Trump's collusion — and sowing division among American citizens.
Our intelligence agencies have no doubt about this: Last week, America's director of national intelligence, Dan Coats, described Putin's cybercampaign as one designed "to exploit America's openness in order to undermine our long-term competitive advantage." Coats added that America's digital infrastructure "is literally under attack," adding that there was "no question" that Russia was the "most aggressive foreign actor."
I am not given to conspiracy theories, but I cannot help wondering if the first thing Trump said to Putin in their private one-on-one meeting in Helsinki, before their aides were allowed to enter, was actually: "Vladimir, we're still good, right? You and me, we're still good?"
And that Putin answered: "Donald, you have nothing to worry about. Just keep being yourself. We're still good."
Call your member of Congress today and demand that they defend the United States by removing this traitorous national security threat from the presidency by impeachment without further delay.