The Commonwealth of the Bahamas was devastated this week by the deadly category 5 hurricane Dorian that parked on top of the islands for almost two days.
Hurricane Maria was a deadly Category 5 hurricane that devastated Dominica, the U.S. Virgin Islands, and Puerto Rico in September 2017.
Puerto Rico has yet to recover. It has not yet received all the disaster aid that Congress belatedly approved in May of this year. "Democrats had pushed for additional funding to support Puerto Rico in the wake of Hurricane Maria in 2017, while Trump had sought to limit that aid and actively railed against it."
Now Donald Trump is stealing disaster aid for Puerto Rico to build his "big beautiful wall" on the border with Mexico. Puerto Rico was devastated by Hurricane Maria. It's about to lose $400M more to Trump's border wall:
President Donald Trump is building his wall, and Puerto Rico is going to pay for it.
The Department of Defense released a list of 127 military construction projects that are being delayed as the agency moves $3.6 billion to pay for construction of fencing along the southern border, and the U.S. territory is one of the hardest hit by the move.
The department said it was holding off on over $400 million in funding for ten construction projects on the island, including a power substation and a National Guard readiness center. A senior Defense official downplayed the potential impact of the move and noted that most of the projects on the island — which is still recovering from the devastation of Hurricane Maria in 2017 — weren't slated to begin work until Sept. 2020 at the earliest.
"We don't see ourselves delaying those projects. We're fully committed to that recovery," the official said.
Not if "Dear Leader" has his way. He despises Puerto Rico's leaders for making him look incompetent (you did that all by yourself, big guy).
Then there are some serious foreign policy concerns being raised by the overseas funding in the Department of Defense budget that Trump is stealing to build his medieval vanity project. These thefts have all the appearance of appeasing his "love letters" pal Kim Jong-Un of North Korea, and his puppet master Vladimir Putin of Russia. Trump is acting like their agent or "useful idiot."
In August 2017, tensions between the United States and North Korea were at a new high. Sniping between the leaders of the two countries led North Korea to threaten to fire missiles toward the U.S. territory of Guam, home to some 160,000 citizens. A big loser in shifting money from the military to the wall: A territory threatened by North Korea:
Happily, the situation defused, but it was one of the most direct military threats to American territory the United States has experienced in recent years.
Two years later, the Trump administration appears to be much more comfortable with Guam's position. After Trump ordered the Defense Department to redirect money from planned construction projects and upgrades to fund the building of a wall on the border with Mexico — a response to a national emergency Trump declared this year — the Joint Region Marianas military command in Guam was one of the largest losers.
Of the $1.8 billion in funding being withdrawn from projects in the United States and its territories, 14 percent will come from projects that had been planned for that command. An additional 23 percent will come from projects that had been planned at several facilities in Puerto Rico — the territory still recovering from 2017′s Hurricane Maria.
Puerto Rico, the U.S. Virgin Islands, the Mariana Islands and Guam are all U.S. territories. They are U.S. citizens that Trump is putting at risk.
While Trump continues to be flattered by Kim Jong-Un's "beautiful love letters," negotiations with North Korea are going nowhere, as North Korea continues to test ballistic missiles and develop its long-range capabilities. While Trump continues to tout North Korea talks as success, signs of any progress are hard to find: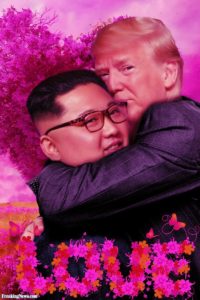 Two months after President Trump shook hands with North Korean leader Kim Jong Un at the Korean demilitarized zone, his administration remains stymied in its efforts to coax Pyongyang back to the negotiating table, leading to mounting frustrations that time is running out while Kim has strengthened his position.
In a new letter to Trump on Friday, leading Senate Democrats are calling the North's recent short-range missile tests "a significant step backwards" and demanding that the United States hold Kim's regime accountable for actions that "clearly contravene" U.N. Security Council resolutions, according to a copy obtained by The Washington Post.
A leading Washington think tank has concluded in a new public assessment published Friday that an undisclosed North Korean operating base in Kumchon-ni houses medium-range ballistic missiles capable of striking southern Japan, as well as the outskirts of Tokyo.
And the State Department, whose efforts to engage North Korean diplomats have floundered, is weighing new steps to publicly pressure the Kim regime during the U.N. General Assembly (UNGA) in New York later this month, said officials with knowledge of the internal deliberations.
* * *
Kim has unsettled East Asia with a series of short-range missile tests this summer that Japanese Prime Minister Shinzo Abe called a clear violation of U.N. Security Council resolutions. But Trump has consistently maintained that the tests do not violate a personal pledge Kim made during their first summit in Singapore last year to refrain from testing intercontinental ballistic missiles or nuclear weapons.
Despite Trump's unwillingness to criticize Kim, U.S. officials have been rebuffed time and again in their overtures to Kim's underlings since the two leaders met at the Korean DMZ in late June, according to people briefed on the matter.
* * *
[E]xperts said Kim has used the period of engagement to accelerate development on other aspects of his missile programs. The New York Times reported this week that Kim's regime has greatly improved the "range and maneuverability" of its weapons systems.
* * *
North Korea's success in developing its weapons capabilities could provide Kim with increased leverage in the negotiations and the ability to "escalate the situation when the time is right to test again," said Michael Green, who served as a top Asia policy official in the George W. Bush administration. "Everyone I talk to on both sides think that's where it's headed — toward another crisis."
Oh, and North Korea Appears To Have Built Its First Real Ballistic Missile Submarine: On July 23, North Korean state media released images of Kim Jong-un inspecting a submarine. "It looks like a ballistic missile submarine."
The North Koreans previously had set a deadline of the end of 2019 for negotiations to produce a result. Time Is Running out for a Deal with North Korea. There is a good chance that Pyongyang will follow through with shifting gears if no deal is reached by the end of 2019. "If North Korea becomes more aggressive in 2020, there is the risk of Trump returning to the threats of 'fire and fury' that marked the tense months of 2017."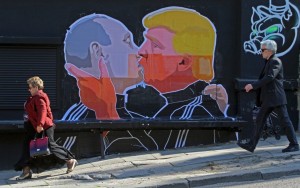 And then there is Trump's appeasement of Vladimir Putin on Ukraine. $770 million in Department of Defense funding is being diverted from projects that have been approved to help American allies deter attacks from Russia. The biggest losers from Trump's diversion of military funds for his wall:
This is the bulwark of the European Deterrence Initiative, which was created after Vladimir Putin invaded Ukraine and annexed Crimea. Along with Trump's push to get Russia back in the G-7, this is the latest illustration of the president projecting weakness in the face of Kremlin bellicosity.
A facility for special operations forces and their training will not get built in Estonia, the tiny but thriving democracy whose sovereignty depends on the American security guarantee. Also on the chopping block are projects to construct ammunition and fuel storage facilities and staging areas in Poland, and planned upgrades to surveillance aircraft facilities in Italy, as well as airfield and fuel storage upgrades in Slovakia and Hungary.
Retired Army Lt. Gen. Mark Hertling tweeted: "To the untrained eye, the 127 defense projects postponed for the border barrier may seem confusing. But as a former commander in Europe, many of these … are big deals. 'Support the troops?' Not so much."
Rachel Maddow looks at the four pillars of the U.S. response to Russia's annexation of Crimea: sanctions, removal from the G8, military aid to Ukraine, and support to NATO, and notes that the Trump administration has worked to remove all four pillars, most recently by seeking to take money from the European Deterrence Initiative to pay for Trump's border wall.
The European Deterrence Initiative (EDI), or the European Reassurance Initiative (ERI) as it was known until early 2018, was designed as a rapid response to Russia's actions in Crimea and Eastern Ukraine. Four and a half years later, amidst a firestorm of presidential tweets and fractious international gatherings, the EDI continues to serve as a tangible example of the United States standing alongside its European allies and partners. The european deterrence initiative – Center for Strategic and Budgetary Assessments. Yet it is far from smooth sailing for the EDI as it confronts risks to the way in which it is funded.
Trump is sending a clear signal to his pal Vladimir Putin by canceling the funding for the European Deterrence Initiative (EDI), demanding that the G-7 readmit Russia to a G-8, and once again suggesting that he will invite Vladimir Putin to a state visit at the White House next year, that Russia is free to do as it pleases in Ukraine and Crimea, and the Trump administration will not respond to its aggression.
As Garrett Graff wrote earlier this year, Trump Must Be a Russian Agent; the Alternative Is Too Awful:
Either the president is compromised by the Russian government and has been working covertly to cooperate with Vladimir Putin after Russia helped win him the 2016 election—or Trump will go down in history as the world's most famous 'useful idiot,' as communists used to call those who could be co-opted to the cause without realizing it.
At least the former scenario—that the president of the United States is actively working to advance the interests of our country's foremost, long-standing, traditional foreign adversary—would make him seem smarter and wilier. The latter scenario is simply a tragic farce for everyone involved."
We're left here—in a place unprecedented in American political history, wondering how much worse the truth is than we already know[.]
Donald Trump is the greatest national security threat to the U.S. Why he has not been impeached and removed from office to protect our national security defies logic and reason.  His Republican enablers in Congress are aiding and abetting his disloyalty to the U.S.