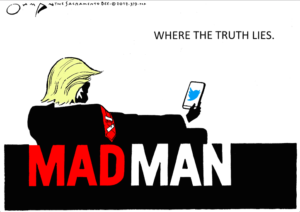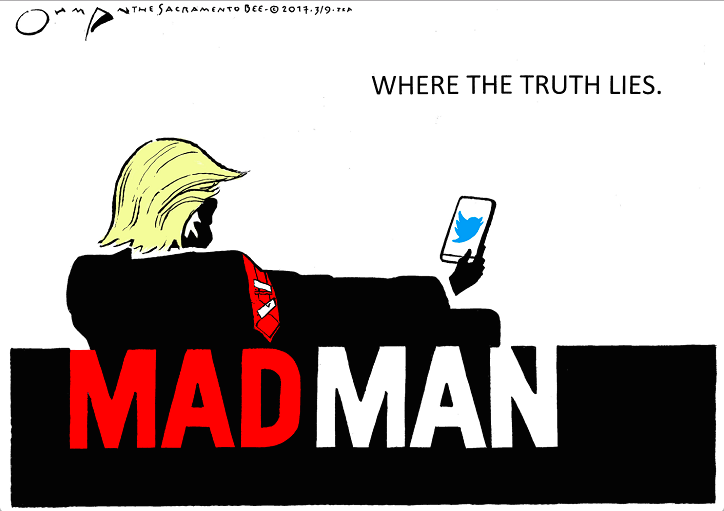 The House Intelligence Committee had given the Justice Department until Monday to turn over any wiretapping applications, orders or warrants related to President Trump and his associates in their investigation of Trump's Twitter rant that his campaign was "wire tapped" by President Obama.
The Justice Department, now run by Trump campaign booster Jefferson Beauregard Sessions III, instead requested a delay in its response. Justice Dept. seeks more time after Congress requests proof of Trump wiretap:
The Justice Department on Monday asked for more time to respond to a request from the House Intelligence Committee to turn over any wiretapping applications, orders or warrants related to President Trump and his associates.
In a one-paragraph statement, spokeswoman Sarah Isgur Flores said the Justice Department had called the top Democrats and Republicans on the committee "to ask for additional time to review the request in compliance with the governing legal authorities and to determine what if any responsive documents may exist." The committee had set a deadline of Monday to turn over the information.
President Trump earlier this month asserted that President Barack Obama "had my 'wires tapped' in Trump Tower" just before Trump's victory in the presidential election. He has not provided any evidence to support his claim. Obama and former director of national intelligence James R. Clapper Jr. have denied that such wiretapping took place, and U.S. officials told The Washington Post that FBI Director James B. Comey asked the Justice Department to issue a statement refuting it.
Leaders of the House Intelligence Committee nonetheless said they will investigate Trump's claim, and last week they asked the Justice Department for copies of any applications submitted to the Foreign Intelligence Surveillance Court, any orders that court released, and any copies of warrants issued by federal judges or magistrates regarding Trump or his campaign surrogates, business associates, employees, family and friends — "if they exist." The heads of the Senate Judiciary subcommittee on crime and terrorism made a similar request.
Jack Langer, a spokesman for the Intelligence Committee, said Monday that the legislators now want a response by March 20, when a hearing is scheduled, and "may resort to a compulsory process if our questions continue to go unanswered."
On Monday the White House resorted to comical dissembling about Trump's original Twitter rant against President Obama (cue Melissa McCarthy for Saturday Night Live this week). "Baghdad Sean" Spicer just explained why 'wire tapping' is different from wiretapping:
Last week, White House press secretary Sean Spicer said he was going to let President Trump's tweets alleging wiretapping by former president Barack Obama speak for themselves. This week, Spicer is not merely speaking for the tweets; he is rewriting their meaning.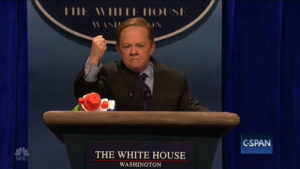 "If you look at the president's tweet, he said very clearly, quote, 'wire tapping' — in quotes," Spicer said during Monday's news briefing, making air quotes with his fingers to emphasize his point. "There's been substantial discussion in several reports. … There's been reports in the New York Times and the BBC and other outlets about other aspects of surveillance that have occurred. The president was very clear in his tweet that it was, you know, 'wire tapping' — that spans a whole host of surveillance types of options."
Ah, the old air-quotes defense. According to Spicer's new argument, Trump didn't necessarily mean wiretapping when he said "wire tapping" — and reporters should know this because he put the phrase in quotation marks. By "wire tapping," Trump could have been referring to any one among "a whole host of surveillance types." Obviously.
This is quite a remarkable standard Spicer is trying to set for his boss. None of the "several reports" Spicer referenced actually claim that Trump or his aides were wiretapped, despite claims to the contrary. Fox News Channel's Steve Doocy said on the air Monday morning that "there's no doubt about the fact that at least Michael Flynn was wiretapped," and counselor to the president Kellyanne Conway said on CNN a short time later that "we know that General Flynn was wiretapped."
Wrong. The Washington Post reported last month that pre-inauguration phone calls between Flynn, who resigned as national security adviser, and Russia's ambassador to the United States were intercepted by U.S. intelligence agencies because the ambassador was wiretapped. That's a key distinction that the president's aides and media boosters seem determined to obscure.
If Trump has evidence that Flynn or anyone else on his team was bugged, he has not produced it, and news reports do not support his charge against Obama.
But Spicer contended in the briefing room that Trump is nevertheless right by an incredibly loose definition of "wire tapping" that includes a wide range of investigatory tactics.
The unavoidable conclusion is this: Spicer knows that no evidence of actual wiretapping is coming, so his best shot to vindicate Trump is to claim that "wire tapping" could mean something else.
The New York Times adds, Using Air Quotes, White House Walks Back 'Wiretap' Talk:
Two senior White House officials suggested on Monday that President Trump's unsubstantiated claim that President Barack Obama had tapped his telephone was not meant to be taken literally, arguing that Mr. Trump had been referring more broadly to a variety of surveillance efforts during the 2016 campaign when he made the incendiary accusation.
"He doesn't really think that President Obama went up and tapped his phone personally," said Sean Spicer, the White House press secretary.
In fact, Mr. Spicer said, when Mr. Trump charged in a Twitter post last weekend that Mr. Obama "had my 'wires tapped' in Trump Tower," he was referring generally to surveillance activities during the 2016 race — not to an actual telephone wiretap.
"The president was very clear in his tweet that it was, you know, 'wiretapping,'" Mr. Spicer said, using his fingers to make a gesture suggesting quotation marks. "That spans a whole host of surveillance types of options."
Mr. Spicer said there have been "numerous reports from a variety of outlets over the last couple months that seemed to indicate that there has been different types of surveillance that occurred during the 2016 election."
The remarks were the first time the White House sought to explain the accusation Mr. Trump made in a series of posts on Twitter saying Mr. Obama "was tapping my phones" and calling the former president a "bad (or sick) guy."
The explanations came as the Justice Department asked the leaders of the House Intelligence Committee, who had given a Monday deadline to produce proof of Mr. Trump's claim, for more time "to determine what if any responsive documents exist."
And then there is Kellyanne Conway, the gift that keeps on giving to late-night comics.
Kellyanne Conway, Mr. Trump's senior adviser, said in an interview on Sunday that Mr. Obama could have employed any number of devices other than a traditional telephone wiretap, even including a microwave oven.
Ms. Conway clarified on Monday that she was not accusing the former president of snooping via a kitchen appliance, arguing that her comments had been taken out of context.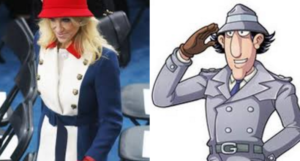 "I'm not Inspector Gadget," she said Monday on CNN. "I don't believe people are using the microwave to spy on the Trump campaign."
But in an interview with a columnist for The Record of Bergen County, N.J., the day before, she said Mr. Obama's alleged spying efforts against Mr. Trump could have been far more extensive than a telephone wiretap.
"What I can say is there are many ways to surveil each other," Ms. Conway told the paper. "You can surveil someone through their phones, certainly through their television sets — any number of ways."
Surveillance can even be carried out with "microwaves that turn into cameras," she added. "We know this is a fact of modern life."
The unusual and shifting explanations from Mr. Spicer and Ms. Conway reflected the contortions that members of Mr. Trump's inner circle have employed to explain the president's explosive accusation, which he has yet to address personally. Neither Mr. Trump nor anyone at the White House has presented any evidence for the claim, instead asking Congress to investigate it as part of its inquiry into Russia's interference in the presidential election.
Both the House Intelligence Committee and the Senate Judiciary Committee have requested that the Department of Justice provide evidence it may have for Mr. Trump's charge, but Mr. Spicer said on Monday that the president had not instructed the department to furnish any.
He suggested that Mr. Trump had relied on multiple news reports, including in The New York Times, to make his charge.
* * *
The Times and other news outlets have reported extensively on surveillance in the United States during the 2016 presidential campaign, particularly related to Russia's efforts to influence the election. But The Times has never reported that intelligence or law-enforcement officials were themselves spying on Mr. Trump. What The Times and other news organizations have reported is that American intelligence agencies have communication intercepts that officials believe show contacts between associates of Mr. Trump and Russian officials during the campaign.
* * *
Ms. Conway told CNN that in her interview, she had not been referring to the president's charges when she talked about microwave surveillance, nor could she offer any proof of his allegations.
"I'm not in the job of having evidence," she said. "That's what investigations are for."
Ms. Conway said she had never meant to imply that Mr. Obama had used a microwave to spy on Mr. Trump.
As Washington Post editor Michael Gerson writes today, Republicans are defining lunacy down: "Day by day, Republicans are lowering their standards of sanity to defend an administration seized by conspiracy thinking. If they do not stand up to this trend, they will be defining lunacy down."
Mark your calendar for Monday, March 20 for some C-Span binge watching.
UPDATE: Senate Judiciary Committee Chairman sen. Chuck Grassley says he is willing to hold the conformation voe for deputy attorney general Rod Rosenstein hostage until he gets a Russia briefing from FBI director James Comey. Senate Judiciary chairman: No deputy AG vote until we get an FBI briefing on Russia. "I'm not going to schedule a hearing on the deputy attorney general until we get a briefing from Comey," Grassley (R-Iowa) said Tuesday,
John McCain's puppet boy, Little Lindsey Graham, warned that he will subpoena the Trump administration for evidence supporting the president's claim he was wiretapped, and  he also would block the nomination of Rod Rosenstein as depiuty attorney general at the Justice Department if FBI Director James B. Comey does not clarify on Wednesday whether the bureau is probing the Trump team's alleged ties to Russia. 'Is there an investigation?'Graham demands answers from FBI on Russia.
We may not have to wait until March 20th for an answer after all (or not).