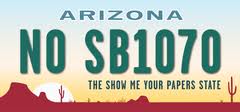 Arizona's lawless legislature and Attorney General Tom "banned for life by the SEC" Horne have lost in court again.
Today the U.S. Supreme Court rejected Arizona's appeal from the Ninth Circuit Court of Appeals striking down the harboring provision of SB 1070. SB 1070 Harboring Provision Won't Be Restored by U.S. Supreme Court:
The U.S. Supreme Court has declined to hear Arizona's appeal of a lower court's decision that blocked a provision of Senate Bill 1070.
Despite the high court's big 2012 ruling on SB 1070, several provisions of the law weren't at issue in that case, and the American Civil Liberties Union and others have since been fighting court battles involving those other provisions. In this case, the harboring provision of SB 1070 has been defeated.
A federal district court had issued the injunction against the provision, which was upheld by an appeals court in October, and now won't be an issue for the Supreme Court.
This particular portion of SB 1070 made it illegal under state law to "conceal, harbor or shield" undocumented immigrants, under certain conditions.
One of those conditions was that the person doing the harboring was doing it "in violation of a criminal offense." The lower court found that to be "unconstitutionally vague" and "unintelligible." (The appeals court opinion offered the English lesson: ". . . [O]ne cannot violate, or be in violation of, an action. One can only violate an object, such as a law or an agreement.")
Aside from SB 1070 co-author Russell Pearce's shortcomings with the English language, the lower courts also found that the provision conflicts with federal harboring laws.
Under 1070 "individuals could be prosecuted for conduct that Congress specifically sought to protect through [an] exemption," the appellate court's opinion stated.
The U.S. Supreme Court made it clear in its decision striking down major provisions of SB  1070 that as the remaining provisions of the law presented a proper case and controversy before the Court, the Court was prepared to strike down those remaining provisions as well.
Rather than continuing to piss away taxpayer dollars on frivolous "junk lawsuits" in defense of disgraced recalled former Senator Russell Pearce's anti-immigrant bashing agenda, the only proper course of action for the Arizona legislature is to repeal what is left of SB 1o70, and to end this shameful chapter in Arizona history.