Update to Unaccountable: Trump declares war on the inspector generals (lede):
Like a mob boss, Donald Trump believes that he should never be held accountable for his actions by anyone, especially by those gumshoe government inspectors whose job it is to protect the public interest in the inspector generals office.
In recent days, Trump has declared war on the governments' inspector generals, mostly because they are presenting facts and evidence that directly contradicts his self-aggrandizing propaganda that everything he does is "perfect" or "beautiful" and that his administration is the "best ever." Pointing out that the emperor has no clothes invites Trump's retribution, retaliation and revenge.
The Trump administration fired yet another inspector general in a Friday night news dump. State Department inspector general who faulted Trump administration personnel moves is fired by Pompeo:
Secretary of State Mike Pompeo has fired the State Department's inspector general, an Obama administration appointee whose office was critical of alleged political bias in the department's management. The ouster is the latest in a series of moves against independent executive-branch watchdogs who have found fault with the Trump administration.
A senior department official said Pompeo removed Steve Linick from his job Friday but gave no reason for his removal. [But see below]  Linick had served in the job since 2013. Linick's office had issued several reports critical of the department's handling of personnel matters, including accusing some of President Donald Trump's appointees of retaliating against career officials.
Linick was to be replaced by Stephen Akard, a former career foreign-service officer [and crony] who has close ties to Vice President Mike Pence, said the official, who was not authorized to discuss the matter publicly and spoke on condition of anonymity. Akard currently runs the department's Office of Foreign Missions. He had been nominated to be the director general of the foreign service but withdrew after objections he wasn't experienced enough.
Linick, a former assistant U.S. attorney in California and Virginia, had overseen inspector-general reports that were highly critical of the department's management policies during the Trump administration. His office had criticized several Trump appointees for their treatment of career staff for apparently being insufficiently supportive of Trump and his policies.
Under Linick, the State Department's inspector general office was also critical of former Secretary of State Rex Tillerson's hiring freeze and attempts to streamline the agency by slashing its funding and personnel.
UPDATE: During the impeachment proceedings, Linick hand-delivered 40 pages of information to congressional investigators looking into whether Trump pressured Ukraine to investigate former Vice President Joseph R. Biden Jr. and his son Hunter Biden.
Trump has been taking aim lately at inspectors general. In several instances this year, news of their firings or demotions has broken late on Fridays.
In April, he fired Michael Atkinson, the inspector general for the intelligence community, for his role in the whistleblower complaint that led to Trump's impeachment.
Then Trump removed Glenn Fine as acting inspector general at the Defense Department, a move that stripped him of his post as chairman of the Pandemic Response Accountability Committee.
During a White House briefing on COVID-19, Trump questioned the independence of Christi Grimm, inspector general of the Department of Health and Human Services, over a report that said there was a shortage of supplies and testing at hospitals. Trump to replace Health Inspector General who criticized coronavirus response.
The Washington Post adds, Top Democrats launch investigation into late-night firing of the State Department inspector general:
Rep. Eliot L. Engel (D-N.Y.) and Sen. Robert Menendez (D-N.J.) have told the Trump administration to preserve all records related to the Friday night removal of the inspector general.
"President Trump's unprecedented removal of Inspector General Linick is only his latest sacking of an inspector general, our government's key independent watchdogs, from a federal agency," the pair wrote in an open letter.
* * *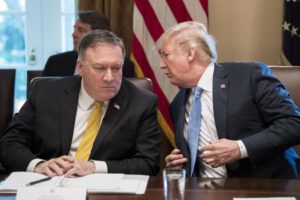 Engel, chairman of the House Foreign Affairs Committee, claimed Linick was fired after opening an investigation into Secretary of State Mike Pompeo and said the timing suggested "an unlawful act of retaliation." The State Department did not explain Linick's removal or address criticism, and the White House did not immediately respond to an inquiry Friday night.
A Democratic congressional aide said that Linick was looking into Pompeo's "misuse of a political appointee at the Department to perform personal tasks for himself and Mrs. Pompeo."
Let me emphasize: Secretary of State Mike Pompeo just fired the inspector general who was investigating him and his wife. This is comparable to Richard Nixon's "Saturday night massacre," and is a BFD. Trump's slow-motion Friday night massacre of inspectors general.
Menendez called the firing "shameful" in a late Friday tweet. "Another late Friday night attack on independence, accountability, and career officials," he wrote. "At this point, the President's paralyzing fear of any oversight is undeniable."
President Trump said in a Friday letter to Pelosi that the inspector general no longer had his "fullest confidence" and would be removed in 30 days, the required period of advance notice to lawmakers.
* * *
The president's critics responded with outrage Friday to the move against Linick. Rep. Adam B. Schiff (D-Calif.) slammed "another apparent act of retaliation and cover up" meant to "shield a loyal Cabinet secretary from oversight and accountability," while Pelosi said in a statement that Linick was "punished for honorably performing his duty to protect the Constitution and our national security, as required by the law and by his oath."
Pelosi expressed concern that the move came as the House passed coronavirus legislation that includes funding that the State Department's inspector general would oversee.
Sen. Chris Murphy (D-Conn.), also on Twitter, said "inspectors general are inconvenient, pesky brutes if your goal is turn the government into a cash cow for your friends, cronies and family."
Linick has previously been critical of alleged misconduct by officials. An August report by the inspector general concluded that leadership of a leading department bureau mistreated and harassed staffers, accused them of political disloyalty to the Trump administration and retaliated against them.
Linick can now add his own name to his report.
Maybe this is the reason why Pompeo kept turning down "Moscow Mitch" Mitch McConnell's overtures to run for Senate in Kansas. He knows that he has an inspector general's investigation hanging over his head. Now he can add unlawful retaliation and a congressional investigation for abuse of power. He should resign.
This is the most corrupt and criminal administration in American history. The Trump crime family is turning the US. government into the spitting image of Vladimir Putin's Russian kleptocracy.