It appears that Martha McSally is fully invested in her "closing argument" smear that her opponent Krysten Sinema is guilty of "treason." Martha is completely unhinged.
The Arizona Republic reports: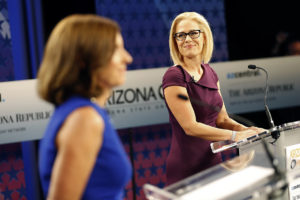 Meeting for the first time since Monday's fiery Senate debate, Republican Martha McSally doubled down on her assertion that her Democratic rival, Kyrsten Sinema, supported "treason" in a remark made 15 years ago.
McSally, a retired combat pilot, appeared on the verge of tears at one point – such an actress – as she noted that Sinema had remarked in 2003 that it was "fine" if the radio host asking a hypothetical question wanted to join the Taliban.
What Sinema Actually Said
As part of her effort to publicize a February 2003 antiwar protest in Patriots Square Park in Phoenix, Sinema appeared on the radio show of a local libertarian activist. The host, Ernest Hancock, laid out a rambling hypothetical situation — difficult to follow at times — and concluded by asking Sinema if she would be okay with him joining the Taliban.
"If I want to go fight in the Taliban army, I go over there and I'm fighting for the Taliban. I'm saying that's a personal decision," host Ernest Hancock said.
"Fine, I don't care if you want to do that, go ahead," Sinema replied, before adding: "What we're talking about here are two different things. When you say, 'We owe something to the world,' my definition of owing something to the world does not involve war and destruction."
She then added that she wanted to get back to discussing her antiwar position.
If you listen to the audio of the interview, it is even less than you might imagine. This is Sinema effectively saying "Yeah, whatever Dude, do whatever you want. Can we get back to talking about what I want to talk about?" No reasonable person could take away that Sinema was advocating for the Taliban.
Martha McSally should be upset with Ernest Hancock but she is using transference to attack Kyrsten Sinema to manufacture outrage in the closing days of a campaign.
Sinema [accurately] described her remark as an "offhand" response intended to move the host, a libertarian activist, onto the subject she had agreed to appear on the show to discuss.
McSally did not apologize for her "treason" comment or for her demands for an apology for Sinema's comment.
"I was getting shot at by the Taliban," McSally said.
"This is, like, really, really personal to me to make a remark like that that says it's OK for an American to actually join their ranks when they're responsible for killing Americans," she said. "I believe it's disqualifying for a Senate candidate to say, at any time in their life, it's OK for Americans to go join our enemy."
Sorry Martha, but that was Ernest Hancock who made the hypothetical statement, not Kyrsten Sinema, and you know it. Trying to smear your opponent with his comment that Sinema brushed aside demonstrates your lack of character. This is also " disqualifying for a Senate candidate."
Sinema said it was a personal issue for her, too.
"This is actually really important to me because two of my brothers have served in the military, and one is still. I appreciate Martha's service to our country," Sinema said, turning to look at McSally for the first time during the board meeting.
"Where we have a difference of opinion is that Martha believes that when I opposed a war, I opposed the troops, and nothing could be further from the truth. My own brothers have served and my little brother is currently serving in this war."
Sinema said she opposed the invasion of Iraq and "fifteen years later, I think there were good reasons for that."
Former Congresswoman Gabriel Giffords has weighed in on the matter. Gabby Giffords weighs in on Martha McSally's 'treason' comment about Kyrsten Sinema:
Former U.S. Rep. Gabrielle Giffords, the Arizona Democrat who survived a near-fatal assassination attempt at a 2011 constituent event near Tucson, condemned Republican Martha McSally's assertion that her Democratic rival for a U.S. Senate seat advocated for "treason" in a 2003 comment.
"Arizona deserves better," wrote Giffords on Twitter Wednesday morning. "Throwing around serious charges just to get a leg up on a political opponent in an election is irresponsible and dangerous. We need leaders who understand that words matter because words lead to action."
---
Support volunteer citizen journalism at the Blog for Arizona with a donation today. Your secure contribution keeps the Blog online and sustains a free press in Arizona.
---