In an eleventh hour deal, Senate Majority Leader Mitch McConnell announced a deal with Senate Minority Leader Chuck Schumer to fund the government and set spending levels for defense and nondefense programs over the next two years. Senate leaders agree to two-year budget deal: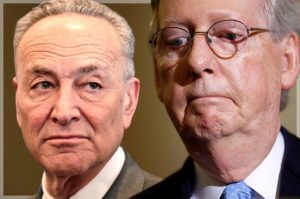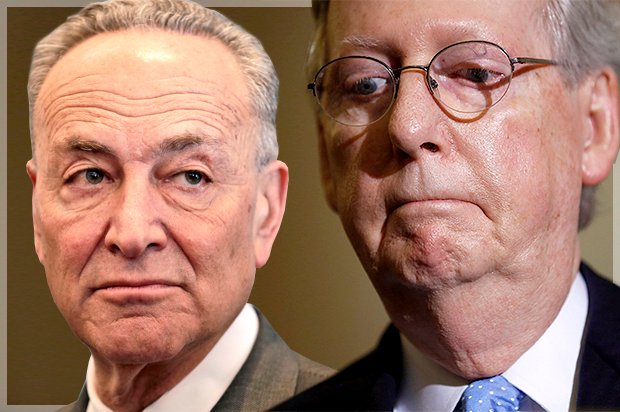 The legislation would avert a government shutdown on Friday, when federal funding is due to expire, and boost defense and nondefense programs.
It also lifts the debt ceiling to March 2019 [which was to have been the next manufactured crisis for GOP hostage taking in a few weeks.]
The deal is backed by McConnell and Senate Minority Leader Charles Schumer (D-N.Y.), and will almost certainly be cleared as part of a stopgap funding measure by the Senate before a Feb. 8 deadline to prevent a shutdown.
It is not entirely sure the package will win enough support to pass the House, however.
As anticipated, GOP fiscal hawks revolt against Senate budget deal:
House conservatives on Wednesday revolted against a massive bipartisan deal to raise the debt ceiling and bust spending caps, complaining that the GOP could no longer lay claim to being the party of fiscal responsibility.

* * *

The swift backlash from fiscal hawks means that Ryan and his leadership team will need dozens of Democratic votes to help get the caps-and-funding deal through the lower chamber to avert a government shutdown set for midnight Friday.
At the same time, some Republicans predicted a majority of the majority [the so-called Hastert Rule] would back the package.

Former Republican Study Committee Chairman Bill Flores (R-Texas), who said he will probably support the package, estimated that about two-thirds of the lawmakers who spoke at the microphones during the closed-door meeting actually voiced support.

Rep. Mark Meadows (R-N.C.), the current Freedom Caucus chairman, predicted that the budget deal will get support from a majority of the majority, but not enough to pass without Democratic votes.

It's unclear how many Democrats will support the plan without concessions from Ryan, given immigration demands from House Minority Leader Nancy Pelosi (D-Calif.).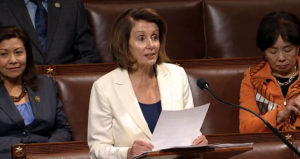 House Minority Leader Nancy Pelosi (D-Calif.) says she will oppose the deal without a commitment from Speaker Paul Ryan (R-Wis.) to consider legislation to protect "Dreamers" and other immigrants facing possible deportation next month. Pelosi sets record with seven-hour House speech on immigration:
House Minority Leader Nancy Pelosi (D-Calif.) staged the closest thing to a filibuster in the lower chamber on Wednesday as she spoke for more than seven consecutive hours, setting a chamber record as she demanded a commitment from Republicans to vote on an immigration-reform bill.

As Senate leaders unveiled a bipartisan budget deal across the Capitol, Pelosi held the House floor warning that she wouldn't vote for it without a firmer commitment from Speaker Paul Ryan (R-Wis.) that the House will consider legislation to protect young immigrants brought to the U.S. illegally as children.

Pelosi, 77, stood in four-inch stilettos the whole time as she read aloud stories of individual immigrants, known as "Dreamers," and argued the merits of allowing them to stay in the country.

The House historian's office said in a statement that Pelosi's speech was the longest-ever it was "able to find on short notice."

* * *

Pelosi warned that neither she nor "a large number of members of our caucus" would support the budget deal without a clearer statement from GOP leaders.

"Let the House work its will," Pelosi said. "Why should the House of Representatives be constrained?"
"Without a commitment from Speaker Ryan, comparable to the commitment from Leader McConnell, this package does not have my support," Pelosi said in a statement.
Unless enough House Democrats come on board, it's unclear if the budget deal can pass.
Speaker Ryan is also likely to face defections from conservatives who oppose the Senate bill for various reasons. The more Republican votes he loses, the more leverage Pelosi has.
The Senate agreement would increase defense spending by $80 billion in 2018 and $85 billion in 2019, according to a Senate GOP aide, something McConnell hailed as an achievement.
"For the first time in years, our armed forces will have more of the resources they need to keep America safe. It will help us serve the veterans who bravely served us," he said.
Overall, it provides $700 billion for defense spending for 2018 and $716 billion for 2019, according to the GOP aide.
Sen. Bob Corker (R-Tenn.), an outspoken budget hawk, however, said the defense increase was too much.
"Military spending and defense spending is far above the president's request," he said. "I'm all for supporting our military and I want to make sure they're funded properly. It's very difficult to have that big an increase in one year and then be able to use it wisely."
It provides a $131 billion increase for nondefense programs — $57 billion in new funding over the next two years above the cap established by the 2011 Budget Control Act.
It sets a nondefense funding cap for 2018 that is $117 billion higher than what President Trump requested in his 2018 budget request.
"After months of legislative logjams, this budget deal is a genuine breakthrough," Schumer said on the Senate floor. "After months of fiscal brinksmanship, this budget deal is the first real sprout of bipartisanship."
He proclaimed the deal has consigned "the pointless and arbitrary sequester caps to the ash heaps of history."
The legislation would also provide between $80 billion and $90 billion in disaster relief for communities hit by hurricanes and wildfires, according to Senate Republican Whip John Cornyn (Texas).
"I'm told it's an improvement over the House version," Cornyn said of the disaster relief.
It also includes a two-year reauthorization for community health centers, with $7 billion in total funding, and $6 billion to fight opioid addiction.
Other funding priorities are $4 billion to rebuild veterans' hospitals and clinics, $2 billion for research at the National Institutes of Health and $20 billion for infrastructure programs.
In a big win for Democrats, it extends funding for the Children's Health Insurance Program (CHIP) another four years on top of the six-year extension that Congress approved last month.
"American families with children who benefit with CHIP will now be able to rest easy for the next decade," Schumer said.
He said that seniors and children would also benefit from the deal's extension of various expiring tax provisions.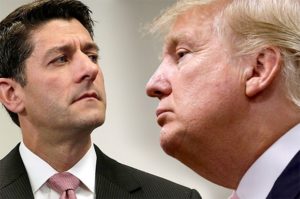 So the remaining obstacle now is twofold: Speaker Paul Ryan, who says he will only bring up an immigration bill that the president supports, and the mercurial man-child in the White House who insists on having his way on immigration, which nailing down his position has been like trying to nail jello to the wall (a phrase that Chuck Schumer mangled a few weeks ago).
As part of the deal to end the three-day shutdown last month, Senate Majority Leader Mitch McConnell (R-Ky.) pledged that he would allow open-ended floor debate on immigration legislation after Feb. 8. McConnell: Immigration bill won't be starting point for Senate debate:
Majority Leader Mitch McConnell (R-Ky.) on Wednesday said he will not use an immigration bill as the starting point for the Senate's debate on the issue.
"The bill I move to, which will not have underlying immigration text, will have an amendment process that will ensure a level playing field at the outset," McConnell said from the Senate floor.
The GOP leader's comments are the first signal he's given about what legislation he will, or will not, use as the Senate's "base" bill, expected to be used as a vehicle for the immigration debate.
He added on Wednesday that senators from both sides would be able to "alternate proposals for consideration and for votes."
"While I obviously cannot guarantee any outcome, let alone supermajority support, I can ensure the process is fair to all sides, and that is what I intend to do," he said.
McConnell is expected to tee up the Senate's base legislation this week once the chamber passes an agreement to fund the government and raise the budget caps. The move could pave the way for a free-wheeling debate on the Senate floor next week.
* * *
Any proposal will need 60 votes, meaning the support of both Democrats and Republicans, to pass the Senate.
McConnell's announcement comes after he said on Tuesday that he didn't have a "secret plan" for the upcoming immigration debate.
"I'm going to structure in such a way that's fair to everyone. … Whoever gets to 60 wins," he said during a press conference.
Senate Minority Leader Charles Schumer (D-N.Y.) said on Wednesday that Ryan should "do what Senator McConnell has agreed to do, allow a fair and open process to debate a dreamers bill on the House floor."
But Speaker Ryan has not made any similar pledges in the House or guarantee that any bill passed by the Senate would be considered. Dem leaders pile on, press Ryan for DACA commitment:
House Democratic leaders on Wednesday seemed ready to join Minority Leader Nancy Pelosi (D-Calif.) in withholding their support for a Senate budget deal without a firm pledge from Speaker Paul Ryan (R-Wis.) to consider legislation protecting "Dreamers."
"What we're looking for is a commitment," Rep. Joseph Crowley (D-N.Y.), chairman of the House Democratic Caucus, said during a press briefing in the Capitol.
* * *
Ryan has not gone so far [as McConnell], saying he wants to act on a DACA fix but won't consider any legislation not supported by the president — a difficult standard to gauge since Trump has repeatedly wavered in delivering his DACA demands.
Ryan, though, has given no signals he's ready to budge.
"Speaker Ryan has already repeatedly stated we intend to do a DACA and immigration reform bill — one that the president supports," Ryan spokeswoman AshLee Strong said Wednesday.
Crowley did not say how many Democrats in the 193-member Caucus would hinge their budget vote on the immigration issue, but he suggested the number would be considerable.
Overwhelming opposition from the Democrats could prove significant since dozens of conservative Republicans are expected to oppose the Senate's budget package, likely forcing Ryan to reach across the aisle for Democratic support.
"I think many, if not all of us — I don't want to speak for every person — look at … the issue of DACA and immigration and how we treat immigrants in this country as the civil rights issue of the day," Crowley said.
"That's how strong this is for all of us in our caucus."
Rep. Linda Sánchez (D-Calif.), vice chairwoman of the Democratic Caucus, piled on.
"The sole impediment to getting anything done on immigration has been the Republican leadership in the House," she said.
"We are simply asking for a vote; that's all we've ever asked for."
So call the office of the Speaker, Phone: (202) 225-0600, and tell this coward that you demand an open-ended floor debate and a vote in the House on a DACA fix like Mitch McConnell has committed to do in the Senate next week. Call today.