Update to An 'imperial president' compromised by and doing the bidding of Saudi Arabia (excerpt):
President Trump vetoed the express will of Congress, as expected, setting up another constitutional crisis, asserting his "imperial presidency" executive powers. Trump vetoes resolution to end U.S. participation in Yemen's civil war:
President Trump on Tuesday vetoed a resolution that would have ended U.S. support for the Saudi-led military campaign in Yemen.
The veto means the United States will continue its involvement in Saudi Arabia's bombing campaign against Yemen's Houthi rebels, waged in the name of holding back Iran's expansion in the region.
But the Saudi-led effort, which has targeted civilian facilities and prevented aid shipments from getting to Yemenis, has been faulted by human rights organizations for exacerbating what the United Nations has deemed the world's worst humanitarian catastrophe.
Oops! He did it again.
Last week, Congress Voted to Block Arms Sales to Gulf Nations, Setting Up Trump's Third Veto:
The House gave final passage on Wednesday to a series of measures that would block the sale of billions of dollars of arms to Saudi Arabia and the United Arab Emirates, sending to President Trump a fresh rebuke of his administration's efforts to circumvent Congress to help Persian Gulf allies prosecute a disastrous war in Yemen.
A scattering of Republicans and the House's lone independent, Justin Amash of Michigan, joined Democrats in three back-to-back votes, submitting for the record their stewing anger at Mr. Trump's resolute support of Saudi Arabia and his use of emergency powers to sidestep Congress, this time with a declaration of an emergency over Iran.
This week, Trump did the bidding of his Saudi and UAE enablers again (see below). Trump vetoes congressional effort to block Saudi arms sales: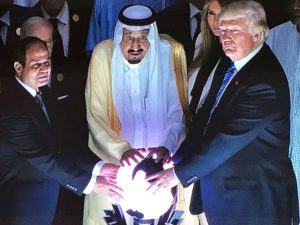 President Donald Trump on Wednesday vetoed a trio of congressional resolutions aimed at blocking his administration from selling billions of dollars of weapons to Saudi Arabia and the United Arab Emirates.
Secretary of State Mike Pompeo last month cited threats from Iran as a reason to approve the $8.1 billion arms sale to the two U.S. allies in the Persian Gulf.
Saudi Arabia is an enemy of Iran and tension has mounted between the UAE and Tehran over several issues, including the UAE's coordination with U.S. efforts to curb what it calls Iran's malign activities in the region.
But Trump's decision in May to sell the weapons in a way that would have bypassed congressional review infuriated lawmakers. In a partisan pushback to Trump's foreign policy, Democrats and Republicans banded together to pass resolutions to block the weapons sale.
The White House had argued that stopping the sale would send a signal that the United States doesn't stand by its partners and allies, particularly at a time when threats against them are increasing. The arms package included thousands of precision-guided munitions, other bombs and ammunition and aircraft maintenance support.
Anger has been mounting in Congress over the Trump administration's close ties to the Saudis, fueled by the high civilian casualties in the Saudi-led war in Yemen — a military campaign the U.S. is assisting — and the killing of U.S.-based columnist Jamal Khashoggi by Saudi agents. Trump's decision in May to sell the weapons further inflamed the tensions.
"The president's shameful veto tramples over the will of the bipartisan, bicameral Congress and perpetuates his administration's involvement in the horrific conflict in Yemen, which is a stain on the conscience of the world," House Speaker Nancy Pelosi said in a statement.
It didn't appear that lawmakers opposed to the sale had enough votes to override Trump's veto…
Only because of craven coward Republicans who are sycophant cult followers of the personality of Donald Trump and are violating their oath of office to preserve, protect and defend the Constitution of the United States.
Last month, members of the House Foreign Affairs Committee grilled State Department officials about the sale. Chairman Eliot Engel, D-N.Y., said it was a "slap in the face" to Congress and accused the Trump administration of using threats from Iran as a "convenient excuse" to push through the sale.
In a statement released Wednesday night, Engel said, "The president's veto sends a grim message that America's foreign policy is no longer rooted in our core values — namely a respect for human rights — and that he views Congress not as a coequal branch of government, but an irritant to be avoided or ignored."
Former special Counsel Robert Mueller testified this week that it was "beyond the purview" of his Russia investigation to investigate Donald Trump's financial entanglements, including those with Saudi Arabia and the UAE. Mueller's team apparently also did not investigate what the New York Times reported, that Donald Trump, Jr. also met with an Israeli social media specialist and an emissary for the United Arab Emirates and Saudi Arabia who said the countries wanted to help Donald Trump win.
On August 3, 2016, Trump Jr. took part in a meeting with Erik Prince, a Trump booster, founder of the private security firm Blackwater, and brother of Education Secretary Betsy DeVos; George Nader, a business executive and emissary for the princes of Saudi Arabia and the United Arab Emirates; and Joel Zamel, an Israeli expert in social media manipulation.
The men met at Trump Tower in New York, according to the Times report from Mark Mazzetti, Ronen Bergman, and David Kirkpatrick. Nader told Trump Jr. that the princes of Saudi Arabia and UAE were "eager" to help Trump win the White House, saying they believed he was a strong leader who would "fill the power vacuum" they thought President Barack Obama had left in the Middle East. Zamel's company, Psy-Group, had put together a proposal for an online manipulation program to help elect Trump using thousands of fake accounts to promote him on Facebook.
According to the Times, it's not clear whether the proposal was executed, and it's not clear who commissioned it in the first place. But Trump Jr. "responded approvingly," and Nader joined the Trump-world fold, meeting often with Trump's son-in-law, Jared Kushner, his former national security adviser, Michael Flynn, and his former strategist, Steve Bannon.
After the election, Nader paid Zamel as much as $2 million, and what the money's intended use isn't clear. White Night, a Philippines-based company linked to Zamel, reportedly provided Nader with an elaborate presentation about the importance of social media campaigning in Trump's win.
Everyone involved denied it, of course, but if Mueller's team did not investigate this, who did? Did anyone? Is it part of the ongoing counterintelligence investigation? Was it buried?
Donald Trump is going to stumble into a war with Iran that Saudi Arabia, the UAE and Israel want, as well as the Neocon war mongers in the Trump administration, Mike Pompeo and John Bolton. And craven coward Republicans who are sycophant cult followers of the personality of Donald Trump are going to allow hm to do it without any authorization for use of force from Congress, and will never hold him accountable under the War Powers Resolution, or impeachment. They are setting the Constitution aflame.