There are no limits to the extremes to which Tea-Publicans will go as accessories to a cover-up and obstruction of justice in the Russia investigation in order to protect their Dear Leader and attempt to spin their alternate reality conspiracy theory concocted by the GOPropaganda conservative media entertainment complex that this is really a conspiracy between Democrats, the Russians, the FBI and the media.
We have crossed the Rubicon into bizzaro world today with the latest developments. Republican Senators Recommend Charges Against Author of Trump Dossier:
More than a year after Republican leaders promised to investigate Russian interference in the presidential election, two influential Republicans on Friday made the first known congressional criminal referral in connection with the meddling — against one of the people who sought to expose it.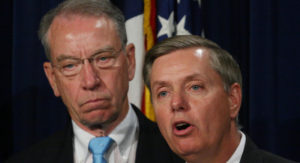 Senator Charles E. Grassley of Iowa, chairman of the Judiciary Committee, and Senator Lindsey Graham of South Carolina, a senior committee member, told the Justice Department they had reason to believe that a former British spy, Christopher Steele, lied to federal authorities about his contacts with reporters regarding information in the dossier, and they urged the department to investigate. The committee is running one of three congressional investigations into Russian election meddling, and its inquiry has come to focus, in part, on Mr. Steele's explosive dossier that purported to detail Russia's interference and the Trump campaign's complicity.
The decision by Mr. Grassley and Mr. Graham to single out the former intelligence officer behind the dossier — and not anyone who may have taken part in the Russian interference — was certain to infuriate Democrats and raise the stakes in the growing partisan battle over the investigations into Mr. Trump, his campaign team and Russia.
More than a year ago, Republican leaders in Congress agreed that committees in the House and Senate would investigate Russia's efforts to influence the outcome of the 2016 election. Mr. Graham declared in December 2016, "The first thing we want to establish is, 'Did the Russians hack into our political system?' Then you work outward from there."
That was then, this is now. Tea-Publicans in Congress are now actively seeking to thwart the congressional investigations and to prevent a thorough and objective inquiry into collusion between Russia and the Trump campaign. They want to turn the investigation on the accusers, and to protect those who conspired with the Russians to attack our election and to elect Donald Trump.
Republicans have deflected attention from the central issue and sought to cast doubt on Mr. Steele's dossier and the political research firm that helped produce it, Fusion GPS, whose work was partly funded by Hillary Clinton's campaign.
The criminal referral appears to make no assessment of the veracity of the dossier's contents, much of which remains unsubstantiated nearly a year after it became public.
But the dossier has emerged as Exhibit A in Republicans' [conspiracy theory] that Obama-era political bias could have affected the F.B.I.'s decision to open a counterintelligence investigation in July 2016 into whether Mr. Trump's associates aided the Russia election interference.
Republicans, including the two senators, have argued that the dossier is tantamount to political opposition research, and claimed that it might have been used by the F.B.I. to open its investigation. They have also said it might have provided the basis for key investigative actions, including a secret court-approved wiretap of a Trump campaign aide.
Current and former American and foreign officials with direct knowledge of the investigation say that the federal inquiry did not start with the dossier, nor did it rely on it. Rather, they have said, the dossier and the F.B.I.'s discussions with Mr. Steele merely added material to what American law enforcement and spy agencies were gleaning from other sources.
Mr. Grassley's decision to recommend criminal charges appeared likely to be based on reports of Mr. Steele's meetings with the F.B.I., which were provided to the committee by the Justice Department in recent weeks.
It was not clear why, if a crime is apparent in the F.B.I. reports that were reviewed by the Judiciary Committee, the Justice Department had not moved to charge Mr. Steele already.
The circumstances under which Mr. Steele is alleged to have lied were unclear, as much of the referral was classified.
In a short cover letter dated Thursday but transmitted on Friday, the senators wrote, "Based on the information contained therein, we are respectfully referring Mr. Steele to you for investigation of potential violations of 18 U.S.C. § 1001, for statements the Committee has reason to believe Mr. Steele made regarding his distribution of information contained."
That section of the federal criminal code refers to knowingly making false or misleading statements to federal authorities.
Mr. Steele had repeated contacts before and after the election with F.B.I. counterintelligence agents who were investigating links between the Trump campaign and Russians. The information he shared was apparently valuable enough that the F.B.I. at one point even considered bringing him on as a paid source. They only backed off the idea after the dossier became public in January 2017 and Mr. Steele's identity became widely known, leading the bureau to conclude that he would no longer be able to function as a source for its investigation.
More recently, Mr. Steele has been in contact with the Justice Department's special counsel, Robert S. Mueller III, who took over the investigation last year.
Anyone can make a criminal referral to the Justice Department, which is not obligated to take up the matter. But a recommendation from a senior senator who runs the committee that has oversight of the department comes with added weight.
The Justice Department had no immediate comment on the referral. But Fusion characterized the recommendation to charge Mr. Steele as a smear and an attempt to further muddy the inquiry into Russia's interference.
"Publicizing a criminal referral based on classified information raises serious questions about whether this letter is nothing more than another attempt to discredit government sources, in the midst of an ongoing criminal investigation," said Joshua A. Levy, the lawyer for Fusion. "We should all be skeptical in the extreme."
* * *
Fusion GPS hired Mr. Steele, a former officer of Britain's MI6 with deep connections in Russia, during the spring of 2016 to research Mr. Trump's ties to Russia. His findings were ultimately compiled into 35 pages of memos outlining a multipronged conspiracy between the Russian government and the Trump campaign to boost his candidacy and hurt Mrs. Clinton, including corrupt business dealings and salacious details alleging an encounter between Mr. Trump and Russian prostitutes.
The firm was first hired by The Washington Free Beacon, a conservative website, in May 2016, and its work was later funded by the Democratic National Committee and the Clinton campaign.
This week has seen Mr. Grassley engage in a heated spat with Fusion over the testimony of one of its executives, Glenn R. Simpson. It began when Mr. Simpson and his partner, Peter Fritsch, published an op-ed article in The New York Times accusing Republicans of waging "a cynical campaign" to try to discredit the firm and its findings and calling on the relevant congressional committees to release transcripts of a series of closed-door interviews with the men.
A spokesman for Mr. Grassley, Taylor Foy, shot back, saying that Mr. Simpson had been less than transparent with the committee and had declined to provide public testimony or additional documents and answers requested after the interview. He also said and that "Mr. Simpson and his attorney demanded during the interview that the transcript be kept confidential." A lawyer for Fusion GPS, Joshua Levy, in turn, disputed that account, and said that upon review, his client now wanted the transcript to be made public — a request Mr. Grassley has denied.
The senator is not the only prominent Republican lawmaker pressing the Justice Department and Fusion GPS for answers on the dossier. Representative Devin Nunes of California, the chairman of the House Intelligence Committee, has been locked in a standoff with the department over access to documents and witnesses he views as crucial to unraveling what the F.B.I. did with the dossier. And he has aggressively pursued Fusion GPS, subpoenaing the company's bank records and sending two committee staff members to London last summer to try to meet with Mr. Steele unannounced.
A resolution with the Justice Department appeared to be imminent this week, after Rod J. Rosenstein, the deputy attorney general, and Christopher A. Wray, the F.B.I. director, paid an unexpected visit to Speaker Paul D. Ryan of Wisconsin. Mr. Nunes, whom Democrats have accused of acting to protect Mr. Trump, said in a statement after the meeting that he expected to gain the access he desired.
CNN reports Ryan backed Nunes in spat with Justice Dept. over Russia documents, sources say:
Speaker Ryan had already been in contact with Rosenstein for months about the dispute over documents, Rosenstein and Wray wanted to make one last effort to persuade him to support their position. The documents in dispute were mostly FBI investigative documents that are considered law enforcement sensitive and are rarely released or shared outside the bureau.
During the meeting, however, it became clear that Ryan wasn't moved and the officials wouldn't have his support if they proceeded to resist Nunes' remaining highly classified requests, according to multiple sources with knowledge of the meeting.
A compromise was reached later Wednesday  that allows House Intelligence Committee members to go to a Justice Department facility to view the documents, sources said. Nunes said in a statement Wednesday night that he was being given "access" to the materials he had requested. Normally congressional committees want documents turned over to them. In this case, the documents can be reviewed but not taken from FBI and Justice Department possession.
The Justice Department has also approved a slew of Justice and FBI officials to be interviewed by the committee in January, including former Associate Deputy Attorney General Bruce Ohr, an official with ties to Fusion GPS, the opposition research firm behind the Trump dossier; embattled FBI Special Agent Peter Strzok, whose text messages trashing the President became cannon fodder for congressional Republicans last month; and recently reassigned FBI General Counsel James Baker. The committee will also be permitted to interview FBI Attorney Lisa Page (who exchanged the texts with Strzok), FBI Attorney Sally Moyer, FBI Assistant Director for the Office of Congressional Affairs Greg Brower, FBI Assistant Director Bill Priestap and FBI Chief of Staff James Rybicki.
In other words, the committee will be pursuing the conspiracy theories concocted by the conservative media entertaiment complex, not Russian interference in our elections.
We have an entire political party engaged in a cover-up and aiding and abetting obstruction of justice to prevent the facts of what actually occurred in last year's election from ever being discovered, and to prevent those involved in the Russian interference in our election from ever being held accountable. This is unprecedented an un-American.
The senators' actions come a day after new evidence that Donald Trump engaged in obstruction of justice in the firing of former FBI Director James Comey.  The New York Times reports, Obstruction Inquiry Shows Trump's Struggle to Keep Grip on Russia Investigation:
President Trump gave firm instructions in March to the White House's top lawyer: stop the attorney general, Jeff Sessions, from recusing himself in the Justice Department's investigation into whether Mr. Trump's associates had helped a Russian campaign to disrupt the 2016 election.
Public pressure was building for Mr. Sessions, who had been a senior member of the Trump campaign, to step aside. But the White House counsel, Donald F. McGahn II, carried out the president's orders and lobbied Mr. Sessions to remain in charge of the inquiry, according to two people with knowledge of the episode.
Mr. McGahn was unsuccessful, and the president erupted in anger in front of numerous White House officials, saying he needed his attorney general to protect him. Mr. Trump said he had expected his top law enforcement official to safeguard him the way he believed Robert F. Kennedy, as attorney general, had done for his brother John F. Kennedy and Eric H. Holder Jr. had for Barack Obama.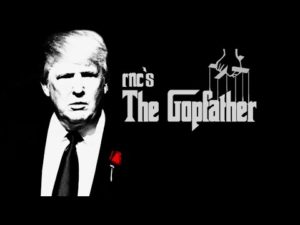 Mr. Trump then asked, "Where's my Roy Cohn?" He was referring to his former personal lawyer and fixer, who had been Senator Joseph R. McCarthy's top aide during the investigations into communist activity in the 1950s and died in 1986.
This mafia godfather wants the Attorney General to be his consigliere.
The lobbying of Mr. Sessions is one of several previously unreported episodes that the special counsel, Robert S. Mueller III, has learned about as he investigates whether Mr. Trump obstructed the F.B.I.'s Russia inquiry. The events occurred during a two-month period — from when Mr. Sessions recused himself in March until the appointment of Mr. Mueller in May — when Mr. Trump believed he was losing control over the investigation.
Among the other episodes, Mr. Trump described the Russia investigation as "fabricated and politically motivated" in a letter that he intended to send to the F.B.I. director at the time, James B. Comey, but that White House aides stopped him from sending. Mr. Mueller has also substantiated claims that Mr. Comey made in a series of memos describing troubling interactions with the president before he was fired in May.
The special counsel has received handwritten notes from Mr. Trump's former chief of staff, Reince Priebus, showing that Mr. Trump talked to Mr. Priebus about how he had called Mr. Comey to urge him to say publicly that he was not under investigation. The president's determination to fire Mr. Comey even led one White House lawyer to take the extraordinary step of misleading Mr. Trump about whether he had the authority to remove him.
The New York Times has also learned that four days before Mr. Comey was fired, one of Mr. Sessions's aides asked a congressional staff member whether he had damaging information about Mr. Comey, part of an apparent effort to undermine the F.B.I. director. It was not clear whether Mr. Mueller's investigators knew about this episode.
Mr. Mueller has also been examining a false statement that the president reportedly dictated on Air Force One in July in response to an article in The Times about a meeting that Trump campaign officials had with Russians in 2016. A new book, "Fire and Fury: Inside the Trump White House," by Michael Wolff, says that the president's lawyers believed that the statement was "an explicit attempt to throw sand into the investigation's gears," and that it led one of Mr. Trump's spokesmen to quit because he believed it was obstruction of justice.
* * *
Legal experts said that of the two primary issues Mr. Mueller appears to be investigating — whether Mr. Trump obstructed justice while in office and whether there was collusion between the Trump campaign and Russia — there is currently a larger body of public evidence tying the president to a possible crime of obstruction.
Regardless of whether Mr. Mueller believes there is enough evidence to make a case against the president, Mr. Trump's belief that his attorney general should protect him provides an important window into how he governs. Presidents have had close relationships with their attorneys general, but Mr. Trump's obsession with loyalty is particularly unusual, especially given the Justice Department's investigation into him and his associates.
There are many more details in this Times report. Read the entire report.