The Republican congressman who has been the most visible and aggressive in seeking to undermine the Russia investigation and to turn the House investigation into chasing conspiracy theories concocted by the conservative media entertainment complex and Donald Trump is Rep. Devin Nunes (R-CA), chairman of the House Intelligence Committee and a member of the Trump transition team.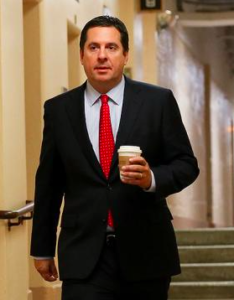 The personal actions of Rep. Nunes come perilously close to making him an accessory to a cover-up and obstruction of justice. He should be removed from his position as chairman of the House Intelligence Committee because he is compromised and is incapable of conducting an objective investigation. His only goal has been to block any objective investigation in the House from going forward.
You remember Rep. Nunes from early last year, don't you? Mark Sumner of Daily Kos has a good summary of the obstruction of justice Rep. Nunes has been engaged in. Devin Nunes should be the subject of an investigation, not running one:
In November, 2016 Devin Nunes took a top slot in the Trump transition team—one that put him in a position to recommend and vet cabinet officials. In January, 2017 Nunes announced that the House Intelligence Committee would conduct an investigation into Russia's efforts to impact the 2016 presidential election.
Between Nunes's acceptance of a post in the Trump transition team and the start of the House investigation, multiple contacts occurred between the Trump transition team and Russian officials, including several communications between Michael Flynn and the Russian ambassador. And between the Russian ambassador and Nunes's partner in "clearing" Trump's nominees—Jared Kushner.
All the evidence suggests that Devin Nunes began the House investigation both knowing that contacts had occurred, and deliberately working to cover them up.
* * *
By March, Nunes completely derailed the House investigation after leaping from an Uber car, making secret visits to the White House, and holding a pair of press conferences in which he claimed to have evidence that Obama officials had improperly "unmasked" members of the Trump team—statements that Donald Trump used to support his contention that Barack Obama had wiretapped Trump Tower. Though Nunes refused to say where he was getting this information, it eventually emerged that he had been working with Ezra Cohen-Watnick, a Michael Flynn assistant who had been singled out by intelligence officials for his incompetence. However, Donald Trump overruled Cohen-Watnick's superiors, keeping him in place so he could act as a conduit to Nunes.
Nunes's tactics halted progress in the House investigation and caused the cancellation of weeks of scheduled hearings.
* * *
In April, after weeks of no progress, Nunes claimed to be stepping back from his role heading up the House investigation. However, behind the scenes he retained the sole authority to issue subpoenas, and has thwarted efforts to make real progress.
For months, Democrats have kept an unofficial count of the ways they say Nunes worked behind the scenes during the time he was under ethics investigation to slow or stymie the Intelligence Committee's Russia probe. Nunes never relinquished his sole, unchecked authority to sign off on subpoenas even as he handed the day-to-day operations to Reps. K. Michael Conaway (R-Tex.), Gowdy and Thomas J. Rooney (R-Fla.). People familiar with the committee's work estimated that Nunes's effective veto cost Democrats dozens of requests for interviews and documents that were never sent out, despite repeated entreaties from the minority side.
Rep. Nunes has been the driving force behind a small group of Republicans in the House who want to investigate the investigators, the Department of Justice, the FBI and the Special Counsel's office, in an effort to undermine and to discredit the Russia investigation, and the federal law enforcement agencies.
Devin Nunes' attempts to derail the investigation into connections between the Trump campaign and the Russian government are making even his fellow Republicans uneasy.
[Republican Representative Trey Gowdy] said that his "heart would be broken" if Nunes follows through on reported plans to issue a corruption exposé about the FBI, citing concerns that issuing such a report outside the context of a comprehensive investigation of the Justice Department could prove damaging to law enforcement.
That's Trey Gowdy—the man who chaired the eighth round of hearings into Benghazi—worrying about the extreme actions suggested by Nunes. This came after Nunes threatened to deliver a contempt citation to not just Deputy Attorney General Rod Rosenstein, but Trump's freshly appointed FBI Director Christopher Wray.
While there are several Republicans who seem willing to take any step necessary to show their support for Donald Trump, including calling for an end into any investigation, none of them has done as much to deliberately obstruct, obfuscate, delay and derail that investigation as Devin Nunes.
Rep. Nunes' subpoenas to the FBI and Justice Department came to a head on Wednesday. Politico reports, Deputy AG, FBI director make unannounced visit to Paul Ryan's office:
Deputy Attorney General Rod Rosenstein and FBI Director Chris Wray made an unannounced visit to Speaker Paul Ryan's office Wednesday as the Justice Department grapples with an increasingly hostile faction of House Republicans demanding documents related to the bureau's Russia probe.
Rosenstein was spotted entering Ryan's office, and a spokesman for the speaker confirmed that Rosenstein and Wray had requested the meeting. A second person familiar with the meeting said it was related to a document request issued over the summer by House intelligence committee chairman Devin Nunes.
Nunes (R-Calif) has mounted an aggressive push — with the threat of contempt citations for members of the FBI and Justice Department — to glean more information about how the FBI handled a disputed dossier alleging illicit ties between President Donald Trump and the Kremlin.
Unfortunately, DOJ/FBI's intransigence with respect to the August 24 subpoenas is part of a broader pattern of behavior that can no longer be tolerated," Nunes wrote to Rosenstein in a letter provided to Fox News (aka Trump TV) last week.
Nunes is seeking details about meetings between FBI officials and those who helped compile the dossier. He also demanded interviews with a slate of top FBI officials. And he's floated the notion of issuing contempt resolutions against Rosenstein and Wray if they fail to comply.
It was not immediately clear what Rosenstein and Wray sought from Ryan. But they've been increasingly at odds with Nunes over his demands to produce documents related to the Russia probe and the use of the dossier. Nunes is also leading a subset of GOP members of the intelligence committee to investigate the Justice Department, with an eye on what some Republicans in Congress have characterized as corruption and political in its top ranks.
But that effort itself has divided Republicans, many of whom are allies of the FBI and are concerned that the escalation of a discrepancy over documents — fanned by Trump allies in Congress and media — could result in lasting damage to the perception of the agency as an independent arbiter of the law.
The Hill adds, Justice Dept to offer House key documents in Russia probe:
The House and Justice Department (DOJ) reached a deal Wednesday night to provide the Russia election meddling probe long-sought documents and access to key witnesses.
The deal was reached after FBI Director Chris Wray and Deputy Attorney General Rod Rosenstein made a surprise visit to House Speaker Paul Ryan
It was announced by House Intelligence Committee Chairman Devin Nunes, who had sought the information and threatened more drastic action if his panel continued to be denied access to the information.
"After speaking to Deputy Attorney General Rosenstein this evening, I believe the House Intelligence Committee has reached an agreement with the Department of Justice that will provide the committee with access to all the documents and witnesses we have requested," Nunes said in a statement. "The committee looks forward to receiving access to the documents over the coming days."
Nunes has in recent months lashed out against the DOJ over its failure to respond to requests for the documents, suggesting the department was doing so deliberately.
"At this point it seems the DOJ and FBI need to be investigating themselves," Nunes wrote in a letter to Rosenstein last week.
A small group of GOP members have suggested the FBI used the dossier, which contains salacious allegations about the president, in order to launch a "trumped-up" investigation into Trump.
As my previous post makes clear, the FBI investigation began with intelligence reports from our allies about George Papadopoulos and Carter Page. The FBI also obtained FISA warrants for Carter Page and Paul Manafort, so there is signal intelligence from intercepted communications. The Steele "dossier" came much later and provided corroboration for intelligence of which the FBI was already aware.
It is not clear what the "deal" worked out last night entails. Rep. Devin Nunes wants to investigate Mr. Steele's sources in the "dossier," which could unmask those intelligence sources, the very act that Rep. Nunes falsely accused the Obama administration of doing early last year.
This man should not be in charge of any investigation or any congressional committee. House Speaker Paul Ryan should relieve him of his committee post. Rep. Nunes' active efforts to engage in a cover-up and obstruction of justice in direct coordination with the Trump White House should lead to charges being filed against him by the Special Counsel. That probably will not happen.