Back in September, the Tucson Weekly reported Dems Attack McSally for NRCC Agreement but Congresswoman Says She Hasn't Signed Contract: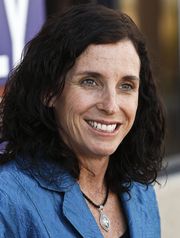 Earlier this month, Washington Post political reporters James Hohmann and Elise Viebeck revealed that the paper had gotten ahold of a leaked contract that Republican congressional candidates are expected to sign if they want to participate in the National Republican Congressional Committee's Patriot Program, which is designed to help candidates in competitive districts.
The contract raised eyebrows because it included a requirement that members of Congress and their chiefs of staff provide "detailed, written legislative strategy that provides short-, intermediate- and long-term legislative goals, including political justification for those goals."
As it turns out, Southern Arizona Congresswoman Martha McSally is among the Republicans who are participating in the Patriot Program and Democrats are focusing on the NRCC document as evidence that McSally is not as independent as she made herself out to be during her successful campaign to unseat Democrat Ron Barber last year.
* * *
Dems say the Patriot Program is crossing the line by asking members of Congress and their staffers to sign agreements regarding legislative work—and the Post's revelation about the contract has made headlines around the country.
Team McSally declined to release a copy of any agreement between her and the NRCC but pushed back against accusations that the NRCC is controlling McSally's priorities. McSally spokesman Patrick Ptak told the Weekly that neither McSally nor anyone on the congressional staff signed the Patriot Program agreement.
Last week the Arizona Republic reported that a Liberal group files ethics complaint against Martha McSally, 22 other Republicans (funny, I don't recall seeing this reported in the local Tucson media):
[The American Democracy Legal Fund] has filed a congressional ethics complaint against U.S. Rep. Martha McSally, R-Ariz., and 22 other Republicans alleging they misused taxpayer resources to benefit their campaigns, accusations a McSally spokesman denies.
The complaint from the American Democracy Legal Fund goes after incumbents who are part of the Republican Party's "Patriot Program," an initiative to protect vulnerable members in re-election campaigns across the country.
* * *
Patriot Program members were asked to sign a contract with the National Republican Congressional Committee for 2016 that included providing an outline of the members' legislative strategy, including justification for their goals politically and in regards to their districts, according to a copy of the contract leaked to the Washington Post. The contract also asked for a detailed finance plan and budget to receive attention and campaign cash from the party.
The complaint alleges that the intent of the contract is for members to use the taxpayer-funded resources of their Capitol Hill offices to "coordinate and detail their legislative strategies and plans with the NRCC."
"Vulnerable Republican House Members are literally selling their legislative agendas to a political committee for campaign cash," American Democracy Legal Fund spokeswoman Mary Jennings said in a written statement. "Members of Congress are supposed to craft a legislative agenda that benefits their constituents, not auction their vote off to the highest bidder."
However, a spokesman for McSally said she did not sign the Patriot Program contract, despite being listed by the NRCC as a member benefiting from the program.
* * *
The NRCC would not say whether McSally had signed a contract.
* * *
McSally campaign manager Weston McKee criticized the ethics complaint as politically motivated.
'"Neither Martha nor anyone on her staff signed any such contract, making these claims completely without merit," he said in a statement. "They come from a partisan Democrat attack outfit that's knowingly misleading people with these false accusations."
He added that "at no point did the NRCC approve, edit, or provide any input whatsoever into what Martha deemed as her priorities."
The ethics complaint comes after national Democrats criticized McSally and others for signing the contract and seeking approval from GOP bosses for their legislative agendas despite claiming to be independent-minded.
"The DCCC works with incumbents to make sure they are running smart campaigns as effectively as possible, but would never require submission and approval of a legislative agenda – especially not in exchange for financial and political support," DCCC spokeswoman Meredith Kelly said.
I find the NRCC and McSally denials not credible given that the GOP House Freedom Caucus is employing precisely the same demand for approval of  legislative agenda in reviewing potential candidates for House Speaker. This is "a GOP thing." This Document Reveals Why The House Of Representatives Is In Complete Chaos (excerpt):
Yesterday, Politico published the House Freedom Caucus "questionnaire" which it described as pushing for "House rule changes." The document does do that. But it also does a lot more. It seeks substantive commitments from the next speaker that would effectively send the entire country into a tailspin.
For example, the document seeks a commitment from the next speaker to tie any increase in the debt ceiling to cuts to Social Security, Medicare and Medicaid.
Cutting Social Security, Medicare and Medicaid is extremely unpopular, even among Republicans. These programs are sacrosanct to most Democratic members of Congress. There is effectively no chance that President Obama or Senate Democrats — both of whom would need to support such legislation — would agree to "structural entitlement reforms" in the next month under these kind of conditions.
The House Freedom Caucus essentially wants to make it impossible for the next speaker to raise the debt ceiling. But that is just the beginning.
The House Freedom Caucus also wants the next speaker to commit to numerous conditions on any agreement to avoid a government shutdown:
The House Freedom Caucus wants the next speaker to commit to not funding the government at all unless President Obama (and Senate Democrats) agree to defund Obamacare, Planned Parenthood and a host of other priorities. This is essentially the Ted Cruz strategy which prompted at 16-day shutdown in 2013. This would now be enshrined as the official policy of the Speaker Of The House.
The House Freedom Caucus wants the next speaker to commit to oppose any "omnibus" bill that would keep the government running. Rather, funding for each aspect of government could only be approved by separate bills. This would allow the Republicans to attempt to finance certain favored aspects of government (the military), while shuttering ones they view as largely unnecessary (education, health).
One final point: every news report I see has a "McSally spokesman" responding for the Congresswoman. Does Rep. McSally ever actually speak to reporters herself? The media villagers should remind Patrick Ptak that no one elected him to Congress.  Reporters have a right to speak directly to the Congresswoman. If she will not speak to the press and is being managed by her handlers, then that is a story in itself and should be reported.  Enough with quoting her handlers putting words in McSally's mouth. If Rep. McSally has something to say, she should be the one speaking to reporters.