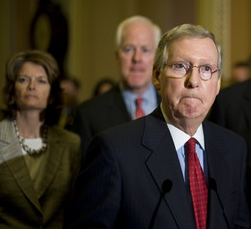 So it turns out that after the Septuagenarian Ninja Turtle, Mitch McConnell, had promised a more open amendment process in the Senate, and had specifically promised Sen. Bernie Sanders (I-VT) that his amendment on climate change (Amdt. 24) would receive a vote in the Senate, that didn't happen.
On Thursday, Sen. Lisa Murkowski (R-AK), Chair of the Senate Energy and Natural Resources Committee who is shepherding the Keystone XL Pipeline Act (S.1) through the Senate, instead staged a vote to table Sen. Sanders' Amendment along with other Democratic amendments, turning aside all but two of 15 amendments (offered by Tea-Publicans).
The age of an open debate process in the Senate under the Septuagenarian Ninja Turtle is already over after just two weeks into this Congress on the first major piece of legislation taken up by the Tea-Publican Senate. Did you really expect otherwise?
Think Progress reports, Senate Sets Final Vote For Keystone XL After Long, Tense Night Of Amendment Voting:
The Senate was in session until midnight Thursday night, debating and voting on fifteen amendments to a bill that would approve the construction of the controversial Keystone XL tar sands pipeline. At the end of it all, Majority Leader Mitch McConnell filed for cloture, a procedural move that effectively sets up a final vote on Keystone for next week.
The move followed a long, somewhat tense night of voting on amendments to the Keystone bill. Those amendments included one that expressed the "sense of the Senate" that President Obama's agreement with China to tackle climate change is "economically unfair and environmentally irresponsible"; one to increase exports of natural gas; and one that sought to take the lesser prairie chicken off of the endangered species list.
Only two of the amendments passed. One, proposed by Sen. John Cornyn (R-TX), seeks to protect property owners from getting their land seized under eminent domain for the purpose of building the pipeline. The other, put forth by Sen. Lisa Murkowski (R-AK), expressed the "sense of the Senate" that all types of oil companies should be required to pay a per-barrel tax that goes into a government fund for oil spill cleanup. Currently, only some types of oil companies are required to do that — tar sands companies are excluded.
All of the amendments put forth by Democrats — 10, in all — were rejected. But they were not all rejected on their merits.
Instead of allowing "yes" or "no" votes on seven Democratic-sponsored amendments, McConnell moved voted to table them, a procedure to effectively kill the amendment without an actual vote on its content. In light of that procedure, some Democratic Senators were not given time to speak on their amendments, including Sen. Ed Markey, who was denied his request to speak for one minute on his proposal to require tar sands companies contribute to the government fund for oil spill cleanups (not just the "sense the Senate" that it should happen, as Murkowski's amendment stated).
* * *
The fact that McConnell tabled so many Democratic amendments was what made the night rather tense. Many chided the Majority Leader for not holding up to his promise of an "open amendment process" on the bill. Senate Minority Whip Dick Durbin (D-IL) told the Hill that the process wasn't "in the best interest of what we are trying to achieve here," while
others accused the Majority leaders of trying to quicken the amendment process so that a few Republican Senators could attend a conference in California this weekend sponsored by the Freedom Partners, a conservative group tied to billionaire brothers Charles and David Koch.
"Senator McConnell's rush to vote on amendments without providing time to read or debate them could have something to do with this Koch retreat [Friday], which a number of Republican senators are reportedly attending…"
Keystone XL has been the Senate's first and nearly only priority since the Republicans took control, and McConnell has vowed that it will be the first item of legislation sent to the President's desk.
The President has promised to veto it.