Above:  The Azovstol steel plant in Mariupol, Ukraine.
Fast changing circumstances in the Russo-Ukraine War.
The Ukrainian garrison holding the massive Azovstol steel plant in Mariupol, despite being heavily outnumbered by the Russians and suffering heavy casualties due to round-the-clock Russian shelling for weeks, apparently will not have to make good on their their Alamo "to the last man standing" defense of Mariupol.
The Ukrainian military has determined that they have done enough with their heroic defense. Ukraine says mission at Mariupol steel mill is complete:
The regiment that doggedly defended a steel mill as Ukraine's last stronghold in the port city of Mariupol completed its mission Monday after more than 260 fighters, including some badly wounded, were evacuated and taken to areas under Russia's control, Ukrainian officials said.
Ukrainian President Volodymyr Zelenskyy said the evacuation to separatist-controlled territory was done to save the lives of the fighters who endured weeks of Russian assaults in the maze of underground passages below the hulking Azovstal steelworks. He said the "heavily wounded" were getting medical help.
Deputy Defense Minister Hanna Maliar said 53 seriously wounded fighters were taken from the Azovstal plant to a hospital in Novoazovsk, east of Mariupol. An additional 211 fighters were evacuated to Olenivka through a humanitarian corridor. She said an exchange would be worked out for their return home.
"Mariupol's defenders have fully accomplished all missions assigned by the command," she said.
"Ukraine needs Ukrainian heroes to be alive. It's our principle," he said. An unknown number of fighters stayed behind to await other rescue efforts.
Officials also planned to keep trying to save the fighters who remained inside. Military experts generally put the number of fighters at the plant at anywhere from a few hundred to 1,000.
"The work to bring the guys home continues, and it requires delicacy and time," Zelenskyy said.
[B]efore Monday's evacuations from the steelworks began, the Russian Defense Ministry announced an agreement for the wounded to leave the mill for treatment in a town held by pro-Moscow separatists. There was no immediate word on whether the wounded would be considered prisoners of war.
After nightfall Monday, several buses pulled away from the steel mill accompanied by Russian military vehicles. Maliar later confirmed that the evacuation had taken place.
"Thanks to the defenders of Mariupol, Ukraine gained critically important time to form reserves and regroup forces and receive help from partners," she said. "And they fulfilled all their tasks. But it is impossible to unblock Azovstal by military means."
The Ukrainian General Staff also said on Facebook that the Mariupol garrison has completed its mission. The commander of the Azov Regiment, which led the defense of the plant, said in a prerecorded video message released Monday that the regiment's mission had concluded, with as many lives saved as possible.
"Absolutely safe plans and operations don't exist during war," Lt. Col. Denis Prokopenko said, adding that all risks were considered.
Gaining full control of Mariupol would give Russia a land bridge to the Crimean Peninsula, which it seized from Ukraine in 2014, and deprive Ukraine of a vital port. It could also free up Russian forces for fighting elsewhere in the Donbas, the eastern industrial heartland that the Kremlin is bent on capturing.
And it would give Russia a pyrrich victory after repeated setbacks on the battlefield and diplomatic front, beginning with the abortive attempt to seize Kyiv, the capital. Mariupol has been laid waste, and is a pile of smoldering rubble. This is a victory?
Ukrainian troops also advanced as Russian forces pulled back from around the northeastern city of Kharkiv in recent days. Zelenskyy thanked the soldiers who reportedly pushed them all the way to the Russian border in the Kharkiv region.
Video showed Ukrainian soldiers carrying a post that resembled a Ukrainian blue-and-yellow-striped border marker. Then they placed it on the ground while a dozen of the soldiers posed next to it, including one with belts of bullets draped over a shoulder.
"I'm very grateful to you, on behalf of all Ukrainians, on my behalf and on behalf of my family," Zelenskyy said in a video message. "I'm very grateful to all the fighters like you."
The Ukrainian border service said the video showing the soldiers was from the border "in the Kharkiv region," but would not elaborate, citing security reasons. It was not immediately possible to verify the exact location.
The New York Times reports, Further Russian Retreat Seen in East Ukraine, Another Setback for Putin:
President Vladimir V. Putin of Russia faced a series of setbacks Monday over the Ukraine invasion, as his faltering military appeared forced to further shrink its goals and an emboldened NATO practiced war games with the alliance's two newest applicants on his country's doorstep.
To make matters worse for Mr. Putin, his own allies in Russia's counterpart to NATO failed to rally around him at a summit meeting in Moscow, leading to the optics of an increasingly isolated Kremlin in full display on Russia's state-run television.
One of the few bright spots for Mr. Putin was the decision by Ukraine's military late Monday to finally end the resistance of holdout fighters at the Azovstal steel mill in the southeast port of Mariupol, which had been under Russian siege for weeks.
Outgunned, wounded and starving, the fighters had become heroes to many Ukrainians, but were evacuated in what amounted to a surrender, with the Ukrainian military saying that 264 service members, 53 of them "seriously wounded," had been taken by bus to areas controlled by Russian forces.
President Volodymyr Zelensky of Ukraine said the decision had been meant "to save the lives of our boys."
But that Russian victory in Mariupol came as Mr. Putin faced what could be the largest expansion of NATO in decades.
[In] what would be a change of position, Mr. Putin seemed to soften his strong objections to NATO membership for Finland and Sweden, which participated in its military exercises in the Baltics on Monday. Only last week, Mr. Putin had warned the two Nordic countries that joining NATO would be a mistake.
"Russia, I would like to inform you, dear colleagues, has no problem with these states," Mr. Putin said, adding that NATO's expansion to include Sweden and Finland poses "no direct threat to us."

Still, he did not rule out unspecified retaliation if Finland and Sweden were to expand their "military infrastructure" as NATO members, warning that "we will look at what that will be based on the threats that are created."
France, Denmark, Norway and Iceland were among the NATO members on Monday that said they welcomed Sweden and Finland to join.
Still, their applications could take time.
Turkey, which has accused the two applicants of sheltering anti-Turkish Kurd extremists, has held out the possibility of using its leverage for concessions before approving their memberships, which require consent from all 30 NATO countries. Secretary of State Antony J. Blinken has expressed confidence that "we will reach consensus."
Update: The AP reports, Turkey objects as Sweden, Finland seek NATO membership:
Turkey´s president on Monday complicated Sweden and Finland´s historic bid to join NATO, saying he cannot allow them to become members of the alliance because of their perceived inaction against exiled Kurdish militants.
President Recep Tayyip Erdogan doubled down on comments last week indicating that the two Nordic countries´ path to NATO would be anything but smooth.
Erdogan spoke to reporters just hours after Sweden joined Finland in announcing it would seek NATO membership in the wake of Russian's invasion of Ukraine: "Neither country has an open, clear stance against terrorist organizations," Erdogan said, in an apparent reference to Kurdish militant groups such as the banned Kurdistan Workers´ Party, or PKK.
[In] Washington, Swedish Ambassador Karin Olofsdotter was among those who said they were taken aback by Turkey´s objections.
"We have a very strong anti-terrorist agenda and a lot of, almost, accusations that are coming out … are simply not true," she said.
The Times continues:
[T]aken together, the developments on Monday created one of the starkest contrasts yet between the Russia of now versus that of Feb. 24, when columns of Russian tanks and tens of thousands of its soldiers poured into Ukraine from the east, north and south, in what seemed at the time like an unstoppable juggernaut that could end Ukraine's independence as a sovereign country.
It soon became clear that despite Russia's destructive and indiscriminate aerial bombardments, its vaunted armed forces faced major battlefield flaws and suffered heavy losses, and that Ukraine's outnumbered defenders were in many places driving them back, helped by an outpouring of Western military support.
Within weeks, the Russians were forced to retreat from the Kyiv area in the north and refocus their invasion on seizing the Luhansk and Donetsk provinces that form the Donbas region of eastern Ukraine, where Russian-backed separatists have been fighting since 2014.
But Russia's drive to take Donbas, despite its initial success, now appears to be stumbling as well, military analysts said. Aside from Mariupol, the Russians have yet to seize any significant city there.
In the last week, the Russians retreated from the suburbs of the northeast city of Kharkiv, less than 40 miles from the Russian border. In a symbolic signal of their recent battlefield successes, a small number of Ukrainian troops photographed themselves Monday on the border, having evaded Russian forces nearby.
The Institute for the Study of War, a Washington-based group, said in its latest appraisal that Russian forces had likely abandoned their goal of encircling tens of thousands of Ukrainian soldiers in Donbas and had halted their own attempt to seize Donetsk, focusing instead on capturing Luhansk.
In what appeared to be a further setback, the institute also said Russia had likely run out of combat-ready reservists, forcing it to integrate forces from private military companies and militias with its regular army.
Western military analysts have repeatedly cautioned that Russia remains by far the bigger force, and that the war could last for months or years. Russia still controls a swath of southern Ukraine seized early in the invasion and has blockaded Black Sea ports, choking Ukraine's economic lifelines.
But Russia's miscalculations and growing isolation because of the war have overshadowed its gains.
* * *
In Moscow, where Mr. Putin convened a meeting of Russia's answer to NATO — the six-member Collective Security Treaty Organization — only one member, Belarus, spoke up to support him on Ukraine.
It was supposed to be a celebratory meeting to commemorate the group's founding 30 years ago. But it turned into a demonstration of discord among some of Mr. Putin's friendly neighbors.
Speaking first in the televised portion of the summit, President Aleksandr G. Lukashenko of Belarus — who has supported Mr. Putin's war but has not sent troops — criticized other members for having insufficiently backed Russia and Belarus in the face of Western sanctions.
He pointed to the alliance's decision to send forces to Kazakhstan in January to protect the government from protests — yet argued it had left Russia largely on its own over Ukraine.
"Are we just as connected by bonds of solidarity and support now?" he asked, after mentioning the alliance's support of the Kazakh government. "Maybe I'm wrong, but as recent events have shown, it seems the answer is no."
Kazakhstan has said it would not help Russia circumvent international sanctions. In a United Nations vote on March 2 condemning the invasion of Ukraine, Belarus was the only post-Soviet country to take Russia's side.
"Look at how monolithically the European Union votes and acts," Mr. Lukashenko said at Monday's summit, sitting at a round table with the other leaders. "If we are separate, we'll just be crushed and torn apart."
As if to confirm Mr. Lukashenko's point, the leaders of the other members — Armenia, Kazakhstan, Kyrgyzstan and Tajikistan — did not mention Ukraine in their televised remarks.
The New York Times adds that Putin is starting to lose his state-controlled propaganda war as well, Growing evidence of a military disaster on the Donets pierces a pro-Russian bubble.
The destruction wreaked on a Russian battalion as it tried to cross a river in northeastern Ukraine last week is emerging as among the deadliest engagements of the war, with estimates based on publicly available evidence now suggesting that well over 400 Russian soldiers were killed or wounded.
And as the scale of what happened comes into sharper focus, the disaster appears to be breaking through the Kremlin's tightly controlled information bubble.
Note: This is reminiscent of Operation Market Garden by the Allies in the Netherlands in September 1944, in which they failed to secure a bridgehead over the Rhine River into northern Germany. This was portrayed in the World War II epic film "A Bridge Too Far."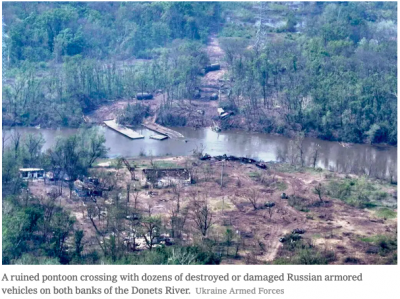 Perhaps most striking, the Russian battlefield failure is resonating with a stable of pro-Russian war bloggers — some of whom are embedded with troops on the front line — who have reliably posted to the social network Telegram with claims of Russian success and Ukrainian cowardice.
"The commentary by these widely read milbloggers may fuel burgeoning doubts in Russia about Russia's prospects in this war and the competence of Russia's military leaders," the Institute for the Study of War, a Washington-based research body, wrote over the weekend.
On May 11, the Russian command reportedly sent about 550 troops of the 74th Motorized Rifle Brigade of the 41st Combined Arms Army to cross the Donets River at Bilohorivka, in the eastern Luhansk region, in a bid to encircle Ukrainian forces near Rubizhne.
Satellite images reveal that Ukrainian artillery destroyed several Russian pontoon bridges and laid waste to a tight concentration of Russian troops and equipment around the river.
The Institute for the Study of War, citing analyses based on the publicly available imagery, indicated that there could have been as many as 485 Russian soldiers killed or wounded and more than 80 pieces of equipment destroyed.
As the news of the losses at the river crossing in Bilohorivka started to spread, some Russian bloggers did not appear to hold back in their criticism of what they said was incompetent leadership.
"I've been keeping quiet for a long time," Yuri Podolyaka, a war blogger with 2.1 million followers on Telegram, said in a video posted on Friday, saying that he had avoided criticizing the Russian military until now.
"The last straw that overwhelmed my patience was the events around Bilohorivka, where due to stupidity — I emphasize, because of the stupidity of the Russian command — at least one battalion tactical group was burned, possibly two."
Mr. Podolyaka ridiculed the Kremlin line that the war is going "according to plan." He told his viewers in a five-minute video that, in fact, the Russian Army was short of functional unmanned drones, night-vision equipment and other kit "that is catastrophically lacking on the front."
"Yes, I understand that it's impossible for there to be no problems in war," he said. "But when the same problems go on for three months, and nothing seems to be changing, then I personally and in fact millions of citizens of the Russian Federation start to have questions for these leaders of the military operation."
Another popular blogger, who goes by Starshe Eddy on Telegram, wrote that the fact that commanders left so much of their force exposed amounted to "not idiocy, but direct sabotage."
And a third, Vladlen Tatarski, posted that Russia's eastern offensive was moving slowly not just because of a lack of surveillance drones but also "these generals" and their tactics.
"Until we get the last name of the military genius who laid down a B.T.G. by the river and he answers for it publicly, we won't have had any military reforms," Mr. Tatarski wrote.
Western military analysts have also pored over the imagery and say the attempted crossing demonstrated a stunning lack of tactical sense.
They have speculated that Russian commanders, desperate to make progress, rushed the operation. Some also suggested that it was a reflection of disorder in the Russian ranks.
If the estimates that hundreds of soldiers were killed or injured prove accurate, it would be one of the deadliest known engagements of the war.