For Donald Trump and his conservative enablers who argue that Russia's "dezinformatsiya" social media propaganda attack on the 2016 election had no effect on the outcome, there is a similar American right-wing disinformation propaganda campaign that demonstrates just how wrong you are.
The political network affiliated with billionaire industrialists Charles and David Koch launched a multimillion-dollar campaign to sell the recently passed GOP tax plan to voters ahead of the 2018 midterm elections. Koch Network To Launch Multimillion-Dollar Campaign To Try To Convince Americans To Support The New Tax Plan. The result: the Republican tax cut law, which once appeared overwhelmingly unpopular, is now supported by a narrow majority of Americans, according to a Survey Monkey poll. Tax Overhaul Gains Public Support, Buoying Republicans: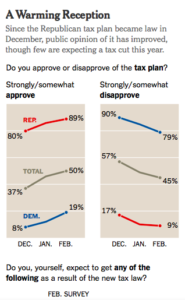 The growing public support for the law coincides with … an aggressive effort by Republicans, backed by millions of dollars of advertising from conservative groups, to persuade voters of the law's benefits.
Over all, 51 percent of Americans approve of the tax law, while 46 percent disapprove, according to a poll for The New York Times conducted between Feb. 5 and Feb. 11 by SurveyMonkey. Approval has risen from 46 percent in January and 37 percent in December, when the law was passed.
"Public opinion is moving in the direction of this bill," said Jon Cohen, chief research officer for SurveyMonkey. "Considering where it was, it is dramatically different."
Donald Trump is president thanks to 80,000 people in three states: Michigan, Pennsylvania and Wisconsin. "Trump won those states by 0.2, 0.7 and 0.8 percentage points, respectively — and by 10,704, 46,765 and 22,177 votes. Or put another way: But for 79,646 votes cast in those three states, Hillary Clinton would be the president of the United States."
The Russian "dezinformatsiya" social media propaganda attack on the U.S. election only had to move a small number of voters in key swing states to succeed. It is an imponderable question to know whether it did. There is no way to state with any degree of certainty how many votes may have been swayed by Russian "dezinformatsiya" social media propaganda, often forwarded or retweeted by millions of "unwitting" Americans as the Special Counsel's indictment recites (or "useful idiots" as Joseph Stalin referred to them). How Unwitting Americans Encountered Russian Operatives Online.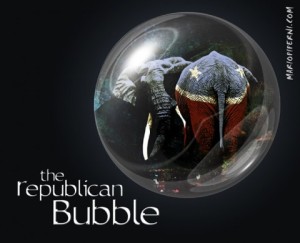 Propaganda is effective. The Republican Party is effectively a fully integrated propaganda machine that rivals and exceeds anything that the Soviets/Russians have engaged in since 1917.
The conservative media entertainment complex includes talk radio, internet web sites, print magazines and newspapers, think tanks that supply an endless stream of talking heads and op-eds, non-profit political action committees (like those funded by the Koch brothers, above), and broadcast television networks, including behemoths Sinclair Broadcasting and FOX News. It also has its own troll army on social media.
Vladimir Putin only wishes he had the sophisticated propaganda machine that the Republican Party enjoys. By happenstance or by design, the conservative media entertainment complex is doing Russia's bidding for Putin. The conservative media entertainment complex is effectively an ancillary to Russian "active measures" propaganda. Fox News Hosts, Conservative Media Use Russia Charges to Bash FBI:
President Donald Trump's top media allies came to a series of confusing conclusions following news that special counsel Robert Mueller indicted 13 Russian nationals for meddling in the 2016 election.
While Friday's announcement did not indicate whether Muller would indict anyone connected to Trump's 2016 campaign, conservative media stars were quick to echo the president's own claim that the new indictments completely vindicated him.
They additionally used the indictments to bash the FBI for the news that the bureau's Miami office failed to act upon a tip about the Florida massacre's gunman; or for the Mueller probe of alleged collusion between the Trump campaign and Russia—a subject of incessant right-wing fury.
Note: Conservative media was parroting what the Russian troll farm and its social media "bots" were doing at the very same time. After Florida School Shooting, Russian 'Bot' Army Pounced: "One hour after news broke about the school shooting in Florida last week, Twitter accounts suspected of having links to Russia released hundreds of posts taking up the gun control debate. The accounts addressed the news with the speed of a cable news network."
"Today marks the day that the Democrats' Russia collusion conspiracy theory unravelled," former cable news star and current Republican National Committee spokeswoman Kayleigh McEnany boldly declared on Fox News immediately following the news.
Similarly, pro-Trump news site The Daily Caller reacted to the indictments with a "COLLUSION CRUMBLES" headline. Their even more pro-Trump counterparts at Breitbart News blared that the indictments showed "STILL NO 'COLLUSION'" in the Russia probe. The site additionally noted that the Russian trolls "HELD RALLIES *AGAINST* PRESIDENT-ELECT" as part of their disruptive efforts.
Breitbart also pivoted to bash the FBI, arguing that the bureau spent "untold number of resources" investigating the "pee pee" dossier—a reference to some of the dossier's more salacious claims—while it failed to follow a tip about Nikolas Cruz, the alleged gunman behind the Florida massacre.
Fox Business Network anchor and vocal Trump booster Trish Regan made a similar pivot, arguing that there needs to be a "change of guard" at the FBI because it was allegedly too distracted by the controversial Trump dossier to prevent any Russia meddling in the election or the Parkland, Florida, shooting that left 17 people dead on Wednesday.
"They're too busy working on that Christopher Steele memo so that they can get a FISA warrant to spy on people," Regan ranted. "It seems like the priorities have completely gotten lost." She additionally used the opportunity to call upon FBI chief Christopher Wray to resign.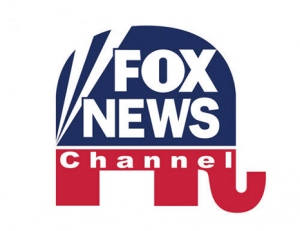 Fox News weekend host Jeanine Pirro took to Twitter with a bizarre theory that Mueller's latest indictment was a planned distraction. "Why is DOJ announcing indictment – to deflect from fact FBI DROPPED THE BALL twice on shooter who killed 17 people?
Perhaps the biggest whiplash-inducing reaction came from Fox News host Sean Hannity, who declared the indictments definitely proved "no collusion."
He then tweeted, "We have been warning everyone about Putin and Russian operatives in the USA for a long time," before abruptly pivoting to Hillary Clinton: "That's the BIG story of Uranium one. This needs to end."
The talk-radio star was referring to the conservative desire for further investigation of Clinton's involvement in an Obama-era decision to allow a Russian company to purchase a uranium mining company in the United States.
Vox.com analyzies how Fox News spun the Mueller indictment and Florida shooting into a defense of the president. Fox News's appalling past 72 hours, analyzed. The report concludes:
It's been an astounding 72 hours on Fox News
The data paints a clear story of how damaging it is for a media outlet to prioritize its defense of the president. In the past 72 hours, Fox News:
Limited its coverage of what the indictment actually reveals: evidence of foreign organizations trying to undermine American democracy
Drastically reduced coverage of the Florida school shooting to push pundits onto TV to say this story actually vindicates President Trump, even though it does nothing of the sort
Used a detail of the school shooting to push the narrative that the FBI, and by extension the Muller investigation, is flawed — and gave cover to President Trump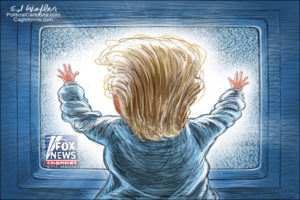 It's easy to just chalk all this up to Fox News being Fox News. But Fox News is the main source of news for 19 percent of 2016 voters, including 40 percent of Trump voters. There's academic evidence that Fox News is more powerful than we ever imagined. It's a network that allows conspiracy theorists to make hay out of baseless lies. And to top it all off, there is evidence that the hosts see their jobs as advising Trump — talking directly to him — and that Trump sees them as his main information source.
This is why it's important to keep track of what Fox News is doing. While Russians may have used clever trolling tactics to sow distrust in the American political process, Fox News does this out in the open, and it does it with a megaphone every single night, directly into the living rooms and the minds of millions and millions of Americans.
FOX News (aka Trump TV) has become the ancillary to the RT (formerly Russia Today) television network … Putin's fifth column of fellow travelers in America.