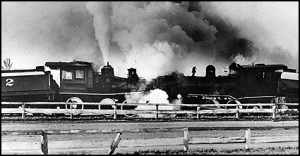 There is a train wreck coming, and the GOP leadership in Congress is at a loss to know how to stop it.  Tea-Publicans are the anti-government party that has held the government hostage to their extortionate shutdown demands 11 previous times since taking back control of Congress. Steve Benen documents the impending government shutdown is the 12th time we've been through this just since April of 2011, and provides a helpful timeline of all the other 11 standoffs.
GOP leadership knows that the public will blame them for any government shutdown. House GOP leaders to members: We'll be blamed for shutdown:
House GOP leaders are trying to convince their rank and file it would be a bad move to risk a government shutdown over blocking funding for Planned Parenthood.
At a closed-door conference meeting on Thursday morning, leadership presented their members with polling data from the House GOP's campaign arm showing Republicans would be blamed for a government shutdown.
"They showed us some polling data about shutdown versus defunding Planned Parenthood and obviously showing in their opinion that it would be a political bad move," said Rep. John Fleming (R-La.), a conservative who has pledged not to vote for Planned Parenthood funds.
Rep. Matt Salmon (R-Ariz.), another conservative who wants to defund Planned Parenthood through a government-funding bill, also said GOP leaders think the data showed Republicans would be responsible.
"They're trying to let us know that if we submit a bill to the president that defunds Planned Parenthood and he says he's going to veto that, that we'll be blamed for a shutdown and that the American public doesn't support that," Salmon told reporters.
"I don't think it's an accurate picture of everything," he added. "As I mentioned, there's nobody in the conference that wants a shutdown. Nobody wants that, but I think that the president ultimately has to either put up or shut up."
Salmon said GOP leaders always surrender in these shutdown fights.
"Our leaders wave the white flag every time there's any kind of a confrontation," he said.
No decisions have been finalized yet on how to deal with Planned Parenthood, the lawmakers said, and leadership still says it is listening to members and is open to ideas.
At the same time, GOP leaders appear to be leaning toward using budget reconciliation rules to defund the group. The rules would allow a bill to move through the Senate on a majority vote, preventing the minority from filibustering. President Obama would still veto such a measure, but it would at least reach his desk and could be politically useful to the GOP.
Speaker John Boehner (R-Ohio) referred to reconciliation after the meeting.
House Republicans still don't have a conference-unifying strategy to avoid a shutdown and defund Planned Parenthood.  Republicans Split on Planned Parenthood Strategy as Shutdown Nears:
Tom Cole (R-OK) said he thought House Republicans would coalesce at the eleventh hour around a short-term continuing resolution to avoid a rerun of 2013, when the government shut down for more than two weeks over funding the Affordable Care Act.
Rep. John Shimkus (R-IL) agreed everything would probably work out in the end. "I've been here long enough — it's amazing how much we can get done in a short amount of time when we have to," the 10-term lawmaker said.
Despite the congressman's optimism, the circumstances surrounding efforts to pass a government spending bill this year are particularly challenging.
Speaker John Boehner is struggling to keep his hold on his members and stay on message amid talk of a possible coup as insurgent Republican members are determined to force their party to take a definitive stand on defunding Planned Parenthood. The women's health organization and abortion provider has become a conservative target after the release of videos showing Planned Parenthood officials discussing the harvesting of fetal tissues.
* * *
An unspoken understanding is that these steps are being deployed to prepare members for the reality they will eventually have to vote for a "clean" continuing resolution, while also showing lawmakers that their concerns about Planned Parenthood are being taken seriously.
* * *
Boehner stressed at his Thursday morning news conference there are "a lot of steps in this process," and plenty of tools in the arsenal to undermine Planned Parenthood's ability to function.
Still, for many House Republicans, Boehner hasn't really exhausted his options if he doesn't agree to move on a CR that contains defunding provisions. More than 50 members have pledged not to vote for any stopgap spending bill that lacks the key policy rider.
These lawmakers care little for arguments that the Republican Party will pay a political price if the fight on defunding Planned Parenthood leads to a lapse in funding for federal operations.
* * *
Rep. Matt Salmon, R-Ariz., had a similar take Thursday morning: "There's nobody in the conference that wants a shutdown. Nobody wants that. But I think we want to make sure the president ultimately has to either put up or shut up. I mean, he threatens vetoes all the time but nothing ever gets to his desk. Ever. So our leaders wave the white flag every time there's an opportunity."
It all leaves Boehner with a question of if, or when, to go ahead with a clean bill and rely on Democratic votes to make up for a shortfall of support on his side of the aisle. But he'll probably have to make a concession on something, namely the promise of negotiations to lift sequester levels for a longer-term spending bill needed to fund government operations for the remainder of fiscal 2016.
Pelosi, at her own news conference Thursday, dismissed Republicans' maneuvering as intentional obstructionism: "Shutting down government is the goal; defunding Planned Parenthood is an excuse."
As for whether Boehner has approached her yet to discuss options for a bipartisan vote to keep government running on Oct. 1, Pelosi replied, "I have spoken to Speaker Boehner about when we will speak about it."
Unlike the feckless GOP leadership, Democrats Are Unified on a Shutdown Strategy:
While Republicans are splintering into factions and debating the merits of another shutdown fight and yet another coup attempt against Speaker John A. Boehner, Democratic leaders put forward a united front Thursday after huddling with President Barack Obama for an hour and a half.
House Minority Leader Nancy Pelosi, D-Calif., and Senate Minority Leader Harry Reid, D-Nev., laid out their demands to reporters late Thursday outside the West Wing.
The duo pushed for a short-term continuing resolution to keep the government open without riders and with any additional funding equally divided between defense and non-defense programs "dollar for dollar."
All three top Democrats are committed to block any Republican attempts to defund Planned Parenthood, and Reid went out of his way to praise Senate Majority Leader Mitch McConnell, R-Ky., for showing a willingness to negotiate higher spending caps and a clean CR.
The House, however, is a different story, with a faction of Republicans eyeing another attempt to replace Boehner should he, as expected, end up going along in the end with a CR that allows Planned Parenthood to keep its roughly $500 million in funding. [See, Would-Be Boehner Successors Jockeying to Line Up Support; Kevin McCarthy defends Boehner, tells conservatives: 'Let's move on'.]
Some conservative Republicans have predicted that Boehner would need the support of Democrats to survive a motion to vacate the chair. Shortly after leaving the White House, Pelosi met with Boehner in the speaker's office for about 20 minutes, according to an aide. [See, Boehner, Pelosi huddle ahead of funding showdown.]
If the TanMan, the "Worst. Speaker. Ever." expects Nancy Pelosi and Democrats to rescue his sorry ass from his mutinous crew in the GOP House Freedom Caucus, he may be left hanging. Dems might not save Boehner:
Speaker John Boehner (R-Ohio) shouldn't count on Democratic support if conservatives in the GOP conference attempt to oust him, Rep. Chris Van Hollen (D-Md.) said on Friday.
"I cannot say that he can count on the support of Democrats," Van Hollen, the top Democrat on the House Budget Committee, said at a breakfast hosted by The Christian Science Monitor.
"My view is that the Republican caucus will have to make its own decisions," Van Hollen added.
The Maryland Democrat, who's running for the Senate next year, went on to say he would have to think "long and hard" about that question again if there is a motion to vacate Boehner from the speakership.
"My view is that the Republican caucus should find its leader," he said.
* * *
[H]is comments are noteworthy because most Democratic leaders have refused so far to weigh in on the issue of Boehner's future.
On Wednesday, for example, House Minority Whip Steny Hoyer (D-Md.) did not say whether House Democrats could vote for Boehner as Speaker. "We'll have to make some decision on what we want to do if such a vote is forced," he said.
A few months ago, The Hill reported that most Democrats would protect Boehner in such a vote because they wouldn't want to see a Tea Party member leading the House.
* * *
"It appears the Speaker is much more worried about his own speakership than he is about shutting down the government," Van Hollen said at the beginning of the breakfast.
Boehner has "got to work with Democrats" in order to accomplish key issues on the legislative agenda, he said.
If Democrats have to come to the rescue of the TanMan's speakership from his own party, Democrats will own him; Boehner will owe Nancy Pelosi and the Democrats "big time." But Boehner will effectively be rendered powerless within his own GOP caucus, who just tried to toss him overboard. Boehner might be motivated to retaliate against the mutineers, as he has done in the past. The House will devolve into more chaos than previously under his poor leadership. The TanMan really should consider retirement at this point.
In any event, the GOP is demonstrating it is a political party that is incapable of governing responsibly, and should not be trusted with the keys to Congress, or the White House.