Arizona Senator Jeff Flake was startled a few months ago when a constituent pressed him on whether he was willing to hold up any Supreme Court nominee chosen by Hillary Clinton if she was elected president. The New York Times reports, That Supreme Court Stonewall May Not Crumble Anytime Soon:
"I asked for how long, and he said for four years," Mr. Flake, an Arizona Republican, recounted in an interview. "I said no, of course not. That is not what I came to Washington to do."
Sen. Flake had better have a talk with his seat mate, "Senator Obstruction," John McCain. McCain: Republicans must stop Supreme Court from 'tilting to the left':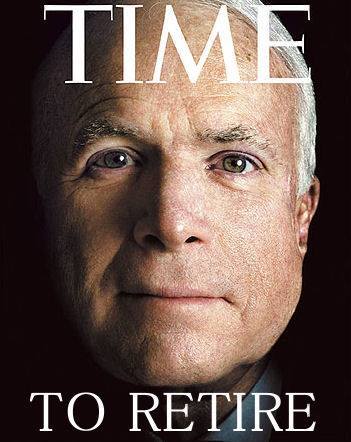 Speaking at a modest get-out-the-vote rally at the spring training ballpark of the Chicago Cubs, Sen. John McCain (R-Ariz.) revisited an idea he'd walked back last month — that a Republican majority in the Senate would be ready to fight any Hillary Clinton nominee to the Supreme Court.
"There could be as many as three Supreme Court justices that will be chosen in the next four years," McCain said. "We have to have a Senate who will prevent that four-to-four split from tilting to the left and making decisions that will harm this nation for decades to come."
That was all McCain said about the court, at a rally headlined by Mitt Romney and covered by MSNBC, CNN and Showtime. But it resembled a remark McCain gave to a Philadelphia radio station last month, promising that Republicans would "be united against any Supreme Court nominee that Hillary Clinton, if she were president, would put up."
The Times report continues:
[This is] precisely what some of [Flake's] Republican colleagues are considering. Having already blocked President Obama's nominee to replace Justice Antonin Scalia since March, they contend that Republicans should indefinitely stall any nomination by Mrs. Clinton to prevent an ideological shift in the court. Such a blockade would represent a major escalation in the judicial wars that have been waged in the Senate since the 1980s.
Mr. Flake and other Republicans say that would be a terrible mistake. "You just can't do that," Mr. Flake said. "You shouldn't and you can't. People expect to have a full court."
But if Mrs. Clinton prevails and Republicans hold the Senate, they are likely to come under immense pressure from conservative groups to do whatever is necessary to prevent her from filling seats on the court, considered by many Republicans as their last defense against the advance of liberal social and governmental policy.
The idea of denying Mrs. Clinton a court pick has been quietly simmering in conservative circles as Republicans held firm in their refusal to take up the president's nomination of Merrick B. Garland before the election. It burst into the open in recent weeks after Senator John McCain, the Arizona Republican who formerly tried to defuse judicial clashes, said that Republicans would stand united against any nominee chosen by Mrs. Clinton. Senator Ted Cruz of Texas followed that up with comments pointing to a precedent for extended vacancies on the court.
This week, Senator Richard M. Burr of North Carolina, who is in a tough re-election fight, was heard on a recording obtained by CNN promising to "do everything I can do to make sure four years from now, we still got an opening on the Supreme Court."
The comments were a significant departure from the Republican Party's public position that the court seat was being held open only to give voters a say in the choice through the election of a new president. Senator Mitch McConnell of Kentucky, the majority leader, has said repeatedly that filling the court vacancy should be left to the next president, not Mr. Obama.
Senator Susan Collins of Maine, who has met with Judge Garland and believes the party should have taken up his nomination, said . . . "Emotions are running really high now at this stage of the most bizarre presidential election of my lifetime," she said. "After the election, I believe there will be a reassessment of how we should approach judicial nominees."
Ms. Collins, who was part of the so-called Gang of 14 that in 2005 struck a deal that judges should not be blocked except under extraordinary circumstances, said the Senate should return to that standard.
* * *
Other senators with influence on judicial matters have sought to stave off the idea of a running blockade. Senator Lindsey Graham [John McCain's puppet boy], a South Carolina Republican who sits on the Judiciary Committee, joined in resisting hearings for Judge Garland, but he told me months ago that he had already warned his colleagues that he would be ready to back a nominee by Mrs. Clinton as long as the choice was qualified.
And Senator Charles E. Grassley of Iowa, the Judiciary Committee chairman who has been pummeled by Democrats for refusing to set hearings on Judge Garland, indicated recently that he intended to act on the new president's Supreme Court nomination. "If that new president happens to be Hillary, we can't just simply stonewall," he told a group of radio reporters.
If Democrats win the Senate and Mrs. Clinton becomes president, Republicans could try to block a nomination through a filibuster. But both parties fully expect that Democrats would quickly take procedural steps to deny Republicans the ability to do so, just as they did in 2013 when they lowered the threshold for breaking filibusters against most judicial nominees from 60 votes to a simple majority.
The Supreme Court was not included in that change because some senior Democrats feared the decision might backfire if it left them unable to block a future conservative choice they opposed. But after the Republican treatment of Judge Garland, Democrats would have little reluctance to force through the change now if Republicans carried out a Supreme Court filibuster.
The Washington Post today adds to its reporting on the post-election plot for Tea-Publican tyranny. Some Republicans are discussing their plans for President Clinton — starting with impeachment:
Senior Republican lawmakers are openly discussing the prospect of impeaching Hillary Clinton should she win the presidency, a stark indication that partisan warfare over her tenure as secretary of state will not end on Election Day.
Chairmen of two congressional committees said in media interviews this week they believe Clinton committed impeachable offenses in setting up and using a private email server for official State Department business.
And a third senior Republican, the chairman of a House Judiciary subcommittee, told The Washington Post he is personally convinced Clinton should be impeached for influence peddling involving her family foundation. He favors further congressional investigation into that matter.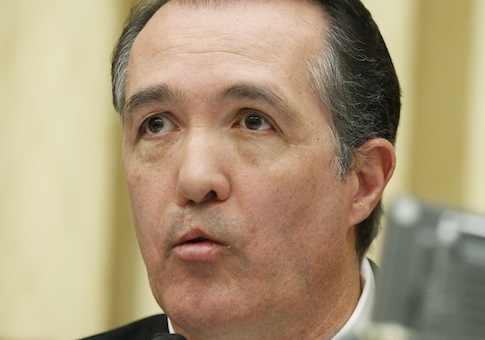 "It is my honest opinion that the Clinton Foundation represents potentially one of the greatest examples of political corruption in American history," said Rep. Trent Franks (R-Ariz.), who leads the Constitution and Civil Justice subcommittee. "Now that perspective may be disproven, time will tell. But given that conviction on my part, I think all options are definitely on the table."
The impeachment talk is the latest sign that Clinton will not be handed a clean slate — let alone an extended honeymoon — by Republican lawmakers should she win the presidency.
* * *
Republican lawmakers have aggressively questioned Clinton's State Department dealings for months, with a special committee impaneled to probe the handling of the 2012 Benghazi attacks and separate probes of the department's personnel practices and handling of classified documents found on her private email server.
Top GOP leaders have previously indicated they will aggressively investigate Clinton if she is elected president. Rep. Jason Chaffetz (R-Utah), chairman of the House Oversight and Government Reform Committee, said last month he considered a Clinton administration a "target-rich environment" and that "we've got two years' worth of material already lined up" for investigations.
Should they keep control of the House in the next Congress, Republicans could easily launch impeachment proceedings, with political will as the most significant obstacle.
* * *
Neither Chaffetz nor House Judiciary Committee Chairman Robert Goodlatte (R-Va.) have called for Clinton's impeachment, but they have made clear they intend to continue probing her emails. In a joint letter sent Thursday, the two chairmen called on Attorney General Loretta E. Lynch to preserve documents related to the email investigation, including the new evidence the FBI disclosed last week.
Chaffetz and Goodlatte have also asked the federal investigators to probe whether Clinton committed perjury during 2015 testimony before the Benghazi panel.
Democrats have warned voters in recent days of apparent GOP obstruction to come, citing the impeachment threats.
"It doesn't matter what evidence . . . they'll find something — that's what they're saying already," President Obama said Wednesday during a campaign stop in Chapel Hill, N.C. "How does our democracy function like that?"
House Minority Leader Nancy Pelosi (D-Calif.) said Thursday that impeaching Clinton for alleged actions that took place before the election "would be a brazen attempt to nullify the vote of the American people, outside our constitutional framework and destructive to the Framers' intent."
* * *
[S]enior Republicans say they are convinced Clinton has broken the law and are speculating that she could be criminally charged after she is elected.
Rep. Michael McCaul (R-Texas), chairman of the House Homeland Security Committee, told Fox News Tuesday the probe into Clinton's emails "will continue whether she wins or not."
"Assuming she wins and the investigation goes forward and it looks like an indictment is pending, at that point in time under the Constitution, the House of Representatives would engage in an impeachment trial," he said, warning of a possible "constitutional crisis."
In a separate Fox News interview Thursday, McCaul accused Clinton of committing "treason" in mishandling classified documents.
Sen. Ron Johnson (R-Wis.), chairman of the Senate Homeland Security and Government Affairs Committee, told a Wisconsin newspaper Monday that Clinton could be impeached, citing federal laws against "willful concealment and destruction."
"I'm not a lawyer, but this is clearly written," he told the Beloit Daily News. "I would say yes, high crime or misdemeanor, I believe she is in violation of both laws."
Both McCaul and Johnson have political imperatives for taking a hard line on Clinton: Johnson is locked in a close race to keep his Senate seat and has moved recently to shore up his support among his Republican base. McCaul is said to be considering a possible Senate run against fellow Republican Ted Cruz in 2018.
Former GOP congressman Tom Davis, who served on the House Oversight Committee during the first Clinton administration, warned lawmakers against overreach.
* * *
Rep. Gerry Connolly (D-Va.), a current member of the Oversight panel, called the impeachment talk "reprehensible, reckless and un-American" and called it part of a two-decade GOP campaign to undermine Democratic presidents. But he said the failure of the 1998 Bill Clinton impeachment and President Obama's current popularity shows that perpetual opposition isn't necessarily good politics.
"We've got a base, too, and for every action in politics there is a reaction," Connolly said. "If you want to fire up our base, keep on making statements like that."
Other prominent Republicans stopped short this week of suggesting that impeachment should be in the offing.
Sen. John Cornyn (R-Texas) called the talk "premature" during an interview on a Texas radio station Tuesday. "She hasn't been elected or sworn into office," he said, according to a CNN report on the interview. "And unless there is some additional evidence that the FBI director and the Justice Department would take to a grand jury, then she is not likely to be convicted of a crime."
Rep. James Sensenbrenner (R-Wis.), a former Judiciary Committee chairman who played a leading role in the 1998 Clinton impeachment, called talk of a Hillary Clinton impeachment "speculative" in a Wisconsin radio interview Tuesday.
The New York Times editorializes today, Donald Trump's Impeachment Threat:
Donald Trump and other embattled Republican candidates are resorting to a particularly bizarre and dangerous tactic in the closing days of the campaign — warning that they may well seek to impeach Hillary Clinton if she wins, or, short of that, tie her up with endless investigations and other delaying tactics.
Of all the arguments advanced by the Trump forces, this has to be among the most preposterous. In effect, what they're saying is, Mrs. Clinton won't be able to govern, because we won't let her. So don't waste your vote on her. Vote for us.
In a rational world — you know, one that values comity and progress in the national interest — this line of argument would be seen as incendiary at worst and hopelessly wacky at best. Not so in Trumpland, where the candidate himself warns (as he did in Miami on Wednesday) that a Clinton victory would "create an unprecedented and protracted constitutional crisis," raising the specter that government would be severely hobbled by congressional Republicans' open-ended investigations and a determination to impeach Mrs. Clinton. All this even if she was fairly elected by a majority of American voters.
* * *
The tactic is a rejection of the nation's need of a functioning government and a tacit concession that Mr. Trump may be losing and that he can be saved only by more scare tactics. Other Republican candidates in tight races have picked up this theme. The G.O.P. phrase du jour is "constitutional crisis," depicting a hog-tied executive and a Republican Congress obsessed with perpetuating their demonization of Mrs. Clinton. Senator Richard Burr, campaigning for re-election in North Carolina, took the Trump fantasy one step further, telling supporters: "Could she pardon herself? And the answer is yes."
Rudy Giuliani, one of Mr. Trump's most zealous acolytes, echoed this cry to carry the battle forward into a Clinton administration. "I guarantee you in one year she'll be impeached and indicted," Mr. Giuliani promised Iowa voters this week. "It's just going to happen. We're going to sort of vote for a Watergate."
As nonsensical as this strategy appears, these threats could cause real damage by encouraging Republicans in the next Congress to effectively take the government hostage, exacting revenge by making sure that nothing Mrs. Clinton proposes ever comes to pass. President Obama put it well in underlining the dangers. "Right now, because a lot of them think that Trump will lose, they're already promising even more unprecedented dysfunction in Washington," he told North Carolina voters this week. "How does our democracy function like that?"
That is not a question remotely of interest to Mr. Trump, in his kamikaze politicking. Yet in recalling the tumultuous impeachment of President Bill Clinton, Mr. Trump neglects to note that he was opposed to it, writing in 2000 that he "got a chuckle out of all the moralists in Congress and in the media." Mr. Giuliani, before his servile devotion to Mr. Trump, also opposed Mr. Clinton's impeachment.
Beyond simple hypocrisy, the Republicans' impeachment threat demonstrates their gathering disrespect for democracy. If they can't gain control of government fairly, they'll simply undermine it. It is the clearest warning yet that voters must deliver a firm rejection of the politics of division that Mr. Trump represents.