With the latest revelations we are left with only two options: (1) Donald Trump is an asset of Russian intelligence, or (2) he is guilty of dereliction of duty as commander-in-chief to defend the safety and security of the United States. I suppose a third option may be that both apply, they are not mutually exclusive. Either way, Trump must resign or be removed from office.
The Associated Press reports that Trump was briefed about the Russian bounty on the heads of American troops over a year ago. AP sources: White House aware of Russian bounties in 2019:
Top officials in the White House were aware in early 2019 of classified intelligence indicating Russia was secretly offering bounties to the Taliban for the deaths of Americans, a full year earlier than has been previously reported, according to U.S. officials with direct knowledge of the intelligence.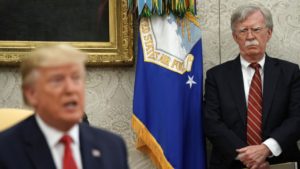 The assessment was included in at least one of President Donald Trump's written daily intelligence briefings at the time, according to the officials. Then-national security adviser John Bolton also told colleagues at the time that he briefed Trump on the intelligence assessment in March 2019.
[The officials with knowledge of Bolton's apparent briefing for Trump said it contained no "actionable intelligence," meaning the intelligence community didn't have enough information to form a strategic plan or response. However, the classified assessment of Russian bounties was the sole purpose of the meeting.]
The House and Senate intelligence Committees should subpoena John Bolton today for his testimony, behind closed doors if necessary for national security reasons.
The White House didn't respond to questions about Trump or other officials' awareness of Russia's provocations in 2019. The White House has said Trump wasn't — and still hasn't been — briefed on the intelligence assessments because they haven't been fully verified. [This is total bullshit!] However, it's rare for intelligence to be confirmed without a shadow of a doubt before it is presented to top officials.
Bolton declined to comment Monday [because the information is classified] when asked by the AP if he'd briefed Trump about the matter in 2019. On Sunday, he suggested to NBC that Trump was claiming ignorance of Russia's provocations to justify his administration's lack of response.
"He can disown everything if nobody ever told him about it," Bolton said.
The revelations cast new doubt on the White House's efforts to distance Trump from the Russian intelligence assessments. The AP reported Sunday that concerns about Russian bounties also were in a second written presidential daily briefing this year and that current national security adviser Robert O'Brien had discussed the matter with Trump. O'Brien denies doing that.
The administration's earlier awareness of the Russian efforts raises additional questions about why Trump didn't take punitive action against Moscow for efforts that put the lives of American service members at risk. Trump has sought throughout his time in office to improve relations with Russia and President Vladimir Putin, moving this year to try to reinstate Russia as part of a group of world leaders it had been kicked out of.
* * *
The intelligence that surfaced in early 2019 indicated Russian operatives had become more aggressive in their desire to contract with the Taliban and members of the Haqqani Network, a militant group aligned with the Taliban in Afghanistan and designated a foreign terrorist organization in 2012 during the Obama administration.
The National Security Council and the undersecretary of defense for intelligence held meetings regarding the intelligence. The NSC didn't respond to questions about the meetings.
* * *
Concerns about Russian bounties flared anew this year after members of the elite Naval Special Warfare Development Group, known to the public as SEAL Team Six, raided a Taliban outpost and recovered roughly $500,000 in U.S. currency. The funds bolstered the suspicions of the American intelligence community that Russians had offered money to Taliban militants and linked associations.
The White House contends the president was unaware of this development, too.
The officials told the AP that career government officials developed potential options for the White House to respond to the Russian aggression in Afghanistan, which was first reported by The New York Times. However, the Trump administration has yet to authorize any action.
The intelligence in 2019 and 2020 surrounding Russian bounties was derived in part from debriefings of captured Taliban militants. Officials with knowledge of the matter told the AP that Taliban operatives from opposite ends of the country and from separate tribes offered similar accounts.
* * *
The U.S. is investigating whether Americans died because of the Russian bounties. Officials are focused on an April 2019 attack on an American convoy. Three U.S. Marines were killed after a car rigged with explosives detonated near their armored vehicles as they returned to Bagram Airfield, the largest U.S. military installation in Afghanistan.
The Defense Department identified them as Marine Staff Sgt. Christopher Slutman, 43, of Newark, Delaware; Sgt. Benjamin Hines, 31, of York, Pennsylvania; and Cpl. Robert Hendriks, 25, of Locust Valley, New York. They were infantrymen assigned to 2nd Battalion, 25th Marines, a reserve infantry unit headquartered out of Garden City, New York.
Hendriks' father told the AP that even a rumor of Russian bounties should have been immediately addressed.
"If this was kind of swept under the carpet as to not make it a bigger issue with Russia, and one ounce of blood was spilled when they knew this, I lost all respect for this administration and everything," Erik Hendriks said.
The officials who spoke to the AP also said they were looking closely at insider attacks from 2019 to determine if they were linked to Russian bounties.
The New York Times follows up its earlier reporting, Trump Got Written Briefing in February on Possible Russian Bounties, Officials Say:
American officials provided a written briefing in late February to President Trump laying out their conclusion that a Russian military intelligence unit offered and paid bounties to Taliban-linked militants to kill U.S. and coalition troops in Afghanistan, two officials familiar with the matter said.
The investigation into the suspected Russian covert operation to incentivize such killings has focused in part on an April 2019 car bombing that killed three Marines as one such potential attack, according to multiple officials familiar with the matter.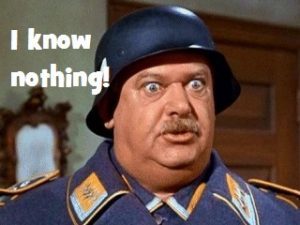 The new information emerged as the White House tried on Monday to play down the intelligence assessment that Russia sought to encourage and reward killings — including reiterating a claim that Mr. Trump was never briefed about the matter and portraying the conclusion as disputed and dubious.
But that stance clashed with the disclosure by two officials that the intelligence was included months ago in Mr. Trump's President's Daily Brief document — a compilation of the government's latest secrets and best insights about foreign policy and national security that is prepared for him to read. One of the officials said the item appeared in Mr. Trump's brief in late February; the other cited Feb. 27, specifically.
Moreover, a description of the intelligence assessment that the Russian unit had carried out the bounties plot was also seen as serious and solid enough to disseminate more broadly across the intelligence community in a May 4 article in the C.I.A.'s World Intelligence Review, a classified compendium commonly referred to as The Wire, two officials said.
This tells me that the Intelligence Community, including the National Security, Defense and Intelligence Committees of Congress should have been aware of this intelligence at that time.
A National Security Council spokesman declined to comment on any connection between the Marines' deaths and the suspected Russian plot.
Trapped in a lie, the Trump White House is now threatening those who leaked this information to reporters.
Late Monday, John Ratcliffe, the recently confirmed director of national intelligence, issued a statement warning that leaks about the matter were a crime.
* * *
[I]n denying that Mr. Trump was briefed, administration officials have been coy about how it is defining that concept and whether it includes both oral briefings and the President's Daily Brief. "He was not personally briefed on the matter," Ms. McEnany told reporters when asked specifically about the written briefing. "That is all I can share with you today."
The AP reporting says that John Bolton and Robert O'Brien both discussed the intelligence with Trump.
American intelligence officers and Special Operations forces in Afghanistan began raising alarms as early as January, and the National Security Council convened an interagency meeting to discuss the problem and what to do about it in late March, The New York Times has previously reported. Spies and Commandos Warned Months Ago of Russian Bounties on U.S. Troops. But despite being presented with options, including a diplomatic protest and sanctions, the White House authorized no response.
* * *
Lawmakers demanded to see the underlying material for themselves.
"This is a time to focus on the two things Congress should be asking and looking at: No. 1, who knew what, when, and did the commander in chief know? And if not, how the hell not?" said Senator Ben Sasse, Republican of Nebraska and a member of the Senate Intelligence Committee.
Speaker Nancy Pelosi and Senator Chuck Schumer of New York, the Democratic leaders of the House and Senate, each requested that all lawmakers be briefed on the matter and for C.I.A. and other intelligence officials to explain how Mr. Trump was informed of intelligence collected about the plot.
Congress needs to demand to see the Presidential Daily Briefings (PDB) and the underlying raw intelligence. And just to be clear, even if Donald Trump did not read his PDB, a dereliction of duty, that same PDB goes to everyone in the national security apparatus – State, Defense, National Security, Intelligence Community – so the advisors to the president certainly read it. And their failure is also a dereliction of duty. They should all resign.
The Daily Beast reports, Trump Officials Didn't Want to Tell Him About the 'Russian Bounties' (excerpt):
[T]he problem is not just a matter of dissembling; according to several sources, it's a matter of Trump not wanting to know about intelligence outside his comfort zone, and the reluctance of officials to push information on him they know he will resist, especially if their conclusions are less than clear-cut. Those may go into a PDB, but not get mentioned in a face-to-face briefing.
* * *
The person cited above with knowledge of the intelligence circulating at the White House about the Russian offer of bounties to kill Americans told The Daily Beast they did not dispute accounts suggesting the information had appeared in at least one PDB. But the source noted that the chances that Trump would have read that by himself are "basically zero."
A former Trump administration official with knowledge about the president's intelligence briefings said the assessment about the Russian bounties should have been brought to the president directly. But that does not mean that happened.
* * *
Officials said there's trepidation about briefing the president about Russia, in particular, given his past sensitivity to the subject, and that there's concern he may post on social media about the intelligence.
"Trump has little patience for intelligence briefings, especially when the news isn't good for him. These briefings happen irregularly, and are often free-for-alls," one former official said. "He also shows little respect for classified information and might tweet about it—which would counter efforts to handle the issue out of the public eye."
According to a source with direct knowledge, shortly after Trump was made aware of the New York Times story this weekend, he had two immediate reactions behind closed doors: He reflexively questioned the veracity of the reported intel simply because it was printed in the Times, which he frequently denounces as an adversary. And the prospect of more Americans dying as a result of these bounties once again caused him to emphasize his desire—and explicit campaign goal—to pull U.S. military personnel out of the country between now and November.
"Why are we still there?" Trump privately vented this weekend as he reacted to the Times reporting, according to this source.
But never a cross word about his pal Vladimir Putin, or a demand for a list of options for containment or retaliation against Russia.