Vermont is the fourth state to approve universal (automatic) voter registration, following Oregon, California, and most recently, West Virginia. Think Progress reports, BREAKING: Vermont Will Automatically Register Hundreds Of Thousands Of Voters: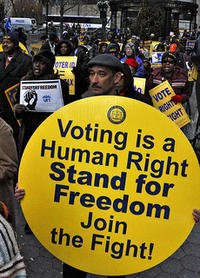 Vermont Governor Peter Shumlin signed a bill Thursday to automatically register to vote any eligible Vermonter who visits a Department of Motor Vehicles. The bill passed with near-unanimous support through Vermont's House and Senate, where power is split between the Republican, Democratic and Progressive Parties. The state estimates the new policy will add between 30,000 and 50,000 new voters to the rolls within the first four years.
Vermont Secretary of State James Condos, a longtime advocate of the measure, told ThinkProgress it will be a boon to the state's democracy when it goes into effect next year.
"It saves time and money, increases accuracy, curbs the potential for voter fraud, and protects integrity of our elections," he said. "I believe that voting is a sacred right that we must encourage and protect, and our democracy works best when people can actually participate in it."
Beginning in the summer of 2017, anyone who visits a Vermont DMV to request or renew a license or ID will be automatically registered to vote, unless they opt-out.
Vermont is already one of the most progressive states in the nation when it comes to voting access. The state offers online voter registration, same-day registration, allows incarcerated felons to vote, and gives 17-year-olds the ability to pre-register if they will turn 18 by Election Day. These policies have paid off, and more than 90 percent of the voting age population registered to vote in the last federal election, in 2014.
Yet registration is only part of the battle. Vermont had one of the nation's lower voter turnout rates — just over 40 percent — in 2014.
"We've done everything we can to make it easier for people, but we'll continue to look at how we can improve," Condos said.
In the other states that have considered or adopted automatic registration, some Republican lawmakers have warned that automatically registering voters will enable widespread fraud. Yet no evidence of such fraud exists, and an automatic system is more secure than the current patchwork of paper and electronic registration forms most states currently use.
"We hear all this talk about voter fraud," Condos said, "but I'm a firm believer that the true voter fraud is when someone is eligible but denied the right to vote."
It's not too late, Arizona. The legislature is still in session and they can use a "strike everything amendment" to one of the pending elections bills to enact universal (automatic) voter registration in Arizona — but they won't do it because it means appropriating money to set up the voter registration system, and we just won't do that, will we?