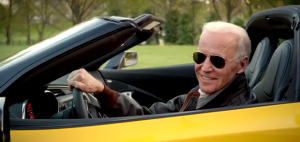 The Beltway media villagers have been shameless in their attempts to push Vice President Joe Biden into running for president, just to satisfy their selfish desires to mock him and to belittle him for his occasional gaffes and hands on style, even though Biden has had an exceptional career of public service to his country.
Yesterday, the Washington Post published a "draft" story that Joe Biden is running for president by mistake. Boy is their face red (redder?) today.
This morning, Vice President Joe Biden confirmed that he is still not running for president. The Hill reports Biden opts out of White House bid:
Vice President Biden has announced from the White House Rose Garden that he will not be a candidate for president.
Biden made the announcement with his wife Jill and President Obama at his side, telling a national audience he did not see a path forward for his candidacy.
Biden said that as he and his family and worked through the greiving process following the death of his son Beau Biden, he'd always said he might conclude that the window for mounting "a realistic campaign for president" would close.
"I've concluded, it has closed," he said.
Biden for months has been considering a challenge to Hillary Clinton, the frontrunner for the Democratic presidential nomination.
For weeks, it appeared support for a Biden bid was growing, particularly as Clinton struggled to contain the controversy surrounding her use of a private email server as secretary of State.
Polls showed her lead narrowing over an unexpected rival, Sen. Bernie Sanders (I-Vt.).
But Clinton has rebounded in recent weeks. Her performance at last week's first Democratic presidential debate was widely praised, and she's seen a jump in the polls.
That led many observers to question whether Biden had waited too long to get in the race.
If Biden was going to run, he would have already been in the race before now. The illness and death of his son Beau during the earlier part of this year took the wind out of his sails. Biden is fiercely loyal to his family and has endured tragedy and loss in his family. I don't believe there was ever a question in his mind that his son Beau and his family came first. He is to be respected and admired.
Joe Biden will be in the Democrats' bullpen to come in and pitch the 9th inning should anything go wrong with the starters on their road to the White House.