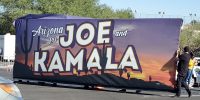 Tucson Rally Information provided by Larry Bodine.
2020 Democratic Vice-Presidential Nominee Senator Kamala Harris campaigned in Tucson and Phoenix on October 28, 2020. She spoke with Latina and Black leaders and attended rallies to explain how the Biden/Harris Ticket would combat the crises plaguing the nation and to encourage Arizonans to get out and vote.
The Nation Faces Many Crises
In her meetings with Latina and Black Leaders and Get Out the Vote Rallies in Tucson and Phoenix, Senator Harris said that a Biden/Harris Administration, unlike the current Trump/Pence one, would meet the crises facing the American People.
The most important one is combatting the Coronavirus and ensuring everyone is provided quality and accessible health care.
Kamala Harris started the day at a car rally in Tucson, where she captivated the audience, which sounded its approval with a roar of honking horns. On stage, she was joined by Tucson Mayor Regina Romero, Senate candidate Mark Kelly and his wife, former Congressperson Gabby Giffords, US Rep Ann Kirkpatrick (CD2), and US Rep Raul Grijalva (CD3).
She later traveled to Phoenix and joined a Black Leaders Event that Berdetta Hodge, Whitney Walker, and Jevin Hodge attended. Afterward, the Senator and singer Alicia Keys headlined a Get Out the Vote Rally which also featured Dr. HIral Tipirneni, Mayor Kate Gallego, Representative Ruben Gallego, and Congressman Greg Stanton as guest presenters.
At the Phoenix Rally where Mayor Kate Gallego took a shot at the Trump rallies today in the Grand Canyon State by stating that the Harris events were safer. They were. Everyone at the Harris events wore masks and socially distanced themselves) at Phoenix Municipal Stadium, Harris chastised the 2016 Popular Vote Loser for lying to the American People about the severity of COVID !9 and calling it a hoax back in January when he knew how bad it could be. Calling the Coronavirus "the greatest mass casualty event since World War Two," she also faulted Trump for trying to take health care away from millions of Americans with his support of a lawsuit in front of the Supreme Court to get rid of the Affordable Care Act.
She told the attendees that Biden and she would fight for a National Testing and Contact Tracing Plan to combat COVID 19. She also said that a Biden/Harris Administration would work to improve access to quality and affordable health care by reducing the age to enroll in Medicare to 60, work to make prescription drugs cheaper, and make mental health care available to anyone that needs it.
The Vice-Presidential Nominee, at the Phoenix events, highlighted that a Biden/Harris Administration would invest in:
American Workers and Families.
Extend middle-class tax cuts and credits.
Paid family and sick leave.
Education and childcare.
STEM, Summer Job, and Apprenticeship Programs.
Infrastructure like high speed and affordable broadband in all communities as well as access to technology.
Combatting Climate Change and creating clean energy jobs.
The third crisis Harris discussed was racial and group injustice. The California Senator discussed this at the Black Leaders Event in Phoenix and her Get Out the Vote Rally at Phoenix Municipal Stadium. Noting the recent police shootings of blacks and the statistics that minorities are more susceptible to exposure to COVID 19, she said that a Biden/Harris Administration would endeavor to:
Invest in minority residential and small business communities.
Free Coronavirus vaccines for everyone.
Promoting civil rights for everyone including members of the LGBTQ Community.
Protecting Dreamers and formalizing DACA.
Combat racial inequities in the justice system through criminal justice and law enforcement reform.
Get rid of private prisons.
Get rid of cash bail.
Decriminalize Marijuana possession.
Create a national registry that catalogs bad police officers.
Institute a national standard for the use of force.
Ban chokeholds.
Senator Harris took time at the Phoenix Rally to denounce Donald Trump for his racism, citing his failure to condemn white supremacy at the first Presidential debate and for past comments like those he made in the aftermath of Charlottesville when he said there were "good people on both sides."
She told the audience that Joe Biden, unlike Trump, recognizes strength is working "to lift people up," not "beat them down." She also reminded everyone that the 2020 Democratic Presidential Nominee, unlike the current White House occupant, would work to bring people together, not push them apart.
With an increase in wildfires, hurricanes, and floods, Senator Harris discussed climate change as another crisis she and Joe Biden would deal with.
They, unlike the Trump/Pence Administration, would deal with it, by first believing the science on climate change.
A Biden/Harris Administration would also work to:
Reduce net carbon emissions to zero.
Protect land and open spaces.
Invest in clean energy jobs and apprenticeships.
Encouraging People to Turn Out to Vote
Senator Harris concluded her remarks at the Phoenix Municipal Stadium  Get Out the Vote Rally by describing the broad coalition of Democrats, Republicans, and Independents that are supporting the Biden/Harris Ticket.
She reminded the audience that Republicans like Cindy McCain and Jeff Flake are supporting the Biden/Harris Campaign this election cycle.
She also asked people who have not done so already to turn out and vote, either on or before November 3, 2020.
Harris told people to vote to:
Honor their ancestors like those who fought for civil rights or the right of women to vote.
Put a government in place that will fight to meet the crises she described earlier.
Show those that attempt to suppress their power to vote that they "cannot take our power away from us, the people."
 The 2020 Democratic Vice-Presidential Nominee concluded by saying:
"American Democracy is always going to be as strong as our willingness to fight for it."
 She also told the audience said to think about a time after the moment of Trump passes and "what you would tell your kids when they ask you: where you were at that moment."
 She answered by telling them to say:
"We organized the voters. We reminded people to vote early. We did everything that was necessary. Tell them we elected Joe Biden President of the United States."
Please click below to watch Senator Harris's Tucson and Phoenix Rallies.
Please remember: