Above: Senator "Moscow Mitch" McConnell (R), Amy McGrath (D), and Charles Booker (D).
The Washington Post reports, Kentucky braces for possible voting problems in Tuesday's primary amid signs of high turnout: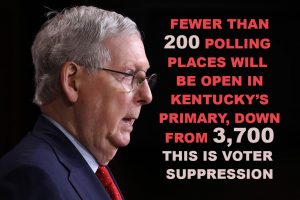 Fewer than 200 polling places will be open for voters in Kentucky's primary Tuesday, down from 3,700 in a typical election year. Amid a huge influx in requests for mail-in ballots, some voters still had not received their ballots days before they must be turned in. And turnout is expected to be higher than in past primaries because of a suddenly competitive fight for the Democratic Senate nomination.
The scenario has voting rights advocates and some local elections officials worried that the state is careening toward a messy day marked by long lines and frustrated voters — similar to the scenes that have played out repeatedly this spring as the novel coronavirus pandemic has disrupted the 2020 primaries.
Because of a shortage of workers willing to staff voting sites during the health crisis, each of the commonwealth's 120 counties is opening a very limited number of polling locations. The two largest counties will have just one in-person location each.
On Thursday evening, a federal judge rejected an effort to add polling places in the state's largest counties, citing a legal standard discouraging last-minute court intervention in election procedures [the Purcell principle].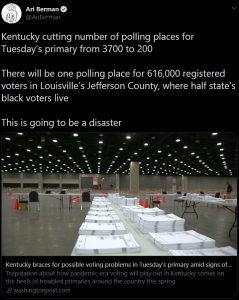 That means Jefferson County — the state's largest, home to 767,000 residents and the city of Louisville — will have [one] polling location a convention and expo center where voting booths have been set up about eight feet apart in a cavernous hall. About 1 in 5 residents in the county is African American, the largest black population in the state.
In Fayette County, the state's second-largest county and home to Lexington, voters who want to cast ballots in person will have to head to the football field at the University of Kentucky, where voters will find hand-sanitizing stations and booths where they can fill out paper ballots and scan them through machines.
Don Blevins Jr., the Fayette County clerk, said that while he is confident in the county's plans to accommodate everyone who wants to vote, he is concerned that large numbers could overwhelm staff on site and force voters to wait.
"If we get a massive turnout at Kroger Field, that's just going to be an angry mob," Blevins said. "That does worry me a little."
State officials anticipate a higher turnout than in past presidential primary years, driven in part by a late surge by upstart Senate candidate state Rep. Charles Booker, who is challenging former Marine fighter pilot Amy McGrath for the Democratic nomination to take on GOP Senate Majority Leader Mitch McConnell in the fall.
Booker has secured high-profile endorsements from Sen. Elizabeth Warren (D-Mass.), Sen. Bernie Sanders (I-Vt.) and Rep. Alexandria Ocasio-Cortez (D-N.Y.) since he recently joined protesters and demonstrated against police brutality in Louisville.
Trepidation about how pandemic-era voting will play out in Kentucky comes on the heels of troubled primaries such as Georgia's on June 9, when voters waited as long as five hours in line and poll workers struggled to work new voting machines after training sessions had been scrapped because of the pandemic.
"It's outrageous that officials are seeking to hold in-person elections in a single location," said Kristen Clarke, president and executive director of the Lawyers' Committee for Civil Rights Under Law. "It's as if Kentucky failed to follow the crisis that unfolded in Wisconsin and Georgia, where officials were woefully unprepared for the turnout on Election Day."
State and county officials say they have been preparing for the turnout and are doing what they can to head off long lines Tuesday.
Michael G. Adams, Kentucky's Republican secretary of state, said his office has been aggressively trying to reach voters through the news media and social media, encouraging them to vote by mail and seeking to reassure those worried that the expansion of mail voting will lead to fraud.
Adams launched an educational campaign around mail-in ballots with the slogan, "Easy to vote, hard to cheat." The goal is to explain to voters that "absentee voting is a great concept and there are laws in place about how it works," he said.
Wait, what?! But, but … Donald Trump and his partner in crime, Attorney General William "Coverup" Barr, say that voting by mail is fraught with fraud. A Republican Secretary of state basically just declared that they are "full of shit."
"I'm much more concerned about voter confusion than I am about people trying to steal an election," Adams said.
Like many states, Kentucky relaxed the rules of who can vote absentee by applying the "medical emergency" excuse to fear of the coronavirus.
More than 937,000 voters requested early ballots as of Wednesday, or 27 percent of all registered voters in the state, Adams said.
That is a big spike from previous primary elections when there was a narrower criteria for mail-in voting. About 1.5 percent of registered voters typically vote by mail, according to the secretary of state's office, or about 51,000 voters.
Adams said he still has concerns about whether the voter education effort has successfully reached rural counties.
[O]fficials in Kentucky, where ballots must be postmarked by Tuesday and received by June 27, said election results may not be known for a week.
As of Thursday, some voters still had not received their mail-in ballots, voting rights activists said, raising concerns that an influx of voters may decide to vote in person Tuesday and face long lines.
"Some people still have not received their mail-in ballots, so we're still telling people to show up on Tuesday," said Cassia Herron, chairwoman of voting rights advocacy group Kentuckians for the Commonwealth.
In Jefferson County, elections officials have mailed out 218,404 absentee ballots — far exceeding the total primary turnout in 2016 of 138,619 voters. That means one-third of registered voters in Jefferson County have requested absentee ballots or already returned them, said Nore J. Ghibaudy, county clerk spokesman.
The county began in-person early voting this week, and officials were relieved to see thousands of voters take advantage of the option, Ghibaudy said. So far, voters have been able to cast their ballots without a long backup in line, he said.
"We're ready for them" Tuesday, Ghibaudy said.
But advocates said they are worried that a single in-person polling location could prevent people from exercising their right to vote.
Clarke, from the Lawyers' Committee for Civil Rights Under Law, said the scarcity of polling places in Jefferson County is "deeply troubling."
"This is a county that is 54 miles wide and has a sizable number of black voters and a very poor transportation system," she said. "It's hard to imagine how voters across that county will be able to vote on Tuesday."
The county is offering free shuttle service from a centralized downtown bus stop to the expo center.
State Rep. Jason Nemes (R) and voters from each of the state's five largest counties filed the lawsuit, saying the consolidation of polling places could lead to voter disenfranchisement.
But on Thursday, federal judge Charles R. Simpson III of the Western District of Kentucky ruled that the new election procedures for the primaries do not constitute an infringement of voting rights under the Constitution or the Voting Rights Act.
He cited the expansion of absentee voting and the availability of early in-person voting and in-person voting on Election Day.
"This Triple Crown of voting options wins against the pandemic's risk of disenfranchising the Kentucky voter," Simpson wrote.
Opinion here. (h/t Election Law blog).
The judge is WRONG but is employing the cop-out of the Purcell principle, i.e., it's too close to the election to do anything, which courts have increasingly come to rely upon. For an interesting explanation of why this judge is wrong, see this Slate piece on United States v. Original Knights of Ku Klux Klan, 250 F. Supp. 330 (E.D. La. 1965), A 1960s Lawsuit Against the KKK Can Help Protect Elections in 2020:
[A]s a voting rights lawsuit our organization recently filed on behalf of a coalition of organizations and voters in Wisconsin demonstrates, lawyers and judges can find a good solution to the whole mess in Bogalusa, Louisiana.
* * *
We're arguing in court that a failure to take reasonable precautions to protect voters from COVID violates Section 11(b) of the Voting Rights Act, which makes voter intimidation illegal regardless of whether anyone intended for voters to be intimidated. The federal court in the Bogalusa case—along with other federal courts considering similar cases in Terrell County, Georgia, and Dallas County, Alabama—recognized that federal judges can indeed compel local officials to protect voters from intimidating forces that deter voting. In this case, the court would be ordering election officials to provide communities with in-person and absentee voting options that are safe from a virus rather than from the Klan.
There are plenty of ways the courts could ensure voters are safe. As in the Bogalusa Voters League case, federal courts could order election officials to commit to a plan to ensure safe and easy voting in 2020, particularly in those jurisdictions that have historically disenfranchised the very same minority voters who likely face the highest health risks from electoral participation this year. And if that's not enough, a court could go further and order elections officials to take specific measures such as, for example, setting up polling places to minimize transmission risks, ensuring that poll workers wear masks, and mandating absentee ballot drop boxes. Moreover, to the extent that state law (and not merely bureaucratic inertia) is responsible for unsafe voting conditions—such as is likely the case with many rules requiring in-person witnesses to absentee ballot signatures, as well as rules requiring an excuse before voting absentee—the court could determine that the need to comply with the Voting Rights Act supersedes state law. If done right, such an order would help to ensure that no voter is forced to choose between voting and personal safety in 2020.
"[I]n a country founded on the idea that government must derive its powers from the consent of the governed, we owe it ourselves to ensure that United States citizens are not forced to choose between their safety and their vote."
If counties receive an influx of ballots next week, they will face a tight deadline before the state's June 30 deadline for tabulating the vote.
A voter's signature on the absentee ballot must match one the counties have on file. That means any signature match issues will have to be resolved by the afternoon of June 29.
Election experts commended a bipartisan agreement between Gov. Andy Beshear, a Democrat, and Adams, a Republican, to accommodate voters during the primary because of the pandemic and urged them to extend the measures through November.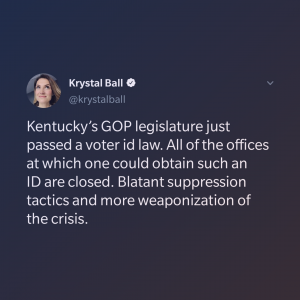 A pending federal lawsuit has challenged a number of voting requirements that advocates say would make it harder and riskier for Kentuckians to vote in November, including a new photo-identification requirement for both in-person and mail-in ballots, set to take effect July 15.
The state's changes for the primary were "a good way of trying to put the voters first, as a general matter. It's not perfect," said Joshua A. Douglas, election law and voting rights expert at the University of Kentucky College of Law. "I think very strongly that the state should adopt the same process for November — the same no-excuse mail-in ballot process. I think it's imperative for the state to do so."
That's not likely to happen, particularly if it looks like "Moscow Mitch" McConnell is in trouble for his reelection.