Tucson voters in northernmost Ward 3 have clear-cut choices among the three Democratic candidates running for the city council, as they spoke to Democratic precinct captains in the sprawling Ward.
Voters will select one in the primary on August 29. The winner will run against an "independent" in the general election on November 7. Some 88,700 people (36% Hispanic) live in the Ward, which sprawls from River Road on the north, to Swan on the east, to I-29 on the west, and Drachman on the south. Click here to see a map.
The Intellectual: Paul Durham
Attorney, MBA in finance.
Raised $41,000 in contributions and matching funds.
Key issues: run Tucson 100% on solar power, attract jobs that pay well, build community.
Lived in Tucson since 2004.
Voted for Hillary.
Volunteer: Tucson-Pima County Metropolitan Energy Commission, El Grupo Youth Cycling
The Businessman: Tom Tronsdal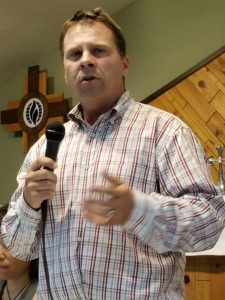 Owns Canyon Fence Co., which employs 26 people who get paid time off.
Raised $22,769 in contributions and matching funds.
Key issues: public safety, partner small businesses with city services and nonprofits.
Lived in Tucson since 1983.
Voted for Hillary.
Volunteer: Prince Salvation Army, City of Tucson Parks and Recreation Commission, City of Tucson Small Business Commission, The Abbie School Board of Directors, Arizona Center for Autism Board of Directors, Arizona Hydrocephalus Association Board. Founder of The Great Pumpkin 5K Race. Awarded the Alumni Service Award for Outstanding Humanitarian Efforts from Salpointe High School.
The Social Worker: Felicia Chew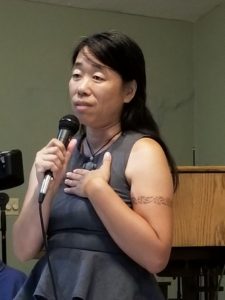 Teacher for 20 years, middle school English and history
Raised $4,700 in contributions.
Key issues: fighting domestic violence, more funding for social services, building community bridges.
Lived in Tucson since 2001.
Voted for Jill Stein
Volunteer: Citizen Police Advisory Review Board, Kidco after school program, Superintendent's Teacher Advisory Council, Tucson Educators Association, Tucson Origami Club, Valley of the Moon, Watershed Management Group, Glow! Celebration.
Where they stand on important issues
Strong Start Tucson: add ½ cent sales tax to fund 8,500 children to attend a high-quality preschool program.
Durham: opposed. There is too much ambiguity about who gets the money and who benefits.
Tronsdal: opposed. Focus instead on lit streets, bike lanes with crossing guards, and sidewalks for school kids.
Chew: in favor. Have teachers, experts, and parents on the commission to implement it.
Two things to change in Tucson city budget:
Durham: reduce reliance on sales tax, find new funding sources such as annexation (look out Foothills)
Tronsdal: Guarantee access for Kidco, increase funding to hire more police officers.
Chew: give transit a dedicated funding source, put more money into social services
How to assure clean water for Tucson:
Durham: stop the Rosemont mine and harvest stormwater.
Tronsdal: have Tucson Water Department stay the course. The city has grown by 250,000 people since 1985, but water use is the same.
Chew: harvest stormwater and irrigate with gray water.
To learn more:
Durham: www.paulforprogress.com
Tronsdal: www.facebook.com/pg/tomtronsdal
Chew: chewfortucson.wordpress.com/
Oh yeah, the winner will run against "independent" Gary Watson, a registered Republican. He tried to run as a Republican but the party wouldn't have him.