A day after President Trump tried to allay fears over the coronavirus pandemic with a bizarre press conference, or more accurately, allay fears over a stock market sell off that portends damaging his reelection chances, the stock markets responded with a vote of no confidence in "Dear Leader."
The stock markets suffered the largest one day sell off in history, even larger than during the financial meltdown in 2008. Thursday marks largest one-day drop in Dow Jones history:
The Dow Jones Industrial Average had its largest single-day drop in the market's history on Thursday.
The Dow finished the day down nearly 1,193 points. The previous largest one-day drop for the Dow was on Feb. 5, 2018, when the index lost 1,175 points.
The Dow has lost more than 3,500 points since Friday, marking one of the worst weeks for the market in the last calendar year. Three of the five largest single-day drops in Dow Jones history took place this week.
Bloomberg News reports, Stocks Fall Most Since August 2011 on Virus Angst: Markets Wrap:
Global stocks plunged to four-month lows, government debt yields sunk to unprecedented levels and crude oil extended declines as anxiety over the spread of the coronavirus deepened.
The S&P 500 tumbled 4.4% to close at the lowest levels of the day. It whipsawed investors earlier, turning lower late after California's governor said the state was monitoring 8,400 people for signs of the virus after they traveled to Asia. The decline of more than 10% since last Friday has the benchmark on pace for its worse week since the 2008 global financial crisis and helped push the index into what is known as a correction. The MSCI All-Country World Index fell to the lowest since October, while the Stoxx Europe 600 also entered a correction.
"Stocks and bonds say we're doomed," said Chris Rupkey, chief financial economist for MUFG Union Bank. "Anyone who has a better idea for what lies ahead please let us know because right now the direction ahead for the economy is straight down."
Bloomberg adds, We Just Witnessed The Fastest Stock Market Correction on Record:
Six days. That's all the time it took for the S&P 500 to fall more than 10% from a record into a correction.
That's the quickest turnaround of the sort ever, according to data from Deutsche Bank Global Research.
Marcus Ashworth analyzes, Markets Are Pricing in a Coronavirus Recession:
[T]he markets are starting to price in a global recession and that doesn't seem a true reflection — at least, not yet — of the virus's impact. Largely, this is down to portfolio protection. It's also a symptom of the longest-ever bull market for equities; a catalyst for a long overdue correction that has been delivered all at once.
So how did "Dear Leader" respond to the stock markets' vote of no confidence in his leadership? Trump seeks a 'miracle' as virus fears mount:
President Donald Trump is hoping for a "miracle" that will make the coronavirus disappear but tanking stock markets and signs the disease is stalking America are delivering their verdict on his scattershot management of the crisis.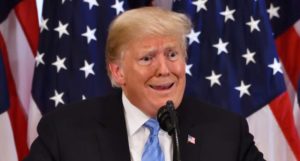 "It's going to disappear. One day it's like a miracle, it will disappear," Trump said at the White House Thursday as the virus marched across Asia and Europe after US officials said the US should brace for severe disruption to everyday life.
The President also warned that things could "get worse before it gets better," but he added it could "maybe go away. We'll see what happens. Nobody really knows."
As of Friday morning, Global Stock Sell-Off Intensifies Over Coronavirus Crisis: European and Asian indexes plunged on Friday. Wall Street was poised for another downbeat open.
We have now entered a new phase with the first possible "community spread" of the coronavirus in the U.S. A patient in California who has cornonavirus didn't travel anywhere known to have the virus, the CDC announced Wednesday night. And the patient wasn't exposed to anyone known to be infected. The CDC has changed its criteria for testing patients for coronavirus after the first case of unknown origin was confirmed:
After a US patient contracted novel coronavirus and left medical authorities no clues as to where it came from, the Centers for Disease Control and Prevention has begun sending out new testing guidance to health care workers, the top CDC official said Thursday.
Earlier in the outbreak, CDC guidance to doctors in the United States was that a patient had to have a travel history to China or be a close contact of someone who had been there before being tested, CDC Director Dr. Robert Redfield said.
The new patient who prompted the guidance change was transferred from another Northern California hospital last week.
According to a letter from UC Davis Health, the patient "did not fit the existing CDC criteria for Covid-19, a test was not immediately administered." After doctors persisted in their request for the test, on Sunday, CDC went ahead with testing.
That patient became the first US case of unknown origin, according to the CDC. It could be the first US case of "community spread" of the virus, when the source of the infection is unknown.
"As soon as that case was recognized, we met and we revised our case definition for persons under investigation," Redfield said. "Today, that has been posted (to the CDC website) along with a new health advisory that the recommendation should be when a clinician or individual suspects coronavirus, then we should be able to get a test for coronavirus."
The mysterious nature of this case is significant, said Dr. Dean Blumberg, an infectious disease specialist at UC Davis Medical Center.
"That suggests that the virus is out there in the community, and that means pretty much that everybody's at risk," he told CNN affiliate KCRA. "We don't know who might be carrying it. We don't know who we can get it from."
As for whoever passed the virus to the UC Davis patient, "that other person probably exposed other people," Blumberg said.
"And you have to realize that this virus is so new, that none of us have any immunity to it. So, anybody who's exposed is at high risk of getting infected with this."
Health officials are now trying to trace those who may have been in contact with the UC Davis patient.
"We currently have people in the field working in the community from the local, from the state and also from the CDC," said Dr. Sonia Angell, director of the California Department of Public Health.
"They're contacting any individuals who might have been exposed, and they're isolating them."
In California, 8,400 people in Calif. are being monitored for coronavirus, Gov. Newsom says:
California Governor Gavin Newsom said in a press conference Thursday that at least 8,400 people are being monitored for new coronavirus in the state.
The news comes a day after the Centers for Disease Control announced what's being called the first American case of unknown origin. That Solano County resident is being treated at UC Davis Medical Center near Sacramento.
State and federal health officials are trying to locate everyone who came in contact with the Northern California woman. She had no known connection to individuals who traveled abroad or other known causes.
The woman lives in Solano County, home to Travis Air Force Base, where dozens of people infected in China or on cruise ships have been treated. But Sonia Angell, director of the California Department of Public Health, said there was no evidence the woman had any connection to the base.
* * *
Newsom said a total of 33 people in California have tested positive for the virus and five of those were moved out of the state.
Newsom said the state has only received about 200 testing kits for the virus, an amount he called "simply inadequate." But he said federal officials have promised him the state will get many more soon.
Newsom said the state is collaborating with the Trump administration and noted that many flights with American evacuees from China have been taken in and cared for at Travis AFB as well as other bases in the state.
There may be an answer to how this patient came into contact with someone with the coronavirus who may have been asymptomatic and not exhibiting signs of illness. U.S. workers without protective gear assisted coronavirus evacuees, HHS whistleblower says:
Officials at the Department of Health and Human Services sent more than a dozen workers to receive the first Americans evacuated from Wuhan, China, the epicenter of the coronavirus outbreak, without proper training for infection control or appropriate protective gear, according to a whistleblower complaint.
The workers did not show symptoms of infection and were not tested for the virus, according to lawyers for the whistleblower, a senior HHS official based in Washington who oversees workers at the Administration for Children and Families, a unit within HHS.
The whistleblower is seeking federal protection, alleging she was unfairly and improperly reassigned after raising concerns about the safety of these workers to HHS officials, including those within the office of Health and Human Services Secretary Alex Azar. She was told Feb. 19 that if she does not accept the new position in 15 days, which is March 5, she would be terminated.
The whistleblower has decades of experience in the field, received two HHS department awards from Azar last year and has received the highest performance evaluations, her lawyers said.
The complaint was filed Wednesday with the Office of the Special Counsel, an independent federal watchdog agency. The whistleblower's lawyers provided a copy of a redacted 24-page complaint to The Washington Post. A spokesman for the Office of the Special Counsel confirmed that it has received the complaint and assigned the case.
The complaint alleges HHS staffers were "improperly deployed" and were "not properly trained or equipped to operate in a public health emergency situation." The complaint also alleges the workers were potentially exposed to coronavirus because appropriate steps were not taken to protect them and staffers were not trained in wearing personal protective equipment, even though they had face-to-face contact with returning passengers. The workers were in contact with passengers in an airplane hangar where evacuees were received and on two other occasions: when they helped distribute keys for room assignments and hand out colored ribbons for identification purposes.
* * *
The whistleblower, in her complaint, states that "appropriate steps were not taken to quarantine, monitor, or test [the workers] during their deployment and upon their return home." The repatriated Americans were among those evacuated from Wuhan and quarantined on military bases in California and Texas because they were considered at high risk for contracting the flu-like illness.
About 14 personnel from the Administration for Children and Families, or ACF, were sent to March Air Force base in Riverside County, Calif., and another team of about 13 ACF personnel were sent to Travis Air Force in Solano County, Calif., according to the complaint and the whistleblower's lawyer, Ari Wilkenfeld. In Solano County this week, the first U.S. patient was confirmed to be infected with coronavirus who did not travel to a region where it is spreading or have known contact with someone diagnosed with the disease.
Several people within HHS voiced objections to sending the ACF personnel to receive passengers, according to a person familiar with the conversations, who spoke on the condition of anonymity to discuss private deliberations.
A second person familiar with the situation said the workers were not tested for coronavirus because none of them met the criteria, which was restricted at that time to people with symptoms and either a recent trip to China or close contact with a person confirmed to be infected with covid19. If the workers had exhibited symptoms, appropriate protocol would have been followed.
The deployments took place Jan. 28 to 31, around the time when the first planeload of evacuees arrived at March, and Feb. 2 to Feb. 7, during the time when additional flights were arriving at Travis. The planes each carried about 200 Americans who were repatriated from Wuhan.
After their deployments, the workers returned to their normal duties, some taking commercial airline flights to return to their offices around the country, the lawyers said.
"Our client was concerned that ACF staff — who were potentially exposed to the coronavirus — were allowed to leave quarantined areas and return to their communities, where they may have spread the coronavirus to others," said Lauren Naylor, one of the whistleblower's lawyers.
Just to be clear, we are now in "community spread" of the coronavirus in the U.S. by persons who may be asymptomatic and not exhibiting signs of illness, and others who may be falling ill with what they think is the flu may actually have coronavirus. Medical staff and doctor's offices and hospitals are at risk of exposure and trasmission.
All of this is due to the incompetence of HHS in handling quarantine patients and not following proper safety protocols. When the CDC and NIH lose the ability to trace transmission through direct contact and the virus goes "community spread," this virus has the potential to spread rapidly as we are seeing in other countries.
The only truth "Dear Leader" has said is that things could "get worse before it gets better."