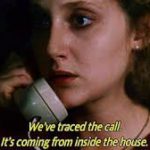 It is a classic urban legend horror scenario: A young woman who is home alone. Often she is a baby sitter. She gets a creepy phone call asking, "Have you checked the kids?" She calls the police. They trace the call and they tell her, "The calls are coming from inside the house."
The Washington Post reports that the law enforcement investigation into possible coordination between Russia and the Trump campaign has identified a current official working inside the White House as a significant person of interest. Russia probe reaches current White House official, people familiar with the case say:
The law enforcement investigation into possible coordination between Russia and the Trump campaign has identified a current White House official as a significant person of interest, showing that the probe is reaching into the highest levels of government, according to people familiar with the matter.
The senior White House adviser under scrutiny by investigators is someone close to the president, according to these people, who would not further identify the official.
C'mon, cut to the chase.  There are only a small number of suspects close advisors who have admitted publicly to having had contacts with the Russians: Trump's son-in-law Jared Kushner, Attorney General Jefferson Beauregard Sessions III, and Secretary of State Rex Tillerson. Technically, only one of them actually works inside the White House, the only one who can be said to be "close to" Donald Trump, that is "The Kush." Trump entrusts him with everything. On January 9, 2017, Kushner was named Senior Advisor to the President.
The revelation comes as the investigation also appears to be entering a more overtly active phase, with investigators shifting from work that has remained largely hidden from the public to conducting interviews and using a grand jury to issue subpoenas. The intensity of the probe is expected to accelerate in the coming weeks, the people said.
Former National Security Adviser Michael Flynn and former Trump campaign chairman Paul Manafort are key figures in the Russia probe, and former Trump campaign foreign policy adviser Carter Page's ties with Russia are also under investigation. None currently work inside the White House.
The sources emphasized that investigators remain keenly interested in people who previously wielded influence in the Trump campaign and administration but are no longer part of it[.]
People familiar with the investigation said the intensifying effort does not mean criminal charges are near, or that any such charges will result. [They are required to say that.]
* * *
Although the case began quietly last July as an effort to determine whether any Trump associates coordinated with Russian operatives to meddle in the presidential election campaign, the investigative work now being done by the FBI also includes determining whether any financial crimes were committed by people close to the president. The people familiar with the matter said the probe has sharpened into something more fraught for the White House, the FBI and the Justice Department — particularly because of the public steps investigators know they now need to take, the people said.
When subpoenas are issued or interviews are requested, it is possible the people being asked to talk or provide documents will reveal publicly what they were asked about.
A small group of lawmakers known as the Gang of Eight was notified of the change in tempo and focus in the investigation at a classified briefing Wednesday evening, the people familiar with the matter said.
Justice Department spokeswoman Sarah Isgur Flores said, "I can't confirm or deny the existence or nonexistence of investigations or targets of investigations." An FBI spokesman declined to comment.
* * *
While there has been a loud public debate in recent days over the question of whether the president might have attempted to obstruct justice in his private dealings with Comey, whom Trump fired last week, people familiar with the matter said investigators on the case are more focused on Russian influence operations and possible financial crimes.
Note: This would explain passing references to the Treasury Department in recent reporting. This likely involves the Financial Crimes Enforcement Network, or FinCEN. Reporters may want to check in with their sources at Treasury. "Follow the money."
The FBI's investigation seeks to determine whether and to what extent Trump associates were in contact with Kremlin operatives, what business dealings they might have had in Russia, and whether they in any way facilitated the hacking and publishing of emails from the Democratic National Committee and Hillary Clinton's campaign chairman, John Podesta, during the presidential campaign. Several congressional committees are also investigating, though their probes could not produce criminal charges.
A grand jury in Alexandria, Va., recently issued a subpoena for records related to Flynn's business, the Flynn Intel Group, which was paid more than $500,000 by a company owned by a Turkish American businessman close to top Turkish officials, according to people familiar with the matter.
The Flynn Intel Group was paid for research on Fethullah Gulen, a cleric who Turkey's current president believes was responsible for a coup attempt last summer. Flynn retroactively registered with the Justice Department in March as a paid foreign agent for Turkish interests.
Separately from the probe now run by Mueller, Flynn is being investigated by the Pentagon's top watchdog for his foreign payments. Flynn also received $45,000 to appear in 2015 with Russian President Vladimir Putin at a dinner for RT, a Kremlin-controlled media organization.
In addition, New York Attorney General Eric Schneiderman as well as Manhattan District Attorney Cyrus Vance Jr. are examining real-estate transactions made by Paul Manafort, according to The Wall Street Journal. Separately, "federal investigators requested Mr. Manafort's banking records from Citizens Financial Group Inc., the people said."
The White House also has acknowledged that Kushner met with Kislyak, the Russian ambassador to the United States, in late November. Kushner also has acknowledged that he met with the head of a Russian development bank, Vnesheconombank, which has been under U.S. sanctions since July 2014. The president's son-in-law initially omitted contacts with foreign leaders from a national security questionnaire, though his lawyer has said publicly he submitted the form prematurely and informed the FBI soon after that he would provide an update.
Vnesheconombank handles development for the state, and in early 2015, a man purporting to be one of its New York-based employees was arrested and accused of being an unregistered spy.
That man — Evgeny Buryakov — ultimately pleaded guilty and was eventually deported. He had been in contact with former Trump adviser Carter Page, though Page has said he shared only "basic immaterial information and publicly available research documents" with the Russian. Page was the subject of a secret warrant last year issued by the Foreign Intelligence Surveillance Court, based on suspicions he might have been acting as an agent of the Russian government, according to people familiar with the matter. Page has denied any wrongdoing, and accused the government of violating his civil rights.
New York Attorney General Eric Schneiderman's possible prosecutions of financial crimes in New York state court is the most interesting development to keep an eye on. New York financial laws are much stricter than federal laws. The president only has authority to pardon or to commute federal convictions, not state court convictions.  If money laundering was running through New York, Eric Schneiderman may soon become a key figure.