In early April Congress, in an historic first, approved a War Powers Act resolution objecting to the U.S. involvement in the civil war in Yemen. Congress Is Finally Done With the War in Yemen: It marked the first time in history that legislation invoking the 1970s-era War Powers Resolution, aimed at reasserting Congress's role in U.S. wars abroad, passed both the House and Senate.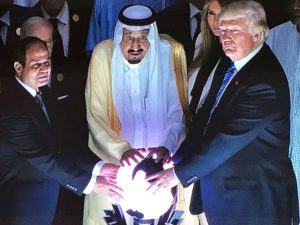 Sure enough, Saudi asset Donald Trump, who is totally compromised by the Saudis, and who supports their brutality against the civilian population of Yemen (and journalists), ignored the will of Congress and vetoed the resolution. Trump vetoes Yemen War Powers Resolution.
Trump's authoritarian Republican co-conspirators and enablers in the Senate failed to override his veto. Senate fails to override Trump's veto on Yemen: Only seven Republicans broke with the White House and joined all Senate Democrats to override the veto, which ultimately failed on a 53-45 vote. The measure needed 67 votes to override the veto. Sens. Michael Bennet (D-Colo.) and Marco Rubio (R-Fla) did not vote.
Thus a tyranny of the minority of Republicans negated the clear will of a majority of Congress under the War Powers Act, and abdicated the exclusive congressional war powers under the Constitution, enabling an imperial presidency.
A group of constitutional scholars and lawmakers want House Speaker Nancy Pelosi to take President Donald to the Supreme Court — over the war in Yemen. Trump ignored Congress on war powers. Constitutional scholars want Democrats to take him to court.
Their case is straightforward: Trump is unilaterally involving the United States in war, and that's unconstitutional. For four years, the United States has participated in a war in Yemen that was never authorized by Congress, and that Congress expressly told Trump to withdraw from. Trump ignored the directive. Now, as the White House escalates tensions with Iran, there's growing concern that unless legal action is taken, Congress will cede more war powers to Trump.
In April, Congress passed a historic War Powers Resolution, directing Trump to remove troops involved in "hostilities" in Yemen. Trump vetoed it, cementing American fingerprints on one of the worst humanitarian crises in the world: According to the most recent United Nations report, 80 percent of the Yemeni population — 24 million people — is in need of humanitarian assistance. The Senate failed to reach the 67-vote threshold needed to override the executive veto on the bill.
Trump said the War Powers Resolution was an attempt to "weaken [his] constitutional authorities." But the power to authorize a declaration of war, of course, sits with Congress, not Trump.
Constitutional scholars are now arguing a War Powers Resolution isn't a normal bill. They say it is a fundamental constitutional question about the power to authorize war. And the stakes are high.
"The president's veto doesn't end this conversation," Bruce Ackerman, a constitutional law scholar with Yale University told Vox. He, along with a diverse group of legal experts have sent Pelosi a letter urging her to take legal action.
* * *
Since Trump's veto, his administration has escalated tensions with Iran, spreading concern that Trump is itching to stoke another war. These concerns were exacerbated on Friday, when the administration sidestepped Congress again, unilaterally authorizing $8 billion in arms sales, including to Saudi Arabia and its allies, to counter Iran.
"This is a moment of truth, both for the congressional war power and for the Supreme Court of the United States," Ackerman said. "Does the Supreme Court of the United States — and its claim of originalism — is that supposed to be taken seriously?"
Here we go again … as noted above, the Trump administration is taking advantage of a loophole to sell arms to Saudi Arabia, which the Congress has been blocking. Trump Circumvents Congress to Sell Weapons to Middle East Allies:
President Trump circumvented Congress on Friday by declaring an emergency over Iran and moving forward with arms sales to Saudi Arabia, the United Arab Emirates and Jordan that had been blocked by Congress since last year.
Mr. Trump also announced on Friday that he would order about 1,500 additional troops to the Middle East to increase protection of those American forces already there. The new deployment is less than what hard-liners in the Trump White House were said to have wanted, and below what commanders in the region were considering.
Rumor has it that the hardliners wanted 10,000 troops. The Pentagon's plan to send up to 10,000 troops to the Middle East is about Iran.
With the pending arms sales, Mr. Trump is back in a comfort zone of viewing diplomacy through a lens of economics and business deals, and the action reinforces White House support for the Saudis despite congressional pressure to punish Crown Prince Mohammed bin Salman after the killing last October of the journalist Jamal Khashoggi in the Saudi Consulate in Istanbul.
The weapons sales decision immediately drew criticism from lawmakers, who are also furious over the civilian death toll from the Saudi-led air campaign in Yemen.
With the two decisions, the Trump administration is rewarding allies like Saudi Arabia and arming them to counter Iran and its partner Arab militias[.]
Both moves will almost certainly be seen by Iran's clerical leaders as further escalations by Washington one year after Mr. Trump withdrew from a 2015 nuclear containment deal, to which Iran was adhering, and reimposed harsh sanctions on the country.
* * *
The move on arms sales drew strong condemnation.
"I am disappointed, but not surprised, that the Trump administration has failed once again to prioritize our long-term national security interests or stand up for human rights, and instead is granting favors to authoritarian countries like Saudi Arabia," said Senator Robert Menendez of New Jersey, the top-ranking Democrat on the Senate Foreign Relations Committee.
Senator Jim Risch, Republican of Idaho and the chairman of the panel, was more muted. In a brief statement, he said he was "reviewing and analyzing the legal justification for this action and the associated implications."
* * *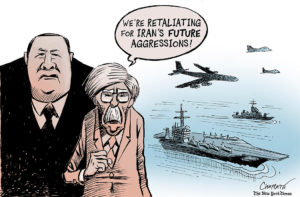 Secretary of State Mike Pompeo had pushed hard for the move, over the objections of career Foreign Service officers and legislators. "These sales will support our allies, enhance Middle East stability and help these nations to deter and defend themselves from the Islamic Republic of Iran," Mr. Pompeo said on Friday afternoon.
The acting defense secretary, Patrick Shanahan, described the troop deployment as a "prudent defensive measure and intended to reduce the possibility of future hostilities."
In a statement, he said the deployment would consist of a Patriot missile-defense battalion — which is already there and will see its deployment extended — additional intelligence, surveillance and reconnaissance aircraft; an engineer element to improve protection measures for military personnel; and a fighter aircraft squadron. The warplanes are able to carry out offensive as well as defensive operations.
* * *
During a Pentagon briefing on Friday, Defense Department officials for the first time publicly accused Iran's Islamic Revolutionary Guards Corps of attacks on four oil tankers in the Gulf of Oman. Vice Adm. Michael Gilday, the director of the Defense Department's Joint Staff, said American intelligence has attributed the attacks to Iran. But he disclosed no supporting evidence.
The Defense Department notified Congress of the new deployment on Friday, shortly before a State Department official told legislators in a call about the emergency declaration over Iran and arms sales to the gulf nations.
Representative Eliot L. Engel of New York, the chairman of the House Foreign Affairs Committee, said in a statement that he would soon offer bipartisan legislation with the panel's top Republican "to ensure that Congress plays its rightful role ensuring that arms sales are prudent and consistent with U.S. law and protection of civilians."
Congress can again pass a War Powers Act resolution objecting to the arms sales to Saudi Arabia, but Saudi asset Donald Trump will veto it and, once again, a tyranny of the minority of Republicans will negate the clear will of a majority of Congress under the War Powers Act, and abdicate exclusive congressional war powers under the Constitution, enabling an imperial presidency.
Members of Congress from both parties have been holding up arms sales from American companies to gulf nations and trying to end American military support for the Saudi-led coalition that is fighting Houthi rebels in Yemen, which has resulted in what the United Nations calls the world's worst man-made humanitarian disaster.
"This is not the time to further escalate tensions with Iran, and certainly not for the sake of pressing through arms sales that might run up against bipartisan opposition in Congress," said Dalia Dassa Kaye, a Middle East analyst at RAND Corporation, a research group.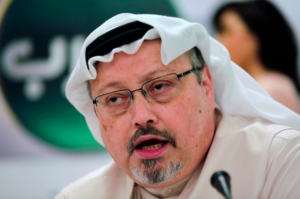 Lawmakers are furious with the Trump administration over its weak response to the grisly death of Mr. Khashoggi, a Washington Post columnist and Virginia resident. They have also blamed the administration for aggravating the Yemen crisis and for the killing of civilians there in the four-year-old civil war. Last summer, Mr. Menendez blocked the sale by Raytheon of $2 billion worth of precision-guided munitions to gulf nations.
Members of Congress usually have a review period during which they can pass legislation modifying or prohibiting a prospective arms sale. But a provision in the Arms Export Control Act allows the president to bypass congressional review if he deems "an emergency exists that requires the proposed sale in the national security interest of the United States."
Senator Jack Reed of Rhode Island, the ranking Democrat on the Senate Armed Services Committee, called the administration's overall Iran strategy "ill conceived," saying in a statement that it increases the odds of confrontation. But Mr. Reed added that "we have an obligation to protect our personnel and facilities in the Middle East."
A State Department official, R. Clarke Cooper, who was confirmed last month by the Senate as assistant secretary of political-military affairs, told members of Congress and their aides about the arms sales in a conference call.
People on the call pressed him on the rationale behind the administration's declaring an emergency over Iran. In briefings on Tuesday on Iran to the full House and Senate, administration officials did not mention an "emergency."
Mr. Cooper was also asked about the role of Charles Faulkner, a deputy assistant secretary in the Bureau of Legislative Affairs, in pushing for the arms sales. In a previous job as a lobbyist at BGR Group, Mr. Faulkner represented Raytheon. Mr. Cooper responded that he did not have knowledge of Mr. Faulkner's involvement.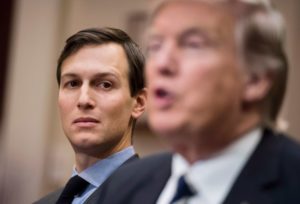 The move on the arms sales comes only weeks before the White House is expected to unveil a plan to end the Israeli-Palestinian conflict. Mr. Trump's son-in-law and main Middle East adviser, Jared Kushner, is seeking support from Saudi Arabia, the United Arab Emirates, Jordan and other Arab nations for the plan, which is expected to include economic aid for the Palestinians but not help in their goals for nationhood.
Ishaan Tharoor writes at the Post, The Trump-Kushner peace plan looks doomed already:
[T]he abiding impression among Palestinians is that Trump and his lieutenants aren't honest brokers. Instead, they see a series of debilitating moves enacted by the administration — from the unilateral recognition of Jerusalem as Israel's capital to cuts in Palestinian aid to the shuttering of diplomatic offices that cater to Palestinians — as part of a campaign to confirm Israeli hegemony and undermine Palestinian political aspirations. With Trump firmly allied with Israeli Prime Minister Benjamin Netanyahu, who leads the most right-wing government in Israeli history, Palestinians see no end to the Israeli military occupation over their lands.
"Attempts at promoting an economic normalization of the Israeli occupation of Palestine will be rejected," said Saeb Erekat, the Palestine Liberation Organization's chief negotiator, in a statement. "This is not about improving living conditions under occupation but about reaching Palestine's full potential by ending the Israeli occupation."
* * *
Israeli Prime Minister Benjamin Netanyahu is explicitly disinterested in lifting the occupation and has left open the possibility of annexing Palestinian lands. Israeli officials and their American supporters blame the failure of the peace process on the Palestinian leadership and the continued hostility of Islamist militant groups such as Hamas, which governs the beleaguered Gaza Strip. The Israeli and U.S. officials urge the Palestinians to view the Kushner-led process with an open mind and to give peace, or at least the Trumpist version of it, a chance.
* * *
Kushner's adventure in peacemaking is either willfully or naively leading Israelis and Palestinians down a path that cements the former's suzerainty over the latter. Supporters of the two-state solution fear that it may doom the last fleeting hopes for a meaningful agreement. "Kushner's attempt to find an economic solution to this long-running political conflict is destined for failure," Jeremy Ben-Ami, president of J Street, a liberal pro-Israel advocacy organization in Washington, said in an emailed statement. "It risks paving the way to disastrous steps such as formal annexation, which would undermine any future efforts to reach a lasting peace," he added.
Saudi Arabia and Israel want regime change in Iran, and the only path to regime change, in their view, is through war. They want the U.S. to fight this war for them. And if Israel moves to formally annex Palestinian territories, that would also spark a war.
Finally, there is this bit of insanity from Neocon war hawk Senator Lindsey "Stonewall' Graham. Lindsey Graham proposes invading Venezuela to oust Maduro: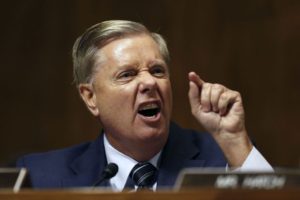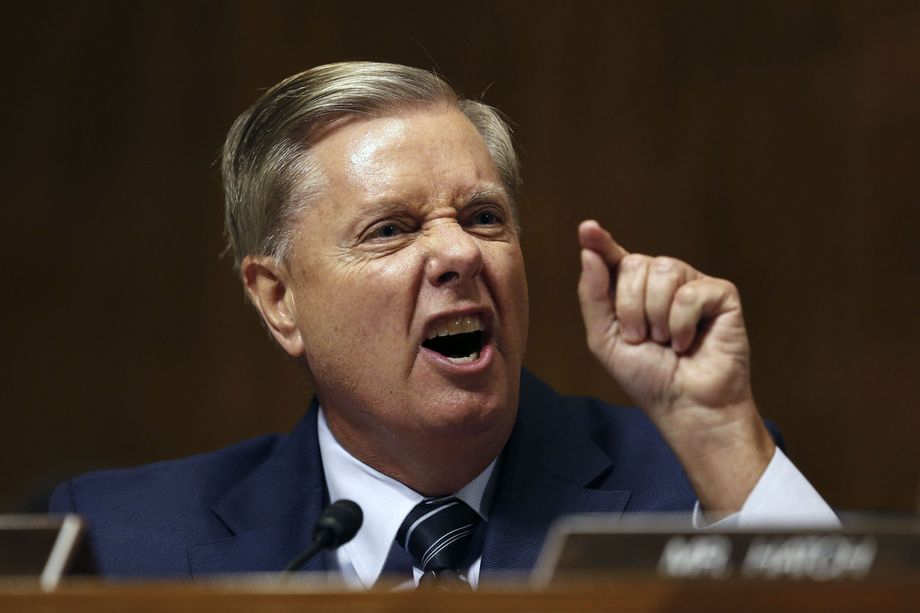 "Trump said rightly, Maduro's not the legitimate leader of Venezuela. The entire region supports the Trump approach, that Guaidó is the legitimate leader," Graham said on Fox News Sunday. "I would do exactly what Reagan did [in Grenada in 1983]. I would give Cuba the ultimatum to get out of Venezuela. If they don't, I would let the Venezuelan military know, you've got to choose between democracy and Maduro. And if you choose Maduro and Cuba, we're coming after you. This is in our backyard."
This is a bastardized version of the Monroe Doctrine, which sought to check further European colonization in the western hemisphere, and represents Gunboat Diplomacy. U.S. intervention in Latin America has turned out so well for us in the past (sarcasm).
Graham called on the United States to be ready to intervene militarily in Venezuela last week in a piece in the Wall Street Journal. There, as in his Fox interview, the senator argued Cuba is helping to prop up Maduro, and that the US should use its military to counter what Graham called the "Western Hemisphere version of Iran."
Really? Cuba is an Islamic theocracy? Who knew. Russia is the principal sponsor of Cuba and the Maduro government of Venezuela.
Congress has not authorized any military action in Venezuela, it's not even being seriously debated. Unilateral action by an imperial president would violate the Constitution.